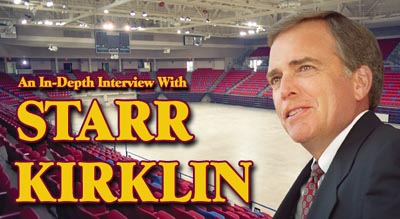 This story is a condensed version from Connect Business Magazine
Starr Kirklin's Mankato roots run deep. His sphere of influence spread through his seventeen years as First Bank president in Mankato and touched such local institutions as Mankato Civic Center, Mankato State University, Immanuel St. Joseph's Hospital, Valley Industrial Development Corp. and Hickory Tech Corp. His resume' in Mankato community involvement is very impressive.
But for all his community involvement, none of it may have happened – and the above organizations not blessed – had Kirklin not been influenced nearly forty years ago by two fellow bankers, Robert Bezoyer and Ray Roberts. Kirklin says, "Those two particular individuals believed very strongly in community involvement – making the community that you were in a better place in which to live."
Starr Kirklin is but one of many businesspeople who have made their towns a better place. He speaks here for the hundreds of behind-the-scenes businesspeople who are seldom recognized and appreciated by their communities as a whole.
CONNECT: Starr, you were involved in the early planning stages of Mankato Civic Center. How did the idea come about and how did that idea eventually become reality?
KIRKLIN: Well, it's necessary, really, to go back to even pre-discussions on the Civic Center. To a time when there was a group of businesspeople in the community who were concerned about the decay of our core area, our downtown. There was an initial effort to attract the WalMart store here, not only to Mankato, but to the downtown, the central core area. And we went so far as the business community actually putting together one million dollars on the table as a gift to WalMart to try and accomplish it. That failed, they wanted to go where the retail was developing. And so our next effort was to try to entice the new Mankato Clinic facility downtown. There's no question that the Clinic made the right decision in creating the campus in conjunction with the hospital. That left us with a real void as to how to correct the problem that we faced. At that time there was some early discussions as to trying to combine the Armory, the National Guard Armory, with a civic center. I personally felt that this was absolutely the wrong thing for Mankato to do. Felt so strongly about it that I decided to try and expose people to the kinds of things that we should be thinking about in our community. So I organized two business trips, one to Albert Lea, where they have such a facility with the armory connected to a civic center, and the other to St. Cloud. Well, I think most people came away with those two trips realizing that our efforts should focus on a full civic center. Without realizing it or knowing it, I was appointed by the mayor to a new committee dealing with downtown development and at the same time he asked me to chair it – I think it was all because of the bus trips. And that really started the process.
We had this group of business people which now were formally meeting under the title of the Downtown Development Corporation. But in addition to that we had the Downtown Development Task Force, which was the city appointed group of about fifteen people to look at how we could possibly bring about change to the community. In this effort we were able to convince Bill Bassett and the City Council that we needed an extensive study done by an outside firm of the kinds of things that we could be doing in the community. They agreed to that after some discussion and financed a study – the cost was in the vicinity of $150,000. And we hired ZHA out of Andover, Maryland, to head up this; Carl Walker out of Michigan for the parking aspect of the downtown, and then a landscape urban design group out of New York City. Their efforts really put together what became the vision for the downtown that included a civic center and arena. Now their vision was very extensive and very expensive. They were planning to put the arena on one side of Riverfront Drive and the civic center on the other – and have a bridge, a very fancy bridge, that crossed the street. Obviously this was more than we were going to be able to afford. However, people got very excited about the whole concept. Because of the fact that we were able to get the legislature to allow us to enforce a 1/2 of one percent sales tax to pay for the facility, we were able to accomplish what is now known as the Mankato Civic Center.
CONNECT: So that kind of got the whole ball rolling.
KIRKLIN: Got the whole ball rolling. You know, whenever anything like this is done, one person does not do it. It really started with a group of people who made up the original Downtown Task Force. But when you stand in the Civic Center today and look at the wall across from the ticket booth, and you see the names of those who are there, they are really the ones who made it happen. It was not myself. Three people specifically, in Denny Dotson, Paul Stevens and Malda Farnham – without these three individuals the Civic Center would not be here. So it really is a community effort.
©1997 Connect Business Magazine