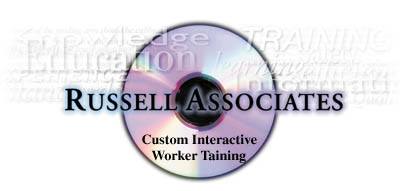 This story is a condensed version from Connect Business Magazine
Sixty percent of American workers say they lack adequate training to properly do their jobs.
That can be fixed, according to Bill Russell and Jeanne T. Doheny. They train employees of companies in which you'd feel comfortable owning stock, companies all the way from Minneapolis to the Pacific Rim, even some companies whose names you might not recognize.
Their firm, Russell Associates, produces training materials which aren't cumbersome, yawn-producing or bedeviled by mispro-nounceable words and fuzzy objectives. In many instances, they're interactive, zipped along by flashy graphics, animation and snippets of video to speed learning and increase retention. Through them employees learn a variety of skills, anything from how to sell fine China to proper operation of a forklift, far faster and at less cost than conventional methods.
Russell Associates also produces software documentation and writes concise versions of policies and procedures for companies, but training programs are the mainstay products.
"We're an information transfer company," Russell said. "We write textbooks, workbooks, manuals, stand-up presentations, workshops and seminars. The client does the delivery. We develop the material and train the trainers." In a sense, they absorb and package information from the client so it can be used to train the client's employees more quickly and more effectively.
Doheny and Russell operate from a fairly new building, outgrown by a bank, on the edge of downtown Le Sueur, backed by a growing staff of programmers, writers, graphic artists and animators. "It's a team effort," Doheny said. "We can come up with a lot of creative ideas on how to present something, but it's the programmer who has to make it happen." Although the subjects and processes are technical and fairly complex, the end result is simplicity. The company motto: "We make the complicated seem simple."
In the last five years, new technology enabled a radical change in delivering what's been known as "computer-based training (CBT)." Russell and Doheny put an "i" in the term and made it CBIT for "computer-based interactive training." Interactivity means that students sitting in front of computers "must do something to keep the training going. They can't just 'glaze out.' They have to focus, and they run at their own speed," Russell said. "Ninety percent of everything we do is interactive. The other (manuals and presentations) hasn't decreased, but CBIT has exploded."
"Our first big job was with Control Data, helping it start a new division," he said. "We could not find the training we thought was appropriate for their people (new dealers and franchises), so we decided to write it ourselves. It was very successful. The next thing you know, we're writing training for that division and other divisions of Control Data."
The Control Data experience amounted to a turning point for the new business, leading Russell to conclude that brokering and consulting wasn't its niche. "We said we're really a training company and we have some really unique approaches," he recalled. It also exposed Doheny and Russell to the first personal computers and the concept of computer-based training. Bill Norris, the innovative head of Control Data, launched PLATO, which Russell described as "the first computer-based training of any note. They were well into it in 1981. It ran on a huge mainframe, which was horribly expensive. Only certain universities and very large companies could afford it."
Doheny and Russell assessed the concept and found it to be effective. "But it was too expensive (for smaller companies) to use. It wasn't truly interactive because you had to stop and play a video or stop and play an audio tape," he said. "We basically said this is a great approach, but it's not ready for the market. Technology wasn't to the point where it was viable for most companies. The PCs weren't there.".
Training employees in a cost-effective manner will be no less important in the future. "A lot more people are changing jobs more frequently. It's a transient workforce," Russell said. "Instead of taking time to train someone who'd be with you forever, you need to train them immediately so they'll be up to speed. A lot of companies are down-sizing, so jobs disappear. We're having to teach a workforce on subjects that didn't exist or equipment that didn't exist a few years ago."
Russell and Doheny envision Russell Associates as continuing to be an information transfer company. "But we may have to do some branching off. We do a lot of certification testing," Doheny said. "That's emerging as almost its own area. It's become such a big part of what we do that we may have to create a separate department, spin it off."
The company has developed a variety of test methods to determine if a client's maintenance or technical people, either employees or in dealerships, "know what they're doing in terms of installing or repairing. We've developed a data base of questions, selected at random by the computer. No two people should get the same test. We send a disk out containing the test questions, they take the test and we grade it."
This form of testing "makes the testing more important, raises the perception of it," Russell said. "It gets the local manager or supervisor out of the testing business. It's impartial and it standardizes the process."
Aside from testing, another specialty of Russell Associates is putting the policies and procedures into concise written form. "We don't create it, but we write it so it's clearly understood and there aren't any gaps," Russell said. "That's Jeanne's bailiwick because for many years at Multifoods, she had to write the "Good Manufacturing Practices" required by the FDA for pharmaceuticals. If you can write those, you can write clear policies and procedures for companies." Perhaps just as difficult, Russell Associates also writes documentation for software, either from scratch or using the technical documentation and translating it for nontechnical users.
One certainty in their future is more technology. "We will keep on the cutting edge of the technology, and that's kind of a cliche, because we have to in this business have the newest equipment and the older, because many of our customers have that," Doheny said. "We have to have the capability of delivering a true state-of-the-art product. If we don't, our competitors will."
Right now, Russell Associates enjoys an edge. Their competitors, according to Russell, use programmers, animators and graphics to "produce a nice-looking product, but they don't understand the education engineering necessary for adult education."
©1997 Connect Business Magazine