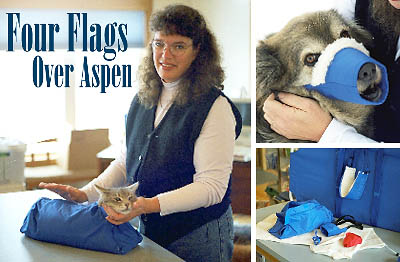 Photos by Kris Kathmann
Ever tried to muzzle a ferret? What about a timber wolf? Probably not. But if the need arises, Cindi Gaterud of rural Janesville has already designed muzzles or hoods for ferrets, wolves, elk and other creatures. She helps veterinarians and a variety of animal-handlers minimize one of their major occupational hazards – puncture wounds from sharp teeth.
By manufacturing thousands of standardized dog and cat muzzles since 1985, Gaterud's veterinary supply business has earned a reputation for quality, reliability and innovation that just naturally attracts offbeat inquiries from people who want to muzzle something else. Conservation officers in New Mexico asked her to design a hood for elk, presumably to make it safer to transport these large mammals. When federal biologists reintroduced timber wolves to Yellowstone National Park three years ago, the 31 wolves made the trip wearing Gaterud's muzzles whenever they needed to be sedated. Disneyworld officials want her to create an animal stretcher to be used at the Florida amusement park.
While she's "somewhat flattered" at receiving such requests, her response depends on "how much work is required and my personal stance. Had I not believed wolves should be brought back to Yellowstone, I probably would have said no. But I was willing to help the cause."
Most of the items she custom designs represent onetime transactions, but ferret muzzles became part of her annual mail-order catalogue about 18 months ago. Ferrets are tiny, weasel-like creatures blessed with needle-sharp teeth. They're becoming popular pets, so veterinarians who buy her traditional muzzles for dogs and cats asked for a miniature version to fit ferrets. It's on the cover of her latest catalogue, which also features a variety of restraining devices, surgical drapes and towels, autoclave glove bags, aprons and grooming sleeves, pads, cushions and other accessories required by veterinarians.
Everything about Gaterud's business is unique – its products, its location and its name. The enterprise is "well hidden" on a farmstead midway between Janesville and St. Clair, at the edge of tiny Buffalo Lake, which is more slough than lake and home to a few pheasants, ducks and deer. Although other rural mailboxes along the gravel road carry addresses and at least a last name, her black box is anonymously blank. "We don't need it. There's no retail…we're mail order," she explained.
Gaterud and her husband bought the farmstead in 1982 because "we like country life. It's the place to be. It's a good walking spot, with good cross country skiing, skating and ice-boating on the lake," she said. The couple has "a little fleet of ice boats," which are like sailboats with runners. They work best when there's no snow covering the ice. "Some years you get ice (without snow on it), some you don't. There's a day or so window, and if it doesn't fall into your schedule, you're out for the year," she said.
The Gateruds spent their first year on the acreage gutting and remodeling the big old farmhouse, building a new basement beneath it and putting in new walls, ceilings and windows. There's not much traffic past the isolated place, just a few farmers coming and going. But a UPS truck stops daily to fetch the 10 to 50 orders she might be shipping in cardboard cartons, destined for towns all over the United States.
And the name? Four Flags Over Aspen, Inc.. It's quite a stretch, considering that the name makes no mention of muzzles, she flies no flags, the land around her home is as flat as Kansas and the nearest ski slope is Mount Kato, at least 20 miles away. "Customers asked a lot of questions about it at first, but now they're used to it," she laughed.
The explanation is simple. Her maiden name is Flaig. She has three siblings. The venture was started by all four Flaigs, hence "Four Flaigs" but without the "i." The concept was born during a 1983 Christmas ski vacation in Aspen, CO, which finishes the name. "We just decided to start something," Gaterud said.
For Gaterud, the timing was right. She and her husband, John, had moved to Minnesota in 1981 after he'd finished graduate school at the University of Oregon in Eugene. He took a job teaching mass communications at Mankato State University. Cindi, who has a degree in elementary education from the University of Northern Colorado at Greeley, taught for a year at Children's House, MSU's preschool program. But she'd just had the couple's first child, Abbey, and was trying to find a home occupation so she could spend more time with their daughter. "I was sewing windsocks and doing other crafts," she said.
Four Flags' first product was a "player pack," a cloth bag in which joggers could carry a cassette player. "I designed and marketed those and we sold some, but they were labor-intensive and expensive," she said. While still sewing windsocks and player packs, Four Flags began to move in the direction of veterinary products. A good share of credit for that inspiration goes to her brother, Dr. Kenton Flaig, a veterinarian who practiced in Staten Island, NY. "He had a couple of ideas for improving existing products that just didn't work in his practice because they weren't designed well," she said.
One example of faulty design: A muzzle with a metal buckle which took too long to close. "When you're dealing with an aggressive dog, you don't have time to put on that kind of buckle," she said. Using her brother as a consultant, Gaterud redesigned the muzzle, added a plastic quick-release buckle, and came up with Quick Muzzle®.
"I'd send him a prototype, he'd try it, and say it doesn't fit here or there," she said. Gaterud also used the family dogs as "models" as she worked through designs. "We have ancient animals around here," she said, pointing to Mike, an 11-year-old golden retriever who snoozes on her office floor, near the family's old upright piano. "We've always had a variety of dogs and cats."
In 1985, when Quick Muzzle® moved from prototype to production, Gaterud mailed a "new product release to one of the veterinary journals, and from that we got really good response – 10 or so orders a day for sets of muzzles in different sizes. Then we did a little bit of advertising and worked on developing a mailing list of veterinarians."
Gaterud and her siblings then expanded the product line. Cat muzzles were added, then a Cat Sack in which vets could zip up cats to restrain them during examinations. Zipper openings at appropriate points allowed access for examining and treating the animal. (It's the pet equivalent of a human straightjacket.) That led to the Bath Sack, a mesh bag to enclose cats who tend to become unruly at shampoo time. The original muzzles fit dogs with average snouts, and come in 10 sizes. Gaterud also offers three sizes for long-snouted breeds, such as Shelties, Collies and Greyhounds, and three sizes for Chows and other short-snouted breeds. The model for cats also works for pug-nosed dogs such as Pekingese, Lhasa Apso, Pug and Boston Terrier. The pets of friends and neighbors often served as "models" for Gaterud. "I'd just find somebody who had the kind of dog I needed."
Four Flags marketed directly to veterinarians during its first year, but "early on, we targeted distributors as well and within a year, we had a few distributors." Now the company sells more to distributors than it does directly to veterinarians. "In the early years we had a growth rate of 30%, then it leveled off to about 15% although we had a couple of flat years," Gaterud said. She gradually bought out her siblings and now is the sole owner. "We haven't poured out tons in advertising. We took more of a build-the-customer-base approach. If somebody else had this business, I'm sure they could have done a much larger volume, but it's a good business and I'm not looking to build a conglomerate," she said.
The spacious farmhouse finally ran out of extra room two years ago so Gaterud put on a 1,500 sq. ft. addition. In the basement, there's inventory storage and a cutting room where bolts of blue and red nylon are sliced into pieces that will be sewn into various finished products. The upstairs is used for customer service, order processing, packaging and shipping.
Although Four Flags shipped 100,000 dog and cat muzzles last year, there are only two small sewing machines on the premises. That's because independent contractors, 15 to 25 of them, sew the nylon muzzles and other products in their homes on their own machines, following Gaterud's specifications. At the beginning, she had two farm wives helping her sew. When Vietnamese and Cambodian refugees began settling in Southern Minnesota in the mid-1980s, social service agencies helped set them up to sew for Gaterud, who is proud of her relationship with this refugee population. When she talks about the satisfaction derived from having her own business, helping the refugees become established ranks high with her. "I like the fact that I provided work that many wouldn't have had elsewhere because of the language barrier," she said. Many of her current contractors are Vietnamese or Cambodian, including several who started when Four Flags was just beginning. A few have moved to the Twin Cities but continue to sew for her.
Besides herself, Gaterud has one full-time and four part-time employees who keep the day-to-day business running smoothly at the farmstead. Most have been with her 10 to 12 years. "It's a nice place to work," she said. Four Flags fields orders by mail, telephone or fax and now has a Web site (www.fourflags.com). "We have a really loyal customer base. They appreciate fast, friendly service. We try to make it easy for them to deal with us," she said. "It's rewarding when you're dealing with customers who still have a muzzle they purchased 10 years ago and it's still functioning for them. A lot of people call and say 'I love your product' because it's saved them from injury so many times."
Gaterud is glad that Four Flags has reached the point "where I don't have to be here all the time," glad that John's teaching schedule at MSU is flexible enough so the couple can enjoy getaways together, canoeing in the Boundary Waters or skiing in Colorado. But reaching this point has been a "long road. I've put in a lot of time," she said.
Although she doesn't consider herself a forerunner or a pioneer, since 1984 she's been living what's become the Modern American Dream, being her own boss, finding a work-at-home venture. Four Flags helped Gaterud realize her desire to be a stay-at-home mom. "I wanted to be here. I didn't want to have to go someplace else. I wanted to have something where I could stay home with my daughter," she said. Now there are two children. Abbey is 14, Alex is 8. "It's nice to be home, to respond to their needs, but they've both gone to day care, although never full-time." She discovered what other work-at-home entrepreneurs frequently realize with children around – there are days when "you just can't get anything done."
Now she's headed in another direction. This spring, Four Flags moves into a building in St. Clair that once housed a hardware store.
"Our kids have always grown up sharing our house with the work and it just came time when everybody said it would be nice to not have it here," Gaterud explained. St. Clair seemed a logical choice because there's where Abbey and Alex attend school and the old hardware building was available for sale. She plans to maintain her office at home, working from it two days a week and spending three days in St. Clair.
The 2,500 square foot building "is going to need some work, but I wasn't ready to move to a real industrial park where they might have something that suited my needs better," Gaterud said. "St. Clair seemed to be a good home for Four Flags."
©1998 Connect Business Magazine