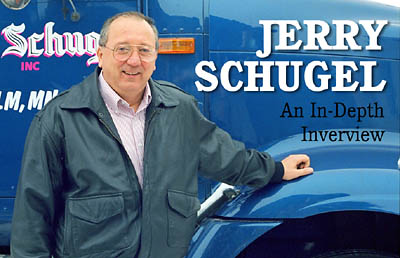 You wouldn't expect a guy who co-owns two companies that together grossed $60 million last year to draw a rather modest salary and live in a rather modest home. Nor would you expect him to ride a Harley to work. But that's Jerry Schugel.
Conjure up an image of a trucker and "Smokey and the Bandit," cups and cups of acidic coffee, CB radio handles, Pall Malls, and Betty Lou who takes your #2 order of scrambled eggs and bacon may come to mind. But when Jerry Schugel talks about life on the road he mentions "responsibilities," "securing your load" and "you always have to make sure that your [refrigerated] units are running the right temperature."
He's not your typical corporate executive nor your typical trucker.
Nearly 185,000 Minnesotans – 1 out of every 11 private sector workers – are employed in the trucking industry. Trucking kneads nearly $6 billion in annual payroll into our state's economy and moves 85 percent of all our freight. In the trucking industry in Minnesota, New Ulm's J&R Schugel Trucking, Inc. is a major player indeed.
Along with his brother, Richard, Jerry has built J&R Schugel into a $48 million a year trucking firm with far-flung outposts in Columbus, Atlanta and Urbana, Illinois. Combined with 110-truck BestLine, which was purchased by Jerry, Richard, their sons and a partner in 1995, total annual revenues exceed $60 million.
A soft-spoken man who attributes his success to "dedication and hard work," Schugel also seems to have a soft spot in his heart for his employees. Most corporate presidents bury their office in the outer limits of their headquarters building, far away from interruptions, distractions, visitors. But Jerry Schugel's office is the first one to the right, where he often sits solving problems with headset affixed to ears while wife, Rose, works just across the hall. Occasionally he surfaces and jokes with his employees.
Making it big in the trucking industry is a very bumpy road indeed. Somehow the Schugels have barreled through years of red tape and one government mandate after another. In this live interview, Jerry lets you peek under his hood and into an industry that affects in some way every business person in southern Minnesota.
CONNECT: How big is J&R Schugel Trucking?
SCHUGEL: Today we have over 350 power units – tractors. We have 550 refrigerated trailers nationwide. This year we'll be adding another 120 trucks to our fleet. We opened up in Urbana, Illinois, and Columbus, Ohio, in 1985, and Atlanta, Georgia, in 1991. New Ulm is running about 110 power units now, Urbana is running about 80, Columbus about 80 and Norcross, Georgia, which is a suburb of Atlanta, another 80 trucks. We're a truckload carrier with 48 state authority.
CONNECT: Unemployment is awfully low in this area, hovering around 3.0%. You could move your business where there is a larger labor pool. You don't have a four-lane out of New Ulm either. Why do you stay in New Ulm?
SCHUGEL: We stay here because New Ulm is our home. The community has given us the opportunity to succeed in our business and we are giving back to the community by staying here. Most of our customers are in this area too – in Mankato, New Ulm, Madelia, St. James, St. Cloud. New Ulm is centrally located for us.
Highway 14, even though it isn't a four-lane, is still in pretty good shape. It does have a lot of traffic on it though. The state is keeping it up nice now. I guess what I'd like to see the state do someday on Highway 14 is put a passing lane in, a third lane, between New Ulm and Mankato. They could make it a three-lane highway. The state did that up by Brainerd, where they have two-lanes going to the west for a few miles, and then it turns around and goes to the east for a few miles. It really seems to speed up the traffic. It keeps it going.
CONNECT: What are the greatest challenges you face in running your business?
SCHUGEL: Every day is a different problem. At the top of the list right now is trying to find qualified employees. Drivers, especially, are hard to find. There is a big demand for them now. To get new drivers we are working with the trade schools. We have instructors here. The new drivers work with the instructors until they are ready to go on the road. Each student is a little different. Some catch on within four weeks. Some go 8 weeks or more with our instructors.
CONNECT: The expenses associated with trucking have to be enormous: the cost of tractor trailers, insurance, fuel, maintenance, taxes. How do you grow and stay profitable with all these costs?
SCHUGEL: Here's a list of some of the federal, state and local taxes and government mandates that we are faced with per tractor. All of these numbers are per-tractor numbers. We work awfully hard in trying to keep our costs down because we know our shippers have to keep their costs down too. We haul a lot of grocery products and those companies have to stay competitive in price in order to sell their products. When you go to the grocery store and buy, that's when you notice it.
We grow and stay profitable because we maintain late model state-of-the-art equipment. We're literally on the cutting edge of technology in the transportation industry.
CONNECT: What about on-time delivery? Does it put extra stress on you?
SCHUGEL: When you deal with cost of product, everyone seems like they're trying to cut down on their inventories. On-time delivery is a big stress. Right now we are running at 96 percent on-time delivery, which is remarkable considering we dispatch 1100 loads per week. We have a satellite tracking system, or GPS. We know where our trucks are at all times. This program allows our drivers the ability to maintain constant contact with their fleet manager and in turn we can be in constant contact with our customers.
CONNECT: So what you're telling me is that technology has progressed to the point where a trucker is now calling the customer when a load will be late? and not the other way around?
SCHUGEL: It's incredible.
CONNECT: How are trucking rates established?
SCHUGEL: There's a lot that goes into it. We measure how long it takes to go from Point A to Point B. It isn't really so much on a mileage basis on a shorter trip. We also look at how many days are involved and how many hours are involved. It costs us so much a day to run a truck.
Sometimes potential traffic jams figure into it too. The highways are getting crowded. They're full. There's a lot of traffic out there – more and more ton miles are getting shipped every day. Experts are predicting it's going to be even more and more in the next five years too.
CONNECT: You send your managers to Dale Carnegie. Why do you do that?
SCHUGEL: Pretty much all the management folks go. Anybody who wants to go we let go. Our managers get a lot of good tools out of it. It helps them make decisions. Dale Carnegie helps your company and it makes you a better person. Most of our managers who we've moved up from within the company have been helped by it.
CONNECT: How did J&R Schugel get started?
SCHUGEL: My dad started in business in 1954. He was hauling grain and feed in Minnesota. He expanded it into the surrounding states that touch Minnesota. In 1969 I bought my first truck and became an owner/operator. By 1974 I had seven trucks and was working for two other companies in New Ulm and my dad too. That year, my brother, Richard, who had two trucks at the time, and my dad, who had ten trucks – we kept meeting each other on the road. That's when we decided to merge everything together and form J&R Schugel Trucking. We kept on growing and five years later my brother and I bought our dad out. He then retired.
We started getting into hauling dry food products and kept doing it until 1982. That year we bought our first refrigerated trailer and we started hauling dairy products. Today we have nothing but refrigerated trailers at J&R Schugel.
In August 1995 we bought another company: BestLine. Right now my son, Rick, is running that company. They are located in Eagan.
CONNECT: Does the trucking industry work on long-term contracts?
SCHUGEL: Today contracts are flexible since the government deregulated the industry. You can negotiate the contract and make it a one-day deal, a monthly, a yearly deal. You can draw up a contract between a carrier and shipper today and be hauling freight tomorrow.
CONNECT: What did deregulation do to the trucking industry?
SCHUGEL: It was about ten years ago when [deregulation] occurred. We can now haul freight at the dollar amount we want, not what the government told us we could haul it for. Years ago you used to have to go by a set-in-stone rate per mile. But today you can do whatever you want. You can change the deal with a phone call. Years ago, to change a rate, you had to go to the federal government to allow a change.
In other businesses, if you needed more money, you could charge more money. But you couldn't do that when the trucking industry was regulated.
It also gives us more freedom to haul different products. When the industry was regulated, you had to have authority (permission) from the government to transport products on specific lanes. For instance, let's say you have the authority to haul product from Minnesota to the East Coast for a certain shipper. If you were another carrier, you didn't have the authority. This caused customers to totally rely on just one carrier. You could haul dairy products for one customer but not for another if you didn't have the authority to haul for them. The Interstate Commerce Commission told you what authority you could have. With deregulation, you could apply for authority, get it and be on your way. Deregulation really helped the economy.
CONNECT: Do you run full loads only, or some LTLs too?
SCHUGEL: We basically run only full loads. We don't get into LTLs. We aren't set up to handle them.
CONNECT: What do you attribute your success to?
SCHUGEL: Dedication and hard work. A key factor is we have some awfully good people who work for us. We are a big family here. If you have good people working for you that's 90 percent of the battle. That's the biggest part of building a business – getting good people to work for you.
CONNECT: How would you describe your management style?
SCHUGEL: I don't know (laughter). Basically I just sit down with my management people and try to put a plan together. We look at a situation from every possible angle. We just keep on working on the problem until we feel we have a plan put together. Then we go attack it. If we go on for three months and the plan doesn't work, then we don't point fingers. We just go ahead and change and do it until we get it right.
CONNECT: Do you do the hiring for truckers?
SCHUGEL: No, we have recruiting people here. They do all the interviews. We have criteria that we look at. For instance, the applicant can't have any DWIs on their record. We are very safety conscious. We try to put the safest driver out there. We don't want to endanger the general public.
Recently we had two drivers named Driver of the Month by the Minnesota Trucking Association. We had one driver, Harvey Lund, who went 2.5 million miles without a chargeable accident and another, Wayne Skorczewski, went 2.3 million miles. One of our owner/operators, Willard Portner, was awarded 3rd place for the nationwide Truckload Carriers Association Owner Operator of the Year contest.
CONNECT: Who do you truck for?
SCHUGEL: Fifty of our customers generate 78 percent of our business. We want to grow this year because our customers are asking us to grow. We want to keep up with our customers. Some customers we are involved with in this area are Kraft, Hormel, Jenni-O Foods, AMPI, Michael Foods, Ventura Foods, Shari Candies, Atlantis Plastics, Carlson Craft, Tony Downs, Pennant Foods, Firmenich.
CONNECT: For a time, movies like Smokey and The Bandit glamourized trucking. What's it really like being out on the road? You used to be out on the road.
SCHUGEL: The years that I drove, it was really never boring. I always had a lot of responsibility – to drive the tractor, get there on time, make sure the load was secure. It's really not a boring job. The drivers today have a tough job. We have temperature controlled products and you always have to make sure that your units are running the right temperature.
CONNECT: It seems so out of character for you to ride a Harley Davidson motorcycle, yet you have one.
SCHUGEL: I always had a Harley, from being a kid on. I was 16 when I bought my first one. But when I got married and had 2 kids, well, they didn't want me on the bike so I sold it. I guess I never really lost the thrill of riding so I decided to buy another one.
©1998 Connect Business Magazine