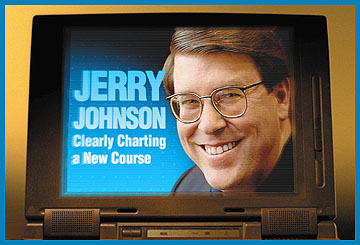 While looking out his office window for a memory that isn't that far distant, Jerry Johnson, founder and chairman of Mankato-based Clear With Computers (CWC), seems to feel a great deal of pride in helping move CWC from a $99-computer beginning to an industry giant. "We started with no money in the bank," he says.
Today CWC is a global leader in software that helps sales representatives sell more effectively while they're with their customers. Its software can also extend a sales force's reach by allowing customers to buy on the Internet. Highlighting its resume is a list of blue-chip customers that includes Renault, General Motors, Volvo, Ingersoll-Rand and Freightliner. Over 150,000 sales representatives have employed its software on their laptops.
(You may not be that familiar with CWC because it doesn't have a single customer that is based here in southern Minnesota.)
One company CWC helped, Renault, had lost sales when salespeople couldn't quickly explain product features and benefits to impatient customers. The auto and truck manufacturer had two million options and parts. CWC solved Renault's problem by crafting a software product that gave its salespeople a point-of-sale advantage over competitors.
As he sips on Diet Coke while still peering out his office window, Jerry Johnson also seems to be pondering his company's future. Last June he hired Klaus Besier to manage day-to-day operations as president, taking over a role that Jerry had nursed since 1983. He explains hiring Klaus this way: "I feel entrepreneurs build up a company and when it gets to a certain point they have to bring in someone like a Klaus Besier in order to take the company to the next level."
Now while he turns from gazing into the future, he locks onto your eyes. He laments that his company and the nature of the sales software industry, in general, aren't well-understood by the Mankato community, even though CWC is one of the largest employers in the area (employing about 250). But perhaps after you hear his story from his own lips this won't be so anymore.
CONNECT: Take me through the initial idea to start CWC through the first couple of years.
JOHNSON: My background is as a farm equipment dealer. In my dealership I was working on how to better sell tractors to my farmers, especially trying to explain leasing to them. I tried a lot of different things: worksheets and different types of presentations. In 1982 I received an American Express bill in the mail and in it was an advertisement for a $99 computer. I bought that computer and started to put my sales presentation up on it. I wanted to use it with farmers to help them better understand how leasing worked in the buying of tractors. From that idea other dealers and International Harvester asked about the software. So it was something that developed from myself and it grew with other people wanting to buy it.
CONNECT: As far as competitors go, when you first started, were you the first?
JOHNSON: Yes, the first.
CONNECT: And now I'm guessing there are scads of companies who do what you do?
JOHNSON: There are probably half a dozen larger ones and some smaller ones coming in. There are also some companies who weren't in our industry who are now making some acquisitions and getting into our industry. So the competitive landscape for us is changing.
CONNECT: With such stiff competition, how do you position yourself in the market? and what makes your product different?
JOHNSON: What makes us different is we have a proven track record of getting our systems in place and having them implemented. We have a proven track history of salespeople using our systems. There are newcomers getting into our market who really haven't implemented a system like this before. We've also been around 15 years and developed a lot of experience. The new people coming into the market just don't have the experience. Also, clients have really bought into our vision and where we are going.
CONNECT: It's been more than four years since General Motors asked you to switch from DOS to Windows. Their request began a period of great change at CWC. What was that period like?
JOHNSON: Before the Windows technology became the standard, everyone was trained in one type of technology, the DOS technology, so everybody needed to be retrained. We had to redesign all the screens. We had to redesign all the technology.
Up until that time we had built the company one client at a time. All of a sudden we had to make this major change, not only for General Motors, but for all of our clients. It was a difficult time and the transition was not an easy one.
But the good folks here [at CWC] were able to do it. The GM system is now in 8,500 dealers; that's every dealer in North America. It is now the only way General Motors gets orders in. It's required and a part of every dealership. So if you go to Mankato, New Ulm or whatever, the system is being used.
CONNECT: What kinds of lessons did you learn from that experience?
JOHNSON: I think the lesson we learned is that change is sometimes hard. People are comfortable doing business one sort of way. Companies that don't change just aren't going to be around. So embrace change, let change happen, because that's the only way you can be successful.
CONNECT: Your product seems to be in a constant state of R&D, just because technology changes so fast. How do you guard against competitors one-upping you?
JOHNSON: One way we try to protect our product is with confidentiality. In addition, we also have a number of patents and a lot of copyrights. We also have trade secrets that help us protect our product. It just so happens that Minnesota has one of the toughest trade secret laws in the country. And that's to our benefit. I think Minnesota truly understands that companies have value in their products and they can lose that value by having some competitor coming in and taking trade secrets.
CONNECT: How do you attract high-tech employees to Mankato? It's not Silicon Valley.
JOHNSON: There are a large number of people who do want to live in this type of community environment, with its good quality of life and its a small-town feel. Not everyone wants to be in Silicon Valley and all the things that come with that. So we have to find people who want to live here.
But it is difficult. It's been one of the major problems that the company has had. I think, at the present time, we have approximately 30 contractors working here because we can't find enough employees. For the same reason, we've had to establish an office in Edina because we could not attract enough people. There aren't enough [qualified] people in this area to meet our needs. We have a close relationship with a number of recruiters who help us find people. It is a problem, but there are people out there who want to live in this environment and who like the Mankato area. Also, we've tried to work hard with Mankato State University and South Central Technical College to recruit graduates.
Some people like to be in a big city where there are more things to do, with more restaurants. The big city offers some things better. But other people like Mankato, me being one of them. The Mankato area is quiet and a good place to raise a family. It's a good place to be.
CONNECT: Describe the ownership change and the attempted ownership changes over the last two years.
JOHNSON: We had decided as a management group, in 1995, that we were going to have an "event" in 1997. We didn't know what the event would be, whether we would partner with somebody, go public, or whatever. As 1997 approached, we decided that the best approach for us was to bring in an investor.
We were able to do this with General Atlantic Partners. They are from Greenwich, Connecticut. They are considered the best venture firm in the software industry. They are very, very successful. They only invest in two or three companies a year. We feel very fortunate that they invested in us. They only invest in companies that they feel can be market leaders.
And so after that transaction occurred in May 1997, Ray [Toumala, former partner] retired. In late June we were able to hire Klaus Besier [the current president and CEO]. We are very fortunate to have him with CWC. He has a proven track history. He was with SAP America. When he started with SAP they had $17 million in sales and when he left SAP four years later they were at $710 million in sales. He brings a lot of knowledge in the software industry to us.
He has been instilling at CWC his model. In the past we were doing a lot of custom service work. Now we are only focused on our product. This business model will allow us to grow faster. We can work with many more customers and implement our systems in a much shorter time frame.
In the old business model, when we did custom work for each client, each client required a great deal of time and effort to implement the system. They were happy clients at the end, but it took a lot of effort. In the new business model we only install a product. Somebody else makes the unique changes to the product for each client. That's going to allow us to grow much, much faster. We have focused the company on the product, including compensation, R&D, and sales and marketing. We are also lining ourselves up with partners who are focusing on implementing our product.
A lot of service work needs to be done when a customer acquires our product. For example, the unique data for a client needs to be entered. Partners like Ernst & Young actually modify the product for the client. We are currently completing some of the custom projects now. They are going to be done in the next month or two. After these projects are completed, we will be focusing 100% of our effort on our product.
The low-end fees for our product is about $500,000. This isn't something that you find in your local software store.
CONNECT: About six months ago you nearly merged with someone.
JOHNSON: The company that we actually announced a merger with was called Scopus. They are a Silicon Valley-based company. Their products complemented our products. The thought was that by merging with them we could offer the broadest product line in the industry. After more time went on, we realized that the better approach was to have a working relationship between the two companies and go after the market individually. So we called off the merger. Now we each focus on our own portion of the market and work together where appropriate.
CONNECT: Do you have plans to go public?
JOHNSON: That certainly could be something in our future. Right now we have no plans to go public.
CONNECT: Compare what you did with CWC back in its infancy versus now. Do you like the change?
JOHNSON: When I brought in Klaus Besier, I told him that he was going to be in charge. I feel that entrepreneurs build up a company and when it gets to be a certain point they have to bring in someone like a Klaus Besier in order to take the company to the next level. I didn't want to confuse the current employees and get it to where Jerry said this and Klaus said that. So I clearly put Klaus in charge. And I have been absolutely thrilled with the work that has been done. We've made more progress in the last six months than he and I thought were possible. We've really made a lot of progress.
I really feel comfortable with the direction we're going. I feel comfortable with the work that we're doing. We had a record quarter this quarter. I feel real good about that. And again it's changing the business model too that has done it, from the custom work to the product.
CONNECT: Was it tough to put aside your ego and let someone else run CWC?
JOHNSON: In my particular situation, I didn't have a problem with that. I've just been proud of the company we've built and proud that we were able to attract Klaus here in order to take CWC to the next level. My ego doesn't get in the way of that.
CONNECT: Are you ISO certified?
JOHNSON: No. We started that process and we've abandoned that.
CONNECT: It seems like a natural given your international business.
JOHNSON: We were told that we might need to be ISO certified in order to get business, but we haven't run into that situation yet. What ISO does is document lots of processes. Everything seems to have a process and everybody follows that process.
What we have here at CWC is a creative-type business. Sometimes if you take a structured process, like a manufacturer's process, and you try and structure it, then ISO is ideal. But software is more of a creative process. I don't think ISO is the right approach with us. We ended up becoming too process oriented when we were going through ISO. Everything had a process in three-ring binders. Right now our processes are less-structured. ISO is not part of our plans. We just closed a deal last week within Europe. ISO wasn't an issue.
CONNECT: Was it your idea to have casual day every day here at work? All your employees wear jeans.
JOHNSON: We used to have casual days on Fridays. When Klaus came in he made casual days every day. And he also broadened flex-time. Employees have to be here from ten to three during the core times of business, but they can come in the middle of the night or leave early. They can go home at three and spend the evening with the kids and then come back later.
CONNECT: How do you spend your time now as Chairman of the Board?
JOHNSON: Right now I'm spending time helping Klaus understand the business and the product. I'm teaching him about my experiences, what I've learned. After we get through with that my role will be changing to more broad activities and those kinds of things.
CONNECT: What do you see on the horizon for you?
JOHNSON: Quite frankly I haven't had the time to think about that. There are a number of things that come to mind. I'm going to need to think about that one of these days.
CONNECT: What are you most proud of with what you've done here?
JOHNSON: I feel really good that we started with nothing. We started with no money in the bank. We had an idea. We were able to build it up into the company that we have today. Look at the facility. See the workforce. We have some major clients in the industry. To me, it's the pride of building something from nothing.
CONNECT: What personal quality do you have that's helped you succeed?
JOHNSON: My persistence and vision have been key. Along the way there are a lot of ways to get off the vision, to get unfocused. So if you're persistent and you have a consistent vision, that's key.
CONNECT: Anything you'd like to add?
JOHNSON: Change is important. We are a company that is changing from a custom to a product business model. It will allow us to grow much faster. It allows us to be that much more of a major player. It allows us to set up partnerships with people like Ernst & Young and CAP Gemini. They can do the customization of the product. In the past we thought they were competitors. So the change is good.
©1997 Connect Business Magazine