Lindsay Window & Door Company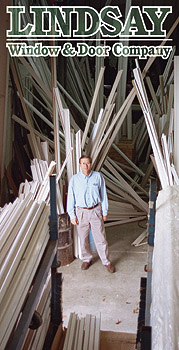 Photo by Kris Kathmann
John Roise avoids credit for the rapid growth and financial success of Lindsay Window and Door Co., which manufactures vinyl and wooden windows in North Mankato.
Despite his lack of experience in the industry, Roise introduced new products that more than tripled sales. Employment escalated from 14 to 65. He's paid back all the long-term money he borrowed to buy the company in 1989.
Still, he's not gloating. He endured months of near-panic and despair because he'd misjudged the company's situation when he surrendered a comfortable job as president of Norwest Bank in Mankato to buy it. Within two days of taking over, Roise trashed his carefully drawn business plan because it didn't fit. He threw himself into 80-hour work weeks to salvage his investment. He slipped into such debt-driven despair that he once declined his family's invitation to join them for popsicles, believing he couldn't afford even such an inexpensive treat.
Although he could be excused an occasional boast about how he first survived, then prospered, that just isn't his style. Roise isn't what he outwardly appears. Beneath the comfortable banker's facade dwelled a restless entrepreneur, and that entrepreneur, it turns out, is a deeply committed Christian. "I'm making these windows for the Lord, not trying to amass a fortune," he said. It's obvious he believes Jesus Christ gets credit for what's happened at Lindsay. Next in line come Lindsay's "faithful, hard-working employees" and then his family. "All our three sons (Geoff, Nate and Jon) worked here while they were growing up" he said. Geoff, the oldest, is a management consultant with a national firm. He wrote Lindsay's computer programs and still serves as a consultant. Nate works abroad and Jon is a student in Colorado. "My wife, Sue, suffered and sacrificed the most, and continues to carry the 'pain' of those first years," he said.
Roise minimizes his contributions, insisting he's the "least important one around here. If I got paid for my mistakes, I'd be rich." He implemented just one segment of his otherwise-flawed business plan, steering Lindsay into the production of vinyl windows. "When I bought it, the production was 98 percent wood windows. Now it's 75 percent vinyl and 25 percent wood," he said. Lindsay doesn't make fewer wood windows today, but volume has tripled with the addition of the vinyl models. "They won't rot, they won't swell and they have the same thermal characteristics as a wood window," he said. The windows are heat-welded together rather than nailed and require virtually no maintenance.
The growth in vinyl came at a price, however. Roise estimates he invested $1 million in new equipment. The single most expensive machine related to vinyl is a $100,000 device which trims the swollen spur left by the heat-welding process. He also acquired a $130,000 computer-controlled glass cutter to custom-cut for both kinds of windows.
The company employs two salesmen, one in Minneapolis and the other in Madison, WI, and two manufacturer's representatives covering South Dakota and Nebraska. Almost all the windows are sold to home improvement contractors, some to home owners themselves. Anyone who goes to Menard's to order a replacement wood sash will likely get one made at Lindsay. It will be custom-built because "there are a lot of odd-sized sashes out there," Roise said. "Menard's is our biggest customer for wood windows."
Leonard Lindsay founded the company in 1947 in an old two-story building of about 8,000 square feet near the Minnesota River, behind the Century Club. "They also made kitchen cabinets at first, but the real thrust was making replacement wood sash," Roise said. "When I started, I didn't even know what a sash was. That's the part that goes around the glass and goes up and down." Most of what Lindsay sells to Menard's today is "barn sash," a fixed window that doesn't raise or lower.
"In 1969, Lindsay sold the company to Dick Johnson, who started out sweeping floors there when he was 16 years old," Roise said. In 1984, when the Army Corp of Engineers bought properties along the river to build a flood wall, Johnson applied his settlement toward a 35,000-square foot building in the North Mankato Industrial Park. When Roise bought Lindsay, he reluctantly assumed Johnson's commitment to build a 25,000 square foot addition, bringing the facility to 60,000 square feet. "In the beginning, that was too much space. Now it looks pretty full," he said.
Although the Roise and Johnson families both attended Evangelical Covenant Church in North Mankato, the two men never developed a business relationship. "I made sales calls on him for about seven years when I was with the bank," Roise said. "It was a great company and he was a great individual, but I never got a penny's worth of business out of him. I'd make him a great offer but he'd take it to his own bank and they'd match it."
When Johnson unexpectedly died January 3, 1989, "it was a shock to everyone. He was very well respected, a very fine individual," Roise said. "I talked to his widow about estate matters and suggested finding a manager for the company until her son, Paul, was ready to take it over." Not long after this conversation, Paul surprised Roise by asking if he might be interested in buying the business." I told Paul that I'd pray about it. I said if God leads me to do it, I know it will happen. If He doesn't, it won't happen."
Paul's inquiry led to a long period of prayer, introspection, soul-searching and nights of fitful sleep for Roise and his family. "I had cash and no debt. I had money put aside for the kids' college, and I was sitting in good shape with a six-figure income and no debt," he recalled. "I wondered why would I want to do this, why would I want to leave my job, take on a seven-figure debt? But it intrigued me and I decided if God leads, I'll follow."
Roise seriously considered the purchase for three reasons. First was his tendency to be an entrepreneur. Growing up on a farm near Madison, MN, he often bought and sold farm machinery. "I'd skip school to go to farm auctions. I really wanted to be a John Deere dealer." Instead, he joined Norwest two months before being inducted into the Army in 1968. After his discharge, Norwest gave him a variety of assignments, including stints at banks in Northfield and Moorhead, and in its Minneapolis headquarters. Before moving to Mankato, he worked at the corporate level, resolving problem loans and running training programs. On the side, he owned apartment buildings and a company which produced Pilot Brand Oyster Shells. The bulk shells came up the Mississippi River on barges from Alabama and were sold in 50-pound bags for grinding into chicken feed. He lived in Edina, but tired of his life-style. "I didn't want to work downtown, I was tired of commuting. Life is too short," he said. So Norwest offered him the No. 2 job at its bank in Mankato, which he took in 1978, becoming president in 1985.
During his Mankato tenure, he had several chances to run larger banks, "but we'd moved so often. I think we'd had 13 addresses in 10 years. And we decided we didn't want to move our kids again," Roise said. That was his second reason for considering the North Mankato window business.
The third and perhaps clinching reason went to the core of his Christianity. "I had four goals that I didn't think I could fulfill by staying with the bank," Roise said. The goals:
(1) More openings to share his faith in Christ "whenever I wanted."
(2) An ability to speak on social issues, such as abortion and pornography.
(3) The freedom to hire people who need "a second, third or fourth chance…people who'd been in prison, or afflicted with alcoholism."
(4) An opportunity to take short-term assignments in the mission field.
Roise said it was difficult to contemplate giving up the "safety net" of Norwest, an employer for whom he has great regard. "I have nothing but good comments about Norwest. They let me run the bank like an entrepreneur. I hardly ever saw my boss. Their management training program was a great experience, and when I started in the bank at Northfield, they let me do everything. They gave me a tremendous background."
Motivated by his desire to perform greater Christian service, satisfy his entrepreneurial leaning and stay in the community, Roise began what he called "prayerful negotiations" to buy Lindsay. "The Bible says to seek wise counsel, so we asked four Christian couples to pray about it," he said. He also prayed with Mrs. Johnson. "She wanted to see the business pass to another Christian family, but she had been approached by nine other prospective buyers."
As negotiations proceeded, Roise assembled a financing proposal for review by a large out-of-town bank because he didn't want to alert Norwest that he was thinking of leaving. He also took the deal to a competing Mankato bank. Without hesitation, both banks committed to lend him the several million required. (Instead, after resigning, he accepted Norwest's offer to finance the purchase.)
He slept fitfully during the long process of negotiations, as the winter of 1989 crept toward spring, often awakening with "Bible verses running through my head." He wrote some of these down on sheets of notebook paper, now framed and hanging on his office wall.
Disagreement over how to handle $35,000 in doubtful accounts receivables almost ended negotiations, but a purchase agreement was reached. "I didn't know whether to be elated or what," he said. One of the framed notebook sheets carries this notation for March 31, 1989. "Woke up at 4:44 a.m….after we agreed to purchase." Psalm 31 was on his mind and he scribbled several verses near the top of the sheet:
Verse 3 "for the sake of Your name, lead and guide me." Verse 14 But I trust in You, O Lord. I say You are my God. My times are in your hands."
Somewhere on those sheets is one of his favorite verses Philippians 4:13. "I can do all things through Christ, who strengthens me." Roise said "that's the verse I clung to" after he was drafted and nearly sent to Vietnam as an infantry company commander.
Roise needed his faith because when he sat down in Johnson's chair, he became mired in a strange and confusing environment. "I discovered that Johnson had been a superman, he'd done it all himself, he'd made all the decisions," Roise said. "That was OK, because he knew the business, but I didn't." He realized he lacked the technical knowledge to lead Lindsay employees. "The foreman didn't know how to order a piece of wood, and neither did I." Nothing in his background of running banks, operating an oyster shell business or brokering farm machinery gave him the detailed knowledge of the window industry he needed.
"I went out into the shop and worked there during the day. It was hands-on learning," he said, admitting ignorance of the industry's terminology and processes. He did everything, including driving a delivery van to meet customers. Roise spent his days in the shop and most evenings behind his desk, grinding through administrative chores, continually confronted by the irony of his situation. "People in the banking industry were telling me how lucky I was (to have my own business), while people in the window industry were telling me how dumb I was (to give up the security of Norwest)," he recalled.
Roise spent Halloween night of 1989 delivering windows in Northeast Minneapolis. "I remember it so clearly. I could see the Norwest Bank building in downtown Minneapolis, and I said 'Lord, what did you get me into, delivering windows in a dumpy part of town? Thank you, Lord, but I don't know what you got me into.'" At that point, "I didn't know where I was financially" because Lindsay's computer system didn't generate profit-and-loss statements, he said. "Nothing was computerized except accounts receivable, but I knew I had to cut costs and maximize sales. I just wanted to pay back that debt."
Roise endured pitfalls so familiar to entrepreneurs…changing distributors, replacing employees lost to attrition and sometimes making false starts, choosing the wrong replacements. "I prayed for somebody to come in and help me," Roise said. That prayer was answered via a man he hired as general manager in the spring of 1990. "He knew vinyl windows and computers, he knew the window business. He designed and wrote programs for the order-entry system we had at that time," Roise said. "He was here only four years, but he did a great job for the company. He bought me the time to better learn the business myself."
Roise has evolved into a hands-on manager whose advice is sought by employees. He'll interrupt a magazine interview when an employee brings him a window with drain holes installed in the wrong place. The window is destined for an expensive home on Lake Minnetonka. "We can't send it out like that," he tells the employee, and together they reason toward a solution. Then he pauses in the front office to give a driver directions to find a customer in Rochester and hands him a cell phone in case he needs to call back from Rochester.
Now he's ready to back off a bit at Lindsay and spend more time performing Christian service. He's done some, but not enough to satisfy him. "I hope by next year to be here just two days a week, if that, and turn the rest over," Roise said. "I want to get someone here to do more of the management."
Under his guidance, the company continually provides jobs for mentally and physically challenged individuals through MRCI. "That's one of the best organizations I know of, it's a tremendous organization. We have four of their people pretty much all the time, although there may be 10 out in the shop today," Roise said. "They're great people. We treat them just like they're part of the company. When we have parties, we invite them. When we have picnics, they come. They're outstanding."
He's also hired people released from prisons or mental institutions. "I've been burned, but we've had some successes too," he said. He visits the Blue Earth County jail occasionally, offering Bible lessons to inmates. "Sometimes I know them because they either work here or have worked here."
Roise joined Campus Crusade, which he describes as an organization determined to "proclaim the Gospel of Jesus Christ to everyone in the world by the end of 2000. It's the first organization which had the vision and the plan to do this, and it's on track. They want everyone in the world to have at least one opportunity to hear the claims of Jesus Christ." A primary tool for achieving this goal is an 83-minute movie and video entitled "Jesus." It's available in 470 languages but the goal is more than 1,000. Roise's middle son, Nate, is with Campus Crusade, working on translations at an undisclosed location in Central Asia.
Roise spent 2 1/2 weeks in Romania, helping show the film in small villages. He's joined Campus Crusade's "History Handful," a group of 300 to 400 individuals who have pledged their time, talent, influence and $1 million each to spread the Gospel of Jesus Christ. He sponsors several missionaries working in Romania and said he "has a good start" toward contributing $1 million.
Next year Roise hopes to take longer missionary trips and spend more time on Christian service at home. "I'd like to get that Jesus film into every single household in Mankato," he said. "You can't take your money with you, but you can take many people to heaven. I want to use whatever influence, finances and talents I have to work for the Kingdom of God. I'm just a steward of the resources God has given me."
Goal-oriented all his life, Roise now has an ultimate goal: "When I get to heaven, I want to hear these words: 'Well done, thou good and faithful servant.'"
©1997 Connect Business Magazine