Lambrecht's & Christmas Haus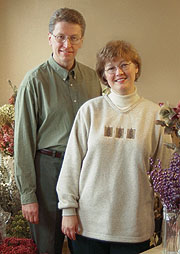 Opposites Attract Retail Success
Photo by Kris Kathmann
The Taoist religion defines yin and yang as the male and female principles in nature, total opposities that somehow meld together to produce all that exists. In plain Western lingo, it could best be summed up as the synergy that sometimes occurs when "opposites attract."
"I'm the kind of person who has these very big pie-in-the-sky ideas," said Donna Lambrecht, her words bubbling up like popcorn through a hot air popper, "while Curt is a practical realist. My cup is always half full, his half empty." Their synergystic relationship has created New Ulm's two largest gift shops, both of which zero in on that city's burgeoning tourist trade.
"We're not run by the seat of our pants," added Donna, citing more yin and yang, "because Curt is very focused, very purposeful, very cautious, very analytical. I'm impulsive, more 'no guts no glory.' I pull him along, he reins me in, and between the two of us we've hit upon a very successful and harmonious combination of business styles." Both are in their forties, having married in 1981. Donna doesn't remember their anniversary date, but of course, he does.
It's rare when a good husband and wife relationship translates into such a good business relationship, but somehow they've done it. One key, she believed, is the way they have respected each other's opinions. "I defer to his strengths, and if something is in my area he'll do the same," she said. Being a husband and wife work team "isn't for everybody," she admitted.
Even though they have complementary strengths that fill in most of the other's business gaps, don't get the impression they can do it all. For one, neither of them are good with numbers. "When people at trade shows say they went through 382 units and ask how we did, we just roll our eyes, and say we sold a lot." The Lambrechts delegate "bean counting" to an office staff.
In 1983, Curt and Donna purchased a general gift shop from Ralph Vogelpohl and turned it into Lambrecht's. Curt, who still handles "the visual creation: the buying and the displays," had been an arts administrator for the regional arts council in Marshall and then for the Blandin Foundation in northern Minnesota before his plunge into New Ulm retail, while Donna, who handles all advertising and personnel decisions, had been a high school teacher in Granite Falls and in public relations in Grand Rapids.
Lambrecht's is a regular stop for many luggage and leather goods devotees, with its wallets, briefcases and portfolios. Shoppers can run their fingers over the finest in crystal, lace, home decor and a number of collectible lines: Precious Moments, Cherished Teddies, and Boyd's Bears. For the meandering, curious tourist, it carries the standard T-shirts and sweatshirts, postcards of Hermann the German and Germany-in-America souvenirs. What began as a 2,500 sq. ft. storefront eventually expanded into today's robust 10,000 sq. ft.. A floral shop, which Donna called "our third business," now fills a second floor.
Tour buses bring in large summer crowds of older, retired customers who are "downsizing their lives, not necesarily buying merchandise." Their very best spending customers, she said, are the many carloads of women from Minneapolis who have heard about them through neighbors and friends.
Plans are in the works to spruce up Lambrecht's. The last time they renovated was when "my l3-year-old daughter was l year-old. We're on the verge of doing something very interesting with Lambrecht's, like we did in 1985."
The Christmas Haus, their other creation, was an idea born of "two Christmas crazies," said Donna, referring to herself and Curt. They started in late 1988 and had to close after Christmas that year when they sold out of merchandise. It reopened in October, 1989, as a year-round store with 11 rooms stocked full of thousands of one-of-a-kind Christmas gifts and decorations, including Dept. 56, Possible Dreams, Snowbabies, Fontanini, and Byer's Choice collectibles. One room had nativity scenes and angels, another German steins, smokers and nutcrackers, another silk flowers and floral arrangements, and a fourth, collectible dolls and Victorian ornaments.
In 1997, The Christmas Haus, which had been in the same building but above Lambrecht's, moved into the old 7,500 sq. ft. Ehlers building and it quickly became a regional destination for thousands of Christmas-addicted tourists.
"I sell memories, a feeling of what Christmas was and can be," said Donna. "As adults we get so busy, our families get so spread out. When you shop here you're buying back part of what you remember as a child." The Lambrechts feel they have to offer a superior sensory experience to compete in the next century. "This whole world of technology," she sighed, "is creating so many choices for people. They will need a good reason to not shop on the Internet." Besides the necessary ambiance, they claim The Christmas Haus has everything it takes to "make a house a special place for Christmas." Business tends to be slower until May, but gradually builds through the warmer tourist season, and peaks, of course, in November and December.
Curt and Donna would like to see New Ulm build on its strengths and become more of a tourist town. Many New Ulm residents still don't realize "that tourism is one of our main industries," she said. It's an easy industry for New Ulm to expand, given its combination of natural tourist draws, fascinating history, and strong ethnic background.
She would like to see the City make certain moves that would promote and further tourism, such as a bike trail, and the development of many more bed and breakfasts. "[New Ulm] has these fabulous properties that are perfectly suited for B&Bs, and I don't understand why there aren't more of them. Ten B&Bs could be successful in a town this size. The more there are, the more successful they will all be."
Her feelings on expanded tourism stem from a belief that no single event or store can go it alone. There are few, if any, islands of retail success. "I'm not going to succeed if this town doesn't succeed," she said, adding, "and we're not the only item on the menu nobody would come to us if we were the only one."
Nativity sets, porcelain dolls, Dept. 56 villages. German nutcrackers, smokers and steins. Scanavanian imports, ornaments and angels all these gifts didn't just show up on Curt and Donna Lambrecht's doorstep one evening wrapped in swaddling clothes but they arrived after lots of elbow grease.
When they opened Christmas Haus in October, 1997, "it was the fastest treadmill I've been on in a long time," said Donna, the more outgoing of the two opposites.
At the time, when Ehler's vacated its storefront on Minnesota Street, The Christmas Haus had already been short on space in its second floor haunt above Lambrecht's, Curt and Donna's first store. To get to The Christmas Haus, customers had to hoof it up a flight of stairs, a labor which certainly wasn't ideal for the elderly and wheelchair bound. In addition, the second story store lacked a street-level display window, a virtual necessity for a visually-oriented business. So they met with their accountant and a banker to swing the deal to buy the Ehler's building.
Donna shook her head and laughed. "The timeline was mind boggling. We bought the building in May, 1997, in a fairly quick decision," she said. "All summer long contractors came and went and fit us into their schedules. Our staff painted every day. If I had to guess, I'd say we went through 200 gallons of paint."
She likened readying The Christmas Haus to raising her four children: It all happened so fast. Curt, and a design team from their staff, get most of the credit, she said, for opening on time with few glitches and utilizing his artistic expertise to create a unique ambiance. After finishing all that painting, they had exactly one month to string Christmas lights on 30 trees, set up the whole decoration scheme and move the merchandise in from their old location.
The new store has a Northwoods cabin with a stone fireplace. As you leave the cabin you walk through stucco-walled ruins, and behind this opens the Nativity room, with special dimmed lights and blue fabric sky that helps create a starry, Bethlehem night sky. When it opened, it seemed like the whole city of New Ulm came out that first week to congratulate them. "It was one of the most exciting events in my life short of my wedding day and the births of my kids. Because we worked so hard, and had this dream. It meant a lot to us." she said.
The good feelings about the impressive opening soon faded as worries about having enough merchandise and finding workers for their service-oriented store mounted. "It was so much busier than we had projected," she said, "but we made it." Combine that with the typical growing pains and Donna could only laugh about those first few months.
"Larger towns like Mankato and Minneapolis have a harder time finding workers because there are so many stores that need staff, even though the population pool there is bigger," she said. "But people who work in our store, and in other New Ulm stores, become part of a team, and they're friends. Most of our job applicants apply here because of our atmosphere. The wonderful people on our team have made it all successful. We couldn't do it without them."
The Lambrechts aren't at a loss for ideas, just money, time and workers, they say, so why doesn't sanguine Donna, the more outgoing of the two, take the show on the road to cities like Minneapolis or Chicago?
Her answer wouldn't surprise her friends. "That wouldn't make me happy," she said quite bluntly. "What makes me happy is being home, the Midwest, Minnesota, New Ulm. As we've met people all over the country, they do say we should 'take it to the road.' But that wouldn't be home to me."
It must be quite a temptation to open a chain of Christmas Hauses all over the Upper Midwest and become household words. Even a store in Mankato. But Donna frowned at the idea because she "would be less hands-on with customers and staff. Too much of our time would be spent off-premises." Granted, this yin and yang couple aren't afraid at all to take risks, but to further understand why expansion outside their area isn't in their plans, you first need to know their histories and values.
"Most often people [in New Ulm] are farmer's kids, they think like I do. They value the things I do," she said.
Curt grew up on a dairy farm between New Ulm and Essig, and Donna on dairy farms in Chaska, when it was a "cow town," and Le Sueur. Both were baptized in a rural lifestyle that saw mom and dad work together and the kids help out when able. Even though they didn't end up as farmers, they've still adopted the same lifestyle both grew up in: married to their work as well as each other. And they want to pass that lifestyle on.
Their four children, a 13-year-old girl, twin 12-year-olds, a boy and a girl, and a 10-year-old boy, are growing up in an environment that values commitment to work, honesty, doing your best and being fair to people at least imparting those values has been Curt and Donna's goal. The oldest children have just begun to "work" in the store. They check in merchandise, stock, and price merchandise. Donna said, "I always think they should love this store, and be excited and fired up about it, but they're still kids after all. You have to twist their arms sometimes. I hope they find a passion, if not for retail, then for something else. If you have a passion for what you do, it's so much more than just a job. But looking back, I don't think I offered to hoe the beans, or jumped into barn clothes that quickly growing up either."
©1997 Connect Business Magazine