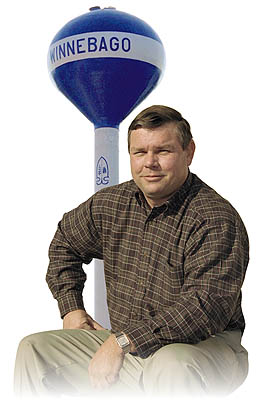 Photos by Kris Kathmann
If you're expecting Bob Weerts to be another Rodin's "The Thinker" or some introspective M.B.A who analyzed and plotted his way to success, think again. This guy is one big ball of bubbling electrons that won't stay put, impulsive, a whirling dervish, a straight shooter but from the hip, who somehow worked and willed his way through a crippling childhood bout with polio to be one southern Minnesota's most respected entrepreneurs.
Often you can find him in his second home, a white Chevy 4×4 pickup hanging "WEESOD" license plates, as he speeds up and down in it on U.S. 169 with a cell phone attached to a moving mouth that can spit words faster than any New Yorker. It's almost as if the speeding pickup, moving mouth and frenetic action is his means of compensating for the polio that slowed his right leg.
An Internet search of Weerts, 47, won't provide much evidence of a business career that has included owning eight Winnie Mart convenience stores, Weerts Construction and its sideline trucking business, a Dairy Queen, a floral shop, an eight-unit apartment complex, Blue Valley Sod & Landscaping, and a soon-to-be tree farm near North Mankato. And while president and chairman of the board at Winnebago's ethanol plant, Corn Plus, he also helped site a spin-off business, Dixie Carbonics. As far as not being on any search engines, perhaps Bob Weerts moves too fast for one to pin him down.
Besides a perpetual motion, the adversity of polio seems to have salted him with a compassion for others, which, when combined with an inherent impulsivity, has moved him at times to do such generous acts as buy steaks on a whim for all his employees, regularly deliver free flowers to a local nursing home, and fly Maine lobster in for a dinner with 150 close friends.
Roman poet Horace once said: "Adversity has the effect of eliciting talents, which, in prosperous circumstances, would have lain dormant." If asked whether the above were true, given his own personal experiences, Weerts likely would have to agree.
CONNECT: You're president of an ethanol plant. Before it was built more than a few people said Corn Plus would fail.
WEERTS: There were a lot of doubters, but I never doubted. When I start something I put all my might and effort into it. That's how I operate. When the plan for Corn Plus began, we invited all the area bankers to Winnebago and told them all that would happen with it. After our presentation, a local banker asked me, 'This isn't a scam deal, is it?' I called Kathie Davis, who later founded Resource Connections, and said to her, 'Kathie, will you explain to this banker that this isn't a scam. We're very serious.'
I had been looking out at the old Stokely site, which was across the street from my house, and felt we needed another business in town to fill the void. My attitude was – and still is – if a small town doesn't do something for itself, nothing will get done.
We eventually received seed money for the project from area farmers. It's a lot of pressure when 600 corn farmers have to put their trust in you, more pressure than most people can imagine. I'm still a little nervous since my name is on the bottom line because I'm Chairman and President. One day I was at Norwest Bank in Mankato on other business, and asked the teller if she could check the Corn Plus account for me. (We had deposited the Corn Plus loan money there.) She looked at me, and with her eyes you could tell she didn't think anything special of me because of the way I was dressed. But her eyes got real big and she stuttered to have to say, 'You have nine million dollars in your account, sir.' That was eight years ago. Since then we've done well enough to be able to pay that nine million off sometime next year.
CONNECT: Do the farmers who supply the grain own part of it?
WEERTS: It's a cooperative. Each farmer gets just one vote, whether they own 100 or 1,000 shares. We also set it up so no one can be on the board more than nine years, which means a board member can't become entrenched. That's the problem with many boards – members get on and don't leave. It's term limits.
CONNECT: I've heard you went to the state capitol once and kind of dressed down a state legislator. What happened?
WEERTS: I was there representing rural Minnesota and MSU in an attempt to receive endowment funding. Sen. Kelley from St. Paul stood up and said to me, 'Mr. Weerts, I read here that you are Chairman of the Board of Corn Plus. And so now you're up here begging for money again?' I said to him, 'Sir, that's the reason I'm up here, but only because you guys make promises and then don't follow through on them. Before we built Corn Plus you promised me three million dollars a year for ten years to help get our ethanol plant off the ground, but every year I have to come up here in order to fight for it all over again. You guys don't honor your word.' I believe a person's word should be their word. Stand behind what you say.
CONNECT: The $68 million authorized by the state government last session on ethanol subsidies for producers: Will it be money well spent?
WEERTS: I think so. It isn't a permanent subsidy. It only lasts ten years before it's cut off, which is the way it should be. Without this money we couldn't fight Big Oil, and Big Oil has much, much bigger subsidies than ethanol. What did it cost to wage the Persian Gulf War? The U.S. Military was subsidizing oil producers in that war. American taxpayers paid for it. You should see the tax breaks Big Oil gets, too, like its annual 15 percent depletion allowance.
CONNECT: With Big Oil's opposition, can there be a future for ethanol products like E-85? (E-85 is a blend used by many newer pickups and minivans that contains 85 percent ethanol and 15 percent gasoline.)
WEERTS: Corn Plus helped get six stations in the Winnebago area to put in E-85. It has a future, and more people are jumping on the bandwagon every day. A company in the cities is putting in ten stations soon.
CONNECT: Why isn't it marketed aggressively?
WEERTS: Because that costs money, and there aren't enough cars out yet that can use E-85. Dodge has a good E-85 program, and the new Ford Ranger uses it. At Corn Plus currently we're running a Chevrolet S-10 test program. The mere economics of using E-85 will spur demand because right now its pump price is 99 cents a gallon. Compare that to regular gasoline at $1.30. And with an octane rating over 100 it really gives your pickup a lot of zip.
CONNECT: What led to Dixie Carbonics? and how are you associated with it?
WEERTS: When we started Corn Plus, we knew Winthrop had a CO2 plant next to its ethanol plant. CO2 is a natural by-product of the ethanol manufacturing process. We knew we had to be diversified, and if we could bring in another $300,000 a year in additional revenue, then why not? We worked for about three years on finding the best company to come in before accepting Dixie Carbonics' proposal, which brought 25 jobs to Winnebago.
We initially told the City of Winnebago that Corn Plus would have spin-offs. Just recently the Corn Plus board returned from Down South where we were looking into yet another spin-off. We're working on expanding the plant all the time. I like to be diversified, even in my other businesses. I don't like to have all my eggs in one basket.
CONNECT: You built the first employer-owned and operated housing in Minnesota in order to ease Winnebago's housing shortage. Did it make a difference?
WEERTS: I would say, yes. It's been a good deal for the whole area. The process, though, was difficult because we were the first business in the state out of the chute doing it. What I didn't like personally about building the apartments was all the red tape. Right before the deal was to be finalized, I went on vacation to Arizona and left my fax number with Greater Minnesota Housing, who supplied financing. Not long thereafter, while in Arizona, they sent me the deal in a 76-page fax. I think the lawyers who put the agreement together must have been paid by the page.
I'm not a college kid. I didn't even attend college. I went to school the hard knocks way. I just graduated from high school and did the rest myself. In doing any deal I don't like dealing with red tape. Just tell me the story straight. The apartments have helped the community, though. It's become a temporary place, a jumping off point, until someone can find the right home in the area.
CONNECT: You bought, built up and sold off a chain of convenience stores: Winnie Marts. You did the same with the Dairy Queen in Winnebago. What are your criteria for buying businesses?
WEERTS: Gut reaction. With the Dairy Queen, for instance, when US 169 was being rebuilt in Winnebago, I was there one day having coffee with the state road inspector. The owner of the Dairy Queen said to me, 'I sure wish I could sell this.' I said to him, 'How much you want?' He then told me, and I told him I'd get back to him. Later, the state inspector asked me, 'Were you serious?' I told him that I'd probably just bought the Dairy Queen.
That's how deals happen with me. With Winnie Mart, I bought the old Ag Building near the Green Giant in Blue Earth. People said it was a poor location. Some convenience chain owners pay site gurus up to $3,500 to tell them whether a location is good or not. My immediate gut reaction told me that location in Blue Earth would be a good one and I was right. It ended up as the No. 1 store for the company that bought Winnie Marts from me. At the end I had eight Winnie Marts, and I sited them all on gut reaction.
CONNECT: You had polio?
WEERTS: When I was thirteen months old, and I've lived with it ever since. I walk with a limp. Drs. Meredith and Gislason at the Orthopaedic & Fracture Clinic have operated on me many times. In the late '50s, at times, I felt like a guinea pig with them because they were young and I was the young kid coming through the door. They did an excellent job with me, though. Dr. Meredith and I became good friends.
CONNECT: Quite a struggle to go through. But could it have been a blessing in disguise because it forced you to work harder than the next guy?
WEERTS: It is a blessing. Everything happens for a reason, I believe. Without polio I probably would have done something very different in life. When I was 15, in Tucson, Arizona, I would round up about ten kids every Saturday and send them to work doing odd jobs like yard work, painting house and fences, and landscaping. I paid them and made a quarter an hour off each one. That was a lot of money back then. I even hired my sister and her friends to clean houses. After a while they got mad at me because I was making a quarter an hour off them and they said I wasn't doing anything for it. I said, 'I ran the ad in the paper and got you the job, didn't I?'
CONNECT: What about people who go through struggles and then act like the world owes them something?
WEERTS: I've always told my kids to never make fun of a person with a handicap. It's tough for me to walk, so when I drive places I like to drive up as close to where I'm going as I can. In high school, when I was the student manager for the football team, it really got to me because I couldn't jump and run like the rest of them. It's tough for me to lose weight because I can't exercise that much. But you don't see me complaining. The Lord has been good to me. I see some people with handicaps who could work but don't because of a poor attitude. They want to lay back and feel sorry for themselves. I understand what people with a disability are going through because I have one, but I don't like people with negative attitudes. People with good attitudes are winners, and I'll hire someone with a good attitude any day.
CONNECT: When you invest in a business, what sort of return are you looking for?
WEERTS: I never get into that. (Laughter.) I don't talk about cash flows. (Laughter.) I just do it.
CONNECT: And you let someone else handle details?
WEERTS: No, I just know I can make a business work, so I just do it. More than a few businesses with big computers fail every day.
CONNECT: Why get into the convenience store business?
WEERTS: I started with just a gas station in 1978 in Winnebago, which I later ran as a truck stop with a cafe next to it. A few years later the local coop began leasing it off me with an option to buy, but the first year they lost money because they didn't know how to run it. After getting it back in 1982, I was approached by two different convenience store chains who wanted to buy it. I thought, If a convenience store is good enough for them, then it ought to be good enough for me. So I started Winnie Mart with just the Winnebago store, and soon expanded to Kiester, Wells, Minnesota Lake, two in Blue Earth, Elmore and Truman.
CONNECT: What's the challenge with a convenience store?
WEERTS: Finding good help, being courteous, clean, and finding the right location. After running it for a while into the '90s, and having my time more and more occupied by the ethanol plant, another group wanted to lease the stores from me. Eleven months later, like the coop, they too were having financial trouble. So I got them back in November, 1995. Then a month after that, on Christmas Day, my son wanted to go snowmobiling. I didn't want to go because I told him I'd probably break my leg doing it. Well, we went, and I wasn't on the sled thirty minutes before having an accident happen. The hospital said it wasn't a break and that I'd just jammed it. But after two weeks and still on crutches, I had Orthopaedic & Fracture Clinic in Mankato x-ray it. They said my hip was nearly completely busted off.
One good thing about recuperating from the hip surgery was that I had to lay still for four weeks, something I'd never done before. That's when I made up my mind to sell the Winnie Marts. Within two weeks I had three proposals on my desk. Life was too short, I decided, and I had too much going on with the ethanol plant. At the end we had 105 employees in those eight Winnie Marts.
Just like the polio, I believe the busted hip was a blessing in disguise. Everything happens for a reason.
CONNECT: Are you involved in any partnerships?
WEERTS: I don't like partners. I'm a hands-on guy who likes to make quick decisions, and that is what makes it really tough for me to be on the Corn Plus board.
CONNECT: Blue Valley Sod is sodding a Tom Watkins-designed golf course near Kansas City. What kind of hoops did you have to go through to get that business?
WEERTS: It's The National Golf Course & Country Club near Kansas City, Missouri, and it has 36 holes, and a $40,000 membership fee. They found out about Blue Valley Sod on the Internet, and wanted to know if I had good grass. But after talking with them over the phone I didn't hear from them for a while – they had said they would call soon – so I called them. They said they'd already made a decision. I said, 'But you said you would call me back and you never did. You have to let me come down tomorrow morning and show you what I have.' So I drove to Kansas City on a Friday night with a single piece of sod, and on Saturday they gave me the business for 150 acres of grass right then, and the business for installing it too.
What impressed them was the fact I knew correctly that all the local sod suppliers in Kansas City either couldn't handle the size of the job or they didn't have the right grass. Three other courses in Kansas City saw National's grass and have since each purchased a couple acres of sod from us.
Blue Valley Sod began in Summer 1988 when it became so hot sod subcontractors couldn't supply product for my Weerts Construction projects. I was independent enough to not have that happen to me again. I didn't like being in a contract and not having product since my name is on the bottom line. So we started with 20 acres, and now farm 1,700 acres, with 800 acres north of Minneapolis and the rest in Blue Earth, Mapleton, and Eagle Lake.
CONNECT: You own Weerts Construction. What do you think of the prevailing wage?
WEERTS: It's not fair. If you tell me from a book that I have to pay you $10.40 an hour plus three dollar fringes and you're worth five dollars an hour, it's not fair. Why should anybody tell me what I have to pay my people? On the other side of the coin, why pay that $10.40 when the worker might be worth $20 an hour? I don't like government telling me how to run my business.
Taxpayers shouldn't have to pay for prevailing wage. We're getting screwed. I think it's ridiculous. The government doesn't tell the local grocery store owner what to pay his meat cutter or stock clerks, and they don't tell the baker what to pay his employees. Pay should be based on supply and demand.
CONNECT: What about the economic future of small towns like Winnebago?
WEERTS: If a small town isn't aggressive, it will be in trouble. A western Faribault County association of cities exists of people from Winnebago, Blue Earth, Delavan, Elmore and Frost. Towns in rural areas need each other in order to survive. For instance, not all the people working at Corn Plus live and shop in Winnebago.
CONNECT: What about Weerts Construction?
WEERTS: We shouldn't have called it that. I started it as Weerts Sod & Seeding in 1973, but changed the name when we added a dump truck and bulldozer, and hauled gravel and blacktopped. In 1973, when I got married, my dad gave me $500 and my wife thought we should use it to buy furniture. I said we should buy a tractor and go into business. (Laughter.) We started out as seeding and sodding, and expanded into dump trucks, bulldozers, excavators and loaders. And besides all that, for the last seven years, we also have had five trucks hauling plastic pipe nearly every day for J&M Manufacturing within a 300 mile radius to places like Des Moines, Omaha, Fargo, Duluth and Madison. We deliver their pipe to all the Home Depots in Minneapolis, and to Menard's in Eau Claire.
CONNECT: What do you see buying into next?
WEERTS: We're going to start a tree farm off US 169 north of Mankato near the Dairy Queen. I have very good supervisors and personnel who run my businesses and I couldn't do it without them. They will help implement other changes as they come along.
©1999 Connect Business Magazine