Two Fish Recording Studios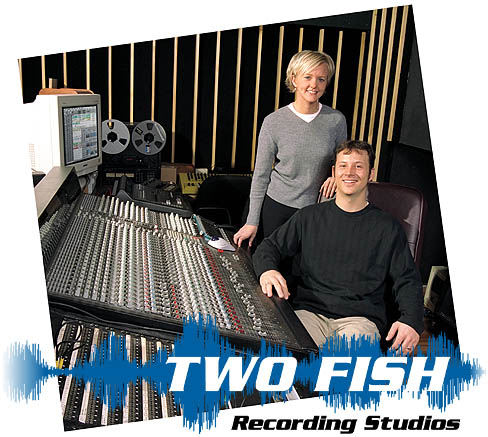 Photos by Kris Kathmann
Wes Schuck scratched his plan to become a lawyer. Kristi Schuck, his wife, put aside her majors in health fitness and health education.
Instead, they decided to "live a dream" and start Two Fish Recording Studios in Mankato in 1997.
"It defies the natural process of what we thought we would be doing," Kristi said. "It's a dream. We get to work together and be a part of other people's dreams. Watching musicians produce something that comes from their heart and soul is so rewarding!"
In their first two years, the Schucks cut 85 CDs, launched a record label and broke into the business of producing radio commercials, including one national award winner. They've recorded some of the area's best-known bands, such as "Fat Rudy" of Austin and "City Mouse" and "Dazy Head Mazy," both of Mankato, and several individual performers, including Ben Wilinski, a folk guitarist from Mankato. They also won a Sony Records contract to help produce an album for "Journey," a national rock band anointed with several Grammy Awards.
"We're a one-stop shop," Kristi said. "Musicians leave here with a product that can be duplicated 10 times or a million times. The graphics and art for the cover are all done." Although some studios send out the "mastering," the last fine-tuning phase of recording, "we do that right here too. We're a place to get it all done," she added.
The Schucks opened Two Fish in Mankato because it's only an hour from hundreds of bands in the Twin Cities, because they have a network of musician-friends in the area and because they say Southern Minnesota has a "rich heritage of music."
The arrival of Two Fish is "way overdue," said Tom ("Zeeth") Klugherz, a Mankato electrician who befriended the Schucks and is helping them gradually transform an old church into a first-class, multipurpose recording facility. Zeeth earned a niche in Southern Minnesota's musical heritage by playing bass with "The Gestures" when that Mankato rock band soared toward Top 40 stardom in 1964 with "Run, Run, Run."
In a way, Zeeth is realizing his own dream by lending his electrical, carpentry and musical expertise to the Schucks. "I always wanted to do it (start a recording studio) but I didn't have the necessary stuff, or the money to buy it or the knowledge to use it. Wes does."
Indeed, Wes does. He sits at a control board large enough to run a Star Ship, with hundreds of switches, levers, buttons and toggles, where one wrong touch could flip you into another galaxy. He's a self-taught sound engineer and an instinctive producer. The story of how he and Kristi got from Gustavus Adolphus College in St. Peter to an 1870 church building near downtown Mankato is a mixture of high hopes, fortunate irony and tenacity, with a remarkable absence of false starts and wrong turns.
They met at Patrick's in St. Peter, where Kristi bartended and Wes played guitar in a rock band. "We were humbly working our way through college," Kristi said. She graduated in 1995 and put her double major to work, teaching for four months in Boeing Aircraft's employee fitness program in Everett, WA., and "enjoying very minute of it. The biggest lesson I learned out there, doing what I spent four years preparing to do, was that my personal happiness and the happiness of the people I loved was where I would find success."
Wes graduated in 1997, armed with majors in English and speech and a minor in music. He intended to enroll in law school but found himself "spending every bit of my free time recording or playing music." After a summer internship in a Minneapolis recording studio, he "felt unresolved about the law and where I was heading. I felt I could do a lot better by recording and producing."
The Gustavus grads moved to Minneapolis, where they soundproofed and modified one bedroom in their apartment as a small, digital eight-track studio. They also concocted a dream. "We wanted a bed-and-breakfast type of recording studio where musicians could come and live the experience," Kristi said. "We wanted something about an hour outside the Twin Cities, so musicians could leave their work and phones behind and engage in an experience that offered creativity and professionalism." (Eighty percent of their business comes from the Twin Cities.)
This idea was a long shot for a pair so short on cash they needed multiple jobs. She started at 5 a.m. as a "barista," a professional coffee server, then went to her "day job," managing retail women's clothing outlets around the metro area. His day job was in a recording studio, but he worked after hours as a rock-climbing instructor at Galyan's and helped build cabinetry for a new downtown coffee shop.
Then the first bit of fortunate irony appeared. In "Mix," a trade publication, they found a bed and breakfast studio advertised for sale in Oregon. "Here we are thinking about it and then it shows up in a magazine!" Kristi said. "It had 200 acres with a river running through it. There was a beautiful little description and it was exactly what we wanted, although we hadn't thought of the river."
Wes immediately called the owner. "I spent a lot of time talking to him. He faxed me a six-page list of his gear." The Schucks knew they couldn't afford the $500,000 property, but Wes analyzed the equipment list like a lawyer preparing a brief. "I called all the manufacturers and got information on the gear. I researched it and tried to pose questions (to the owner) so I sounded like a fellow studio owner." An accident of geography helped Wes catch up on recording technology. He worked next door to a school for audio engineers and he'd become acquainted with some of the students while helping them on recording projects. He sat in on their classes, bought textbooks and "studied like crazy" while continuing his dialogue with the Oregon owner. Wes called Oregon so regularly that the Schucks began switching phone companies to get better deals on long-distance rates.
The owner was Peter Gries, who'd directed such TV productions as the Dukes of Hazard and Magnum PI, and once operated a major recording studio in Los Angeles. He'd downsized, moved his studio to Oregon and kept only the best gear.
It became apparent that while other buyers were interested in the real estate, only the Schucks seriously coveted the recording equipment. Finally, in October of 1997, empowered by a loan from Kristi's family, Wes flew to Oregon. He'd reserved a rental truck, but kept a return plane ticket in his pocket in case the deal fizzled. It didn't. "We got the prime pick of the equipment," Wes said.
The property was in an isolated area, half an hour from the nearest blacktop road and 90 minutes from the nearest town. It was not a simple out-and-back roundtrip. Wes stayed a month. "Gries tutored me in every piece of gear. We did a lot of recording and a month of training before we cut the cords and yanked the gear out," Wes said.
Wes cancelled the rental truck because Gries "threw in an old school bus as part of the deal. It was all decked out as a mobile recording studio, but he hadn't used it for six years." When the money changed hands, the Schucks had a $200,000 digital recording system at a bargain-basement price. (Some of the microphones are worth $6,000 each.)
"It was an interesting ride home. The bus had no speedometer, no gas gauge. It was three solid days of driving, stopping every 100 miles to fill up," Wes said.
While still in Oregon, Wes began lining up recording dates with Minnesota bands so he could put the equipment to use as soon as he returned. The Schucks rented a two-bedroom apartment in Mankato, crammed the gear into one of the bedrooms, and installed it in the bus every time they needed it. "We'd record a live show, then rewire it back into the apartment, mix the sound and produce it there," Wes said.
For one of those mobile sessions, Wes needed a special piece of wiring and began calling around, hoping to borrow it. That led him to Zeeth, another piece of fortunate irony. "Zeeth had the wiring. He'd handmade it. He said he'd leave it outside this old church for me," Wes said. "He'd never met me, never seen me but he left this wiring which is worth about $1,000 outside this church."
When Wes returned the wiring, he discovered Zeeth had started building a recording studio in the church basement. "The control room windows were in, the ceilings were already angled." But Zeeth had only an old four-track analog recorder, while the Schucks owned a digital 64-track fully automated system. They formed a friendship with Zeeth and found a home for Two Fish, leasing the facility from Zeeth's friend, Bob Drengler, who'd owned the building for about 20 years. That was in December of 1997.
Since then, it's been one continual remodeling project for the Schucks and Zeeth, building a new control room, creating individual recording booths, installing acoustical ceiling tiles hand-crafted by Zeeth. "He's really an integral part of what's happened here," Wes said. "He's basically built everything." Zeeth is listed on the Two Fish web site (www.TwoFishStudios.com) as an acoustics/sound engineer, part of their team of free-lancers.
Besides remodeling, the Schucks also took a technology leap in the past year by hooking their complicated equipment to an Apple G3 computer, using Pro Tools Mix-Plus, new recording software fresh on the market. "This is a new concept. Our board has automation in it, but what the computer does is automate everything the pitch of the voice, the sound of the room, the shape of the room, the equalization and completely automate it. With the computer, it can all be done instantly, and all saved, even the mixes in the head phones," Wes said. "If we want to come back to it later, it's all there. Without the computer, we could never duplicate it unless we had a $300,000 mixing console." (Like graphics, sound has a voracious appetite for disk storage. Wes augmented the G3's six-gigabyte hard drive by wiring it to peripheral drives containing another 80 gigs of storage.)
To passersby, Two Fish is anonymous because there's no sign outside the church. "The bands and people we work with know we're here. We're not a walk-in business. Word-of-mouth is huge with us," Kristi said. "Musicians live and stay here. We have a lounge with beds. It allows them the freedom to record, then go take a nap. We have a microwave and a kitchenette." Still, it's not the kind of bed-and-breakfast the Schucks first imagined. "I don't think we'll ever get to cooking breakfast, but we hope to head toward making it more of a comfortable situation," Kristi said. "We want to provide nice accommodations for serious people."
The Schucks strive to create an atmosphere fostering passionate, uninhibited performances by their clients. "Bands come in and feel at home here. A lot of studios are fairly sterile, very professional and put out a good product, but mood is the key," Wes said. "We try to make it not feel like a business. We don't watch a time clock." Kristi thinks it's important for musicians to record where "they're not constrained by time. We really wanted to be that place. We have to make a living, but we wanted to be a place that would say 'take another half an hour…it's going in the right direction.'" Wes said they've "become really good" at keeping to a schedule "without making the artists feel rushed."
When a band comes to record, members can play as a group in the main talent room in front of the control room. Or, if they're comfortable with being split, they can record in isolation booths. "Isolation rooms afford us the ability to get accurate sound from each instrument," Wes said. A drummer in isolation might be surrounded by 10 to 18 mikes, with each mike taking one track of Two Fish's 64-track system. That leaves plenty of tracks for the rest of the band and a vocalist or more. "We can even put on a Hammond organ or somebody playing pots and pans," Wes said.
When he sits at the massive console, Wes plays "two roles: engineer and producer. An engineer knows equipment, what sound is like, which mike will sound better. A producer is more like a musician who can talk on the artist's terms." A producer, according to Kristi, is "a cheerleader who gets the best out of them. If they're not comfortable and performing at their top, there's nothing we can do to help, even with the computer. But it's amazing what they can do if they feel a passion about what they're doing."
With his background in both recording and music, Wes brings a sharpened affinity to both roles. He began recording on an old four-track system in his basement, then graduated to a more elaborate eight-track studio at Willmar High School before interning and working in professional metro studios. Starting as a teenager, he's played in numerous bands including a group called "One Fish, Two Fish" in high school, which explains the studio's name. Keeping that theme, the Schucks called their new label "Aquarium Records," using it as an "incubator" for artists they hope to see move to bigger time.
Both say Two Fish treats entry-level clients, including novice songwriters and singers, the same as professional musicians, no matter whether they're cutting a demo, recording three songs, producing an album or just archiving their music. "We treat it as an artistic creation and try to create an experience, looking for distinct sound, distinct flavor, capturing who they are as musicians and not just what comes out of their speakers," Wes said.
Wes plays guitar, saxophone, bass and keyboards and occasionally fills a jazz duo with longtime friend Cam Johnson, a drummer, artist and Minnesota State University graduate student. Johnson, whose paintings help the Schucks create the studio's mood, is in "One Fish, Two Fish" with Wes. (That band is alive, well and working on a new album.)
Kristi, however, isn't a musician. "She doesn't play," smiled Wes. "We need a level head in this business." Kristi keeps books on an older Apple computer, schedules and coordinates projects and books bands, mostly on the college circuit. "It's a great way for them to get exposure," she said. She's also created her share of graphics for CD labels.
Kristi calls the recording studio the "heart and soul of what we do, and Aquarium Records puts us in place to expand. Graphics and web page design are different facets of the business that can develop. The mobile recording studio is another avenue." That old bus came in handy about 18 months ago when Two Fish used it to record part of a new Journey album, an assignment referred to them by a Minneapolis studio. "We did it live, indoors, in a giant warehouse in Roseville. We did the live tracks on the bus, sent stuff to Los Angeles where they did various overdubs and released a live album," Wes said.
Although the Schucks have the latest in digital equipment, Journey "didn't want anything digital. They demanded analog. That's the sound they wanted," Wes said. "We had to rent two 24-track reel-to-reel analog tape machines. We synchronized the two machines together in the bus for a 48-track recording, but I had to have help with the complexities of the sync procedure. The session took a day. We had stacks and stacks of tapes. Between every two songs, we had to switch reels. We went through thousands of dollars in tapes, $400 for each 15-minute reel."
Kristi and Wes concentrate on two endeavors recording music and producing commercials but they hope to eventually make commercial videos in the wide-open upstairs sanctuary. "Wes is so visionary," Kristi said. "He comes at me every day with something like 'we're going to get into videos.' He's always trying to take the next step, form the next thought. I try not to limit that, but ground it."
Two Fish's continual remodeling will drag on for several months. While keeping the upstairs sanctuary basically open for videos and larger groups, they intend to use part of it to create a new vocal booth and mix room devoted to radio commercials. They'll convert their downstairs office to a multichannel mix room devoted to radio commercials, video work and surround-mixing. Their upstairs apartment will become the office since they plan to move out and buy a house this year.
"We're both in this full force. We're young and full of ambition, trying not to be naive, trying to build a strong foundation," Kristi said. "As much as it's fun and a dream, it's also frustrating at times. You have this vision, but it takes so long. At times, it's a humbling experience because our livelihood depends on whether we can get another band booked to record, it depends on finding people who support us and believe in what we're doing."
But, as Wes said, "it's a blast!"
©2000 Connect Business Magazine