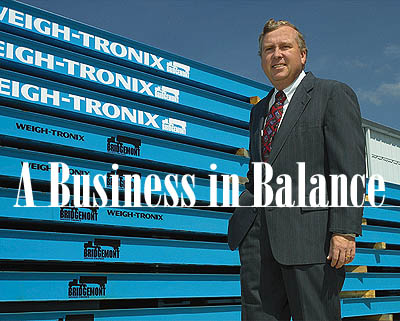 Photo by Jeff Silker
A few decades back if a corporate executive even brought up the notion at a board meeting that their $127 million company ought to buy out a $254 million foreign rival, he or she would have been laughed out of the board room. But this is the '00s. When Fairmont's Weigh-Tronix did it by buying out British rival Avery Berkel in late 1999 with the leverage of Berkshire, a U.S. investment group, it became the second largest scale manufacturer in the world behind Mettler Toledo. And for the record, nobody laughed at them.
Its name may yet be Weigh-Tronix, but corporate offices (if you can call them that: just CEO John McCann and three others) are no longer in Fairmont, but in Providence, Rhode Island, which happens to be halfway between Minnesota and England. Corporate board meetings are held either in Providence or at factory sites in England, Canada, California or Fairmont. Just its India operations alone employ over 2,000. Truly, this is a global corporation to the nth degree.
President David Castle, who lives in Fairmont, has direct responsibility for all the company's North America operations. His soft grin and disarming personality can put even the most tense visitor at ease. And why is he so relaxed these days? He's a part owner in this $375 million enterprise that went private in May 1998 – he, three other top executives, and thirty managers – and current sales are weighing in heavier than projected.
The people of Fairmont have benefited many times over from its good corporate neighbor on the west side of town. Weigh-Tronix's plant in Fairmont, its largest in North America, cranks out $60 million in revenues and employs nearly 400. It is a solid community anchor. And to think Weigh-Tronix is in Fairmont today – all its employees, buildings, retail purchasing power and tax base -just because its founder, Dick Bradley, an Easterner, preferred living there over Armstrong, Iowa.
CONNECT: Could you give me some background on Weigh-Tronix?
CASTLE: It's a very interesting story. An engineer and stress analysis consultant by the name of Richard Bradley owned a small business in New Jersey. He went on a fishing trip once in the late '60s and met two men from Art's Way, a company based in Armstrong, Iowa. Art's Way made equipment for feeding pigs and at the time they made a product called a "portable grinder mixer." During this fishing trip, Richard Bradley befriended the Art's Way people and asked them if their product could be enhanced if their customers had the option of weighing feed before mixing it. The Art's Way people said it would be a tremendous invention if it could only be done. They exchanged business cards.
Not long thereafter Art's Way sent Bradley a portable grinder mixer and four months later he sent it back with an instrument attached that could weigh the grain as it was being poured in. Art's Way was so impressed with the invention that they bought Bradley's company and moved him and his employee to Fairmont, where he lived while working in Armstrong.
Bradley patented his weigh device and called it the "Weigh Bar." Art's Way's business skyrocketed because they had something revolutionary. It was so popular they began making Weigh Bars for other people with agricultural applications, then they started selling instruments, then industrial products, and before long the Weigh-Tronix division itself outgrew Art's Way.
Allen and Company, New York, the major investor in Art's Way, decided to spin off Weigh-Tronix as a public company. It was listed on NASDAQ and became one of the fastest growing small companies in North America in the early '70s. Because it was growing so quickly, and since Dick Bradley already lived in Fairmont, they took the company out of Armstrong and moved it to Fairmont in 1975. The company continued to develop its industrial business off its agricultural base, and grew to about $30 million in revenue in 1986 when it was bought by Stavely Industries, an English company.
When Stavely first bought out Weigh-Tronix, they merged it with a Santa Rosa, California company, NCI, which they owned, and another company, and then ran that as a public company for a while with themselves as the majority shareholder. In 1991, Stavely bought out the minority shares and took Weigh-Tronix private again. It stayed as part of Stavely until May 1998 when that company sold it to John McCann, myself and two others in what was a management buy-out, along with the financial help of Berkshire, of course, the investment group.
CONNECT: How did the four of you buy Weigh-Tronix from Stavely?
CASTLE: At first Stavely was using an investment banker from England to sell the company. John McCann, with Stavely then and now our CEO, had said to me and two others, "If the timing is ever right, I'd like to buy the company, but there is no point in broaching the subject with Stavely until the timing is right." Stavely had to exhaust all its options first.
One advantage we had was that Stavely was trying to sell Weigh-Tronix along with another one of its companies, Chronus Richardson. That company was losing money. Because of Chronus, no one was offering a decent bid. We didn't want to buy it either.
When the time was right, after they had exhausted their patience, John McCann turned to Stavely and said, "We can make you an offer." He told them his partners would be David Castle, Larry Gunning and Roger Evans. We put the deal together very quickly.
CONNECT: How did Berkshire come into the picture?
CASTLE: We wanted to make sure we found the right investor for us, so we interviewed eleven different ones. We brought the top six into Fairmont in December of 1997 all in one week. We were very open and told the investors that, based on their financial proposals, we would be making the decision in a week. Berkshire came through with what we thought was a very fair and adequate proposal, and they had the means to do it. They were the ones we felt the most comfortable with. We haven't had any second thoughts about it since.
CONNECT: In detail, how did they set themselves apart fromthe other investment groups?
CASTLE: Berkshire had an excellent reputation for being very conservative. They put together a capital structure that included some leeway in case of emergencies. They provided rather conservative estimates of growth, which we have since beaten – and that has given us considerably more credibility with our banks. Berkshire is known for what it buys because it doesn't make bad deals. They really do their homework and use professional outsourcing to make sure they are buying the right kind of company. We feel that if we can pass their tests, then we can pass any test.
CONNECT: If Berkshire's reputation is so good, it must help your position with your vendors.
CASTLE: With our vendors and our banks – and later when we were attempting the acquisition of Avery Berkel, Berkshire gave us credibility. Also, our marketing consultant gives us credibility, Bain Company, who Berkshire used to decide whether to invest in Weigh-Tronix, and who we used to decide whether to acquire Avery Berkel. Bain believes in us so much they are an investor. They are one of the premier marketing consultants in the world.
CONNECT: What about your leveraged buy-out of Avery Berkel? Normally $127 million companies don't buy out $250 million companies.
CASTLE: Last year Weigh-Tronix – through the help of Berkshire, of course – acquired Birmingham, England-based Avery Berkel, which had $254 million in revenues its last fiscal year. In India alone, Avery Berkel has 2,000 employees. Now the combined company – Weigh-Tronix plus Avery Berkel – is over $370 million in revenues and has 5,600 employees.
Prior to our acquisition of Avery Berkel, Weigh-Tronix alone had three different operations: its North America operations of which I'm the president; Salter Weigh-Tronix in England, which did our custom industrial products in the U.K.; and Salter Housewares, in England, which manufactures kitchen and bathroom scales for sale all over the world. These three companies combined today are about $127 million in revenue.
The rationale in buying Avery Berkel was that it would put us in a much better market position worldwide. It clearly makes us #2. People think of industries in terms of #1 and #2: Coke and Pepsi, Hertz and Avis, Ford and General Motors. In the U.K., they were #1 and we were #2. There it saved us money by consolidating operations. Recently we announced a cut of 230 jobs in the U.K. by closing Weight-Tronix branches and office facilities. In addition, Avery Berkel has offices in the rest of Europe that we're using to launch more of the Weigh-Tronix line. Avery Berkel also has a few products that we would like to sell in the U.S..
CONNECT: Was that buy-out of Avery Berkel Weigh-Tronix's idea or did Berkshire come to you with it?
CASTLE: It was our idea. The four in the top management team, myself included, sat down in May 1999 and laid out what we thought was the right acquisition strategy for our company to move forward. On the list of potential acquisitions was Avery Berkel. We knew they would be for sale eventually because their parent company, Marconi, was changing its interests from being a diversified company into one just interested in telecommunications. We discussed with Berkshire that the potential acquisition of Avery Berkel would move Weigh-Tronix to #2 worldwide. It made perfect sense to go after them when the timing was right.
Finally in November 1999, Marconi announced it would use Goldman Sachs to auction off Avery Berkel. We simply outbid everybody. Buying Avery Berkel provided our company and theirs with synergies that wouldn't have been realized with other suitors buying them.
CONNECT: How do you stack up now to the world leader in your industry?
CASTLE: Mettler Toledo's revenue exceeds $1 billion; we're $370 million. If you look at our market share versus theirs in industrial applications we're very close, but they're in businesses we're not in, such as lab balances. In retail, we outsell them in parts of Europe, while they have a larger share in the United States.
CONNECT: Personally, is owning part of the business what you thought it would be like?
CASTLE: My view of success in business had always been to get myself into a position where I could have an equity stake. That was my goal in life for some time. I'm pleased I've been able to do that. Owning the business is a lot of what I thought it would be. However, you don't do leveraged buy-outs without having some challenging objectives.
I think the rewards will be there. We've achieved rewards already in terms of earning more equity as we meet our goals. The equity isn't very liquid, though.
CONNECT: What about the agreement with Berkshire? Are they in it for the long-term?
CASTLE: Berkshire tends to be in their agreements fairly long-term; their investments tend to run 5-7 years. Our business could go public, could be sold to a larger company, or could be refinanced with another investor group for another 5-10 years. As it stands, there isn't any pressure on the exit time for financing and they are calm about that aspect of it.
CONNECT: What about your own personal background?
CASTLE: I've been a corporate gypsy that has moved all over. My wife and I have been married 30 years and Fairmont was our eleventh move. Even though I graduated with a degree in Industrial Marketing, I began my career in purchasing and materials management. I've worked in three different divisions of Eaton Corp., in Iowa, Arkansas and New York. I've worked for Ingersoll-Rand in North Carolina. Later I went to work for Joy Manufacturing in Pennsylvania, West Virginia and North Carolina. All these positions were in purchasing management, materials management and general management.
After a couple of years in my last position in North Carolina, in 1990 I accepted a VP/General Manager position with Weigh-Tronix in Santa Rosa, California. For five years there my job was to downsize and move much of its manufacturing to Fairmont. In 1995, I was given the opportunity to move to Fairmont and run Weigh-Tronix operations for all North America as its President. I couldn't turn them down.
CONNECT: You've bounced around a bit. Now that you're an owner, are you going to stay here a while?
CASTLE: I'm going to stay a while (Laughter.) You never say "never" though. I'll work at least until I'm able to put the business into the hands of the right people.
CONNECT: What sets you apart from other businessmen and women?
CASTLE: I live my work, but a lot of businesspeople do that. I tend to be totally impatient with inanimate objects but totally patient with people – sometimes to a fault. Overall, I don't think there is anything special about who I am except that I work hard.
CONNECT: How much do you work? and what do you classify as work?
CASTLE: If flying counts I work a lot. I'm in England at least six times a year for board meetings. I take my laptop on flights and love it because I can keep in touch with people via email, which is something I prefer over phone calls and regular mail. I have a cottage vacation home in Ontario, Canada, where I can plug my laptop into as well.
When commercial flights flew out of Fairmont Airport I tried to fly from there as much as possible. I could almost always use Fairmont when flying domestically, but it never seemed to work on trips to the U.K. because the connections never meshed. I'd spend five hours in Minneapolis waiting to catch a flight home. Not having commercial flights here does put an additional burden on me to have to drive more often. To compensate I now use Sioux Falls as much as Minneapolis because the connections are as good, it's closer, and parking costs less.
CONNECT: How would you describe your management philosophy?
CASTLE: I let my managers run their own departments. My job is to set the company's general direction and keep it on track. I make an extra effort not to go around my department managers. If a Weigh-Tronix employee comes to me with a problem my first words to them always are, Have you brought this matter to the attention of the person for whom you work? If I were to get involved in micro-managing, it would be guaranteed that I'd mess things up.
The change in going from a paid manager to an equity/owner wasn't much of a transition for me. Either way, I did the right thing for the business.
CONNECT: I would assume you have more responsibilities than handling just Fairmont.
CASTLE: My responsibilities are for North America and in particular three manufacturing facilities of which Fairmont, with nearly 400 employees and $60 million in revenue, is by far the largest. Our Santa Rosa, California, facility has about 60,000 square feet, 70 employees and $15 million in revenue. Our Montreal, Canada, facility that fabricates special truck scales has 90 employees and does about US$12 million, with branches in Winnipeg, Toronto and throughout eastern Canada. Add it all up and the sales I'm personally responsible for total over $85 million.
Fairmont alone handles three portions of our business. The first, industrial, which includes truck and deck scales, and checkweighers; accounting scales used for inventory purposes; and standard bench scales. That's our whole line here, plus the indicators that go with them. The indicators show how much weight is on the scale, but they can also be used in other ways. At Tyson Foods, for instance, they use about 70% of their indicators in areas unrelated to weighing; they use them as programmable logic controllers.
CONNECT: What kind of growth rate does your industry have? Does the future look bright?
CASTLE: The scale industry has fairly slow growth, rising 3-5% per year – and the growth is more often 3% than 5%. However, we've always exceeded the industry average, primarily because we're an electronic scale company and not a mechanical one. This company's North American operations has never made mechanical scales.
The "Weigh Bar," our patented technology, is unique to Weigh-Tronix. Our "digital quartz cell" technology is also unique to Weigh-Tronix. While we use some standard strain gauge devices common to our competitors', generally we tend to stand apart from them with our technology. We're having strong growth in our lift truck scales because truckers want to weigh while in motion. As long as we continue to apply unique and better designed products to solve customer problems we will continue to beat the industry growth rate. Historically, we have grown 7-8%.
This industry has gone through consolidation and will go through more of it yet. The major buyers of scales worldwide are looking for international companies because they want just one supplier across the world in all their plants.
CONNECT: Berkshire has invested a lot in your company. How much pressure is there on you to perform? They have a majority share.
CASTLE: Berkshire has an excellent reputation in the investment community. Incentives are set for us to achieve additional equity if we meet performance targets. There are four of us, and 30 other managers we brought in as equity partners. Of course, we have an interest in achieving the targets. Berkshire doesn't pressure us; they are very supportive. So far we have exceeded their targets, which makes life easier for all involved.
CONNECT: Just like every Minnesota county, Martin County has a labor shortage. How are you coping? Will Weigh-Tronix jobs be moved to India?
CASTLE: We've been improving our processes from "batch" to "flow" manufacturing and have achieved more and more each year with less and less people. There is still more room to increase productivity. Of all the manufacturing facilities in the company including those in England, the one in Fairmont is the most modern. We have invested in the most modern machine tools and the employees have a great work ethic. Granted, the cost of labor in our India facilities is less than here, but the efficiencies in Fairmont mean its labor cost is a smaller portion of total cost. The processes are automated. Having a skilled workforce in Fairmont is much more important than low labor costs.
CONNECT: What are the barriers to recruiting a skilled workforce to Fairmont?
CASTLE: It has not been easy to find software engineers who want to live in rural Minnesota. We have subcontracted some of this out or else moved those jobs out to our California facility where it is much easier to find software engineers. We've spent a lot of time recruiting at Minnesota State University.
The major downside about recruiting to Fairmont is always, What is my wife or husband going to do? It's the #1 issue with potential employees. We've had people come and leave because their spouses could not find the right work.
CONNECT: As a city, what are Fairmont's strengths?
CASTLE: It has a small-town feel, a safe community, excellent education, nice lakes, recreation – and if you like a whole lot of shopping, Mankato, Sioux Falls, or Minneapolis aren't far away.
David Castle Biography
Born: May 1, 1949, Detroit, Michigan.
College: B.S. Western Michigan University, 1971, Industrial Marketing.
Personal: Wife, Susan, married 30 years; 3 daughters, Sarah, Erin, and Samantha.
Organizational Memberships: President, Scale Manufacturers Association; National Conference of Weights and Measures; International Society for Weights and Measures.
©2000 Connect Business Magazine