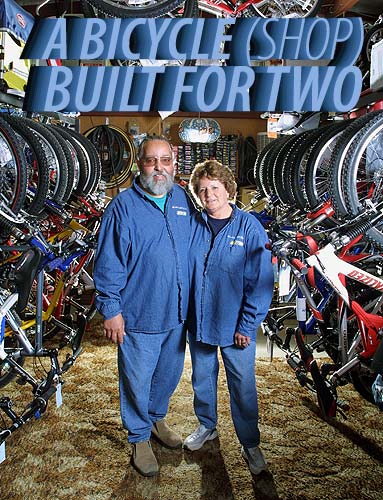 Photo by Kris Kathmann
You may never meet another married couple quite like Gene and Margo Hoffmann. Except for their wedding date – "It's in 1964, I know that much," claims Margo – neither know the important dates that most people would have memorized along life's path, such as the year they began Nicollet South Bike Shop, or the year they purchased their rural Nicollet home, or the years they graduated from Mankato State. Even when pressed about her husband's age, Margo had to fidget five or six seconds. "Fifty-nine, because he just had a birthday," she says.
It's not that they don't remember all the nitty-gritty details of their past – because they do, such as the whos, whats, wheres, and whys – it's just that "whens" have never been important to them.
So, the bulk of evidence seems to indicate that the Hoffmanns have been selling and repairing bicycles on a hill with a view south of Nicollet for 25 years. Or has it been 30? Margo has to think a bit before saying the business started in the late '70s, and Gene is kind of sure it was 1972, maybe.
There really is a logical explanation for this apparent "when" deficit: quite simply, over the years the Hoffmanns have been in an intimate, symbiotic relationship with the business next door to their home. Apparently, they have fallen in love with it so much that Gene and Margo have actually taken on the physical properties of a bike. Like a bicycle, the Hoffmanns, especially 57-year-old Margo, quickly and frequently shift gears in conversation; and, also like a bike, both pedal their minds in only one direction, forward. All the dates of the past, like a view behind a bike, is out of sight and out of mind.
In essence, they have become "one" with a very complicated metal and plastic machine, and the result has been a great recipe for business success: they always press forward, leaving the tire tracks of failure behind.
Their personal histories, though, which spurt from Margo's mouth like steam from a pressure cooker and ooze from Gene's more like molasses up a straw, are really quite astonishing once a person can piece together all the data.
The seed for Nicollet South Bike Shop was planted in 1967, the tobasco sauce-hot year of Detroit race riots, LSD, Israel's Six-Day War, Washington peace marches, and Sgt. Pepper's Lonely Hearts Club Band, and the year Gene dutifully marched off to basic training and then Da Nang to fight the North Vietnamese alongside other Worthington supply reservists. His wife Margo was in Mankato, where Gene had been finishing a teaching degree at MSU. While Gene was fulfilling his military obligation, Margo asked her dad in the Cities if he knew of a bicycle she could use to toodle around Mankato. It would be good exercise.
Dad promptly drove to a dump in Osseo, revived three bikes left for dead and, using his metalworking skills, welded three into one. From that experience, Dad, who had always had a hankering to own a small business anyway, in due time transformed his Osseo dump epiphany into Maple Plain Bike Shop, where he would fix aging bikes and peddle new ones.
"Then Gene came back from Vietnam, which would have been about 1970," Margo claims. "I lose track of time. A lot of people groove on dates, but not me. We just look at today and nothing else."
She continues on, shifting gears, "When Gene came back, his old teaching position in the Fulda district had been given to someone else. But the district was getting funding from the state for a learning disabilities position. They said they would give Gene a job doing that. Not feeling adequately educated for it, he eventually went back to MSU for his Masters in disabilities, and after earning it landed a teaching job in Nicollet."
They purchased property in 1973 or 1974 along County Road 23 south of Nicollet on a shady ridge overlooking the Minnesota River Valley. The land had been owned by the parents of one of Gene's Nicollet students. "This used to be a pasture," says Margo, pointing to her front yard. "We put the house in, then a garage, and then this garage where we have the business. We never thought it would expand to this."
While Gene shifted to another teaching position in Delano the next year, and then on to Le Sueur Elementary where he would remain until retirement two years ago, Margo finished up her own MSU degree while working part-time at MnDot. "I'd have to go back to look at our diplomas to see when we graduated," she says. "For a time I was going to school full-time carrying 20-plus credits and working half-time at MnDot. I would work two hours, go to school for three, and work two more hours." Margo would go on to teach the mentally handicapped for six years in St. Peter, and after earning her Masters in mental retardation was for 19 years a St. Peter speech therapist until she also retired two years ago.
Yes, for more than 20 years both worked full-time professional jobs and at the same time owned Nicollet South Bike Shop. (Or was it 25 years? Or 30?)
Back to the bike shop. (We warned you about shifting gears.) Margo's dad, the one who owned Maple Plain Bike Shop, died of cancer in the early 1970s. Gene accepted a special ed position in Delano — leaving his wife Margo in Nicollet — in order to help her mom run the family bike business, which was near Delano. He lived with his mother-in-law during the week for two years and commuted home to Nicollet on weekends. The grind became too much for everyone, and eventually Margo's mom felt she had to auction off the bike shop to retain her sanity. Margo sheds light on that grind, saying, "In the Minneapolis phone book my dad had advertised 'Open 24 hours.' Gene sometimes was out there at midnight or even six in the morning with customers. It burned everyone out."
The story could have ended on that note, with the Hoffmanns living happily ever after as teachers whiling away lazy weekends on a hilltop with a soothing view — except that they decided to purchase "stuff" from the auction. It planted a seed. Perhaps the purchases were the fruit of their sentimentality; perhaps they were due to the Hoffmann's growing symbiotic relationship with bicycles. Either way, Margo says, "We let [the auction "stuff"] sit for a while in our garage in Nicollet because we weren't sure whether we really wanted to get into the bike business."
Sometime in the late '70s, she says, they began repairing bikes in their garage, and then every night before bedtime clearing them out of the garage in order to use the space for their cars. They peddled a few new bikes out of their basement. It wasn't much, "just a tax write-off really at first," says Gene, 59, who speaks a lot slower than Margo, "but it worked out so well. Of course, the IRS says you have to make a profit anyway in a few years."
Gene says they thought of naming it "The Tax Write-Off Bike Shop," but opted for Nicollet South Bike Shop because the other option, "Judson North Bike Shop," just didn't have enough marketing zing. The shop is 3.5 miles from Nicollet and 2.0 from Judson. "We thought more people knew of Nicollet than Judson," he says.
They worked the bike shop at nights, and to grow with the times eventually added a full-time manager in the mid-'90s. But even with a manager, it was still common for Gene to arrive home after a hard day's work dealing with special needs children to find a "pile" of bikes with a multitude of problems that needed solving. Margo says, "Up until two years ago when we retired, Gene would drop me off at work in St. Peter on his way to Le Sueur Elementary, and he would pick me up on the way back. And when we came home we would still have this work. It was quite stressful."
They built their reputation on repairing bikes that no other shops would touch, such as Huffys, and as their reputation grew, so did their need for space. A portion of their present retail building formerly housed Margo's pet goats. She milked the nanny, and used the rest as lawn mowers to clear their ravine; but the goats took too much time on top of everything else — and too much space. "Our business just got bigger and bigger," Margo says, spreading her arms wide to visually take in their current inventory of new bikes. "The industry is such that to make it you have to keep on expanding, and you have to keep on top of what is new. We really didn't want to get this big but we had to. To run it right we've always made sure that the business runs solely on its own money. We never have mixed our teaching money in with it because the minute you do that you lose track of how the business is really doing."
So they retired in tandem two years ago. Gene had wanted to retire in 1998, but a counselor he was seeing at the time said he better wait for Margo, because couples often have significant adjustment problems when one partner retires and the other doesn't. Gene wasn't in a rush anyway. "I was really beginning to feel good about what I was doing as a teacher," he says. "I was feeling that I was making good connections in the classroom. I had a room all my own, and all the computers and software I wanted."
Gene works full-time now repairing and ordering bikes, serving customers and managing employees. Full-time Margo handles the helmets, shoes, clothing, and the accounts receivable and payable. In other words, after all these years, they have finally consummated their long-standing love affair with bicycles.
"We always said when we were teaching that if our marriage made it through the months of March, April, and May, that we would be okay," Margo says. "Besides being the peak months for biking, those months were also the most stressful for teaching, with all those extra reports and meetings. And then we would come home to more at the bike shop. We have our ups and downs yet, but we've been married since 1964, and we know how to cope."
She certainly doesn't lose any sleep over the past. "Really, [the date of our founding] is not important," she says. "It really isn't. What's important is that we keep our customers happy, stay knowledgeable about the industry, and not go in too deep financially over our heads. Most importantly, as a couple we need to keep communicating and trusting each other."
To Customers Patience Sells
Few men have been trained to handle hard-to-please customers better than a Masters-level special education teacher of more than 25 years. At Le Sueur Elementary until 2000, Gene Hoffmann often had to juggle up to twelve students, with each student having their own individual programs. "Teaching taught me how to handle a lot of different personalities at once," he says. "I've always been patient anyway — at least I've been told that many times in my teaching evaluations."
And sometimes his patience is stretched. While he and Margo prefer dealing with families because "families are enjoyable," he winces a bit when expressing his feelings towards the "BMX crowd." At times that bike buyer can fickle, he says, and it pains Gene to see mom and dad pushing their kids too hard into BMX competition. "On occasion, it's hard to watch," he says, "but I don't say anything. At least they are doing an activity together as a family."
The hottest brand name going on five years now in biking has been Trek, and Nicollet South has had it since November 2001. Then comes Giant, Specialized, Cannondale and a host of other brands. Margo shrugs her shoulders and sort of ho-hums all the "high-tech" features the industry has "introduced" the last few years. She claims there's really nothing new, and hasn't been for more than 80 years. Recumbent bikes, for example, were developed and ridden in the late 1800s. All that has changed in the industry since then are its manufacturing processes, and the materials.
Their market niche in new bike sales has been road bikes, which most bike shops shun for the trendier mountain bikes and hybrids. (Road bikes are the thin-wheeled ones, go faster with less effort, and are particularly popular with triathlon and biathlon athletes.) The age range of a typical road biker is 30-50.
Though Nicollet South sells nearly 1,000 new bikes annually, which represent about one-third of its revenues, the business' moneymaker has been its 2,000 or so repair orders filled each year. "Selling new bikes is a very difficult business to make a profit in because it's so highly competitive," Gene says. "Like most bike shops, we use the new bikes as a draw, build relationships, and hope the customer comes back for repairs and accessories. On our accessories, though, we aren't quite like most other bike shops, namely we refuse to use the category as a means to make up for low margins on new bikes. That's been Margo's approach."
How the Chain Stays Greased
"Our business has grown because we are straightforward, very honest, and we work very hard," says Margo Hoffmann from Nicollet South Bike Shop, which is adjacent to her home of 30 years. "We give a lot of ourselves. We no longer have a manager."
To compensate for an awful location for a bike business — 15 miles from any substantial population center, and hardly any drive-by traffic — they have had to be unique. Most of their customers come from word of mouth, of course, but they have also invested a great deal of money in radio advertising on KTOE-AM and other radio stations during the peak spring season, and in television advertising, a recent twist.
Margo admits, "The location stinks, and we realize that; but we also don't have the overhead of paying for a better location."
Pooch in a Pouch
The Hoffmanns aren't professional bikers, but have enjoyed leisure biking for more than 25 years, having biked in Canada, Mazatlan, Cancun, Spain, Dominican Republic, California, Arizona, Colorado, Las Vegas, Michigan, Hawaii, and any number of places in Minnesota.
Up until recently, Angie, their 15-year-old toy poodle, went on bike rides with them while strapped inside a specially built pouch. "She's been our mascot for almost 15 years," Margo says, pointing to photos of a five-pound canine. "After she dies there will be no more dogs, and she will leave a void in our hearts."
© 2002 Connect Business Magazine. All Rights Reserved.