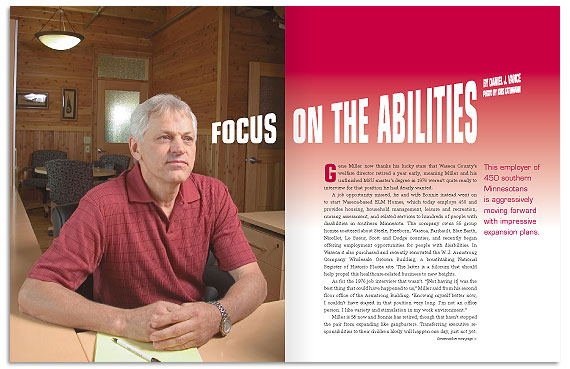 This employer of 450 southern Minnesotans is aggressively moving forward with impressive expansion plans.
Photo by Kris Kathmann
Gene Miller now thanks his lucky stars that Waseca County's welfare director retired a year early, meaning Miller and his unfinished MSU master's degree in 1976 weren't quite ready to interview for that position he had dearly wanted.
A job opportunity missed, he and wife Bonnie instead went on to start Waseca-based ELM Homes, which today employs 450 and provides housing, household management, leisure and recreation, nursing assessment, and related services to hundreds of people with disabilities in southern Minnesota. The company owns 55 group homes scattered about Steele, Freeborn, Waseca, Faribault, Blue Earth, Nicollet, Le Sueur, Scott and Dodge counties, and recently began offering employment opportunities for people with disabilities. In Waseca it also purchased and recently renovated the W..J. Armstrong Company Wholesale Grocers Building, a breathtaking National Register of Historic Places site. The latter is a fulcrum that should help propel this healthcare-related business to new heights.
As for the 1976 job interview that wasn't: "[Not having it] was the best thing that could have happened to us," Miller said from his second floor office of the Armstrong Building. "Knowing myself better now, I couldn't have stayed in that position very long. I'm not an office person. I like variety and stimulation in my work environment."
Miller is 58 now and Bonnie has retired, though that hasn't stopped the pair from expanding like gangbusters. Transferring executive responsibilities to their children likely will happen one day, just not yet.
Born in Albert Lea and graduate of New Richland High, Gene Miller earned his bachelor's degree from Winona State in American history and his master's in sociology. He taught junior and senior high students in Rushford south of Winona five years before wanting "to get back to Waseca," he said.
"My wife and I moved here in 1972 to start a large-group daycare center, a new concept at the time," he said. "My brother, Stu Miller, lived in Waseca and he and I always were brainstorming about my wife and I moving here. While starting the daycare, I kept my teaching job the rest of the school year. I drove to Rushford Monday mornings and returned home to Waseca Wednesday nights, went back Thursday mornings and returned Friday afternoons."
The business fit like a glove: Bonnie, a licensed social worker, managed the nuts and bolts and he, as a teacher, handled some after-school programs and summer kids. He also was a natural "visionary." Their daycare business boomed because E.F. Johnson was booming, a company that was "employing many younger women with families," said Miller. In 1975, the Millers built a larger daycare licensed for 80 children to meet E.F. Johnson employee needs and their future seemed rosy red.
That is, until E.F. Johnson began cutting jobs. "I realized then that daycare wasn't something I could work full-time at and earn a good living," he said. "So I went to Mankato State to earn a Masters in Human Services Administration. The program trained me to be a county welfare director."
And then came the temporary disappointment of Waseca County filling the position before he could complete his Masters. Like so many other life events, what at first seemed a closed door would for the Millers lead to a greater opportunity. Miller said, "My brother was the director of a day employment program in Waseca (for people with disabilities). He said that Waseca didn't have any housing for them. So I started the process of obtaining a license to operate a group home."
This business also fit well. The Millers had related experience and had worked as foster parents with social services in Rushford. But getting that first group home open would take lots of elbow grease and savvy. "The supervised apartments and independent living we have today wasn't an option in the '70s," he said. "In 1979, we had to open an 'Intermediate Care Facility for the Mentally Retarded' (ICFMR). Like nursing homes they had to be licensed, and though small they still had to comply with state and federal regulations. Being fairly new to the licensing process, I hired a consultant, Tom Miller, son of Robert, who owned the largest of our current competitors, REM-Minnesota."
It seems strange thinking that McDonald's actually helped open the first few Burger King restaurants, but in a way that's what Edina-based REM-Minnesota did with ELM Homes in the '70s and '80s.
"Back then we were just in Waseca County, so we didn't compete," said Miller. "For more than five years they helped us as licensing and billing consultants. Then federal rules eased and we began doing the accounting ourselves. I give them credit; they helped us get started."
In 1979 and prior to the first ELM Homes facility opening, a string began of often unnecessary and sometimes-heated dealings with nervous people in several southern Minnesota communities, including Waseca. "Back then local governments could dictate whether you could have a group home in a specific area," he said. "We initially wanted one for eight, but local Waseca government and neighbors opposed us. I couldn't understand why. Those people had been living in Waseca with their elderly parents. Once their parents could no longer provide care their only housing alternative was a state hospital. To them it was extremely important for their children to live near family and friends. Different emotions went through me when receiving that opposition. Then I realized their fear came from not understanding the facts. They had wrongly categorized our clients as 'state hospital people' and wanted us to guarantee they wouldn't rob or hurt them."
The Millers took their case door to door and circulated a petition. The City Council would not approve the home for eight residents, so the Millers settled for six. A year later they surveyed neighborhood residents and most said the situation had gone better than expected. Several hadn't even realized the home was there.
Their second Waseca home initially had strong opposition. For a third, the City Council twice turned down the Millers proposal, so they bought property on the town's edge to build new.
"All the people going into our homes had lived at home in Waseca," he said. "People with disabilities that grow up in their homes and not in institutions usually do not have 'institutional' behaviors. It was an easy argument to make. The people in our homes simply had IQs below 70, which qualified them for disability services. Two of them had grown up on the farm and helped out their dads. They were not a threat to anyone."
In 25 years Miller could remember only two clients creating any "major" ruckus in any of his communities. One was a younger man with behavioral problems who, in trying to leave a Waseca group home, had spat at and shoved a policeman. Trying to put this incident in perspective, Miller wondered if many Mankato landlords renting a dozen homes to college students the last 25 years could make the same claim.
He said of his own experience: "When we had a college in Waseca, I rented out one apartment to college students and at year's end they had a party and busted holes in the walls and drove cars onto neighboring lawns. That's really the worst incident I've ever had."
The environment to build more group homes and expand services to more people with disabilities improved dramatically in 1987 when the federal government finally allowed for the creation of homes that didn't have to adhere to burdensome ICFMR rules and regulations. The federal government also forced cities to stop housing discrimination based on a person's physical capabilities.
When the environment improved, ELM Homes began expanding, quickly. However, this federal intervention didn't stop all opposition to the opening of new group homes.
"In the early 1990s we wanted to start one home three blocks from another in Waseca," said Miller. "The City had an ordinance saying group homes had to be a certain distance apart. Our second home was only 100 feet inside that distance, so the City denied our request. I contacted an attorney and he talked to the City's attorney about possible litigation. Under its attorney's advice, the City Council changed the ordinance. In 1988, the federal government had said no one could discriminate in housing because of a person's physical capabilities."
Another incident in the early '90s: "One of our most controversial plans was for a home in a rural setting in a county east of Waseca. We didn't think we'd have opposition. The closest neighbor was a half-mile away. The county commissioners invited me to one of their meetings. Legally, they couldn't deny our request. About 150 citizens showed at the meeting, probably everyone living within a five-mile radius of the home. The neighbors grilled me. I was insulted. One guy pointed his finger in my face and said, 'If any of your people hurt my family, I'm going to hurt you.' That was the only time I've ever been physically threatened. That gentleman was the next-door neighbor, living a half-mile away. A year or two later he came back to say he was sorry; that we had been good neighbors after all. He even plowed snow for us."
One last story: "We purchased a piece of property and building in Waseca from a church that had moved to a larger facility. The attached property in the middle of a residential area could have been subdivided to build seven homes. Just two months ago I went to the planning commission asking if I could build three four-unit apartments in this area and convert the church to six apartments. There was a lot of opposition, but it was to having apartments per se, not to any clients I might bring in. My plan was to have the lower levels handicapped accessible for people using wheelchairs and the second level rented to the general public. Unlike 1979, the opposition wasn't to people with disabilities; it was to the idea of having rental property next door. So I revised my plan and now it has three twin homes instead of apartment buildings, and the church has only four apartments. Not only did the City Council pass my revised plan unanimously, they thanked me for working with the community."
In the 1970s and into the early '90s when opposition to his business was strong in some communities, ELM Homes kept a low profile, often preferring anonymity to publicly sharing its many successes. But times and attitudes have changed. "When you (Connect Business Magazine) called (to arrange this interview), I was glad you were interested in ELM Homes," he said. "I've had more recognition and interest in our headquarters building than in any of the services we've provided the last 32 years."
It's A Family Affair
"My wife, who is retired and was a licensed social worker, deserves half the credit for our success. I have been the visionary and public relations person and she was the programmatic follow-up and paperwork person. We made a good team. I get more recognition because I'm in the public eye, but I also get the flak. Our five girls have degrees in related social science fields, and four of them work at the company. They will take over in some capacity if they can work it out together as a team. My son just graduated from high school." —Gene Miller
Starter Homes
ELM Homes must acquire two licenses before starting any home. The first, through Minnesota's foster care program, paves the way for ELM Homes to be reimbursed by the state for a client's housing, food, and related expenses. The second is from the state Medical Assistance program via the federal government and allows reimbursement for basic medical care and affiliated services.
"We employ nine LPNs and a director of nursing, but no doctors," said Miller. "The nurses train staff, make sure new hires have appropriate medical qualifications and follow up on medical issues."
The two most prevalent disabilities in current referrals are traumatic brain injury and autism.
Hiring for a qualified staff to care for 250 people with disabilities can be challenging. He said, "The difficulty depends on the economy. With unemployment higher, we have an easier time. As with most healthcare providers, the difficulty is in finding part-time employees. We are a 24-hour care employer. When our part-timers get a full-time job outside ELM Homes often they leave. As for Mankato, it's easier to find qualified part-time employees there because of the colleges. In rural areas, it's not uncommon to find a qualified community member seeking a part-time job but not wanting the drive to Rochester or Albert Lea."
Waseca Family Vacation
In one way recent state budget cuts have indirectly helped people with disabilities. In southern Minnesota they have forced ELM Homes to become even more creative in meeting their clients' needs. And the result has been nothing short of spectacular.
"We have about 50 people living in our group homes in Waseca and others living at their own homes and many of them are being bussed to Mankato or other places for employment," said Gene Miller, co-founder of ELM Homes.
He has a master plan to provide jobs for his clients—locally.
"One project we're working on is renovating seven cabins and a home on Loon Lake in Waseca," he said. "We bought them with the idea of providing a vacation and recreational area for our clients in southern Minnesota—and also for the general public—and with it provide our clients housekeeping, grounds keeping and laundry jobs. We will have canoeing, horseshoes, volleyball and nearby local parks for recreation. Right now, if a person in one of our homes in southern Minnesota and/or their family wants to go on vacation, most specialized camps are too far away."
The 1940s-era rental cabins are called "Veteran's Landing," built for homeless World War II veterans, and have been ready for limited occupancy since August 2004.
Another source of jobs for ELM Homes clients will be a four-bed bed & breakfast and 96-seat conference center soon to open on the third floor of the 25,000 sq. ft. Armstrong Building, also the company's headquarters. (The company's 30 office employees occupy the second floor.) This 105-year-old National Register of Historic Places building on Second Street downtown Waseca has 12×12 Douglas fir beams, 16,000 sq. ft. of maple flooring, and cedar walls throughout. Rescued from demolition and purchased by Bonnie and Gene a few years ago for only $30,000, the Building has had "more than $1 million" in improvements made to it via personal loans and investments by the couple, said Miller.
Other plans to employ people with disabilities inside the Building involve an Internet wine café/coffee house, a sports bar, and possibly an antiques store. Before buying the Armstrong Building, ELM Homes for years operated from a converted former motel close to Kiesler's Campground.
© 2004 Connect Business Magazine. All Rights Reserved.