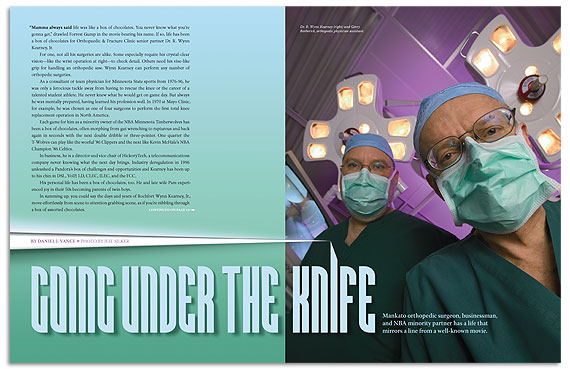 Mankato orthopedic surgeon, businessman, and NBA minority partner has a life that mirrors a line from a well-known movie.
Photo by Jeff Silker
"Mamma always said life was like a box of chocolates. You never know what you're gonna get," drawled Forrest Gump in the movie bearing his name. If so, life has been a box of chocolates for Orthopaedic & Fracture Clinic senior partner Dr. R. Wynn Kearney, Jr.
For one, not all his surgeries are alike. Some especially require his crystal-clear vision—like the wrist operation at right—to check detail. Others need his vise-like grip for handling an orthopedic saw. Wynn Kearney can perform any number of orthopedic surgeries.
As a consultant or team physician for Minnesota State sports from 1976-96, he was only a ferocious tackle away from having to rescue the knee or the career of a talented student athlete. He never knew what he would get on game day. But always he was mentally prepared, having learned his profession well. In 1970 at Mayo Clinic, for example, he was chosen as one of four surgeons to perform the first total knee replacement operation in North America.
Each game for him as a minority owner of the NBA Minnesota Timberwolves has been a box of chocolates, often morphing from gut wrenching to rapturous and back again in seconds with the next double dribble or three-pointer. One quarter the T-Wolves can play like the woeful '86 Clippers and the next like Kevin McHale's NBA Champion '86 Celtics.
In business, he is a director and vice chair of HickoryTech, a telecommunications company never knowing what the next day brings. Industry deregulation in 1996 unleashed a Pandora's box of challenges and opportunities and Kearney has been up to his chin in DSL, VoIP, LD, CLEC, ILEC, and the FCC.
His personal life has been a box of chocolates, too. He and late wife Pam experienced joy in their 50s becoming parents of twin boys.
In summing up, you could say the days and years of Rochfort Wynn Kearney, Jr., move effortlessly from scene to attention grabbing scene, as if you're nibbling through a box of assorted chocolates.
What are other minority owners of the Minnesota Timberwolves like in private?
When Glen and I initially talked about my possibly being a limited partner, he said he believed the team could be profitable in the long run. He didn't anticipate it being a money-losing proposition. He also said—and I have reminded him of this many times since—that it would be fun to be involved in the ownership of a professional basketball team. Indeed it has been. We've had lots of good times. Part of the fun has been getting to know other owners. They are all successful individuals with interesting stories and backgrounds. If it hadn't been for being involved with the Timberwolves, I likely wouldn't have met most of them.
For example, Dennis Frandsen started out in business as a teenager in Wisconsin on the family farm selling hickory trees to Duncan Yo-Yo. Those trees were the ideal type to make yo-yos and his father gave him permission to harvest them. He won a contract with the yo-yo company. He told me that he once went to a local bank to arrange a loan to buy a better pick-up truck and chain saw. They turned him down. It was with some satisfaction when he bought that bank later. (Laughter.) On a handshake deal during a Timberwolves road trip, he later came to terms with Glen Taylor to buy Glen's banks, which include, among others, Valley Bank in Mankato and Frandsen Bank & Trust in New Ulm.
They are good people and citizens. Some are high profile, like Ralph Burnett, whose realty company bears his name. He was also involved with the Burnett golf event on the Seniors Tour. He has sold his realty company, yet still has a number of real estate interests and other related business interests. He also has a partnership with the NBA on an NBA-theme restaurant, the prototype of which is in Orlando. He is a visionary. Bill Popp founded his own telecommunications company. He, like most of the other owners represents an entrepreneurial success story.
For the most part all the owners are of the same generation. Half of the male limited partners have had prostate cancer, of which I am one. About half own an airplane or jet—the latter being a little different from my "normal" group of friends and associates. Some of the owners are dyed-in-the-wool sports fans, attend many games, and as fans want a winning team. Certainly Glen is one of those, and there was no greater fan than Al Fallenstein. The other half of the limited partners are involved because they enjoy being involved in an enterprise Glen Taylor organized. That's enough for them. A few owners almost never attend games.
I would say that Glen has graciously listened to the limited partners. He is the majority owner. In owner meetings, which occur quite regularly, I'd say he operates the Timberwolves as a "benign autocracy." He's willing to listen, but in the end he makes the decisions. But we understood that going in.
Have you ever called Kevin McHale to say something like, "So why was Kevin Garnett dogging it tonight?"
(Laughter.) No one with the Timberwolves has ever doubted the effort of Kevin Garnett. He personifies a good work ethic and never-say-die attitude. No one wants to win more than Kevin Garnett. Our goal is to win an NBA championship and KG would be the cornerstone of that team.
Has a minority owner ever diagrammed a play for the team?
John Moore has. He is a minority owner and high school basketball coach. His team just missed making the state tournament this year. The Moore family owns a significant interest and used to be involved in the Golden State Warriors ownership group. We've met with Kevin McHale and Flip Saunders, traveled with the team, and been to All-Star Games. The coaching staff has not so much been willing listeners to our ideas, but they have provided us with a deeper understanding of the strategies of the NBA game and capabilities of players.
Did you have to think twice about investing?
It was a significant investment decision for our family. For most owners it was not. When we made the decision, we also decided to participate fully in everything surrounding the team because we wanted to enjoy it. One of the owners said to me one time that the dividends of owning an NBA team were mostly "psychic." When you sell, of course, it may be more than that.
Pam and I took our children on a number of road trips. For the players, road trips are really exhausting business trips. The pace and demands on NBA players of going from city to city, sometimes four nights out of five, is simply unbelievable. They have to be ready to play, rested, and mentally prepared through to a game's end, yet they seem to rise to the occasion. We've really enjoyed getting to know a number of players over the years. Pam died last November and the outpouring of concern from the Timberwolves family was touching. She would have been moved by the moment of silence offered at the first home game following her funeral.
What about Pam?
She was a great partner and the love of my life. I always said she saved me from myself. She gave me a family and new direction. She was a woman who was very direct, meaning she didn't enjoy small talk that much. She was a person of action, very bright, and a great mother. Her loss is particularly difficult for our twin sons, Robert and Rochfort, who were nine at her death. She was a realistic person and at peace with the knowledge of her impending certain death. She told our sons about her cancer, that it was spreading, and that she would eventually die from it. She dealt with it magnificently and courageously. Eventually, she and our boys' teacher at Bridges Community School in Mankato let the boys tell the class. So Robert and Rochfort sat on stools, and said their mother was sick with cancer and would die. The fact they were strong enough to do that was a reflection of their mother's strength.
You mentioned son Rochfort. That's also your first name. Is there a story there?
My grandfather Rochfort Kearney came over from Ireland about 100 years ago and married Grace Wynn. She traced her ancestry back to the days of William Penn of 350 years ago. My father was Rochfort Wynn Kearney and I was Rochfort Wynn Kearney Jr. We named our boys after their grandfathers, Robert and Rochfort. My wife did not like my family calling me "Wynnie," so she insisted that Rochfort be called Rochfort. He carries it well even though it's an unusual name.
Many people remember your late father, a Mankato surgeon and primary care physician. Are you more like your mother or your father?
I think I have characteristics of both. One thing, my parents were generous. I recall when I was a little boy—and I didn't find this out until years later—that in response to stories I told to my parents of fellow classmates coming to school without coats, overshoes or mittens in winter, my father through the teacher quietly provided clothing to the children needing it. The children never knew where it came from. This shows my parents' values and I embraced them. I only wish I had my mother's energy. She is 90 and we still can't keep up with her.
Will your paid trips for Mankato school children to visit Washington D.C. continue?
Yes, we will try to do it indefinitely. We were hoping at one time that the community would get excited about it and someone would figure out a way so all fifth and sixth graders in District 77 could go—and not just Bridges Community School students. So far that hasn't happened. My wife was a good friend of Jane Rush, former MSU President Richard Rush's wife. Jane told my wife that a number of schools in California, where the Rushes came from, took educational trips to the East Coast. It was exciting for the children. This fit in with my wife's thoughts that travel in itself is educational, not to mention the destinations where children could see firsthand our country's history. So we sponsored trips.
Pam was a major force in starting Bridges Community School. She helped do it in an era when charter schools were popping up. I believe there was a threat of a charter school in Mankato. But Bridges was all within the school district and called a "choice school." It was under district funding and control. Bridges has tremendous parental involvement and great teachers. They use a self-paced model in a nurturing environment that incorporates scientific evidence about learning.
You are current Vice Chair of HickoryTech. How significant is it to have Robert Switz of ADC Telecommunications on that board?
The HickoryTech board has become diverse the last ten years. In the past it was a tight group of people with Mankato addresses, who golfed, partied and traveled together. We have expanded the board to a national scope. Only three members of the outside directors currently live in Mankato. Bob Switz is an accomplished businessman. He has been CFO of ADC Telecommunications and has had great successes and great challenges to face, especially the last five years. He is now its CEO and President. He has had a steady hand on the tiller of a multi-billion dollar company. He has been a great contributor to what is a relatively small company, HickoryTech, with revenues of about $100 million. His advice and counsel have been invaluable. We also have Myrita Craig, who had great experience coming from Cincinnati Bell. She recently stepped down as our first female board chair. Other board members have varied backgrounds and unique perspectives.
HickoryTech has spent the last few years whittling down its debt. Now it seems poised to expand again. What areas of telecommunications look promising to you right now?
The name of the game in telecommunications the last decade has been survival. Recently the great name in the industry, AT&T, was acquired for a fraction of its market capitalization of not long ago. But there have been a number of growth possibilities and opportunities for niche players. Wireless has been part of the change in telecommunications and consolidation is occurring there. It's becoming evident that it's difficult to be a regional player in that arena. HickoryTech had a position in wireless, but it just didn't fit the company in terms of long-term profitability.
We have to focus on our core competencies. We are a regional wire-line telecommunications company and want to be poised to take advantage of any opportunity. In some of our CLEC (Competitive Local Exchange Carrier) locations, such as St. Peter, we offer digital television, which competes very well with cable television. We have expanded our DSL and broadband capability and are growing DSL significantly. We also have a nice fiber network, and we're finding a good market for businesses that want secure, redundant, high-capacity broadband for data transmission and for dedicated communication linkages between various offices of the same company. We also have significant business customers who have been happy with our service and technology and are helping us recruit new customers—though they've asked we not mention their names publicly for competitive reasons. We have spent a lot of money the last eight years on CLECs and have had good market penetration. Our strategy is to increase that market penetration and build on the existing infrastructure already in place.
And the much lower debt?
Paying it down enhances value in a way that isn't necessarily reflected in our stock price. Certainly, it's reflected in the overall health of the corporation. It creates a situation where we can respond to opportunities in terms of mergers, acquisitions and growth. Ten years ago we initiated a stock buy-back plan. By the time we were through we had bought back nearly 10 percent of the company shares, which added to the value of the company. The program is still authorized, but the corporation the last few years has chosen to pay down debt rather than repurchase shares.
Tell about changes in orthopedics over the years?
It has been a wonderful specialty. I first became excited about it when some of the great people in it were my teachers at Northwestern University Medical School in Chicago. I have been trained in some of the more old-fashioned operations with relatively low rates of success, such as hip fusions and cup arthroplasties, to the more modern techniques, such as arthroscopic procedures. And I have witnessed everything in between.
While I was a resident at Mayo in the '60s, Dr. Mark Coventry performed the first total hip replacement in North America. Coventry had traveled to Europe and selected the best implant design, one that utilized a polyethylene socket and stainless steel or metal alloy ball and bone cement. It was a brilliant solution and allowed millions of people to walk and become more active. Mayo Clinic continues to perform many of those surgeries, which are also done now in community hospitals throughout America. OFC surgeons have performed thousands of total hip replacements in Mankato.
As a Mayo Clinic resident, I was one of four surgeons in 1970 on the team that did the first total knee joint replacement in North America—and possibly the world. I did Mankato's first total knee replacement in 1972.
In 1978 my two senior partners, Drs. Meredith and Gislason, performed on me a disc removal surgery, or laminectomy. My incision was more than six inches long and I was in the hospital six days. About seven years later, we were performing micro-laminectomies with two-inch incisions only requiring overnight hospital stays. Arthroscopy surgery on knees, for instance, has replaced the old-style open procedure, where a six-inch incision was made to remove a torn cartilage. Usually three small buttonhole incisions are sufficient today. I have performed knee arthroscopy surgery on a college quarterback on a Monday and he was playing football that Saturday. I did one on an OFC partner years ago and he was skiing in Colorado that weekend. This doesn't reflect my skills, but it shows the progress of technology and what we can offer. Of course, you can't expect that kind of recovery with every patient.
The profession's diagnostic abilities are much better than years ago. CAT scans, which use x-rays to image parts of a body, was a great advance when introduced about 25 years ago. We still use them. But now we also have MRI scans, which are more accurate in imaging soft tissues such as ligaments and joint surfaces. We can make better treatment recommendations to patients, and enjoy better outcomes as a result.
Will OFC ever sell out to Mayo?
We have a cantankerous group of independent-minded individuals who really have a vision for what our clinic can be. We've had talks with Mayo. We want to work with Mayo and enjoy the same professional relationship with them as we've had in the past. But it just hasn't seemed to work out as far as our becoming part of their system.
Have they brought orthopedic surgeons into Mankato?
Mayo has not. Right now orthopedics as a specialty is experiencing shortages nationwide. It is difficult to attract orthopedic surgeons. Mayo has orthopedic vacancies in several Mayo Health System locations.
Mankato has the Mayo Health System, not the Mayo Clinic. The Mayo Health System emphasizes community practice, whereas the Mayo Clinic is part of three-pronged effort that includes education and research. That said, our cardiologists in Mankato are actually Mayo Clinic cardiologists. But otherwise, most of the community hospitals and clinics in this area are associated with the Mayo Health System.
Ten years ago when Mayo Health System came to Mankato they did market research and presented the results to the hospital. They said Mankato had 100 doctors, yet needed more than twice that number. That shocked the community. But they have been proven right. I don't know the exact tally, but the Mankato area now has upwards of 200 physicians. Growth has been consistent with what they suggested.
For a number of years you were the head team physician for MSU sports teams, such as hockey, basketball and football, a role continued today by other OFC physicians. Could you recount some of your more memorable moments in dealing with MSU Athletic Training?
I became head team physician at MSU in the mid-'80s. Previously I had been chief of orthopedics at Quantico Naval Hospital, the health provider for a Marine base. This was equivalent to being the head team physician for a 20,000-man football team. The Marines and officers and Navy support troops presented a number of orthopedic challenges. I also spent time in my residency on the trauma rotation at a hospital in Sun Valley, Idaho.
As for MSU sports, I remember when Daryl Wills, a defensive back, broke a bone in his hand. On the Monday after the game I put a cast on it and told him he'd be out one month. He told me quite emphatically that he wouldn't be out at all and that he would play that Saturday. So we fabricated a padded cast to protect him. It fulfilled all NCAA requirements. He played that Saturday and never missed a game. I learned then that if the injury isn't life threatening or if aggravated can't permanently hurt an athlete's health, that our job was to support them—yet we wouldn't let them do anything foolish. But if they wanted to play, we would help them. That became our approach. For one game two years later we had five football players on the field playing and wearing casts on either their hands or arms. It was a championship team that was playing well and no one suffered any long-term consequences.
That said, in Colorado once we lost our quarterback to a major concussion. He never played again. On another occasion at St. Cloud State in cold and snow, one of our players had a fracture and the bone was sticking through his skin. I went with him to the hospital to give him care.
You're on the board of a company in Florida. Why?
It's Exactech, a publicly traded company the size of HickoryTech. Dr. Bill Petty and I trained at Mayo Clinic together years ago. He started a company to design knee implants and be involved in other areas of medicine. I've been on his board 15 years. The company has done well. They have a line of outstanding products including the most modern knee and hip implants. Having said that, I'm not married to their implants. If others are better or more appropriate for a particular patient, I use the best implant available. In terms of selecting implants for patients, the company does not own me. I take pride in that fact. Not everyone involved in companies like that can make similar statements.
If you could change medicine in America, what would you do?
I'm surprised that during the last election medical care and costs were not more major issues. It's important for the future of our country to control medical costs. I don't think politicians really understand how important it is. I'm afraid business interests may one day shed the obligation they previously accepted to provide medical care and insurance for employees. In European countries so-called "socialized medicine" prevails, where the government provides the bulk of payments for most medical services. In our country medical coverage has been a fringe benefit of employment. In order to attract workers and have a healthy workforce, most employers have accepted the obligation to provide health insurance to employees. This framework has worked well. Now costs are spiraling out of control and no one has figured out how to keep premiums at reasonable levels.
What would you do?
Healthcare is not a Republican or Democratic issue. But I believe the present administration is closely wedded to pharmaceutical interests, and because of that has a hard time trying to rein in pharmaceutical costs. The costs of drugs have skyrocketed relative to other costs. It should be possible to lower these costs with negotiated contracts. The biggest third-party payer of drugs in the U.S. is the federal government. But the Bush administration has been reluctant to use its leverage. The argument you hear is that pharmaceutical companies need profits to fund research and development in order to make better drugs. But the pharmaceutical companies spend up to ten times more on marketing than on research and development.
The cost of technology in medicine is another area needing control. I have a friend who was a physician for the U.S. Olympic Team while in Australia. He was ordering dozens of MRI scans there and the cost to the U.S. Olympic Committee was only $250 per scan. A typical scan in the U.S. costs $1200. There has to be a way to bring that cost down. OFC owns an MRI scanner and we charge about 25 percent less than competitors in this area, yet we are still making a profit doing it. The cost of medical care can be lowered with effort on the part of buyers and payers.
Also, a number of well-known medical academicians are doing research for companies and then going out and presenting their findings. They receive considerable fees for doing this. Their presence on the company's payroll has the potential to jeopardize the intellectual rigor with which they evaluate their research.
Your family controls much of the land behind Madison East?
My dad purchased that farm in the early '50s. His dream was to have a shopping center on the property. There were few shopping centers in the state then. Eventually Madison East came into being. Now the Holly Lane extension runs all the way through to Highway 14, providing traffic alternatives to the increasingly congested area along Madison Avenue and Highway 22. It will open up development opportunities to the property you've mentioned. With time, it will be fully developed and better utilized.
Would you personally develop it?
My sister Anne Smith is managing partner of Kearney Properties. She has done a nice job of bringing residential and high-density housing to the area east of Madison East. There eventually will be an opportunity for commercial development along the Holly Lane extension. The original farm was 160 acres, and of that amount Madison East occupies 40 acres and the new highway and the residential area more. In addition, Anne has developed 25 acres along Goodyear Avenue for residential, single-family housing.
BONE STRUCTURE
Orthopaedic & Fracture Clinic has 95 employees, 14 physicians and offices in Mankato, Faribault, Northfield, and Hutchinson. It has an MRI center in Mankato, and separate back care and physical therapy/sports medicine sites in both Faribault and Mankato. Not including physical therapy patients, OFC receives an estimated 45,000 patient visits annually.
TEACH YOUR STUDENTS WELL
I had a good relationship with Dr. Wynn Kearney Jr. of OFC and the chance to work with him personally and professionally. He performed two knee surgeries on me. As an MSU student I was also an x-ray technician at St. Peter Community Hospital. Dr. Kearney and I used to work together in the operating room. At MSU he took the time to explain injuries that happened and the options available. In my work today I use many of his protocols for rehabilitation and his techniques. —Dave Surprenant, Minnesota State '83, head athletic trainer for the NHL Dallas Stars.
OFC physicians have cared for Minnesota State sports teams since 1964, and helped train hundreds of MSU students majoring in Athletic Training. Besides Surprenant, other MSU Athletic Training graduates: Tony Peck '89 (head athletic trainer, U.S. Air Force Academy football); Jim Kahmann '85 (head athletic trainer, Minnesota Twins); Dave Engelhart '73 (former head athletic trainer, Duke University men's basketball); and Amy Hamilton '98 (athletic trainer, University of Minnesota women's hockey). Dr. Patrick Sexton, director of MSU'S athletic training program, heads a prestigious program that in 1969 officially began athletic training education in the United States.
GETTING TO KNOW YOU: Dr. R. Wynn Kearney, Jr.
Born: March 20, 1943.
Children: Robert and Rochfort
Education: Northwestern University '65, B.S.; Northwestern University Medical School '67, M.D.
Professional leadership: Southern Minnesota Medical Association, president, 1983; Immanuel-St. Joseph's Hospital Medical Staff, president, 1980; Orthopaedic Practice Society, president, 1987; Blue Earth County Medical Society, president, 1987; Minnesota Orthopaedic Society, president, 1997-98.
Community leadership: MSU Foundation, president, 1996-97; HickoryTech Foundation, president, 1999-present; Wynn and Pamela Kearney Foundation, board member, 1997-present.
© 2005 Connect Business Magazine. All Rights Reserved.