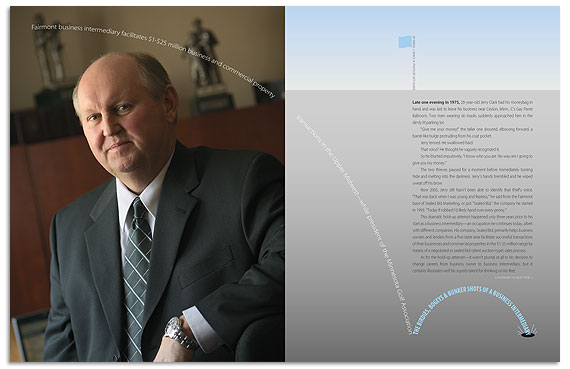 THE BIRDIES, BOGEYS & BUNKER SHOTS OF A BUSINESS INTERMEDIARY
Fairmont business intermediary facilitates $1-$25 million business and commercial property transactions in the Upper Midwest—while president of the Minnesota Golf Association.
Photo by Jeff Silker
Late one evening in 1975, 28-year-old Jerry Clark had his moneybag in hand and was last to leave his business near Ceylon, Minn., C's Gay Paree Ballroom. Two men wearing ski masks suddenly approached him in the dimly lit parking lot.
"Give me your money!" the taller one shouted, elbowing forward, a barrel-like bulge protruding from his coat pocket.
Jerry tensed. He swallowed hard.
That voice? He thought he vaguely recognized it.
So he blurted impulsively, "I know who you are. No way am I going to give you my money."
The two thieves paused for a moment before immediately turning hide and melting into the darkness. Jerry's hands trembled and he wiped sweat off his brow.
Now 2005, Jerry still hasn't been able to identify that thief's voice. "That was back when I was young and fearless," he said from the Fairmont base of Sealed Bid Marketing, or just "Sealed Bid," the company he started in 1993. "Today if robbed I'd likely hand over every penny."
This dramatic hold-up attempt happened only three years prior to his start as a business intermediary—an occupation he continues today, albeit with different companies. His company, Sealed Bid, primarily helps business owners and lenders from a five-state area facilitate successful transactions of their businesses and commercial properties in the $1-25 million range by means of a negotiated or sealed bid (silent auction-type) sales process.
As for the hold-up attempt—it wasn't pivotal at all in his decision to change careers from business owner to business intermediary, but it certainly illustrates well his superb talent for thinking on his feet.
What Clark does for a living hasn't always been easy to explain. For instance, soon after leaving a position in 1992 as a director of sales with Resolution Trust Corporation (RTC), he was interviewed by a Minneapolis newspaper reporter. "The reporter was so confused by what I did throughout my business career that he didn't even submit the article to his editor," said Clark. Indeed, his career has had more twists and turns than the Minnesota River.
He grew up in Fairmont as the son of Bill and Bea Clark, former co-owners of Mankato's well-known Hilltop Florist. "Besides that, my father worked at a floral shop in St. Peter before moving us to Fairmont, where he worked as head designer at Fairmont Flowers," said Clark. "It was in Fairmont where my folks became involved in the food and beverage business as managers of Interlaken Golf Club."
So Clark was immersed in golf beginning at age 9, becoming a "golf rat." Later a love for this avocation would nudge him to become president of the Minnesota Golf Association, a title he has carried since November 2004. (See page sidebar next page.)
After Fairmont High '65, he graduated from Mankato State in 1969 with a double major of French and Math. He taught French at Austin High School for a few years while working on his Masters. But then the small business bug bit—the same one that had bit his father—and he and wife Betty in 1972 purchased what they would rename Mr. C's, an on/off-sale liquor store in Ceylon, and also C's Gay Paris Ballroom. "[The ballroom's name] is one we resurrected from the original owners in the '40s," he said. "Besides owning the ballroom and liquor store, I promoted rock concerts into the late '70s. Our largest and most successful one was the last annual Southern Minnesota Rock Spectacular in 1977 headlining Black Oak Arkansas, Brownsville Station, and Head East."
His interest in promoting concerts had arisen in part from playing rhythm/bass guitar and saxophone for The Epicureans, a Fairmont-based band that evolved into the present-day Murphy Brothers Band of Mankato. (See page 53.) This year The Epicureans will be inducted into the Minnesota Country and Rock Hall of Fame.
After six years in the food, beverage and entertainment business, by 1978, Clark and his wife were ready for change. They closed the ballroom and put the liquor store business on the market. Bill Roslansky, a Clark acquaintance also involved in food, liquor and booking entertainment, was a well-respected business broker in Minneapolis. He offered Clark selling advice. Clark promptly interviewed with Calhoun in Minneapolis, "the premier business brokerage firm in the Upper Midwest," he said, "and I was their first agent to be successful in southern Minnesota." His first sale was C's On & Off Sale Liquor Store, which went for $125,000, of which Clark collected his first business brokerage sales commission.
He would remain with Calhoun through 1990.
"I only sold 'main street' businesses in the beginning with Calhoun," he said, referring to businesses you'd find on any city's "Main Street," such as bars, restaurants, dry cleaning stores, retail stores, etc. A few of the businesses he sold then were Marti's Pizza in Mankato, Etter's Supper Club in Sherburn, the municipal liquor store in Truman, and Whole Cow Meats of Welcome. By the mid-'80s Clark had transitioned to heftier sales covering a wider area. For example, he sold a distribution company in Algona, Iowa, to publicly traded Airgas Inc., a large photo processing company, Northern Photo of Duluth, and a long distance reseller to publicly traded HickoryTech. He also brokered the land/business deal that brought Kmart to Fairmont.
"Then in 1990 I saw that ad in the Wall Street Journal," he said. "Mentally, it was time for another change. I was 43 and had been doing the same thing at Calhoun for 12 years. Business was going quite well, but I wanted more stability. Brokerage is a feast or famine business. For instance, in 1986 two large transactions I was working on fell through when the sellers pulled out."
The Wall Street Journal "help wanted" ad in time led to a position with Resolution Trust Corporation, which was formed in 1989 by Congress to resolve the failed savings and loan crisis. Clark thought the position would involve negotiating deals, his true love. Instead, after a detailed screening and security check, RTC signed him to a two-year contract as an E-1 level executive, a director of sales responsible for creating and managing a large staff.
"I went from Minneapolis, to Chicago, to Cleveland, and finally to Washington, D.C., for my last six months," he said. "After fulfilling my contract, I could have stayed with the government, but I would have been required to relocate to Washington. My wife and I decided that Minnesota was home."
As a director of sales, he was responsible for "caravan" auctions, mostly in the Midwest. Besides contracting auction companies, he and his staff handled documentation, due diligence, timelines, financing, qualifying buyers, and closings. And he was responsible for a wide spectrum of real estate, loans and businesses throughout the continental U.S. and Alaska. One national auction organized by Clark and his staff of several well-known resort properties was conducted at a Palm Springs resort. It brought buyers smelling a good deal from all over the world.
"After leaving RTC, we formed Sealed Bid Marketing in 1993," he said, with the "we" referring to his wife Betty, who manages the company books and is a tax accountant. Trying to capitalize on Clark's extensive RTC experience, Sealed Bid started out doing "really troubled transactions," i.e., accelerated business sales for lenders or business owners.
From the start Sealed Bid required clients to pay initialization/retainer fees, upfront monies to help defray costs of marketing development and implementation of the marketing plan. "We—the seller and me—need to define milestones to achieve," he said. "I believe our retainers also help commit the seller to the process and deal—but unfortunately not always. Recently, we worked at facilitating a transaction on the West Coast of a manufacturing and distribution specialty lighting company. We had the perfect buyer, a New Jersey company desiring to move all the manufacturing there. Due diligence was done. The deal was nearly closed. But by then the business was doing better than expected and the seller decided to stick with it. The buyers and I spent all that time and money. With a retainer, you get some of your out-of-pocket expenses back, but not much more."
Which begs the question: Why do most people sell?
"With accelerated sales, the seller usually realizes there is no light at the end of the tunnel. They think they have to sell quickly before it gets worse. Burnout is another reason why people sell. Many owners just don't want to do it anymore—like me with the liquor store near Ceylon. In other situations, maybe a son or daughter took over the business and aren't doing well, and mom and dad have to step back in."
In 1998 Sealed Bid represented Sparak, a Fargo-based value-added reseller of financial systems for banks, in a type of transaction that Clark said has become common. The owners of Sparak had grown the company, but felt they needed help taking it to a higher level. So Clark facilitated a transaction with a private equity group, Cedar Creek Partners of Milwaukee, which acquired Sparak. In this recapitalization model, Sparak's original owners retained 40 percent ownership. In a few years the publicly traded Harland Financial Systems acquired Sparak and the original owners had a second rewarding payday.
Clark explained, "Some asset-heavy businesses sell for asset value or less. Then there are companies such as Sparak, which had limited tangible assets. Yet it sold for millions of dollars because it had tremendous cash flow and growth opportunity."
Sparak's wasn't an isolated case. Clark said massive pools of money currently exist to acquire private companies. "And it's going to get more so," he said. "It is difficult for investors today to get good rates of return through traditional methods. Some want higher returns and are willing to take on some risk."
Today, "sellers" make up about 85 percent of Sealed Bid's dollar transactions. Buyers make up the balance, such as the $40 million Canadian firm that has hired Sealed Bid to acquire U.S. engineering firms.
On the "sell-side," Clark handles either negotiated or sealed bid transactions. "A negotiated transaction is one in which we offer a company for sale," he said. "Prospective buyers express interest and sign a confidentiality agreement to proceed through the process. Ultimately they present a letter of intent. We look at the letter of intent and negotiations begin, hopefully leading to a close. On the other hand, an auction or sealed bid transaction has a dateline for submitting bids. A sealed bid sale is an intensive marketing process of direct mail and professional business to business tele-services."
Clark said Sealed Bid partners with a business-to-business marketing firm, Virtual Causeway of Canada, which is co-owned by Clark's son Bill. Sealed Bid uses "one of [Virtual Causeway's] people almost on a full-time basis as our marketing consultant," said Clark. "My son is also like a partner on the Sealed Bid team, working together with me and Renee Benschoter, my project assistant and office manager, and Shelly Reid of Minneapolis, our financial analyst." Sealed Bid also maintains a sales office in Minneapolis.
What if the best "sealed bid" results don't meet seller expectations? He said, "After going through a sealed bid with a cement company, none of the offers seemed adequate. I then told my clients that we should try negotiating post-sealed bid deadline with the person that made the best offer or perhaps work for better results from all the potential buyers."
Like other companies in his industry, his dollar sales fluctuate like a roller coaster. In 2003, the company enjoyed its best year, with approximately $15 million in transactions; but 2004 was down slightly, when two sellers suddenly pulled out of transactions. The ups and downs since 1993 have flattened considerably because the firm is now established, widely known in the metro area, and former sellers, buyers, law firms, banks and accountants send a steady stream of referrals. "We have handled transactions from $1 to $25 million, but my bread and butter business is in the $5-$10 million range," he said.
His industry has experienced seismic changes the last 15 years, most of which could be due to more sophisticated buyers pushing the envelope. When Clark began in 1978, he only had a real estate agent license and had to learn the rest on the fly. Today he and others like him are Certified Business Intermediaries (CBI), a designation earned from the International Business Brokers Association. He is a member of the M&A Source and is a Certified Commercial Investment Member (CCIM). He sought the latter designation after being inspired by a class taught in the late '70s at Mankato State by Curt Fisher of the Fisher Group.
Above Par
Sealed Bid Marketing President Jerry Clark began his association with the Minnesota Golf Association in the late '80s as Interlaken Golf Club's MGA Links member. In 1990, he was named an MGA director. In time he would become a regional vice president and in November 2004 was named MGA president.
Said Clark, "It's an amateur association and we're there for all of Minnesota's golfers." A person joining MGA as an associate member receives Minnesota Golfer magazine, a lobbying presence at the state legislature, a GHIN handicap, access to MGA sponsored event and many other benefits.
As for favorite holes in southern Minnesota, he immediately mentioned No. 9 at Le Sueur Country Club. "I haven't played it in years, but remember it," he said. "You have somewhat of a blind tee shot and it's a dogleg to the left. A lot depends on how far you hit your tee ball." At his home course of Interlaken in Fairmont, he mentioned as particularly challenging the "Amen Corner" of Nos. 11, 12 and 13.
Caddy Shack
Golf was a great learning experience for me. While growing up, I was a caddy for people of many occupations and I always picked up something about life from them. I couldn't get enough of golf when I was young. Then I got away from it for years. I became involved in the band and when I taught school I didn't have much time or money to play. When we went into the food and liquor business, I started playing again. Golf is a nice release for me, a way to get away from everything, and have the camaraderie with whomever you play. I don't care whether you're a stick or a 40-handicap. It's just fun to get out there. —Jerry Clark.
The Epicureans
Jerry Clark played rhythm/bass guitar and saxophone for the Fairmont-based rock 'n roll band "The Epicureans" for eight years beginning when he was 14. He said, "We practiced wherever and whenever. We played a lot at the old Rathskeller in Mankato. We also played the Kato Ballroom and the Roof Garden in Iowa, but some of our best times were spent playing at Fairmont's Interlaken Ballroom on New Year's Eve."
Buy Low Sell High
The auctions with Resolution Trust presented great opportunities for buyers. In the Phoenix area, for instance, we sold a lot of condos and townhomes at very depressed prices. People having the capital had great opportunities. Did Resolution Trust leave money on the table? We probably didn't—at that time. The whole idea of the auctions was to create cash. Many of my Resolution Trust colleagues saw the opportunities, left and became buyers. But it was short-lived. —Jerry Clark.
Common Negociating Mistakes
Sometimes my sell-side clients tend to get anxious. As for me, am I a great negotiator? I consider myself a negotiator of integrity. I tend to be a good listener in the negotiation process. People often fail to listen during negotiations. They are more concerned about telling their own story to sell their business than hearing what the buyer is saying. Also, the old negotiation rule used to be to ask a lot more than you want. Nowadays we go to market without an asking price. The market and buyer will determine the price. —Jerry Clark.
© 2005 Connect Business Magazine. All Rights Reserved.