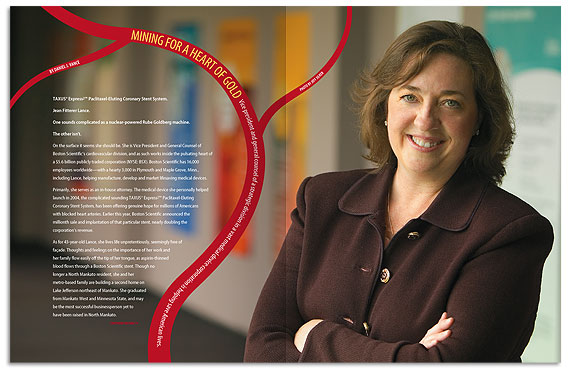 Vice president and general counsel of a strategic division in a vast medical device corporation is helping save American lives.
Photo by Jeff Silker
TAXUS® Express2™ Paclitaxel-Eluting Coronary Stent System.
Jean Fitterer Lance.
One sounds complicated as a nuclear-powered Rube Goldberg machine.
The other isn't.
On the surface it seems she should be. She is Vice President and General Counsel of Boston Scientific's cardiovascular division, and as such works inside the pulsating heart of a $5.6 billion publicly traded corporation (NYSE: BSX). Boston Scientific has 16,000 employees worldwide—with a hearty 3,000 in Plymouth and Maple Grove, Minn., including Lance, helping manufacture, develop and market lifesaving medical devices.
Primarily, she serves as an in-house attorney. The medical device she personally helped launch in 2004, the complicated sounding TAXUS® Express2™ Paclitaxel-Eluting Coronary Stent System, has been offering genuine hope for millions of Americans with blocked heart arteries. Earlier this year, Boston Scientific announced the millionth sale and implantation of that particular stent, nearly doubling the corporation's revenue.
As for 43-year-old Lance, she lives life unpretentiously, seemingly free of façade. Thoughts and feelings on the importance of her work and her family flow easily off the tip of her tongue, as aspirin-thinned blood flows through a Boston Scientific stent. Though no longer a North Mankato resident, she and her metro-based family are building a second home on Lake Jefferson northeast of Mankato. She graduated from Mankato West and Minnesota State, and may be the most successful businessperson yet to have been raised in North Mankato.
Why doesn't the name "Jean Fitterer Lance" generate much information on Internet search engines?
I don't seek out opportunities for people to know about me. I try to do a good job every day at work and when at home try to focus on my family. I don't have a lot of free time outside of my family commitments and work because of my busy schedule and frequent business travel. I do enjoy volunteering with my children's schools and youth sports organizations. I also speak from time to time for the business college at Minnesota State in Mankato, like I did this spring. In essence, when I'm not working I keep closer to home and am primarily involved in activities related to my children.
Does Boston Scientific encourage its employees to become involved in the community?
Yes, and we are involved a great deal in the Minnesota community. Boston Scientific donates over $450,000 annually to the local community. It also encourages and supports individual volunteering by employees, as well as participation in team volunteer activities, such as fundraisers for health-related charities like the American Heart Association and Juvenile Diabetes Foundation.
Has anyone ever said you're too nice to be a lawyer?
(Laughter.) Something like that, yes. (Laughter.) You can be just as effective at work by being nice. You don't have to be unpleasant to get your job done. I can also be determined and competitive, but I try to keep an eye on what's really important in every situation.
Take me through your career path.
I had a summer position about 1980 at Carlson Craft as a proofreader before beginning work as an intern for the Johnson and Moonan law firm in Mankato. Gus Johnson was my mentor, giving me guidance as I went through Mankato State. Gus lived life large. He had a tremendous amount of energy, vision and determination. He was genuinely caring, especially for the people working at his firm. It felt like a family there. He had such strong beliefs in his clients and naturally assumed the role of their champion. Particularly, he loved taking on the farmer's cause. He would help someone, for instance, with hail damage, when the insurance company wouldn't pay; or in condemnation cases in which the government was trying to buy a farm from an unwilling seller. He was in the Arabian horse business because of his daughter and in the early '80s also did interesting corporate work relating to horses.
Yes, he was a tenacious lawyer, but he had another side that was very interested in people. Anyone going through the ranks at his law firm received a lot of attention, regardless of job title or responsibility. He would try to help you develop your potential. When learning I was interested in becoming a lawyer, he advised me to major in accounting. I listened, and had faith in him.
Why did Gus advise you to earn your CPA?
He felt it would be a practical background for a lawyer, helpful in dealing with business issues with clients. Also, he thought being a CPA potentially could be a fallback career if law didn't work out. In many law firms in smaller cities, such as in Mankato, you do a little of everything. My accounting education taught me business principles, an understanding of business processes, auditing functions, financials, etc. It provided a great foundation for being a corporate lawyer.
After MSU?
I went through MSU in three years because I wanted to start law school at the University of Minnesota. I thought after graduating that I would end up back in Mankato at Gus Johnson's law firm, and I worked in Mankato during the first summer and other breaks in law school. For the summer of my second year of law school a law firm in Chicago offered me a summer position. After your second year it's typical to take a summer associate position with a firm as a trial period in which you see if it's a good fit. They invited me to join them when I graduated.
You went to law school with Tim Pawlenty? Do you remember him?
He was in a few of my classes, but I didn't know him well. The University of Minnesota separates you into sections of about 50 each, and he wasn't in my section. We graduated in the class of '86.
Working in Chicago?
It was such a good opportunity. Since I'd gone to school in Mankato, and law school in Minneapolis, I thought it might be a good experience to go somewhere else for a while. But I only planned to go for two years, experience a big city, and come home to Minnesota and Gus's law firm. The time went quickly—I was there six years, through 1992. In the beginning I was single and didn't have any children. Once I was married and had a child, it was difficult in that we didn't have any other family in Chicago and the daily commute was about 40 minutes on a train, plus time to walk to and from the station. I increasingly found it difficult to have the balance in life that I wanted. When I looked ahead at the future, I saw that it would be just more of the same. I didn't really want that for my life. My husband and I began talking more and more about whether Chicago was where we wanted to establish ourselves.
In law, once you start building up relationships with clients, and become a partner, you can't just pick up and easily move. When we were deciding whether to move, I expected to be considered for law firm partnership in the following year, and I had been assured that I was doing well there as an associate. While I enjoyed our clients and many aspects of large law firm practice, becoming a partner wasn't necessarily my long-term career goal. Somebody once described joining the partnership at a large law firm as "having entered a pie-eating contest and won. You get a pie as a prize. But you really don't want another pie because you've been eating them, lots of them, for years." The life of a partner suits a lot of people, but I didn't think it would suit me.
When my husband had an opportunity to transfer with his company to Minneapolis, we decided to take advantage of it. He really liked his work and was happy with his company. We've never regretted it.
Did the firm think you were making a mistake by leaving?
The managing partner said I was committing career suicide. But I have always trusted my instincts and all my instincts told me that leaving was right. So we did.
You went from the law firm to Minnesota's Red Line HealthCare?
In 1992 I joined Red Line as a corporate lawyer. I'd hoped that living in Minnesota and working as an "in-house" lawyer would lead to a different lifestyle. I was still required to work hard at Red Line, but the work was more manageable than that of a major law firm, because with the latter if a deal came in often you had to work seemingly non-stop days and weeks on end. I remember one summer with the law firm I was in New York nearly every week. In Minnesota, I was looking for balance. In 1994, the day before my middle child was due, Red Line asked me to be its General Counsel, and I accepted. Then within the next year, I also began serving as Red Line's Vice President of Human Resources, in addition to its General Counsel.
Were you familiar with employment law?
I became familiar with the issues and principles, and sought the advice of other lawyers and colleagues when necessary. It was a wonderful opportunity. I love people and human-interest issues.
If you were to advise a new human resources manager today, what would you say?
I'd say you first must have a basic understanding of the principles of human resources. Then I would tell them to think through every situation using a sense of fairness in regard to the individual and the company. That advice will guide you well. When you're trying to make decisions, realize you can't always make everyone happy. Try to look at issues objectively and from the perspectives of the various people involved. Sometimes the issues that people get involved in that you see or read about in the news are surprising. Common sense is an important principle. I remember hearing someone speak once who said, "Common sense really isn't very common." And they were right.
When speaking at MSU this spring, you mentioned that one driving principle in your work life is to use the Golden Rule, i.e., do unto others as you would have them do unto you?
I think of that more in a day-to-day sense, of treating everyone in the company with respect. Regardless of your position, everyone has an important role to play. By your attitude you can make a difference in someone's day. Try to appreciate the work they do.
What was Red Line HealthCare, and what did they do?
It was a Sandoz company while I was there. My last year, in 1996, Red Line was part of the merger of Sandoz with Ciba-Geigy, which formed Novartis, and Red Line was part of the Novartis Nutrition division. The full merger was consummated shortly after I left. At the time, Red Line distributed products to the long-term and home healthcare markets. In later years, Red Line was sold to McKesson, and I believe its name has since changed.
Isn't McKesson a drug distributor?
Yes. Red Line was in the distribution business. I enjoyed the people, and working in the healthcare industry, but I really didn't feel that great a sense of passion or mission with Red Line because its focus was to move product from one point to another. It wasn't involved in making products to help people. I loved working in the human resources department and my colleagues, and there would have been advancement opportunities because of the merger creating Novartis. But I wasn't excited about the prospect of working long-term in the distribution channel of the healthcare industry.
It really is important for me to know that my work efforts are making a significant difference in the lives of everyday people. My parents were both teachers. My dad, Harold Fitterer, served as a teacher at Mankato High School, as an English professor at Mankato State University, and then as MSU's Dean of the Extended Campus. He died of a heart attack in 1977. My mom, Marjorie Fitterer, taught for decades in the Mankato Public Schools. From about 1965 until her retirement she taught at Hoover Elementary School in North Mankato. I saw their passion every day. They always went above and beyond what was required of them, doing the best they could to make a difference in students' lives. I grew up in that environment. Though I took a different career path, obviously, I still have that sense of mission.
In 1996, how did you learn of the opening at Boston Scientific Cardiovascular for a General Counsel?
A friend of mine was looking for a new position. One Sunday I was looking in the Help Wanted ads of the Star Tribune, trying to help his search. I saw an ad. This ad clearly wasn't suitable for my friend's level of skill and experience, but when I saw the job description I thought, Wow! I'd always thought I would love working for this company and thought I'd make a good candidate.
What sold them on you?
At a large national law firm, I had excellent training as a corporate lawyer. I also had experience in the health care industry and in management. I think in an interview setting you can generally get a feeling for my personality and style.
On your way home from work, do you ever think that your stents are helping someone else's father or mother live longer?
I do feel that way. I had followed this company, which in Minnesota was called Scimed at my hiring, from my days in Chicago when reading about them in the business press. What they did fascinated me. My family has had struggles with heart disease. So I may one day be a recipient of one of these great products we develop and manufacture. Go ask a cardiologist what you can do to lower your risk of heart disease and some will give you lifestyle tips. Others say it's all in your genes. I do think about that. I realize that people are using the products we make, and someday I could be using them, and that helps guide my decisions every day.
Do you have friends or relatives that have thanked you for having a role in helping lengthen their lives?
Many people don't know the name of the products used in treating them. But I do know people that have undergone procedures using minimally invasive technology. For example, recently a close family member expected to undergo an invasive surgical procedure under general anesthesia for diagnosis of what could have been a very serious medical condition. I contacted colleagues in another BSC division that made products for this area to get more information about our concerns, and learned that there was a minimally invasive medical procedure that could be an alternative to surgery. A few days later she had the inpatient procedure that they suggested. It lasted less than an hour, and she was fully recovered that afternoon. The procedure and recovery was a breeze, and the medical team had mentioned before the procedure that they would be using a Boston Scientific product. I was really pleased that she benefited from this technology, but best of all, the diagnosis from the procedure was reassuring as to her health.
I know you are limited in what you can say because Boston Scientific is a publicly traded company and you have a sensitive position. As best you can, what do you do in your current position?
Every day is different, which keeps my job interesting. I give day-to-day advice on a variety of matters, as well as participate as a member of the management team for the cardiovascular business. On any given day, I might prepare agreements, counsel internal clients with respect to various legal issues, work alongside our marketing team on our materials and strategies, or work with our product teams. I travel quite a bit, so when I'm in the office I tend to be quite busy.
Are you personally involved in defending your patents?
Boston Scientific has a Cardiovascular Patent Legal Department that is primarily responsible for handling our intellectual property matters. We have over 3,000 patents in the United States alone, and many others around the world. We place premium value on our intellectual property. We have patent lawyers and outside law firms from various parts of the world who protect our rights to intellectual property. They are involved in obtaining patents, defending them, and suing others that infringe them.
What does Boston Scientific's new stent do?
It's officially called the TAXUS® Express2™ Paclitaxel-Eluting Stent. Coronary angioplasty involves inflating a small balloon to treat blockages in coronary arteries. As part of many angioplasty procedures, a coronary stent, which is a small metal scaffold, is placed inside the artery wall where the blockage was located to support the continued flow of blood through the artery. But with that procedure restenosis can occur, which is a reblockage in the stent itself, which may then require retreatment.
The TAXUS Stent, which is a metal stent coated with the drug paclitaxel and a polymer, reduces the rate of reblockage that was traditionally experienced with bare metal stents. Overall, Boston Scientific sales in 2004 increased dramatically, mainly because of the successful launch of the TAXUS Stent. Earlier this year we announced the implantation of the millionth TAXUS Stent.
Are you at Boston Scientific for the long haul?
I work with a great group of colleagues in a wonderful environment. I find my position intellectually challenging and stimulating. It's fun to be at a job for this many years and still feel as if I'm learning something new daily. I'm engaged and enjoying it. It's an evolving industry with so many technological breakthroughs. There really is always something new. I've been able to have a lot of growth within my position.
On a personal note: I was told that while growing up you often babysat Shane Bowyer, now director of development for MSU's business college. Is that true?
Shane and his family—his father is MSU's baseball coach—lived up the street. I enjoyed babysitting for Shane and his sister, and they used to help take care of my dog and her puppies. I babysat for a lot of families in Mankato.
You are building a second home on Lake Jefferson, northeast of Mankato?
We're building it now on my grandma's lot. We like the Mankato area, and we're looking forward to spending more time there. We are a very busy family, and I think it will be good to have a place where we can focus on our family, and where we don't have many telephone calls or distractions. A lot of my friends from Mankato have moved on, but my best friend from childhood is still in southern Minnesota, Ann Bruce, who is now Ann McKay. I don't get to see her as often as I'd like, but we always enjoy catching up when we can.
Having a balance in life is something you talk about a great deal.
I do try to strike a balance. After work, I go home, enjoy my family, and we really enjoy our weekends. There are times my kids need me during work hours, such as going to their school for classroom volunteering or programs. There are many other times I need to be away from home overnight because I'm traveling. I don't look for daily balance. I look for balance on the whole.
As for work, some days are busier than others, such as when I've been traveling, or when something comes up that demands more effort than usual. With the advent of email, Blackberries, and voice mails, you can be efficient, but sometimes you don't feel it because of the speed at which you are expected to respond. But for the most part, people at work are respectful of my home life. I believe this company seeks out people that have the proper balance in life. I've never had the feeling that anyone here wants to work me to death. It's not that we don't work hard, but we recognize that if you're satisfied with life generally, you will likely be a more satisfied employee.
Now that MSU once again has an MBA program, if asked, would you speak or even be an adjunct instructor?
Sure I would speak. I already do that every year for students in Dick Swanson's "Business In Society" class, which is made up mostly of juniors and seniors. It's a large auditorium class that each MSU business student takes at some point in their college experience. Dick invites me to come back to share my perspective and to encourage students. I once sat in the same chairs.
If advising a graduating business student, what would you say?
Work hard, and be confident in your abilities. If your educational experience was like mine, you have a great foundation. Realize that when you graduate, what you do counts. Have confidence in yourself, but realize you have lots to learn. Be eager to follow advice. There are a lot of good mentors out there. Some people aren't willing to learn from others. For me, having a mentor has been instrumental at various stages in my career. I realize many people know more than I do.
It's also important to keep a proper perspective. You have to live your life as it happens. I really don't project out a five-, ten- or fifteen-year plan. Of course I plan some things in advance, but I also try to live in the moment. Some people get caught up in what they want next, or beyond that, and forget about what they have right now, and what they are experiencing right now.
MSU: What does it mean to you?
First and foremost, it's a place where I received an excellent education. They have great professors and a great learning environment. I felt that for a large public school a lot of attention was paid to students and their individual development. I had teachers that took an interest in me, to guide me. Dick Swanson always gave me good advice. There was a demanding business law professor, Dean Hasty, whom I learned a lot from. When hearing I would be attending law school, he talked to me about the LSAT. He showed me that I was taking enough credits to graduate in three years and he suggested ways to help me schedule my time. Minnesota State is a place where you can receive a good education and, being located in a smaller city such as Mankato, there is a personal touch.
TAXUS® Express2™ Paclitaxel-Eluting Coronary Stent System
The name of Boston Scientific's new medical device may sound complicated, but its benefits are anything but. In 2004, the company sold more than one million of these state-of-the-art lifesavers. Its stent is a narrow mesh metal tube coated with a special drug—in appearance the tube is slightly smaller than the spring coil inside a writing pen—that a doctor inserts into an artery to open a constricted passageway.
The new Boston Scientific stents have the ability to reduce restenosis, which is the reoccurrence of stenosis after surgery. (Stenosis is the medical term for a constricted blood vessel or heart valve.) Briefly, the "TAXUS® Express2™" part of its name refers to the type of stent used; "Paclitaxel-Eluting" refers to a restenosis-reducing drug and its method of release into the system.
What They Do
"Boston Scientific (NYSE: BSX) is a worldwide developer, manufacturer and marketer of medical devices with approximately 16,000 employees and revenue of $5.6 billion in 2004. For more than 25 years, Boston Scientific has advanced the practice of less-invasive medicine by providing a broad and deep portfolio of innovative products, technologies and services across a wide range of medical specialties. The company's products help physicians and other medical professionals improve their patient's quality of life by providing alternatives to surgery." – www.bostonscientific.com
Hearty Growth
Boston Scientific officially began in 1979, after Abele and Pete Nicholas purchased a $2 million manufacturer of "steer-able" catheters. The company became public in 1992 and in February 1995 purchased Scimed Life Systems of Maple Grove, Minn., where Jean Fitterer Lance has her office as Vice President and General Counsel—Cardiovascular.
In 2004, Boston Scientific had about 3,000 employees alone in Maple Grove and Plymouth, Minn., and worldwide revenues of $5.6 billion. Recently, the Boston Globe rated Boston Scientific the top corporation headquartered in Massachusetts, based in part on positive changes in profit margin and revenues, and return on equity.
Get to Know You: Jean Fitterer Lance
Vice President and General Counsel – Cardiovascular, Boston Scientific
Born: February 19, 1962.
Family: Husband, Bradley Lance; children Joseph (14), Robert (10) and John (6).
Education: Minnesota State University '83; University of Minnesota Law School '86.
© 2005 Connect Business Magazine. All Rights Reserved.