New Ulm-area pheasant hunting preserve and sporting clay course provides outdoor entertainment options while gunning ahead to the next level.
Photo by Kris Kathmann
Lester Zwach, whose name rhymes with hawk, has razor-sharp vision like one.
Though not Minnesota's best sporting clay shooter, Zwach can in ten squeezes of a 12-gauge shotgun obliterate from fifty yards out nine out of ten sporting clays—very good by any definition. Besides shooting sporting clays, he enjoys guiding Midwest hunting enthusiasts in search of pheasants over the ridges and through the woods of 800 scenic acres near New Ulm.
Zwach and two partners, Mankato Clinic urologist Mike James and attorney Gary Barnett, own River Ridge Gun Club, a combination pheasant hunting preserve and sporting clay course. As for the latter, the Club will host the Minnesota State Sporting Clays Championship this August, which has already created a great deal of excitement and in three New Ulm hotels at least 100 lodging reservations.
"Our business used to have another name," said Zwach, 52, founding owner. River Ridge Gun Club has taken a 180-degree turn from its former self though, so much so that Zwach is reticent even to mention the former name. "I started out 22 years ago raising pheasants to fence and hunt. Then the next year I began a licensed shooting preserve, on land seven miles north of here on my old dairy farm."
In 1993, Zwach made a gutsy career move by selling the family farm to purchase the business's current acreage hugging the Minnesota River. "I'd had it with the dairy industry," he said. "The economics of it weren't good. So we bought this land and moved the sporting clay course and pheasant hunting here. This land is more natural. It was a better move all the way around. Most of our customers followed us."
Besides being better for pheasant hunting and sporting clays, the business and its sign abut Highway 14 between Courtland and New Ulm, which creates in thousands of passing motorists an increased awareness of River Ridge Gun Club.
But not everything has been on target. Zwach a few years ago felt he needed an influx of capital to take his gun club to the next level. So he began discussions with Gary Barnett and Mike James, who had been club members for years. In January 2003, sold on the idea, the two bought in as equal partners, adding financial savvy to match Zwach's clay shooting and pheasant hunting expertise. When the ownership make-up changed, so did the name, to River Ridge Gun Club.
"My main goal then in taking on partners was to exploit my sporting clay operation," he said. "We needed a large investment and I personally wasn't able to do it. The new throwing machines (for the sporting clays) alone cost more than $125,000. And our new shooting stands for the sporting clay course aren't inexpensive."
Zwach said at first it was difficult having partners, but his fears eased when he became assured of their shared desire for the club to thrive and expand. He saw a bright future for sporting clay shooting, which is a sport vaguely similar to golf. Clay shooting has shooting stands (like tee boxes), fields (holes) and scores (par). The major difference between the two is that in clay shooting the "golf balls" get obliterated mid-flight by shooters. Zwach says that most people go to sporting clay courses for the camaraderie. "It's a great way to meet people and communicate with them," he said.
The three partners had everything in place for quick and profitable expansion except for the hiring of a general manager with a bit of marketing savvy. Zwach preferred the fields rather than the filing cabinets. In 2004 they hired for the position Marty Barnett, brother of partner Gary, and son of the owners of Barnett One-Hour Photo in Mankato.
"Our father was a photographer and owned Barnett Color Photography in Mankato," said Marty Barnett, 53, from his office. "When I was growing up in the '50s he also co-owned Schutte-Barnett Photo Engraving. Then he partnered with Lee Nordgren, who owned Artcraft Camera, to start ABC Photo. From there he and my mother began Barnett One-Hour Photo Finishing in the '70s."
When young, Barnett often swept the business floor of zinc used on photoengraving plates.
Barnett said his father was "an innovator." He faced adversity head-on a number of times: the Mankato floods in 1951-52 and 1965, and a major fire in 1996. The elder Barnett sold his zinc engraving business when offset technology arrived.
"He has been able to overcome adversity like you can't believe," said Barnett of his 82-year-old father, who recently helped build new shooting stands at the gun club. "That is what I respect about him. He was able to keep his head above water through all that. He is similar to Les in that Les had to deal with adversity as a dairy farmer and then later trying to expand."
Marty Barnett could have added his own name. His experience in overcoming adversity, along with Zwach's, should help River Ridge Gun Club overcome the next business challenge. Strongly urged by his father not to make a career of professional photography because of the long and inconvenient work hours, Barnett entered an aligned field. After majoring in journalism and advertising at the University of Minnesota, he accepted a position with camera maker Canon USA in Chicago as a technical representative.
"I didn't exactly follow in my father's footsteps," said Barnett. "As a technical representative beginning in 1975, I went to Canon USA-sponsored events, such as the Indianapolis 500, the U.S. Open in golf, and tennis tournaments, in order to technically advise AP and UPI photographers, for instance. I also went to photography schools to demonstrate equipment. I also helped do the company's photography for brochures. We did anything the company needed us to do."
After three years with Canon USA, he transitioned to other photography-related companies and into sales positions for better paychecks. Into the early '80s stops on his career path included Minolta, Bell and Howell, Pentax, and Osawa Mamiya. Then he settled down in 1983, landing a great job with Noritsu, the premier manufacturer in a burgeoning industry—one-hour photo developing.
Said Barnett, "For Noritsu I moved from Chicago to Allentown, Pennsylvania, and had New York, New Jersey, and Pennsylvania as my territory. It was the powerhouse then, the original supplier of one-hour machines. And in my accounts west of Allentown, I dealt with customers that valued relationships, but east of it I had mostly customers interested only in the bottom-line. It was all price, price, and price. There was no relationship building. It was the East Coast mentality."
In the early '90s, Fuji began elbowing out Noritsu. In 1993 Fuji hired Noritsu's top personnel, including its CEO and national sales manager. A year later, it hired Barnett to replace a Chicago sales representative, who had been transferred out.
"The industry began changing," said Barnett of the late 1990s. "It was a mature industry, with few start-ups. The major buyers of our Fuji one-hour machines were no longer the Barnett One-Hour Photos of the world but Wal-Mart, Kmart and Walgreen's. But I was selling to people like my father, who would purchase one machine at a time for $150,000 to process 35mm film. I had been selling up to 30 machines a year, but with each passing year I was selling less because I had fewer and fewer customers. They were going out of business because of competition from the bigger players."
When digital cameras and home processing began arriving, Barnett could see the handwriting on the wall. The only healthy sales growth in his industry was occurring with national accounts such as Wal-Mart. Then in 2002, to avoid a lay-off due to impending Fuji downsizing, he landed another attractive job, this time as national sales manager with one-hour photo lab manufacturer Gretag. It supplied Kodak with machines that were placed primarily in Walgreen's. Then Gretag went bankrupt six months later. Fortuitously, Barnett had signed a guaranteed, one-year contract, which softened the stiff punch a bit.
"I then wanted something outside the photo industry," he said after reliving a once-promising past that had evolved into career heartache. "When I lived in Pennsylvania, I had done guiding for hunting preserves. As a sales representative, sometimes I had free time in the morning to break away on short notice. I really enjoyed it. When I moved to Illinois with Fuji, I was a part-time hunting guide and dog runner there for Wings Over Water and the Woodstock Hunt Club."
Using his college journalism background, he also was a free-lance writer for Adventure Sports Outdoors and later, Midwest Outdoors.
After Gretag, he applied for corporate positions at Remington, Winchester, Gander Mountain and Cabelas, but at age 52, he seemed to meet resistance because of his age. He began working part-time at River Ridge Gun Club in early 2004 while living in Chicago, at first just designing brochures and cobbling together a marketing plan. It was about a year after his brother Gary became co-owner.
River Ridge Gun Club was seeking a full-time manager experienced in sales, marketing and hunting. It seemed tailor-made for Marty Barnett. "And I do everything here," he said. "We all wear lots of hats. I mop floors, clean bathrooms, as well as do sales and marketing. Lester, Mike and Gary wear other hats, too. I represent us at sport and travel shows, such as the Game Fair in Anoka, and the Minnesota Sport Show."
Barnett has continued his free-lance writing for Midwest Outdoors, and hopes one day to expand River Ridge Gun Club's newsletter into a full-blown glossy publication. He also wants to produce hunting videos.
Zwach and Barnett both act as guides for pheasant hunting groups that range in size from one person to 40. They each have their own hunting dogs. While the sporting clay course is open to the public, pheasant hunting requires a membership, ranging from a bare-bones annual $200 for an individual to a corporate membership of $1,995 that includes 100 birds. It also has family and "sportsman" memberships.
River Ridge Gun Club will limit its pheasant hunting membership to 300. "And we're getting close to that number," said Barnett. "We added 30 corporate memberships last year. We still have openings, and haven't filled up yet."
River Ridge Gun Club members desiring a pheasant hunt first reserve a time for a specific party size and order any additional services such as dogs or guides. The first hunt of the day begins at nine in the morning and ends at noon; the seconds goes from one until sunset. The number of pheasants released for the hunt depends on party size.
Barnett said, "Our club is different from most others in that we can do far more than just point the member to a field. We can show them the area and may offer suggestions on how to hunt. If they have difficulty getting their birds up or finding them, we can send a guide and dog out to help. The whole idea is to have fun. This is an entertainment industry."
The club loans guns and has a limited number of youth shotguns to encourage family outings and to help parents teach their children gun safety.
As for adversity—Les had it in the dairy industry and Barnett learned it in the photo processing industry and through his hard-working father—the pair, along with the solid financial backing of Gary Barnett and Mike James, seem well positioned for any future adversity.
Barnett said, "In this industry, your customers grade you. In sporting clays, for example, if you're not throwing challenging targets, your customers won't come back. And in this we have two kinds of customers to please: the serious, registered shooter, and the recreational general public shooter. We have an advantage here in that we have one of the best in the state at target presentation, Les Zwach."
Club Crew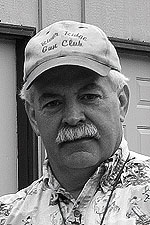 Marty Barnett: General Manager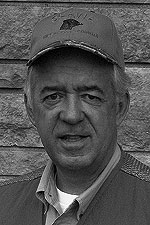 Gary Barnett: Co-Owner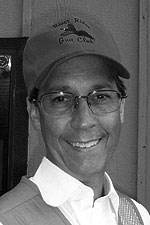 Mike James: Co-Owner

(See co-owner Lester Zwach's photo above.)
Clay Birds Fly
Sporting clays originated over 100 years ago in England as a warm-up for the fall hunting season. The clays released from a throwing machine fly similar to a pheasant. When sporting clays came to the U.S., Americans made it into a competitive sport.
We have the pheasant season running September through April. In order to use the property efficiently we have a sporting clay course primarily for the "off" months of May through August, but it's also open year around to the general public, even in the winter.
Sporting clays is a series of shots presented to the shooters over a round of, in our case, thirteen fields, which are like holes in golf. A typical "round" of clay shooting with us has either 50 or 100 targets. We also have a 25-target field, which would be similar to a golf driving range.
We use two throwers on each of our thirteen fields, throwing a series of different presentations. It might be an incoming or outgoing target. We have a special thrower that throws—or rather 'bounces," to simulate a rabbit's motion—a clay rabbit over the ground. We even have throwers that simulate quail. The National Sporting Clays Association requires us to throw a certain percentage of specialty targets like that in order to hold a registered shoot.
Our sporting clay customers shoot a special "clay" load that is lighter and with smaller pellets than that used for pheasant hunting. It is a lower recoil-type shell. It is designed this way because we don't want the sporting clay shot to carry as far. We are very safety conscious and don't want the clay shooting to conflict with any nearby pheasant hunters. The sporting load carries 175 yards and the one for pheasant hunting, 300 yards. —Les Zwach, co-owner.
Bird Watching
To host the Minnesota State Sporting Clays Championship, River Ridge Gun Club first had to submit a proposal to the Minnesota State Sporting Clay Association. The Association in accepting their proposal required certain upgrades of River Ridge, such as an expanded clubhouse and camping facilities for at least 15 RVs.
General Manager Barnett said, "The state championships will be held August 19-21 and involve about 350 shooters. Though our club is rural, we have New Ulm nearby. We have met with the New Ulm Chamber of Commerce and are closely working with them. The Holiday Inn has 100 rooms and we have already reserved more than half of their rooms. They can't let me have the whole hotel. New Ulm also has a Microtel across the street and a Budget 8. Of course, most of the local shooters will commute."
Hawkeye Zwach
A great shooter will hit 90 percent or more of the clays on our course. No one has ever hit all 100, but it has happened on other courses. Getting a 100 is like bowling a 300.
When shooting tournament-quality targets, I'm usually in the low 80s. The state tournaments have a number of classes, beginning with D and moving up to A, AA, and Master. The best I've placed at state was second in "C" in 1997. Last year I competed in A. My son Matt is a Master and has taken second place in the state three times. With my experience as a club owner and shooter, and with some help from my son, I believe I know what it takes to accomplish the presentation of targets that people enjoy seeing. —Les Zwach.
© 2005 Connect Business Magazine. All Rights Reserved.