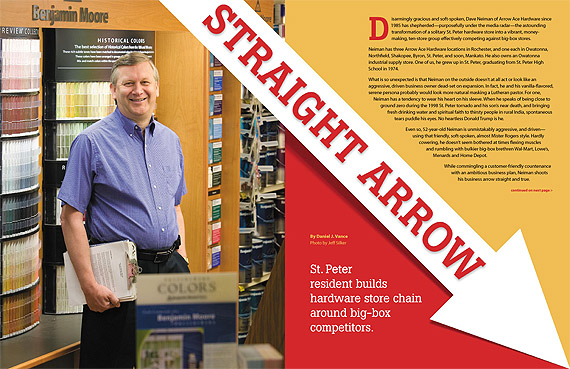 St. Peter resident builds hardware store chain around big-box competitors.
Photo by Jeff Silker
Disarmingly gracious and soft-spoken, Dave Neiman of Arrow Ace Hardware since 1985 has shepherded—purposefully under the media radar—the astounding transformation of a solitary St. Peter hardware store into a vibrant, money-making, ten-store group effectively competing against big-box stores.
Neiman has three Arrow Ace Hardware locations in Rochester, and one each in Owatonna, Northfield, Shakopee, Byron, St. Peter, and soon, Mankato. He also owns an Owatonna industrial supply store. One of us, he grew up in St. Peter, graduating from St. Peter High School in 1974.
What is so unexpected is that Neiman on the outside doesn't at all act or look like an aggressive, driven business owner dead-set on expansion. In fact, he and his vanilla-flavored, serene persona probably would look more natural masking a Lutheran pastor. For one, Neiman has a tendency to wear his heart on his sleeve. When he speaks of being close to ground zero during the 1998 St. Peter tornado and his son's near death, and bringing fresh drinking water and spiritual faith to thirsty people in rural India, spontaneous tears puddle his eyes. No heartless Donald Trump is he.
Even so, 52-year-old Neiman is unmistakably aggressive, and driven—using that friendly, soft-spoken, almost Mister Rogers style. Hardly cowering, he doesn't seem bothered at times flexing muscles and rumbling with bulkier big-box brethren Wal-Mart, Lowe's, Menards and Home Depot.
While commingling a customer-friendly countenance with an ambitious business plan, Neiman shoots his business arrow straight and true.
How large is your company, and where are your retail locations?
We have about 90 employees, and will pass 100 when our Mankato location opens in September. We started with St. Peter, and now have stores in Owatonna, Northfield, Shakopee, Byron, three in Rochester, and an industrial supply store in Owatonna. We added the Radio Shack in St. Peter about six years ago. We also have a division called Arrow Publishing, which publishes sales flyers for other hardware stores.
What is your relationship to Don's Appliance in St. Peter? You have a door inside your St. Peter location that opens directly into their store.
Don was my father. At one time, besides the hardware store, he owned Don's Appliance. A meat market used to sit between his two stores. When the meat market went out of business in 1981, we had the opportunity to buy that space and expand, and join the two stores. As I got older, I told my dad that I wanted my own store. So at the age of 29, I bought the hardware store from him, and he kept the appliance store. I preferred the hardware business, and eventually sold my interest in the appliance business. Don's Appliance is now owned by Bruce Orth. Yet we still have a door connecting our two stores for customers during the day. At night, we lock it.
You grew up in the hardware business. What lessons did you learn from your father, Don?
I started working here when I was 12. I'm 52 today, so I've been here 40 years. My father set a good example with his work ethic. Also, he gave me tasks, and afterwards would come back and check up on me, making sure I'd done the tasks right. In an environment like that, you learn to do things right the first time.
When I first started working with him in the late '60s, he paid me 25 cents an hour. That wasn't much to him, but 25 cents an hour was to me. How else are you going to make money at age 12?
Through my father, I learned to set goals, and have continued all my life. One of my first goals was to purchase a brand-new car when I turned 16. As it turned out, I was $600 short at age 16, and had to borrow money from my dad. Otherwise, I paid cash for a brand new car, a blue and white '72 Plymouth Duster.
What other goals have you set throughout life?
When I was 20, I told my dad that I wanted to have four stores before I retired. He asked what was so magical about four and I didn't really have an answer for him. Here this September we will be opening our tenth store, and there are more on the horizon. I never expected to get to the point of having ten stores.
Here was one short-term goal I set: I was at an Ace Hardware national meeting in 1992. Speakers at the meeting had announced the morning before that President George Bush would be speaking the next day—and that we'd have to go through all these security precautions. On the next day, the Ace people had their regular presentation before the President arrived. They said that if we wanted to see President Bush, we'd have to stay in the room. If we left to go to the bathroom, for instance, the security people wouldn't let us back in.
Anyway, before the President was set to arrive, I noticed some people putting chairs up on the speaking platform area. I was curious. At this point, we could still wander freely throughout the room. So I went up, and asked some men what the chairs were all about. They said that people they had chosen would occupy the chairs. In a big crowd like that, it had been hard for them to pick people, because everyone would have wanted to be on the stage. So they had just gone out and picked people at random.
I asked, "Can I be one of those people?"
One of them said the chairs were already taken.
I told them I'd hang around just in case they had an extra chair.
Then I heard one of the men say to the other, "Did you count how many people went through?" He said, "No I didn't, did you count?"
I just chatted a bit with them, and after a while they finally motioned me to the back room. "We'll make sure you get a chair," they said.
So here is what happened: The people destined for the stage had to go into a secure area. Since I was the last one into that secure area, I was the first one out. So when it came time to go up on stage, and pick a chair, I picked the one next to the podium. When President Bush gave his speech, I was actually reading his speech as he was giving it. He had it written for him on the podium, in large type. After speaking, he stepped to the side to allow the president of Ace Hardware room to get to the podium. So President Bush stepped to my side. So now here I was standing shoulder-to-shoulder with the President of the United States. After the meeting ended, I telephoned my wife and told her to watch CNN. The President had given a major political speech.
That story certainly illustrates your persistence in reaching a goal.
You could say I'm a driven person.
You may be driven, but as for your business, you can't be at all ten locations at once. What personal qualities do you look for when hiring potential managers?
I have a corporate staff now. My store managers report to an operations manager. I also have a merchandise manager. As for hiring managers, I can say attitude is most important, even more important than product knowledge. We can teach product knowledge. When we had just one store, I knew every employee and their families. But now with so many stores, I've made a transition. You'd be amazed how many times I walk into a store now and one of my employees walks up to me and asks, "Hi, can I help you?" I have to say I'm the owner.
You must have a lot of trust in your operations manager.
Yes. I've shifted all human resources to him. With every new employee we hire, the operations manager does the orientation, which makes our training consistent company-wide. We used to have individual store managers do some of the training.
You have said you want Wal-Mart to come to St. Peter? Why?
I've gotten flak from other retailers, and even from some customers in town, about my stance. You can go back only a few years, in my lifetime, and in St. Peter here we used to have five women's dress shops, two men's clothing stores, shoe stores, and a department store. We had a much stronger retail base, and over the years that has diminished. Now you can't buy ladies clothing in town anymore. Most people are forced to shop in Mankato.
My philosophy is that if Wal-Mart sites here, people will buy more of what they need in town, and maybe they will stay here for other items. I'm wanting what's best for St. Peter. If you can get a store like Wal-Mart here, then you can get all the peripheral businesses coming with it. People in St. Peter are already shopping at the Mankato Wal-Mart. Why not have that Wal-Mart here? In the long run, we would have a stronger retail base. I know Wal-Mart sells hardware items, and lawn and garden. Would I lose sales? Yes. But overall, Wal-Mart will make me stronger.
I started in Rochester with one hardware store. For competition there, I have two Super Wal-Marts, two Super Targets, two Menards, Home Depot, and Lowe's. And in that market, inside city limits, I've gone from one store to three. We've learned not only to survive, but also to thrive.
How do you thrive?
One way is customer service. I was just talking this morning with my chiropractor. He said he had a plumbing project at his home over the weekend. It took him three trips in to our store to resolve the replacing of his faucet, which is common. Each time he came in, he asked for advice. In fact, he brought in a picture of his problem on his cell phone. He said, "This isn't working right. So what am I doing wrong?"
Another way is convenience. With many big-box stores, by the time you get out of your car and walk in and around the store, and through the checkout, and back to your car, you've walked about six city blocks. It may have taken you 45 minutes. With one of our hardware stores, you can park near the front door, and you're in and out in fifteen minutes.
Also, we carry many products big-box stores won't carry, such as repair parts. For example, we can give you the parts to repair your kitchen faucet. Many big-box places will say you have to buy a new faucet.
You have a location opening in September at Belle Mar Mall in Mankato. Mankato already has C&S Supply, Menards, Home Depot, Lowe's, Wal-Mart, and another hardware store.
A certain segment of customers shop only at big-box stores. But there is another segment more interested in a convenience-type hardware store. That market, I believe, has been under-served in Mankato for years. I've been looking at Mankato for years, but hadn't been able to put together the right deal. Now is the time. With the changes to Victory Drive, we will have great exposure. I don't fear the big boxes. I've learned how to compete. Yes, they will take business away, and they do sell some of the same products. But we can work alongside them.
After purchasing the Rochester Hardware Hank at the Miracle Mile Shopping Center in 2003, you kept one of the two owners to manage it. Is he still there?
Yes, to this day. I have another potential deal in another city having a similar situation.
Often that sort of arrangement doesn't work.
There was a day when the former owner said he couldn't do it. We had a good conversation, and I asked him to try it for two months, and if it didn't work out, I'd understand. We tried working through it. After two months, he was fine. He just needed encouragement to continue on.
What were the difficulties and advantages of having that previous owner work at the store?
As for difficulties, he had been used to making the big decisions. As our manager, if a customer had a question not covered in our policy and procedure manual, he had to telephone me. That was a big adjustment for him. Also, some employees that had stayed on were used to going to him for decisions. The biggest advantage, from his viewpoint, was that he worked fewer hours and could take time off for vacations. He didn't have the financial stress. As for that manager, he enjoyed most waiting on customers, and now that's what he gets to do.
Are all your buying decisions made from a central office?
With a full-time merchandise manager, we have gone to more of a centralized system. If you think about it, my inventory is really a big investment portfolio. I now have a full-time professional managing it, and that's all he does. He watches over a substantial amount of investment, and he moves the inventory back and forth between stores. We have an inter-connected, central computer running all the stores. I can show you right now what is in each cash register in every store. It's all a live system.
In January 2007, the Ace Dream Bus and Lou Manfredini, the national home improvement guru, visited one of your Rochester stores.
In this national event with Lou Manfredini, Ace Hardware literally gave away to a selected customer an entire Ace Hardware store, including inventory. Ace Hardware had an essay contest, and other requirements, to narrow thousands of entries nationwide down to one winner. We had asked Ace to visit one of our Rochester locations as a promotion to encourage people to enter the contest. Ace visited only 40 cities around the country, and it was an honor for them to choose one of our stores.
Ace Hardware asked me to be one of the judges. So I went to Chicago. They narrowed all the national entries down to fifty, then to twelve, and I was one of eight judges to narrow the twelve down to two. Then at an Ace Hardware buying show, all the Ace dealers in the audience voted on which of the two would win a totally free Ace Hardware store.
For the judging, I had to sign confidentiality agreements. Ace Hardware regulated everything to make sure the promotion was done properly. One time, I asked a question on a matter I was judging, and that stopped everything. The lawyers had to discuss the issue, and had to make a decision so I knew how to continue on. During the judging, we were told exactly where to eat, and exactly where to sleep. The judges and the contestants ate in a different restaurant, and slept in a different hotel. Through it all, I could see the integrity of the contest.
In my initial telephone call to you to set up this interview, you said that you have started visiting India regularly. Why?
We visit areas there that don't have fresh water, and build freshwater wells. Every day in India, 1,600 people die from diarrhea because of bad water. About 90 percent of their water resources are polluted.
Originally, I started out just donating money. I believe very much in philanthropy, and donate to many causes. But when I give, I like knowing the organization I'm supporting is using the money wisely. This particular organization is Oasis World Ministries. So I went over to check it out. We were funding wells in villages, building Christian churches in villages that didn't have any, and sponsoring three-day pastor seminars hosting anywhere from 300-500 Indian pastors. We pay the pastors half their transportation costs to attend. In the evening, we have what I would call a Billy Graham-like event, where we share the gospel with up to 15,000 people at a time.
Where in India?
We landed in Hyderabad and then drove out to the very rural areas where most people have never seen a white man. It's very poor. The average person makes less than two dollars daily. The mindset of the people there is so different. You and I think of our future, our vacation next year, and perhaps our retirement. Those people are thinking about surviving until tomorrow. There are many hungry people. In bringing them fresh water, we bring them hope.
In these areas, there is a stench, a smell, about it, that I've not smelled anywhere else. The living conditions were absolutely horrible to me. I just can't really describe how bad. Although we stay in the most deluxe hotel rooms available, in the morning, to wash up, you get a five-gallon bucket, and a pitcher of cold water to pour on your head. The bucket has crud on it. I sprayed my one room with bug killer—that's the first thing you do when entering the hotel rooms. Within six hours, I had more than 200 dead bugs on the floor. For meals, we eat rice with curry, and have to drink bottled water. Basically, everywhere you go, the whole world is a bathroom. If you need to go, you just go. When you drive down the road in the rural areas, you see people squatting. There is trash everywhere and people burn it to cook food. People just dump their trash out the windows. Their thinking process is different. Hyderabad is a large city that has twice as many people as Minnesota in an area the size of St. Paul.
When are you going back?
I plan on returning next February. Like many people, I want to leave this world feeling like I made a difference. When going to a place like this, you can change so many lives. I can't describe that feeling. The water wells we drill cost $1,000 each. For a thousand dollars you can save thousands of people's lives. The average woman there has to spend four hours a day getting and purifying water to drink. To build a brick church costs $5,000. While there, I spoke in front of 15,000 people, with an interpreter.
The 1998 St. Peter tornado: Weren't you at ground zero, more or less?
Even though it was a Sunday, I was in our store doing a computer software update when my wife telephoned. I had heard the sirens and ignored them. She said the sirens had gone off for the fourth time. While walking to look out the front windows, the next thing I knew I was turning around and running to the rear of the store. I instinctively knew I had to get under cover. I hadn't seen a thing. No one had said anything. I was just walking one way, and the next thing I knew I was running to the back.
My 16-year-old son Brad had just received his driver's license and was out driving our minivan. All of a sudden, he felt the minivan moving backwards and to his right. So he gunned it. At that time, he must have been on the edge of the storm. He immediately sought shelter at Econo Foods. While running toward the building for safety, a garbage dumpster literally bounced across the parking lot and right over his head.
A couple days later, Brad went in to thank the manager of Econo Foods for helping him inside. With the electricity knocked out during the tornado, the automatic doors hadn't been working, so the manager had to manually force the doors open for Brad to get in.
The manager asked my son, "What happened to the other three guys who were with you? I couldn't find them after the tornado. I was concerned that they may have been killed or injured."
My son Brad said, "But I was alone."
The manager said, "No, there were four of you running toward the building. But when you got to the door, two of them turned one way, and one went the other way."
When Brad got home, he said, "Dad, I guess I have angels."
At your store, you ran to the basement?
Yes, and when I came up from the basement I realized the tornado had taken the back of the building off the store. Actually, that had been a good thing because it had given a path for the air. As I understand it, suction is such a big issue with tornadoes.
Telephone communication was terrible. On my wireless telephone, I finally got through to my roofer's answering machine. My message was that I had damage and needed him here tomorrow. He was here the next day. Then I called Brennan Construction, and told Mike Brennan I needed him out to look over the building. He came the next day, and asked how detailed of a bid I wanted. I told him I didn't need a bid—I just needed the work done. Mike pulled guys off other jobs, and was there with a crew the next morning.
We didn't have electricity. It took four days to get a generator going. But we stayed open those four days because the community needed us. We were a source of supplies. We called Ace Hardware and said we'd experienced a major tornado and needed supplies right away. They asked what we needed. I said that I didn't have time to tell them. I told them to think of what they would order if they had a major tornado go through. We received three deliveries from them the next day. We were using flashlights and lanterns to get around. Some people were coming in just to use the bathroom. Their homes were gone.
I saw great examples of leadership. Gustavus Adolphus College had about $60 million worth of damage and people were walking around in a daze until Axel Steuer, the president, announced that the college would reopen in three weeks. He totally changed the focus on campus. That was one of the best examples of leadership I've ever seen.
To sleep that first week, I was taking cough medicine with codeine and sleeping pills, and was concerned about overdosing. I still couldn't sleep. My mind was racing with details. I went ten days before I had a night without a sleeping pill. It was very stressful. We had a lot of damage here at the store. We were absolutely swamped with customers. I had many dealer friends who helped me. The Minnesota Dakotas Retail Hardware Association helped coordinate volunteers for us.
You mentioned earlier that you are goal-oriented. What are your goals for the future?
My goal now is to have twelve stores. Also, I will become much more involved in India and with other organizations. I generally speak at a church or other group meeting once a month about India. I'm involved with the Gideons. In many ways, my life has become easier as the business has grown. Now with a support staff, I can be gone and the business can continue without me.
My two oldest children had sworn they didn't want anything at all to do with hardware. Now they are involved. Our youngest daughter is still in college. My wife Joni works with our publishing division, but prefers to work from an office at home. Years ago, she worked at the store, and we eventually discovered it was best if we didn't work together. We get along great, but have two different styles of working. Some couples are great teams. For us, we're a great team because we don't work together.
Getting to know you: 
DAVE NEIMAN
Born: November 26, 1955.
Family: Wife Joni, and children Jill (28), Brad (26), and Jeni (21).
Education: St. Peter High School, 1974. Attended the technical college in Albert Lea.
BANK SHOT
CONNECT: In an interview last year with the Rochester Post-Bulletin, your were quoted as saying, "The banker is your boss when you own a business."
NEIMAN: Everybody thinks it's great being your own boss, and being able to do anything you want. But—you can do whatever you want within reason. If you have loans with a bank, your banker will want to oversee your performance to make sure their loans can be repaid in time. In that particular interview (with the Rochester paper), I was referring to people just getting into business. Generally, at first, new owners are highly leveraged. If you get out of line, your banker will let you know. You have to show a profit on the bottom line. You can't take more out in salaries than you should. You still have someone looking over the shoulder, even if you are your own boss. As long as you do a good job managing your business though, your banker will love you.
Cooperative Marriage
CONNECT: Your supplier for 90 percent of your product is Ace Hardware. It's a cooperative. What are the advantages and disadvantages of a co-op?
NEIMAN: The theory behind a cooperative is that its profits are returned to individual storeowners every year. It's a way of cost savings to us.
I'd imagine you get decent checks?
We had been getting them until Ace Hardware last August discovered an accounting "error" of $154 million. So we won't get a check for several years until Ace rebuilds its equity. That's the disadvantage of a co-op. Most of our checks had been in the low six digits.