National Recognition Products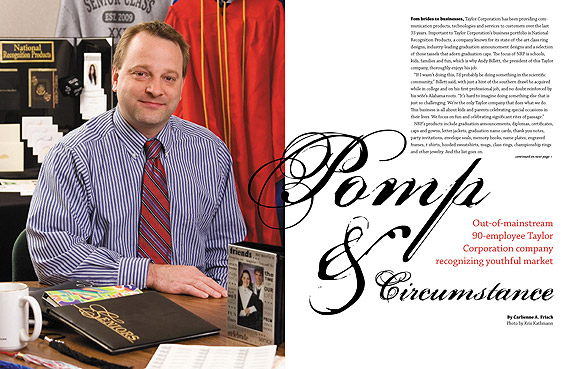 Out-of-mainstream 90-employee Taylor Corporation company recognizing youthful market.
Photo by Kris Kathmann
From brides to businesses, Taylor Corporation has been providing communication products, technologies and services to customers over the last 33 years. Important to Taylor Corporation's business portfolio is National Recognition Products, a company known for its state-of-the-art class ring designs, industry-leading graduation announcement designs and a selection of those tassels that adorn graduation caps. The focus of NRP is schools, kids, families and fun, which is why Andy Billett, the president of this Taylor company, thoroughly enjoys his job.
"If I wasn't doing this, I'd probably be doing something in the scientific community," Billett said, with just a hint of the Southern drawl he acquired while in college and on his first professional job, and no doubt reinforced by his wife's Alabama roots. "It's hard to imagine doing something else that is just so challenging. We're the only Taylor company that does what we do. This business is all about kids and parents celebrating special occasions in their lives. We focus on fun and celebrating significant rites of passage."
NRP's products include graduation announcements, diplomas, certificates, caps and gowns, letter jackets, graduation name cards, thank you notes, party invitations, envelope seals, memory books, name plates, engraved frames, t-shirts, hooded sweatshirts, mugs, class rings, championship rings and other jewelry. And the list goes on.
"We're not a catalog company," Billett said. "We're face-to-face, relationship-driven. Our sales reps call on schools every day of the year. We care passionately that the schools are a better place because we're there."
For promoting the business, NRP uses a relationship marketing approach. The company sponsors many state and national high school principals' conferences and conventions, which NRP sales reps attend. The company also makes donations and funds scholarships through the schools it serves.
"It's all about a personal approach," Billett said. A man with a science background, he believes in doing field research. He accompanies sales reps to take class ring and graduation announcement orders. He attends numerous graduations each year and is personally involved in about the same number of ring deliveries and gown deliveries.
"You've got to understand the kids, the parents and the school environment," he explains.
The NRP story doesn't happen in the Taylor Corporation neighborhood atop North Mankato hill, or even in lower North Mankato. Instead, NRP shares a building with Thayer Publishing, another Taylor company, at the end of Kingswood Drive, off Third Avenue in Mankato, where the road meets the prairie.
"It's pretty down here," Billett said. "When I come to work I see turkeys and deer and sometimes a barn owl."
NRP not only shares the premises with Thayer Publishing, but also shares some equipment, warehouse space and employees. The two companies have their busiest season at opposite times of the year. (Thayer produces Christmas cards.)
Billett has been managing NRP for the past five years. The company began as the commencement division of Dewberry Engraving. When Glen Taylor, currently Chairman of Taylor Corporation, purchased NRP in 1992, it was struggling financially. He moved the plant from Alabama to Mankato and it became one of more than 100 companies that comprise Taylor Corporation, NRP's parent company.
"We still have a press operator who moved up here from the plant in Alabama," Billett said. "It's our employees' dedication to the customer and commitment to excellence that translates into the success that makes NRP the nation's premier supplier in the graduation market. We're known for making the highest quality products at a great price."
The company added the ring business more than three years ago and is rapidly becoming one of the largest providers of championship and class rings in the United States. NRP has sales representatives in all 50 states and in some overseas communities, including the locations of American schools in Kuwait. Billett explained, "Class rings are an American tradition."
Billett's business expertise has come by way of job experience. His formal post-high school education is a Bachelor of Science degree in horticulture from Clemson University in Clemson, South Carolina, one of the top horticulture schools in the nation, according to Billett.
"I graduated at the top of my class and could have had a free ride all the way to my doctorate, but I wanted to get into the real world," he said. So he took on the management of a large commercial greenhouse operation in Virginia, where he honed skills he has used on every job since.
"We had twenty million Easter lilies, and they had to hit the stores for the mass merchants with one bloom open and four or five ready to go," Billett said. "If we missed it by a week or so on either side, we were throwing the lilies in the garbage. The variables are huge and include things like temperature, moisture, insects, fungus and other pathogens, nutrition and light, as well as varying employee skill and training. You have to balance them all to get them to work. Failure to balance and adjust all these variables, and as a result not hit the delivery expectations of the customer, simply was not an option. The process of understanding and coming up with better ways applies here at NRP."
In 1996, Billett became an employee of Regency Thermographers, a Taylor company in Waynesboro, Penn. He and his wife, RuthAnne, had just moved back to Pennsylvania to be closer to family and he saw a "help wanted" ad in the local newspaper for Regency. During his interview, he learned that Taylor Corporation had just purchased Regency several weeks earlier and that Taylor was planning on making a major investment in the Waynesboro facility. Billett knew this meant opportunity and hired on. Just as Glen Taylor began his career with the front-line operation, Billett began his Taylor career driving a forklift.
"This is one of the things that's great about Taylor Corporation," Billett said. "You can go from driving a forklift to running a company. There is leadership opportunity if you really want it, you're willing to work hard and take risks and you can produce results."
"After about six months, I had worked my way up to shipping supervisor and then continued to take on additional responsibilities and challenges through more departments and into sales," Billett said. "In 2001, I earned the opportunity to manage a plant in Tacoma, Wash., another Regency facility that printed letterheads, envelopes, Christmas cards, wedding invitations and other custom work. We served the Pacific Northwest. The person who was Regency president at the time asked me to go out there to see if I wanted to run it and if I thought we could make something of it.
"It was a break-even facility when I got there. In six months it was making a profit, and for the next two years we increased in sales, quality and profits," Billett said. "How? Understanding customers' needs, selective cost cutting and efficiency gains. We developed customized programs to meet the needs of our local customers, grew our existing customer base and acquired new corporate accounts. We used a different approach, with personal visits from the office manager, production people and me."
With Regency success under his belt, Billett was offered the NRP position in 2003, when its general manager, Mark Madsen, took another position within Taylor Corporation. Billett was asked to come to Mankato and create a business model and a plan to grow NRP.
"NRP is considered to have high growth potential," Billett said. "We have a detailed business model and investment strategy that we've been implementing for over two years. In the past year alone, NRP sales increased by more than 15 percent, resulting from a multi-faceted growth plan. We use a vertically integrated approach for product development and develop our own sales force. In the last year, we've added twenty-eight sales reps to the NRP family. They are vital to our business staying competitive in the marketplace."
Billett reports directly to Brad Schreier, Vice Chairman of Taylor Corporation. This enables NRP to be extremely innovative and creative as well as being quicker to market with new products and services. In addition to its Mankato facility, NRP has international manufacturing capabilities.
Billett arrives at his office around 7:00 a.m., beginning a day of planning, phoning or emailing customers, interacting with employees, strategizing and considering product development and new marketing ideas. He makes it a point to leave the office at 5:00 p.m. to go home to his wife and five-year-old son, Grayson.
"I treasure my family time," Billett said. "I travel two or three times a month and I'm gone a week to ten days every month. So when I'm here in Mankato, I'm home for dinner—period. My employees know this. After my son goes to bed around eight o'clock, I do emails and reports, and I talk with West Coast customers and suppliers."
Some evenings are definitely not routine, such as the Thursday evening when Billett received a telephone call at home from a sales rep in Oklahoma.
"The rep had loaded up his trailer the night before to deliver orders to two high schools the next day," Billett recalled. "All of the diplomas, diploma covers, caps and gowns, graduation announcements and accessories for those two schools were on the trailer. Someone stole the trailer (they wanted the trailer, not the diplomas), and graduation was just three weeks away. The employees here volunteered to work extra hours. I kept the school advisor updated every day. In three days, the orders were refilled and shipped. We couldn't have done it without a great group of employees who truly care about the customers. They really know how important these things are to the kids and the schools."
Meeting the needs of students means not only providing the "fun stuff" they want for graduation, it also means encouraging them to commit to completing four years of high school.
"Two years ago we started a new program with the involvement of many high school principals," Billett said. "The Legacy Program focuses on improving graduation rates. It's a free service we provide all of our schools that choose to participate. We sponsor 'commitment to graduation' ceremonies to which all incoming freshmen are invited. Each student comes on stage, with Pomp and Circumstance playing in the background. The principal gives each student a mock diploma, and the students sign a banner (which we provide at our cost of $500). The banner has lettering such as 'We support the Central High School Class of 2011 on their commitment to graduation.' That banner will hang in the school all four years and will be on the stage at the class graduation.
"We also sponsor an essay contest in which students write about a person who helped them achieve graduation or has had a significant impact on their lives during their high school experience," Billett said. "We had over 400 entries and five winners last year. The student and the person who the student wrote about are honored in a ceremony."
"What's most unusual about NRP is that the business has been totally reinvented over the past five years," Billett said. "I've mentioned the change of company culture to interact with customers, the vertical integration and the creating of a new product—the class ring line. There's also e-commerce. Every high school in the United States is in our website. For every school with a rep, the site is customized to the rep and the school. We just launched an online ring designer for customers to design their own rings. No one else offers this. Everything is becoming more personalized, from caps and gowns to announcements to class rings."
There's one thing Billett would change if he could—the resistance to change. He'd like to convince more school officials that NRP offers the best products, the best prices and the best service to their students.
"The competition doesn't offer all three," he said. "There are a lot of high school principals who like our products and use NRP, and I know there are those who don't use our product out of loyalty to our competitors. I know we take better care of the kids than they do, not because we have to, but because it is who we are and it is part of our core culture. But we are seeing more openness to different ideas as school principal demographics continue to change."
Billett describes his business philosophy as "common sense, practical and down-to-earth."
"Treat people better than you want to be treated," he advised. "Be extremely innovative and be very close to your customers. Know and care about them; know what they're doing. Trust your judgment and don't get too wrapped up in the management trend of the month. And have fun."
Billett Basics
Childhood: Andy Billett grew up in York, Penn., which he pointed out is Pennsylvania Dutch country. "I can speak a bit of Pennsylvania Dutch and I like chicken pot pie," he said, with no further explanation about the pie.
School studies: "I liked science, the creativity, theory and experimentation—figuring out the unknown. I would like to have studied astronomy because I love exploring."
Preparation for the presidency: "I had some business courses in college, but my major was science based. A lot of the scientific principles I learned suit very well to this job. Also, when I was in high school, I worked at a cabinet shop where we tore down old log cabins and huge barns and rebuilt them into people's homes. The analytical thought process of the demolition, rebuilding, floor plans, layouts, electricity, plumbing and so forth applies to what I do now. So does working hard on my own, unsupervised."
In a jam: "While at college I did a lot of research work during the early days of genetic engineering. I did a lot of plant breeding, virus research and recombinant DNA research on crops such as corn, okra, tobacco, cotton and strawberries. One of the things I helped develop is the actual strawberry variety that's used in every jar of Smucker's strawberry jam."
Family and feline: Since 1994, Billett has been married to RuthAnne, who he met in college. They have a five-year-old son, Grayson, and a 12-year-old cat, Tumpy, recently renamed Miss Pettibone by Grayson.
Fun favorites: "Hiking, bike riding, camping, swimming and relaxing on the deck, all with my family. I've played drums ever since junior high, and Grayson comes down in the basement and bangs away too, in our soundproof room. The thing I'm most proud of is being a dad."
Self-description: Passionate, creative and understanding.
Heart transplant: "After five years, Mankato is definitely home. It's a great community to live in. I just wish it was warmer in Minnesota in the winter."
Truly 

Taylorized

"At NRP we are truly living the Taylor Corporation values," Billett said. "We're investing to create opportunities and security. We have the opportunity to change the market we're in, and it's fun to work with kids.

"Since the re-inventing of NRP, we have been continuously adding jobs in Mankato. Likewise, many of NRP's long-term employees have had opportunities to grow, take on additional responsibilities and learn new skills."