W.W. Smith Inn Bed & Breakfast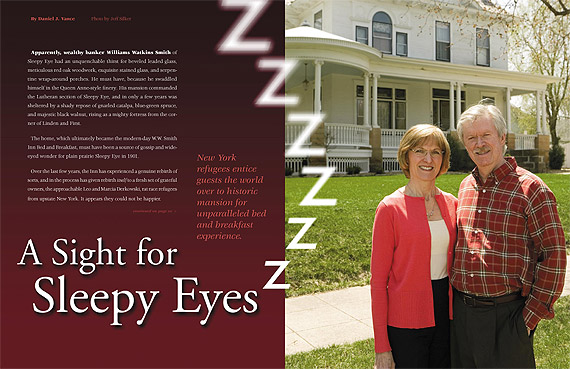 New York refugees entice guests the world over to historic mansion for unparalleled bed and breakfast experience. 
Photo by Jeff Silker
Apparently, wealthy banker Williams Watkins Smith of Sleepy Eye had an unquenchable thirst for beveled leaded glass, meticulous red oak woodwork, exquisite stained glass, and serpentine wrap-around porches. He must have, because he swaddled himself in the Queen Anne-style finery. His mansion commanded the Lutheran section of Sleepy Eye, and in only a few years was sheltered by a shady repose of gnarled catalpa, blue-green spruce, and majestic black walnut, rising as a mighty fortress from the corner of Linden and First.
The home, which ultimately became the modern-day W.W. Smith Inn Bed and Breakfast, must have been a source of gossip and wide-eyed wonder for plain prairie Sleepy Eye in 1901.
Over the last few years, the Inn has experienced a genuine rebirth of sorts, and in the process has given rebirth itself to a fresh set of grateful owners, the approachable Leo and Marcia Derkowski, rat race refugees from upstate New York. It appears they could not be happier.
If not for Marcia, the couple would not have purchased the Inn in 2006. She was raised a local farm girl, walking the beans and hoeing garden weeds on a beef cattle and row-crop farm five miles southeast of St. James, Minnesota. "It was a relatively small operation. Besides the beef cattle, we raised chickens to help the grocery bill," chuckles 59-year-old, co-owner Marcia. "My dad rented eighty acres and owned eighty."
Her maiden name was Sternberg, and she started first grade in a one-room schoolhouse in South Branch Township. Each school morning, a responsible male student living near the schoolhouse had to arrive early to pump well water and start a fire in the stove. She was the third of four children, eventually graduating from St. James High School in 1966 and going on to start a three-year diploma nursing program at St. Mary's Hospital in Rochester.
Why nursing, specifically? "This may sound trite," she says, unapologetically, "but I wanted to help people. That's what it boiled down to. We were a very church-oriented family, and what I learned there became part of my thinking—that my focus should be on helping people. Then it was a matter of deciding on a career. My choices as a woman in the '60s were limited. It was either teaching, secretarial work or nursing. My best friend chose to go to nursing school, and I thought that was close enough to what I had been thinking."
While she studied nursing in Rochester in 1968, one day Uncle Sam came calling. An Army recruiter pitched her on seeing the world and having the government paying for her final year of nursing school. All she had to do was serve her third year in nursing school in the Army, and another two years following her graduation.
"Back then, I'd not been far from home at all," she says. "I'd been in some neighboring states, barely, and wanted to see more. And (going into the Army) would give me a salary during my third year of education. I had been going to school on a loan."
At this point, husband Leo, 62, who has been relatively quiet, breaks into the conversation: "And they forgot to mention there was a war going on."
Marcia says, "I had basic training in San Antonio in fall 1969. I put in my wish list to the Army of what I wanted to do and hoped they might read it. But they didn't pay any mind to that and sent me instead to Fort Hood, also in Texas. Little did I know, but Fort Hood was the launching pad for going overseas."
After working six months as a hospital nurse for newborns, she volunteered to serve in Vietnam for a year. The Army assigned her to its southernmost hospital in the Republic of Vietnam, in the Mekong Delta, in Fourth Corps. The Vietnam conflict was only beginning then to unwind from its flash point experienced in the Tet Offensive in 1968. Marcia was seeing the world, all right.
"The first six months, I was on a ward made up of Vietnamese patients," she says. "They were from all different ages and backgrounds: infants and mothers, pregnant women, injured and ill men. For the second half of the year, I was in the emergency room, where we had a mixture of American and Vietnamese injured from the war. Nationals worked with us, and we had interpreters on staff. We learned sign language to communicate basic needs. I never became fluent in Vietnamese, and didn't even try to learn it. Being there seems a lifetime ago, and sort of recedes from the memory."
Returning from Vietnam, she was stationed at Fort Dix in New Jersey to finish off her two-year post-school commitment. While there, in late 1971, and before going off to earn a bachelor's in nursing at the University of Minnesota, she met an interesting character at the Fort Dix officer's club. His name: Leo Derkowski.
He was raised in Troy, New York, not far from Albany, the state capital, where his father worked for the state department of audit and control. His mom and dad, and sister, were just ordinary people, he says. He went on to attend Rochester Institute of Technology and eventually earned a bachelor's degree in fine arts, specializing in graphic design.
"In 1967, I enlisted in the Army after my college graduation," he says. "It was either that or go to Canada. I was about to be drafted anyway. I went through basic training, and to engineering officer's school, but ended up at Fort Holabird in Baltimore to be a counter-intelligence officer, responsible for physical and document security."
After spending a year with an armored division in Texas doing counter-intelligence work, the Army shipped him off in 1970 to South Korea with the Second Infantry Division. He had one 90-day tour of duty in South Vietnam along the Cambodian border with the Second Korean Infantry Division. He also ended up at Fort Dix in New Jersey, where, as a captain, he was a deputy director of security.
"By the end of 1971, it was clear the war was winding down, and there was a surplus of young captains, so they started kicking us out," he says. "In one day, in First Army, they reduced in force 120 captains, of which I was one. They gave us 90 days to get our ducks in a row and then we were out."
That fall, Leo and Marcia met. They dated only three or four times before her departure to the University of Minnesota, but Leo had seen enough to instinctively sense she was the one for him. Marcia needed a little more convincing. For a while, they communicated via long distance telephone and letters. He decided to apply to the Univ. of Minnesota to earn a graduate degree in fine arts. After being accepted, he landed a position teaching drawing in the school of architecture there, and another producing graphics and set designs in the university radio and television department. They both would graduate from the University and marry in 1974.
Marcia became a school nurse, but soon quit to raise a family, which meant Leo suddenly had to become the sole wage earner. Given his responsibilities, he felt undue pressure to earn money, and the result would be a circuitous career path up the corporate ladder that took him first to McGraw Hill as a magazine art director (1974), then to 900-store Our Own Hardware as an advertising manager (1974), Litton Microwave as consumer products advertising manager (1976), Control Data Corporation as director of marketing communications (1978)—all in Minnesota—and finally, software company Uccel (in Texas) as a vice president (1984).
Leo says, "All along, I never really had a career goal. And all my plans never really materialized. I wanted to teach at a college—that never happened. I wanted to be an art director for an advertising agency—that never happened. Early on, I just sort of stumbled through my career."
But along the way, he says, "something happened." With Control Data Corporation, for the first time, he was no longer facing any burdensome financial pressure, i.e., he was earning a comfortable salary. His superior there, Chuck McEwen, vice president of advertising, became his mentor and a father figure. McEwen believed in Leo, and his talent, and he told Leo that he had the potential to go far in the company.
"Then he asked if I had the will to do it," says Leo. "Until then, I was just sort of aimlessly chasing the next best paying job in marketing and advertising. With Control Data, I was getting more responsibility, and was in leadership positions that had an affect on the business. I wasn't just one of the troops. Chuck held out the possibility that I could go far with Control Data if I stuck it out, or with any other company for that matter, if I had the right attitude. I had to build up my skills, and take courses in finance, accounting, and strategic planning. They helped me understand that the opportunities were broader than I thought they were."
While he was rising in Control Data Corporation to a director-level position, a headhunter successfully recruited him in 1984 to be the vice president of corporate communications of a promising, up-and-coming Texas software company, Uccel. Within eighteen months though, the CEO eliminated Leo's entire department, he was laid off, and the company was sold. After that experience, he began questioning the sanity of chasing the corporate brass ring and fighting his way to the top. He realized he hadn't enjoyed being near the top anyway: it was incredibly stressful, and hadn't felt all that fulfilling.
To earn a living, he soon accepted a position at The Richards Group, a high-powered, large advertising agency based in Dallas, where he would learn the agency side of the business—
directly under Stan Richards. After two years there, he left to start his own advertising agency, wasn't overly successful at it, and decided after about a year to relocate his family to upstate New York in order to be near his aging mother. (To help make ends meet the last year in Texas, and in New York, Marcia went back to nursing.)
In New York, Leo worked at a small advertising agency near Albany before striking out on his own again. This time he tasted success. In its heyday, his full-service agency had six full-timers and two freelancers doing planning, advertising, public relations, graphic design, and logo design. It's the same company—only much smaller, with his son in Houston as his only employee—he now operates from the W.W. Smith Inn. His largest clients are Konica-Minolta divisions in New Jersey and Alabama. Other clients include The Windward Group in Houston, and Mark Thomas Company in Sleepy Eye.
"The discussion of owning and operating a B&B went back and forth between us for many years," says Marcia, while looking over at Leo. "We had enjoyed being on the receiving end of B&Bs. Leo often said it was something we could enjoy while easing into retirement. I was reluctant because I felt doing it would occupy us 24/7. But we were becoming increasingly frustrated with our jobs in New York. We had a general feeling that if not doing this soon, we would never do it."
Leo agreed, and initially wanted to pursue B&Bs in New England. They ultimately chose southern Minnesota to be near her siblings, and Marcia's parents, who were in failing health. They soon found an established B&B up for sale, the W.W. Smith Inn in Sleepy Eye, a grand Queen Anne, and it was only a short drive from St. James. So they purchased the Inn in March '06. It is on the National Register of Historic Places.
The interior was in fairly good shape. The former owners, Dennis and Mary, who moved only across the street, had recently improved the electrical system, added a new roof, remodeled the bathrooms, and installed new water and sewer lines. The Derkowskis inherited a handful of bookings. Over the first two months, they completely remodeled the third floor to include their own living quarters and Leo's office. They had Zuhlsdorf Construction tackle the serpentine front porch, which needed significant mending. The Inn had four bedrooms, and another two in the backyard Carriage House.
As for first impressions, Leo says, "When people walk in, they usually say, Wow!"
Marcia qualifies the remark: "You will get different reactions. People having been in a number of B&Bs will be a little more circumspect in their initial response. But they all, in the end, say this inn really stacks up well against other B&Bs they've stayed in. They feel it's quite a gem for a small town to have a home like this."
Leo says, "Most people don't expect this type of home here. Plus, we are different from most Minnesotans, who are kind of reserved people. We are a little more effusive, and a little more forthcoming. We really like to talk and listen."
Prices range from $100-170 a night.
She and Leo make their breakfasts from scratch, including a wide variety of pancakes, such as buttermilk banana pecan, lemon ricotta, and Dutch apple/pear compote and yogurt; French toast bakes with bourbon maple cream glaze; huevos rancheros; and omelets containing fresh garden vegetables and herbs.
Leo also enjoys putting the finishing touches on their Queen Anne mansion. "If I didn't have to run the marketing company upstairs," he says, "I would be perfectly happy just sawing, painting, and tinkering." He has also resurrected a long-held desire to work as an artist, and has begun painting in his basement studio.
As for owning a B&B, Marcia cherishes most becoming acquainted with guests from all over and hearing their interesting stories, something she especially enjoyed while working with elderly people as a home care nurse in upstate New York. She likens her current role as an innkeeper to that of a nurse. As an innkeeper, she does her best nursing her many stressed-out guests back to emotional and physical health. In the process, she and husband Leo appear to have found their way in life. 
Come On Inn
W.W. Smith Inn Bed and Breakfast co-owner Marcia Derkowski says, "We get a lot of business from Walnut Grove, especially in July, when our weekends are booked solid with people visiting the Wilder Pageant there. Moms and daughters come from all over the world. Walnut Grove is only 40 minutes away. If someone is coming from Canada for the pageant, for instance, for them to drive just a few more miles to Sleepy Eye to have this bed and breakfast experience is not a stretch."
To attract tourists, vacationers, or others just looking for a bed and breakfast, W.W. Smith Inn and four like-minded bed and breakfasts in New Ulm have joined marketing forces to start a new group, "Historic Inns of the New Ulm Region." Their first project was to create a rack card for tourists.
W.W. Smith Inn receives more than half its guests from Internet referrals originating with chambers of commerce in Sleepy Eye, New Ulm, and statewide organizations. A number of their guests are doing business with Norwood Promotional Products, Sleepy Eye's largest employer, and other Sleepy Eye companies. Others return each June for the annual Sleepy Eye airport "glide-in" involving glider pilots.
Of course, a large percentage of guests are people visiting Sleepy Eye for family functions, such as weddings, funerals, or regular visits to an aging parent, for example. Others are on vacation or out for a romantic getaway. Their guests, literally, come from all over the world, but most hail from South Dakota, western Wisconsin, Iowa, and Minnesota.
 World Travelers
"At a bed and breakfast," says Leo Derkowski, "the world comes to you."
He continued on telling the story of a couple in their late 20s from India, now employed in St. Paul. A computer programmer and Texas A&M graduate, the husband was working for a St. Paul bank. His wife had an MBA degree from a university in India.
"Theirs hadn't quite been a family arranged marriage, but it was darn close," says Leo. "He had met his wife only a couple times before their wedding. She had been in this country only five months, and they were newly married. And they had decided to come here. We had other guests in the house, and the (Indian couple) fit right in, and were a (social) hit. They were really neat people—friendly as heck. She's promised to teach me how to cook Indian food."
On another occasion, the Inn hosted a group of Japanese men doing business with Norwood Promotional Products.
Ya-ya Sisterhood
One time, the Inn hosted five sisters who gathered at different spots around the nation for regular reunions. They grew up in Minnesota, though now they lived all over. One had to travel from Hong Kong.
"They were just a great bunch of people," says Marcia. "They all had interesting stories, and backgrounds. They used the time to celebrate themselves, and their family, and to get re-connected. It was fun having them here, and watching them interact with each other because they all had such distinctive personalities."
Gourmet Delight
"We had Don and Vicki in as guests from the Twin Cities," says Leo. "They had been through a stressful period in their life together, and had decided to treat themselves to a three-day vacation before he started a new job. We all shared a love of cooking, and Don said he was an amateur chef, too. Then he explained that he was one of three men, who, once or twice a year, together cooked a gourmet dinner for their wives."
Leo suggested that Don try to sell the other two men on having one of their gourmet outings at W.W. Smith Inn Bed and Breakfast. So they came, a total of five couples: three couples with men that loved cooking, and two with men who primarily enjoyed eating. The three gourmet "cooks" had official business cards, white chef hats, and jackets with embroidered names. Leo was their sous chef/prep cook.
"I had made my part of the meal the day before," says Leo, "so when these three guys arrived, I was able to help them plan, do prep, shop—help them best I could. We cooked this elaborate gourmet dinner for their wives."
Marcia says, "They have all been doing this a while. The women, in their 50s, each come with something to do while the men cook. One brought her hobby, which is making necklaces out of small beads. Two crocheted and another two like reading."