Ad Mfg., ABC Office Supplies, Bendura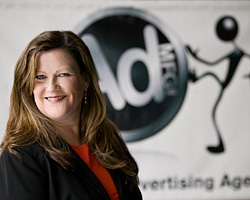 Photo: Jeff Silker
Fairmont: AdMfg.
Owner Ruth Theobald founded AdMfg Inc. on January 1. Her career path has taken many twists and turns, yet seems a perfect background for her current venture.
"I started my work life working ten years in a food processing plant until it closed in 1987," said 50-year-old Theobald in a Connect Business Magazine telephone interview. "My husband and I lost our jobs the same day. I went back to school and ended up at Weigh-Tronix, where I worked in engineering eight years. Then I worked for Sealed Bid Marketing for three years until 1999, when I began working for a Fairmont-based advertising agency. I worked there almost ten years."
So she has worked in a manufacturing facility, an office setting, and an advertising agency, and thus has experience with the entire process of taking products to market. Her company, AdMfg Inc., does a bit of each. For instance: One client is Silver Shade Mesh of Winnebago. For them, AdMfg Inc. manufactures, warehouses and ships product, and handles its graphic design, printed items, and company website.
Said Theobald, "We will do anything to fill a client's needs. We have clients where we do only a single thing. We have manufacturers, small and large businesses, and nonprofits as clients." One client is SewMfg Inc., which Theobald founded two years ago. In part, that company manufactures a heat-resistant, vinyl fabric sleeve used in soybean and ethanol production facilities.
Besides Theobald, the company has one on-site employee handling apparel and promotional products and a Mankato-based graphic designer. She named the company AdMfg Inc. after realizing she could "manufacture" advertising according to a plan and a division of labor. "It's really important to me how things get done and the process behind it," she said. "If you create a business with a good process that can be easily duplicated, you can't, can't be successful."
AdMfg Inc website: admfg.com. Address: 802 Winnebago Avenue. Telephone: 507-238-1243.
—–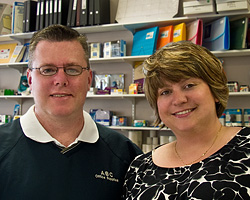 Photo: Art Sidner
Le Center: ABC Office Supplies
Like Ruth Theobald (see above), 37-year-old Brad Arndt has had interesting career experiences. He was homegrown, graduated from Le Center High, and majored in multi-housing management at college. He later applied that school knowledge while co-owning—along with his mother—rental properties in Le Center, St. Peter, Windom, and Mountain Lake. He then worked more than ten years at two different surveying firms in southern Minnesota.
Everything was going well in his profession until last December 1, when he was laid off.
"I came up with the idea of starting an office supplies company the day I was laid off," said Arndt in a telephone interview. "There used to be an office supplies store in Le Center, but it closed. Then the only other place to get office supplies in town was the drug store, and it closed. With my wife's and my mom's businesses—all they use is office supplies. I'd been doing ordering online for them and really learned the pricing. So why not share that knowledge with other businesses? I thought.
Arndt's mother and wife opened ABC Services about twelve years ago in Le Center. The company does pre-employment screening, background checks for profit and nonprofit companies, and mortgage document retrieval for lending companies. Arndt's mother also owns ABC Bookkeeping.
Brad Arndt and wife Heather opened ABC Office Supplies on February 1. The company delivers mainly to Waterville, St. Peter, Le Sueur, Montgomery, Elysian, and Cleveland, but will deliver anywhere with free shipping if the client meets minimum ordering requirements. The company delivers next-day when customers order before four o'clock.
He said, "We carry 27,000 products, including ink and toner cartridges, cleaning supplies, paper, pens, file folders, calculators, office furniture, file cabinets, white boards, and briefcases. I beat most chain office supply stores on most items in terms of pricing." Call for a free catalog.
Address: 35 East Minnesota. Telephone: 507-357-6900.
—–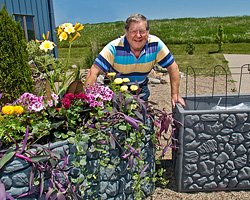 Photo: Art Sidner
St. Peter: Bendura
When starting injection molding company Rolco in 1980, Vern Olson also had a "rep company" called Olson Sales LLC. Recently, he used funds from that side business to purchase the equipment necessary to start Bendura in November 2008.
"At the Minneapolis Convention Center last year, there was a home and garden show," began Olson in a Connect Business Magazine telephone interview. "There is so much going on with gardening nowadays. As more and more people enter retirement age and go into assisted living facilities, townhouses or apartments, they don't have a place to plant anything."
Most gardening, Olson learned, was done with 10-inch, ground level pots sometimes requiring seniors to stoop over or get on their hands and knees when gardening. "I thought, What if you had a larger unit, one with a fieldstone texture, and made of a synthetic composite?" he said. "Ours has a false bottom, so the potting soil goes only halfway down. Our container doesn't break as easy, has UV protection from sunrays, and is durable up to 12 years. Most raised flower beds don't last that long because they're made of wood."
Right now, the 55-pound container is only one size: 48 inches long, 18 inches wide, and 28 inches tall. It comes in three styles: sandstone, slate, and white-speckled granite. Olson hopes to market Bendura over the Internet. Possible buyers include property management groups, city parks, retail stores, and strip malls. Prototypes can be seen at Nicollet County Bank in St. Peter and St. Peter Community Center. The company is still figuring out pricing.
"If someone wanted to do a donation to a nursing home where a loved one lives, they could donate a Bendura with their name on it," he said. "The product seemed something so remote from what was being sold out on the Internet. And it was a very easy name to coin. It's called 'Bendura' because you don't have to bend down to garden with it, and it is very durable."
Website: bendura.com. Telephone: 507-327-7711.