United Commercial Upholstery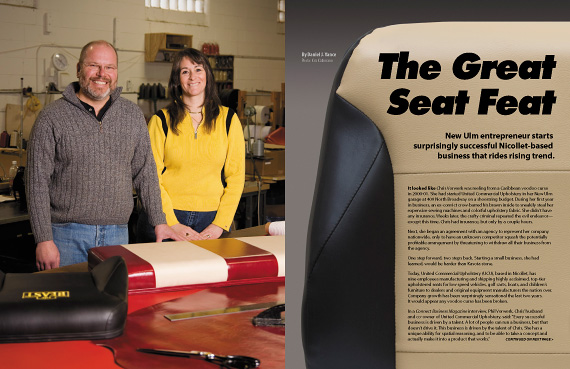 New Ulm entrepreneur starts surprisingly successful Nicollet-based business that rides rising trend.
Photo by Kris Kathmann
It looked like Chris Vorwerk was reeling from a Caribbean voodoo curse in 2000-01. She had started United Commercial Upholstery in her New Ulm garage at 409 North Broadway on a shoestring budget. During her first year in business, an ex-convict crow-barred his brawn inside to sneakily steal her expensive sewing machines and colorful upholstery fabric. She didn't have any insurance. Weeks later, the crafty criminal repeated the evil endeavor—except this time, Chris had insurance, but only by a couple hours.
Next, she began an agreement with an agency to represent her company nationwide, only to have an unknown competitor squash the potentially profitable arrangement by threatening to withdraw all their business from the agency.
One step forward, two steps back. Starting a small business, she had learned, would be harder than Kasota stone.
Today, United Commercial Upholstery (UCU), based in Nicollet, has nine employees manufacturing and shipping highly acclaimed, top-tier upholstered seats for low speed vehicles, golf carts, boats, and children's furniture to dealers and original equipment manufacturers the nation over. Company growth has been surprisingly sensational the last two years. It would appear any voodoo curse has been broken
In a Connect Business Magazine interview, Phil Vorwerk, Chris' husband and co-owner of United Commercial Upholstery, said: "Every successful business is driven by a talent. A lot of people can run a business, but that doesn't drive it. This business is driven by the talent of Chris. She has a unique ability for spatial reasoning, and to be able to take a concept and actually make it into a product that works."
—–
"I've always wondered what in my background brought about my interest in efficiency," said Chris Vorwerk from modest offices in their Nicollet headquarters building one block from Schmidt's Meat Market. Vorwerk may have always wondered, but most outside observers probably wouldn't have too much difficulty fingering a source or two.
For one, her father Rich worked for Kinze Manufacturing of Williamsburg, Iowa, a maker of row crop planters and farm implements. There, and with another business, also a farm implement manufacturer, he was involved with inventory control systems, purchasing, and personnel management. Her mother, Carol, owned two hair salons at one point, was a hairdresser, and rented out space to up to five hairdressers.
They lived 20 miles from bustling Grinnell, Iowa, in afterthought Hartwick, which was a church- and bar-less cluster of homes where Chris' family made up roughly seven percent of the population. When Chris was age 10, Rich had resettled the family there after a stint working in southern California. For her and her three siblings, rural Iowa was a culture shock. Rich and Carol were straightforward, honest, caring people steeped in midwestern values. Rich, said Chris, was especially blunt and seldom "dancing around an issue."
"I learned work ethic from them," said Chris. "They were really hard workers and yet they both were home on evenings and weekends. I had two older sisters and a younger brother. My brother and I spent most of our time with Dad because he liked doing the fun stuff, such as fishing and hunting. I grew up more with my father's influence."
—–
Chris graduated from high school in 1981 and began attending Iowa State University—with the word "attending" used loosely. She decided college wasn't for her, at least then. That summer, she worked with 10-year-old inner-city girls as a camp counselor in Eden Valley, Minnesota. She met her first husband there, and they married soon after. She moved to Mankato. Over the next nine years, she worked first in the shipping department at Condux International, where she also ran a lathe. After having children, she took a job in 1987 at Upholstery Service Company in Mankato working for Leonard Hiniker.
"It was a very flexible job working for Lenny," Chris was saying, "and near the end of my time there I had four little children, was going to Minnesota State full-time, and was newly divorced. Lenny would allow me to come in and work when I could. Sometimes, I would drive over there only an hour or two to work before going back to college. Leonard was hardworking and very honest and taught me how to deal with people. He allowed me a lot of latitude. He knew I had talent, and he would bring in a chair and say, 'See what you can come up with.'"
At Minnesota State, she studied psychology, especially enjoying the interface of psychology and biology. She learned about brain chemistry, the "chemical" reasons why people do what they do, and psychopharmacology. From MSU, she also learned the importance of receiving "negative" feedback from customers and vendors.
And also, "I learned that I could live on three hours of sleep a night," she laughed. "I did it for four years. I went to college full-time and earned my Bachelors degree in psychology, with minors in biology and philosophy. I went one year in the Masters program to get a feel for management psychology."
A few weeks after graduating in June 1996, she arrived early one evening at TJ Finnegan's in downtown Mankato to meet an ex-boyfriend and play pool. Sitting at a nearby table was Phil Vorwerk, co-owner of Printwear Graphics in New Ulm, who was recently divorced.
"He had a classy look," said Chris about Phil. "He was there playing pool, and I'm a pool player. I thought anyone playing pool had to be okay. He was sitting there at a table, with his cue stick out in front of him in the case. I walked past, noticed him, and when I came back by again, said, 'So, are you going to get that thing out?' He looked at me strangely. I thought, 'Why is he looking at me like that?' Then I realized what I had said. So I said, 'I meant the cue stick. Are you going to play some pool?'"
—–
They eventually talked outside. In time, Chris would reveal the fact she had four children, ages three, four, five, and six. Phil recently had tired of a dating service. The pair hit it off well, and not long after decided to marry.
Said Chris, "When we married in early 1997, I didn't want to drive back and forth every day from New Ulm to Mankato to work for Lenny. So I opened my own business in New Ulm, Valley Upholstery Service. New Ulm had three upholsterers and they were all six months to a year out in terms of a backlog of business. To start, we had about six weeks worth of work. But then business just ran dry. Nothing."
Rather than panic, Chris visited Manpower in Mankato to troll for work. That led to a timely placement at Nicollet-based pontoon boat maker Palm Beach, which had just lost almost its entire upholstery department due to employees leaving. The situation seemed tailor-made for Chris. Soon, she was able to persuade her employer to begin sewing pontoon seats in-house rather than jobbing out, which greatly increased production efficiency. Over the next several years and before leaving, Chris would supervise twelve employees doing cutting, sewing, and upholstery.
—–
In June 2000, she began United Commercial Upholstery in her garage at 409 North Broadway in New Ulm. It was the former Vogel Organ factory, a 1860s Victorian. Her company had a "few lean years" in the beginning, said Chris, including two scrapes with an ex-convict stealing sewing machines and a rep agency terminating a relationship because of a competitor's wishes.
To make ends meet early on, Chris did just about anything, including consulting and prototyping. She also cold-called accounts over the telephone. The fruit of her efforts became apparent over time: first, Apache Seamaster in 2001, Alumacraft in 2003, and Jonticraft Children's Furniture in 2004.
In terms of business expertise, help came in 2007, when Phil and his brother sold Printwear Graphics. Phil was 100 percent German, a New Ulm native and St. Olaf graduate who had majored in economics. Back in the mid-'80s, while wrapping up college, he initially thought he would become an economist, perhaps working for Cargill. At the same time, his brother wanted to start a screenprinting business. Phil's senior project was to do a business feasibility study for his brother, and the end result was Phil becoming a partner with him for 22 years.
Said Phil, "I had an accounting background, and every year I would do our business plan. The last couple years, I didn't even bother with one. I didn't feel fresh, and saw something else I wanted to do. I didn't think I could work full-time with Chris, but it turned into 60-70 hours a week." He could sense the potential in selling golf cart replacement seats.
One possible buyer for Printwear Graphics had been Mankato entrepreneur Tom Hall. A few weeks after having dinner to discuss the possibility of his buying Printwear Graphics, Hall called to say he was interested in working for United Commercial Upholstery instead. He could sense the potential, too.
Hall joined as sales manager, developed a mailing list, and began making telephone calls.
Said Chris, "The first year (selling Suite Seats, her own line) was really tough. It was hard to get traction. We went down to the PGA show and were advertising full-page in two trade magazines, Golf Cart News and Golf Cart Adviser. But last year, we started picking up accounts. The middle of last summer, we got a call from Fair Play, a manufacturer that was coming out with a Low Speed Vehicle. They were going to have a standard and deluxe version. They wanted to put our seats on the deluxe version."
—–
"They didn't know how many of their orders would be for the deluxe version," continued Chris. "At first, we thought it would be 25 percent, but it was 75 percent. They started dropping huge orders on us." These Low Speed Vehicles ran about $6,000 each and the deluxe upgrade was only about $800, which included UCU seats and special wheels.
At the time, the Vorwerks had two sons in California as Marines. Rather than ship their first order of 30 seats to Fair Play in Colorado, the Vorwerks decided to drive it there personally while on their way to delivering a car to their son in San Diego. They personally thanked the owner of Fair Play.
"And while there," began Chris, "we learned things about our industry. One thing we had been concerned about was our inability to patent our product, and we thought it would be a matter of time before a Chinese manufacturer knocked it off. It can still happen, but after talking with the owner of Fair Play, we no longer have too many concerns about it."
The owner of Fair Play said he was trying to raise the domestic content of his Low Speed Vehicles and using United Commercial Upholstery as a vendor helped. But mostly he was impressed with their finished product quality compared to that of manufacturers in China.
—–
Currently, 40 percent of United Commercial Upholstery's sales originate with OEMs and the rest with Suite Seats, the company's own product, which is sold to dealers and OEMs.
"In 2008, we did 750 Suite Seats," said Chris. "In 2009, we roughly doubled that, with most of the sales in the fourth quarter. Suite Seats is driving our business. And the 40 percent (in OEM business) is a little skewed because business in the marine industry is way down. But when the economy comes back, that should pick up quite a bit, too."
Dealers sell a Suite Seat for about $500 installed. Two years ago, the company had only five dealers, but today it has about 350 nationwide, with a substantial portion of those in Florida, Oklahoma, and Texas. Of course, the company sells to original equipment manufacturers, such as Alumacraft in St. Peter.
"Electric golf carts are increasing in popularity as transportation," said Chris. "And we also have business now with Star Car, which is similar to Fair Play. It manufactures a Low Speed Vehicle (LSV), too—or Neighborhood Electric Vehicle." Fourth quarter LSV sales were fanned by 30 percent federal rebates favoring vehicles using clean, renewable fuel.
"We are really trying to push for more OEMs," said Chris. "In December, we received a call out of the blue from one of the world's largest manufacturers of golf carts. They could put our seats on an upgraded model. We also like letting OEMs customers know we do design work."
Oh, and that large golf cart manufacturer that called? They said any seats they bought would have to say "Suite Seats" on them. Said Chris, "They said we had such a presence in the industry. To us, that is mind-blowing. That really caused us to sit back and see that we had a presence in the industry that we really didn't realize."
—–
What They Make
From the United Commercial Upholstery website: The company manufactures and markets to OEMs and dealers: a line of boat seats, including helm chairs, couch/lounge combos, and bass seats; does custom interiors for classic automobiles, including seats, door skins, headliners, carpet, and convertible tops; OEM marine work; and golf cart and low speed vehicle seating.
Factory Friendly
Said Chris Vorwerk in a Connect Business Magazine interview: "I seem to have a really good natural feel for making things efficiently. Anyone can make something, but to make an item factory-friendly is something altogether different. It's difficult. It may be very complicated looking; yet at the same time it must be very simple for a person to sew. For instance, I don't want to create something that takes a master upholsterer to produce efficiently. You will never make money that way and you will never find enough master upholsterers to do it. But to be able to simplify, and to create a process over many stages—that's key.
Broken Doors
During United Commercial Upholstery's first year in business, around September 11, 2001, and not long after the rep agency had dropped them like a hot potato, an ex-convict broke into their new building and stole all Chris' sewing machines and upholstery material.
"This guy had applied to work at (another upholsterer in New Ulm) and also ours," said Chris. "The following weekend, someone tried breaking in at the other place but hadn't been able. The gentleman owning it reported crow bar damage to his outside door. That was the same night we were broken into. We didn't have insurance."
Chris figured the ex-con would try selling her machines to area upholsterers. She soon called around southern Minnesota warning owners and eventually was able to clearly identify some of the stolen goods. However, Chris was never able to get any of her equipment back, and the ex-convict was never brought to justice due to investigators dropping the ball.
After trying six weeks to get insurance, Chris learned underwriters were shying away because they feared her upholstery foam was too flammable. Knowing she needed insurance after having recently purchased new equipment, Chris instructed Phil to "get something" quick. On a Friday afternoon, they acquired a policy through Farm Bureau, and literally hours later the same ex-convict broke in a second time to abscond with equipment again. This time the loss was covered.
"I know the agent real well," said Chris. "They said they knew this claim was legitimate, but boy were they going to look at the paperwork funny at the home office."
United Commercial Upholstery then was required to install a security system. Phil had the automatic dial set to their home rather than police. The next weekend, he received a telephone call at two in the morning. His heart pounding "like mad," he said, he called the police department. This time a bat had "broken in" and tripped the alarm while flying around.