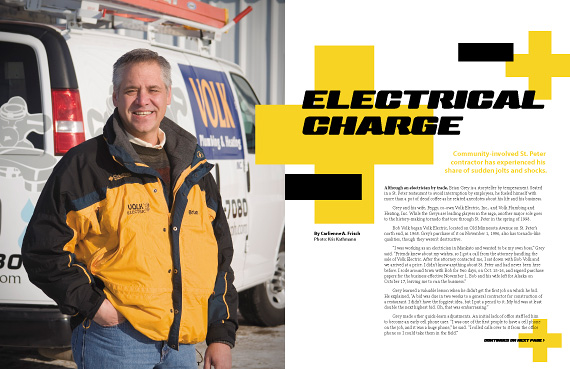 Community-involved St. Peter contractor has experienced his share of sudden jolts and shocks.
Photo by Kris Kathmann
Although an electrician by trade, Brian Grey is a storyteller by temperament. Seated in a St. Peter restaurant to avoid interruption by employees, he fueled himself with more than a pot of decaf coffee as he related anecdotes about his life and his business.
Grey and his wife, Peggy, co-own Volk Electric, Inc., and Volk Plumbing and Heating, Inc. While the Greys are leading players in the saga, another major role goes to the history-making tornado that tore through St. Peter in the spring of 1998.
Bob Volk began Volk Electric, located on Old Minnesota Avenue on St. Peter's north end, in 1968. Grey's purchase of it on November 1, 1996, also has tornado-like qualities, though they weren't destructive.
"I was working as an electrician in Mankato and wanted to be my own boss," Grey said. "Friends knew about my wishes, so I got a call from the attorney handling the sale of Volk Electric. After the attorney contacted me, I sat down with Bob Volk and we arrived at a price. I didn't know anything about St. Peter and had never been here before. I rode around town with Bob for two days, on Oct. 15-16, and signed purchase papers for the business effective November 1. Bob and his wife left for Alaska on October 17, leaving me to run the business."
Grey learned a valuable lesson when he didn't get the first job on which he bid. He explained, "A bid was due in two weeks to a general contractor for construction of a restaurant. I didn't have the foggiest idea, but I put a pencil to it. My bid was at least double the next highest bid. Oh, that was embarrassing."
Grey made other quick-learn adjustments. An initial lack of office staff led him to become an early cell phone user. "I was one of the first people to have a cell phone on the job, and it was a huge phone," he said. "I rolled calls over to it from the office phone so I could take them in the field."
—–
Grey had owned Volk Electric for 17 months when the villain stormed onto the stage on March 29, 1998. By then, Grey had developed what he termed "some nice accounts."
"Then (after the tornado), my entire customer base needed me all at once," he said. "Although there was a car on its roof 50 feet from our front door, the tornado had left the business intact. I called my mother in Sioux Falls and asked her to call all of my competition within 50 miles of St. Peter to inquire about subcontracting for me. Then I hired three people to take the calls. I was able to subcontract jobs and to save most of my commercial accounts and many residential accounts."
By May 2001, the business had grown out of its location, so Grey built a new facility. At the same time, he convinced his parents to move to St. Peter and work for him. His mother, Donna, works half days in the office, while his father, Dean, takes care of the shop and makes deliveries. Grey employs about 20 people, depending on the season. The busiest times are summer and autumn, with a slowdown during the winter holidays and tax season, when work is usually limited to ongoing construction and emergencies. Even then, Grey immerses himself in his work.
"A lot of people say I never shut it off, which is typical of small business owners," he said. "In a small business, the owner wears all the hats. I take work home, where I okay invoices to be paid, fill out insurance paperwork and draft letters. At the office, I make sure everyone is doing their job and make sure the customers are happy, or find out what will make them happy. Other people take care of day-to-day planning for up to three months. I look to the future, how to become more efficient, to grow, to find new niches and to use new technology.
"We do a lot of new construction, so it's my job to look for labor-saving and energy-saving ways of heating and lighting buildings. I plan how we can comply with going green. It's customary for electricians to install solar panels and systems that convert sun into electrical power. And for wind power, electricians customarily install the power converters.
"Today's sophisticated tools and equipment make continuous high-level training essential. We take part in industry-endorsed training seminars and classes, and certified instructors work with our apprentices in-house to maintain consistently high standards," Grey said. "We invest consistently in the most current equipment, including an electrical system analyzing meter that provides specific information regarding performance issues, such as amperage, voltage, wattage and power factor at any given time or length of time. For manufacturing and other settings that depend upon the use of more sophisticated motor controls, we have trained staff ready to design and install programmable logic controllers."
—–
Among Volk Electric's commercial accounts are churches, nursing homes and hospitals, county and city governments, restaurants, realty companies, food processing plants, auto dealerships and manufacturers. "Basically everyone," Grey said. "We've done work at River Hills Mall and we handled extensive repairs at the Nicollet County Courthouse after the tornado.
"I'm in the office five days a week, but my days are unstructured," Grey said. "I rarely get involved with the (electrical) wires, but I love it when I do. I make the final decision when there is a question out of the normal. If a home loses power, I go out to make the decision whether to repair temporarily or permanently. If a part comes in wrong, I might run to the Twin Cities. If a customer is unhappy, I meet with them personally, which usually helps the situation immensely. Once in a while, there are employee issues or issues with a subcontractor that I need to take care of myself."
—–
Like most contractors, Grey has had his share of memorable work experiences. One he has no trouble recalling occurred shortly after he'd gone into business. "It was around 11 a.m. and we were very busy," he said. "A lady called in regard to a breaker problem in her mobile home. I went to take a look at the breaker, took care of it and returned to the office. About a half hour later, we heard fire trucks and could see where they were going. Some of my employees knew I had just been there and told me on their two-way radios that the trailer was in flames. I asked one employee to go over and investigate. He found out the fire was not due to an electrical problem, but he didn't call me back. He went to lunch instead and turned off his walkie-talkie. Meanwhile, I was pacing the floor. It was about 45 minutes later that he called and said, 'Oh, no worries.'
"My integrity is very important to me," Grey said. "A warranty issue comes up now and then. If there's a gray area as to whether we're responsible, I tend to do it. In one case, the wire was becoming brittle after two years in a building that includes a memory loss unit. (The lights are on around the clock.) The sales rep and the manufacturer had only a one-year guarantee. We had our crew rewire all of the fixtures at our own expense. It's not good fiscally, but I would never be able to live with myself if someone got hurt."
On Oct. 1, 2009, Grey added more services to the business mix by starting Volk Plumbing and Heating, Inc. The Volk name for the additional service provides continuity with the established reputation and trusted name of Volk Electric.
"I saw a need because people would ask me about plumbing and heating," Grey explained. "A good friend who is a plumber, Chris Just, was looking for a change, so now he's my technician for plumbing and heating. I will hire more employees as the need arises. I don't hire a bunch of people and then go out and try to find work for them. I don't want to lay someone off due to lack of work."
Grey has always relied on attracting new customers by word of mouth and through involvement in the community. "I concentrate on schools and churches, making donations or providing in-kind service, whatever they're asking for. Last year, I donated my time to chair the first Southern Minnesota Teen Challenge gala in Mankato. Teen Challenge is an organization that provides a Christian-based rehabilitation program. It now includes programs for people of all ages who are drug users or alcohol abusers."
—–
Volk Electric also has outreach from a more commercial perspective. All of the company's trucks are branded with a logo featuring an electrical plug, a visual that also appears on the company's website. Grey advertises in the Yellow Pages, in various publications, on the radio, and by distributing brochures. A decade ago, he added another, more personal, dimension to his presence in the area.
"It didn't hurt to marry a 'townie' in 2000," he said. "The Chamber of Commerce director suggested I give Peggy a call, and we met on March 21, 1998, eight days before the tornado. I persuaded her to go to Whiskey River for dinner.
"When the tornado hit, Peggy and her mother, Mary Lue Brinker, were out of town," Grey said. "The location of her business (now called Mary Lue's Yarn and Ewe) was wiped out. There was yarn in trees for blocks, and the building she lived in was wiped out as well. When Peggy's dad called me to do some work, Peggy was there. She was so traumatized she didn't remember going to supper with me a week earlier.
"My business was going 24/7, but I got around to asking Peggy out again. We dated on and off for two years. When it came time for me to ask her to marry me, I had a pretty good idea what the answer would be, but I took out a full-page ad in the St. Peter Herald. It said, 'Peggy, love of my life, will you marry me?' and I signed my name. I put Peggy's business logo (a lamb) at the top and my logo at the bottom, so I could write off the cost of the ad."
The St. Peter business community, which had been monitoring the romance for two years, was disappointed when the courting business owners eloped to Las Vegas. When they returned from their honeymoon in Hawaii, however, they had a formal wedding and reception at Gustavus Adolphus College, which "a good share of the business community attended," Grey said.
Grey's life took another monumental turn in 2006, when he attended a Promise Keepers event. (Promise Keepers is a Christian evangelical ministry dedicated to uniting men to become godly influences in the world.) He said, "I got real serious about the Lord. Peg and I have just grown closer to the Lord with our involvement in church. It has been such a wonderful thing. I can't put it into words. I would love to use my faith to encourage others. That is my real passion—helping people find the Lord.
—–
Yarn Spinning
Peggy (Brinker) Grey, owner of Mary Lue's Yarn and Ewe, is the fourth generation involved with wool products. In 1912, John and Margaret Brinker purchased the St. Peter Woolen Mill (begun in 1867) from Edward Bornamen. Their son Henry (and his wife, Evelyn) inherited it in 1931. Henry and Evelyn's son Charles and his wife, Mary Lue, purchased the mill in 1954, and in 1965 Mary Lue's Yarn and Quilt Shop opened. Their daughter Peggy ran it for many years and purchased it in 2000. "I grew up in the business and it got in my blood," she said. She and her sister, Pat Johnson, operated the store and the woolen mill together until 2007, when Peggy moved the store to Mankato and each sister became the sole proprietor of her own business. The shop sells yarn and sheep-related gifts, including clothing, and offers knitting classes.
Plugged In
Trustee, Word of Life Church, Le Sueur
Vice President, St. Peter Chamber of Commerce
St. Peter Ambassador
Chair, St. Peter July 4th celebration
Southern Minnesota Teen Challenge Gala Board
Founder, St. Peter Winterfest celebration
Various professional organizations
Past Chair, Nicollet County Fair Board
Grey In Black & White
Childhood: The oldest of three children, Estherville, Iowa
Favorite school subjects: "I enjoyed math and industrial arts." Least favorite: English and social studies. "I was at the bottom of my class. Nobody expected me to do anything. The first thing I did after I got my diploma was to open it to make sure it was signed."
Education: Diploma from two-year draftsman program, Jackson, Minn.; pre-engineering Associate of Arts degree, Iowa Lakes Community College; certification in electrical wireman program, Jackson, Minn.
What do you wish you had studied? "The classes I hated in high school—English, for writing letters, and politics and government because I would like to run for office."
Employment: "I worked at a filling station during high school through a work-study program." After receiving an advanced education, Grey worked as a draftsman and electrician.
Family: Wife Peggy; son Kory, a student at the University of Wisconsin, LaCrosse.
Hobbies: "I love to golf. I also enjoy driving across the country, such as to visit friends in Texas, without turning on the radio. It's when I do my best thinking. And I've taken on mountain climbing in Colorado with some of the men from church."
Accomplishment of which most proud? "I climbed the peak of a 14,000-foot mountain in Colorado with my son."
Most valued possession or intangible? "It's not a possession at all. It's my relationship with God and my friendships."
What might you be doing if not operating Volk Electric and Volk Plumbing and Heating? "Working for the Lord in some way, being a servant for the Lord."