Twin Rivers Archery and Outdoors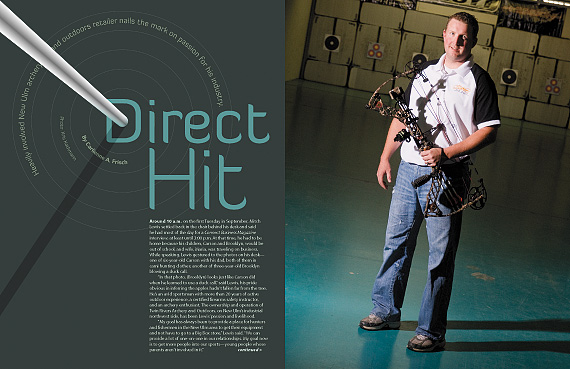 Photo: Kris Kathmann – Concept & Design
Heavily involved New Ulm archery and outdoors retailer nails the mark on passion for his industry.
Around 10 a.m. on the first Tuesday in September, Mitch Lewis settled back in the chair behind his desk and said he had most of the day for a Connect Business Magazine interview, at least until 3:00 p.m. At that time, he had to be home because his children, Carson and Brooklyn, would be out of school, and wife, Maria, was traveling on business. While speaking, Lewis gestured to the photos on his desk—one of six-year-old Carson with his dad, both of them in cami hunting clothes; another of three-year-old Brooklyn blowing a duck call.
"In that photo, (Brooklyn) looks just like Carson did when he learned to use a duck call," said Lewis, his pride obvious in inferring the apples hadn't fallen far from the tree. He's an avid sportsman with more than 20 years of active outdoor experience, a certified firearms safety instructor, and an archery enthusiast. The ownership and operation of Twin Rivers Archery and Outdoors, on New Ulm's industrial northwest side, has been Lewis' passion and livelihood.
"My goal has always been to provide a place for hunters and fishermen in the New Ulm area to get their equipment and not have to go to a Big Box store," Lewis said. "We can provide a lot of one-on-one in our relationships. My goal now is to get more people into our sports—young people whose parents aren't involved in it."
—–
The business is multi-faceted. Lewis carries a variety of guns, including CVA, Mossberg, Ruger, Remington, Thompson Center, Savage Arms, and Tikkausa.com, and used firearms. For fishing enthusiasts, there's a selection of rods, reels, tackle, fresh line, the latest lures, sharp hooks, and a bait shop. There's also a pro shop, where hunters have their gear conditioned for peak performance.
But the one thing that sets Lewis' business apart is archery. "It's our mainstay," he said. "Not many pro shops can work on all of the equipment out there. I've been certified in archery by Mathews Academy in Sparta, Wis., one of the biggest bow manufacturers in the United States. They invite a certain number of dealers to a course each year. It makes customers more confident that I know the equipment. We carry Mathews, Hoyt and Mission bows, and also have used bows."
Although Lewis is not a PSE dealer, he attended the PSE tech school in Omaha, Neb., where he learned about fletching arrows, tying in peep sites, and everything from timing cams to selecting the correct arrow for the bow. His training enables him to meet nearly any customer need.
"We're full service—fletching arrows, cutting arrows and matching them to your bow," he said. "We tune bows to make sure everything's in sync and the cams are turning at the right time. I've seen people who have no idea do it themselves, mounting an arrow rest on the bow the wrong way. We install all of the arrow rests, the sights, the quivers and the peep sights. We can tune equipment well with our 40-yard indoor range."
Lewis also offers classes on the archery range. "We touch on bow safety and survival techniques, as well as hunting with firearms," he said. "We teach rifle, shotgun, and even handgun safety because some people hunt deer with a single shot pistol with interchangeable barrels." Lewis became a certified firearms safety instructor by completing a Minnesota Department of Natural Resources course.
—–
Since Lewis' teen years, his dream has been to operate a business based on his outdoors interests while educating people about hunting. He and his father talked about the possibility, but after Lewis graduated from New Ulm Cathedral High School, he enrolled at Ridgewater College in Willmar, Minn.
"I played basketball there and went to school on the side," Lewis said. "I got a two-year degree in drafting and design technology. Before graduation, I already had a job at MCG in New Ulm as a design engineer working with electrical motors."
From there, Lewis went to Westin Automotive Products in St. James, where he designed truck accessories. During that time, a New Ulm man approached him with the idea for Twin Rivers Archery and Outdoors. It was a year in the making, involving banks, a third partner, and a business plan. The three men opened the business in 2005, with Lewis working full-time, the others covering his days off.
When it became evident the arrangement wasn't working, Lewis decided to restructure by asking a regular customer about the possibility of becoming a silent partner. "The gentleman owns a business in town and came into the store a lot," Lewis explained. "He loves the outdoors and loves hunting, so I approached him about my business. He helped me draw up a new business plan. We now meet once a month to go over the business plan and the financials."
The silent partner's investment allowed Lewis to buy out his original partners in 2009 and hire four part-time sales floor staff. He still spends six days a week at the store, doing magazine and Internet research, ordering, scheduling, cleaning, doing the payroll and accounting, and answering questions on the sales floor.
"I take Tuesdays off to take my son to physical therapy," Lewis said. "He has cerebral palsy that affects his legs, so he walks with a walker."
—–
When he was his son's age, Lewis began fulfilling a community duty at the start of each duck hunting season, taking part in New Ulm Cathedral High School's annual fund-raising marathon.
"It was always on duck-hunting opener, so I tried to get done with the marathon fast as possible, walking around asking for donations," he said. "My dad and my uncle were waiting for me with the gear, the equipment and the decoys." Several years later, Lewis shot his first duck.
"I was ten years old," he recalled. "My grandpa had a slough below his farm. I remember standing in the cattails, with my dad and uncle calling in the ducks and geese. I used a 410 shotgun, but the pump didn't work, so basically it was a single shot. I got my first duck with it, just before the duck came into the decoys. My uncle's dog, a black lab named Shadow, retrieved the duck. I believe we ate it. I learned at a young age how to clean birds, fish, deer, everything. I've hunted bear, coyote and fox for the pelts, and smaller game, like squirrel and rabbit. I've hunted in Iowa, South Dakota, North Dakota, Montana, Saskatchewan (Canada), and of course, Minnesota."
Lewis also has fishing stories to tell. He often fishes in Lake Hanska and in Clear Lake near Gibbon, but his favorite spot is Savant Lake in Ontario, Canada, a place to which he has gone with his father and uncle since age 13.
"No fishing around here can compare with it," Lewis said. "But my best catch was on Girl Lake near Pine River, Minn. It was a 28" walleye, eight-and-one-half pounds. I was about 20."
—–
It appears Lewis' business and family life blend seamlessly. When the Archery Trade Corporation moved its headquarters to New Ulm, Maria Lewis (who has a business background) was hired as the tradeshow manager. She's in charge of the largest archery trade show in the world, held annually in a Midwestern location. Their son, Carson, goes fishing with his father and began bow hunting last year. Their daughter, Brooklyn, has begun going with her father when he's scouting geese.
"And she's about ready for fishing," Lewis said, but smilingly admitted his daughter's energy level might scare the fish away.
There's also a blending of Lewis' friendships with his business. He often refers customers to two friends who have taxidermy businesses, two of four such businesses in New Ulm. On the walls of his office and store are examples of his friends' work—and of his hunting expertise.
"They supplied the mounts and decorations in the store, and I shot all of the game," Lewis said. The display includes bear, deer, elk, antelope, and pheasant.
There's also a mount with the 28-pound walleye caught on Girl Lake.
Lewis believes New Ulm is more of a hunting community than many other towns in the area. He credits its sloughs, the Minnesota River bottom, and Swan Lake near Nicollet. This proximity to good hunting land has provided him with a wide variety of customers.
"We have everyone from six-year-old kids to 85-year-old men," Lewis said. "About two-thirds of our customers are men, but there are a lot of women in the outdoors. Just last Sunday I sold a bow to a man, his wife, and their daughter, who was nine or ten years old. It's neat to see a family get into things together. You don't need to be strong for archery. My six-year-old son shoots from a chair because of his disability and my wife shoots. It's important she keeps up with the latest equipment because of her job, but I think she enjoys it, too."
—–
The 40-yard indoor archery range is open 24/7 to about 70 current members. They pay an annual $100 membership, with family memberships at $150 a year.
"We have a keypad for which every member gets a personal code," Lewis said. "Many companies in New Ulm have shift work, so people come to the range after work at different times to wind down. It's amazing how people respect safety rules. They don't want their membership taken away. The security cameras are set to my laptop, which I watch closely."
It isn't just the locals who are drawn to Lewis' enterprise. His customers come from Wisconsin, Iowa, and South Dakota, and the Twin Cities. "That's neat they drive by how many sports shops to get here," Lewis said.
Although word-of-mouth referrals are Lewis' strongest promotion, he advertises occasionally in newspapers, on billboards, and on New Ulm Telecom's TV wall. There also are the fun activities, such as the talk show Lewis does at 7:30 every Friday morning on KNUJ radio. Then there's the cat fishing contest Lewis has sponsored for the last three years.
"It's a catch-and-release tournament," he said. "Most fishing tournaments are not catch-and-release, but we don't want to hurt the Minnesota River, which is the greatest fishery in our area. In our tournament, the fish have to be caught on the Minnesota River from Ortonville to Minneapolis. Most are caught between Franklin and Mankato. We give two measuring devices to people who enter, one to measure the length of the fish, the other to measure girth. They take a photo of the fish with each device and a third picture of the fisherperson holding the fish. We pay out a percentage of the entry fee to the winners."
—–
It's archery, though, that most brings out the activity organizer in Lewis. Every January, he begins running archery leagues for 12 weeks, with 20 participants per night, Monday through Thursday. He also hosts a Paper Target League and an Indoor 3-D League for which he supplies life-size cutouts of deer, bear, and coyote. In spring and fall, he offers a youth archery program twice a week, with groups including beginner, intermediate, and expert youth. Last year, he also played host to the Minnesota State Archery Association, which held regional tryouts on his range.
There are more casual activities, too. Lewis' store has become the morning hangout for five or six men who gather near the archery section to drink coffee. "We bought a large coffeemaker for those guys," he said. "They are probably as much a part of my advertising as what I pay for. Most of them could point people in the right direction if I'm busy with another customer. On the weekends, we usually bring in donuts for them."
With the shop open eleven hours daily, Monday through Saturday, and five hours on Sunday, Lewis spends about 60 hours a week there. He said, "I take a lot of work home so I can be home for supper. The work is seasonal, heaviest September through December and lightest in February and March. Ice fishing is big in December and January, and May is crazy with the fishing opener. This business depends a lot on weather. When I'm scheduling staff, I look a lot at the extended forecast."
Politics also can affect Lewis' business. He recalled the run on ammunition after Barack Obama was elected president, saying, "There was a scare we'd lose availability of firearm ammunition, so ammo sales went off the charts. People were buying a case rather than a box. The manufacturers are still trying to get caught up, and we're still restocking."
He continued on: "We're a small business that carries a lot of stuff, so we have diversity without being a Big Box store. We're here to help the customer, to create a relationship, to share our knowledge and to build trust. If our customers are successful in the outdoors, we're successful."
—–
Community Quiver
Chamber of Commerce: member, participant in local job and business fairs.
Brown County Pheasants Forever: member, supporter of banquet.
Ducks Unlimited: member, supporter of banquet.
Minnesota Deer Hunter Association: member and supporter.
National Wild Turkey Federation: member and supporter.
Minnesota State Archery Association: member, host of 2009 regional tryouts.
Shooting From The Hip
Other than hunting and fishing, what are your recreational activities? I played amateur baseball a number of years and still play softball and volleyball. (In high school, I played baseball, basketball and football. My wife and I have both been inducted into the Athletic Hall of Fame at New Ulm Cathedral High School.) I also help my uncle farm, and it's most relaxing just to spend time with my kids.
What accomplishment makes you most proud? This business—taking a chance, being an entrepreneur. Some people second-guessed me and thought I was crazy.
Most valued possession? I have a new Mathews Z-7 bow, limited edition, signed by Mathews owner Matt MacPherson. This is my first hunting season with it. I'll probably never sell it.
Most valued intangible? My family.
Three words that describe you? Dedicated, reliable, honest.
If not in this business, what would you be doing? I probably would still be sitting behind a desk, drafting and designing. I enjoyed it, but missed the outdoors.
Young Buck
Childhood? I was born and raised in New Ulm. I have a younger sister.
Favorite subjects in school? Shop classes, also geography and world history.
Least favorite subjects? I did not like math, yet I ended up in engineering before I opened my business.
Preparation/education for your business? The sports end came with my childhood. For the business end, I attended a Chamber of Commerce small business seminar and took QuickBooks classes to learn about accounting software. You learn as you go, but it helps that my wife has a business background. My previous jobs helped prepare me for dealing with people, solving problems and handling situations.