Shady Oak Storage, Pearl Button Primitives, City Grille

Photo: Art Sidner
Amboy: Shady Oak Storage
Greg Stevens grew up in Amboy helping his father farm and manage Stevens Seed Farm, which began operations in 1965. He learned much from his father, including "being detail-oriented and keeping equipment well-maintained," said 41-year-old Stevens in a Connect Business Magazine telephone interview. "My father was driven to succeed and wasn't afraid to take risks to make opportunities evolve."
Over time, their business became a seed conditioning and cleaning site. The business flourished until seed companies they worked with became more technologically savvy and began consolidating operations. In 2001, for instance, Stevens Seed Farm's biggest customers ended up consolidating into Syngenta Seeds, which didn't need the company's conditioning services. Syngenta Seeds did have need for Stevens' voluminous and unused warehouse space.
"Then the light bulb went on," said Stevens, "and we began looking for other companies that needed warehouse and inventory control." The result was Shady Oak Storage.
Said Stevens, "We offer warehousing, storage, inventory control, and we can truck your product. Among others, we work with Syngenta Seeds and have worked with MTU Onsite Energy (formerly Katolight Corp.) to store large equipment and Westin Automotive (St. James) with inventory control and storage."
Potential customers of theirs likely would be businesses needing additional short- or long-term warehouse space and/or those seeing financial advantages to leasing. It's a cold-dry storage site that doesn't handle hazardous materials. Shady Oak Storage has various forklifts, a Conestoga trailer, and loading docks, said Stevens, and is willing to acquire the equipment you need to properly handle and store your product.
Shady Oak Storage
Telephone: 507-674-3510
Address: 52482 115 Lane, Amboy
—–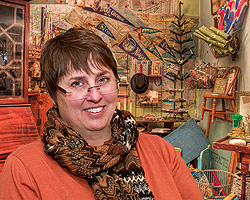 Photo: Art Sidner
Waseca: Pearl Button Primitives
Both Long Island, New York, and Waseca, Minnesota, share the heart of 46-year-old Justine Meyer. Raised on Long Island by a Polish father and first-generation American mother of Scandinavian heritage, Meyer grew up a self-proclaimed "ocean baby."
"Our home was right on the Atlantic Ocean," said Meyer, a married mother of three in a telephone interview about her Waseca antique shop. "You walked down the hill and there was the harbor. It was our playground and a big part of my life growing up."
Her uncle was an artist and other relatives dabbled in art. Her family has always been about collecting and gathering. Their Long Island home literally was situated on top of a seventeenth-century dump that yielded with digging all kinds of antique treasures.
After graduating in 1989 from Rochester Institute of Technology, she landed in Waseca at Brown Printing and ultimately became director of customer and pre-media services. Before leaving a year ago, she was the company's highest-ranking woman.
"We consider ourselves an occasional store," she said of Pearl Button Primitives, "and are open only two weekends a month on Thursday-Saturday. We sell antiques—the more odd, funky, and different, the more we like it. It's always fresh. We go to estate sales and auctions, find things on the Internet, and people come in to consign."
Every day is different, she says, and she enjoys meeting new people and creating long-term relationships. An example of a different day? A Korean storeowner showed up in Waseca one day to purchase antiques for a container shipment to Seoul for resell.
Pearl Button Primitives
Web: pearlbuttonprimitives.com
Telephone: 507-461-1648
—–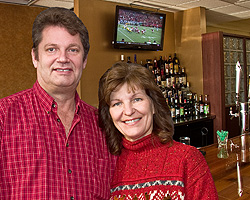 Photo: Art Sidner
St. Peter: City Grille
City Grille officially opened November 24 in the former Country Kitchen Restaurant, but the impetus for starting this new restaurant came about due to an accumulation of experiences.
For one, co-owner and Le Center native Connie Weber grew up working at her father's furniture store and funeral home. "That's all we did was work," said 53-year-old Weber in a Connect Business Magazine telephone interview. "As a small business owner, your whole family life centers around the business."
In the mid-'70s, she married Frank Weber, who also had known small business life. His parents owned The Little Dandy Supper Club in Le Center. So it seemed natural for the two to buy their own small business, which they did in 1977, a Le Center restaurant.
In 1982, that restaurant became Weber's Family Restaurant, and in 1994, they sold it to buy Country Kitchen in St. Peter. Recently, they left the Country Kitchen franchise to start the independent City Grille in the same location on St. Peter's north side.
"Starting the City Grille allows us to take our own recipes we developed over the years and do things our way—the way they need to be done in our region," said Weber. "For example, with Country Kitchen we couldn't add liquor and a bar. We have changed our menu and added more appetizers. This gives us more freedom."
Several menu additions stand out: BBQ ribs, rib eye steak—Weber calls it prime rib steak—and the Bummer Burger, which the couple served in Le Center. Appetizers include chicken wings. Said Weber, "We love creating new recipes and interacting with customers—some have been loyal since our beginning and have become part of the family."
City Grille
Location: 814 North Minnesota (US 169)