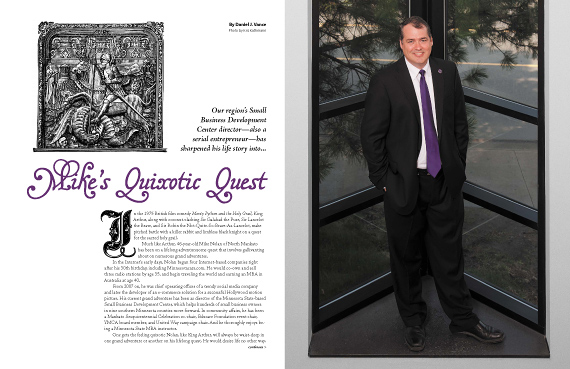 Photo by Kris Kathmann
Our region's Small Business Development Center director—also a serial entrepreneur—has sharpened his life story into…
Mike's Quixotic Quest
In the 1975 British film comedy Monty Python and the Holy Grail, King Arthur, along with coconut-clacking Sir Galahad the Pure, Sir Lancelot the Brave, and Sir Robin the Not-Quite-So-Brave-As-Lancelot, make pitched battle with a killer rabbit and limbless black knight on a quest for the sacred holy grail.
Much like Arthur, 46-year-old Mike Nolan of North Mankato has been on a lifelong adventuresome quest that involves gallivanting about on numerous grand adventures.
In the Internet's early days, Nolan began four Internet-based companies right after his 30th birthday, including Minnesotacars.com.
He would co-own and sell three radio stations by age 35, and begin traveling the world and earning an MBA in Australia at age 40.
From 2007 on, he was chief operating officer of a trendy social media company and later the developer of an e-commerce solution for a successful Hollywood motion picture. His current grand adventure has been as director of the Minnesota State-based Small Business Development Center, which helps hundreds of small business owners in nine southern Minnesota counties move forward. In community affairs, he has been a Mankato Sesquicentennial Celebration co-chair, Educare Foundation event chair, YMCA board member, and United Way campaign chair. And he thoroughly enjoys being a Minnesota State MBA instructor.
One gets the feeling quixotic Nolan, like King Arthur, will always be waist-deep in one grand adventure or another on his lifelong quest. He would desire life no other way.
—–
When starting an interview, I usually ask about a person's upbringing because that often defines a person more than anything. How about yours?
In terms of business, my father definitely influenced me. Last year, he was inducted into the Minnesota Broadcasters Hall of Fame. His first job out of the Korean War was with a Fairmont radio station, where he met my mother, a Fairmont girl and MSU student. Both sides of my family had Mankato businesses. My dad's side owned a shoe store and my mom's side was the Lundin family. Dick Lundin (former owner of Southern Minnesota Construction) is my mother's cousin.
My brother and sister were born in Fairmont and soon afterwards, my dad went to WDGY in Minneapolis and was subsequently hired by Dick Clark to produce the Dick Clark Radio Show. That led him to New York City where my other sister and I were born. In 1964, my father became national program director for Westinghouse Broadcasting, which was the greatest job in the world then. He had the opportunity to regularly visit stations in Los Angeles, Chicago, Detroit, Boston, and New York City. He worked the 1968 Democratic National Convention as a producer and afterward was given the Chicago vice president/general manager job. In time, he thought FM radio would be special. He went out on his own in 1978 to purchase a 100,000-watt blowtorch FM (and AM), which was KAUS in Austin, Minnesota, and would change the FM format to country. We purchased KEEZ in Mankato in 1993.
So you grew up in radio.
I worked at two other stations before returning home. I first worked for a Wausau station, where I learned how to sell by going up one side of the street, turn, and walk the other, selling to car dealerships and clothing stores and floral shops. In retrospect, that experience trained me for my current job because in the process I met hundreds of small business owners. I learned how they ticked. In radio, you have to sell things over and over to the same people and that leads to the building of partnerships.
From there, I worked for KSTP-FM. My dad then in 1989 had a top salesman busted for drug possession. Dad called and made me an offer I couldn't refuse: come back home and rebuild his sales territory. My wife was pregnant with our first child. Two and a half years later, we bought KEEZ in Mankato. I was the kid who always knew what he wanted to be when he grew up. The problem was I was finished with that by age 35. Then I had to go figure out what else I wanted to do when I grew up. (Laughter.)
Was it a culture shock going from Chicago to Austin in 1978? You would have been in high school, right?
We moved my freshman year from one of the nation's largest high schools to Austin High. It was a culture shock. I graduated from Austin in 1982 and at the time was the only one from there to attend University of Wisconsin-Stevens Point. I was a computer geek before there were computer geeks. They had a very good computer science program. I ended up with a business administration and communication degree and a computer science minor.
So were you born with a silver spoon in your mouth?
When I teach classes or speak to high school students, one of my favorite stories is that I started as the janitor of a radio station. One day, I was cleaning up and the owner of the station came by to say, "Mike, if you keep working this hard, some day you will own your own radio station." And then I said, "You really think I can, Dad?" (Laughter.) By the time we purchased KEEZ, I had worked most every job at a radio station. Even so, there was no way at age 28 I could have bought Z99 without my dad co-signing the note. But even with the turmoil my first year owning it, to my dad's credit, he never once came up from Austin to help. He knew the day he did he would become the boss. Some days, I begged him to come solve my problems.
What sort of things were you doing wrong?
At the time, I didn't think I was doing anything wrong. I was 28 and knew everything. In retrospect, I hadn't taken time to appreciate the existing company culture. KEEZ-FM had been a fantastically successful radio station. Yet, I wasn't sensitive to where everyone felt their place was and what they needed. I came in with all this confidence and a vision, but hadn't listened to the people that had gotten the station to that point.
What I hear you saying is you came in with your own agenda and failed to listen to theirs.
Exactly. And introspection is a tough thing. You have to learn by your own mistakes, and it took me a while. We lost many great people that first year.
When employees came in for exit interviews, what were they saying was their reason for leaving?
I don't think they were comfortable enough expressing their feelings. I tended to want to perceive people as selfish, but they were just doing what was in their best interests. Many went on to have excellent careers elsewhere. In spite of all my mistakes, a team magic began happening at KEEZ. My first hire, Kathy Varva, had a calming influence and sold a lot of radio ads. Dave Deutsch moved sales mountains. Dan Hatter, Jeff Nixx, and Tim Allen were the core of the broadcast team. They were energetic and alive. And there were many others.
In a way, it would appear those folks saved your butt.
Absolutely. (Laughter.) No ifs, ands or buts about it.
From the lessons you learned there, what do you tell entrepreneurs coming in for help today?
Trust your team. Hire for passion, not for resume or experience. You can teach everything except ethics and enthusiasm.
Just a couple years after starting with KEEZ, you began a number of business ventures.
I can't tell you how many people over the years have said Minnesotacars.com was their idea. I wasn't the first person with the idea. But what we did was execute. We even had several local media outlets refuse my advertising dollars because they had plans to develop something like Minnesotacars.com. This was 1995, in the Wild West days of the Internet. In 1995-96, in addition to Minnesotacars.com, I started three other Internet-based companies: Minnesotaforsale.com, a classified website; Minnesotatowork.com, a job site; and Homesaroundhere.com, a real estate website. I had the same engine and software with them all. Any of those last three ideas, properly executed, could have made money. We just didn't have the operational knowledge.
But with cars, you figured it out.
Even as successful as we were, we still made mistakes. There was no reason why Minnesotacars.com couldn't have been much, much bigger. Early on, the company was defined by where I had free advertising over our radio stations. In the late '90s, some venture capitalists approached us and I kind of laughed them off because I was making money and didn't think I needed to expand. The right venture capitalist could have taken the company nationwide. I didn't have the vision. In part because of that experience, when meeting with young entrepreneurs today, I always try getting them to think much, much bigger. That held true for broadcasting. We didn't have the same vision as John Linder, for example. His ability to create new radio stations was so much better than mine.
You also had some other challenges back then.
In family matters, in late 1994, my mom was diagnosed with cancer. On the night of her exploratory surgery, my dad quit. I was 30. Immediately, I was placed in charge of three radio stations.
One thing I sense about you is you are approachable. For established businesspeople, coming in asking for help can be humbling. How do you handle that first meeting?
That is one of the more difficult things I do. The trick is for the businessperson to come in before their business reaches a low point. We start with a needs assessment. A lot of businesspeople don't know the reasons behind what is going wrong. An operational problem will show up on the profit and loss statement. On the other side of the equation is looking at what assets we have to take the company forward. The Small Business Development Center isn't just me. In addition to our program coordinator, Julie Nelson, we have nine consultants. From being at Minnesota State, we have a great student body to draw from. For example, we have two MBA students engaged in internships with clients.
You sold your radio stations in 2000 to concentrate on Minnesotacars.com?
Not entirely. It was a very difficult family decision. Afterward, Minnesotacars.com grew quickly. In 2006, my wife asked why I was working so hard at something for which I had no passion. This wasn't what I wanted to be when I grew up. By then, we were in nine states and making more money providing the software around the country than we were selling to local car dealers. It was meaningful, but not challenging or fulfilling.
Then you were able to sell the business for $98 million, right? (Laughter.)
(Laughter.) A few years earlier, I'd had an interview with a local newspaper about Minnesotacars.com. The cover story read, "Mike Nolan $0 to $98 million." What they didn't say in the headline was the $98 million was the total estimate of the value of vehicles sold through our website over our ten-year existence. Sadly, when selling, I didn't get to keep all $98 million. (Laughter.) In 2006, I sold Minnesotacars.com. For a few months, they paid me in an advisory position and didn't ask for much advice. Basically, I was in town with little to do. So my son and I enrolled at MSU's aviation school. I had always wanted a flying license—my father had one.
What is there about flying that excites you? Some people like feeling free in the clouds and others just enjoy getting to business meetings faster, for example.
I was attracted to the required technical precision. It was a part of my personality I had never tapped. Instructors talked about keeping up your spatial awareness. You had to be present in the moment and think about the future at the same time. I ended up getting a pilot's license in January 2007.
I've heard you say taking aviation classes opened up your mind to learning.
One of our friends worked at Kellogg Graduate School of Management (Northwestern University) in the Executive MBA program. In August 2006, we learned Kellogg had become a co-host with an MBA program in Australia. We booked our tickets and were on a flight within a couple weeks to visit campus. It was love at first sight. Down there, you took school in one-month blocks. You lived, studied, and ate with the same people. It was highly intensive. Then you had a couple months off before doing it again.
The first time I had the opportunity to travel around the world on my study tour with the Melbourn Business School, my wife thought that was unfair. That is when we had the idea of taking the kids with us. That time spent traveling was one of the best of our lives. We took six weeks planning everything. We traveled the world with one backpack and one carry-on suitcase per person—and a guitar.
In Australia, were you the only American at the graduate school?
The only other American was a General Electric employee, but she had been born in South America and had lived overseas most of her life. It was truly an international MBA.
How did being there add to how you do business today?
I was taking classes with 35 of the smartest people I had ever met. They were at the top of their game, such as the CEO of LexisNexis Asian/Pacific and heads of major multinational banks. We often broke down into six-person groups over each one-month module to do case studies. I learned as much from the people in the classroom as from the instructors.
The school aside, was there one event on your around-the-world trip that stood out?
We rented a small solar-powered house in Fiji. My daughter turned 12 there and the locals threw her a birthday party. They decorated our place with flowers and brought in musicians. We offered to pay, but they seemed insulted. This was just what they did for people. That happened the first part of our trip and set the stage for a life-changing experience.
Here you had this really rich multicultural experience and then you come back to Blue Earth County, which is primarily white and very Midwest.
One great thing about our being on MSU's campus is its diversity. Tom Gillaspy, Minnesota state demographer, has said Minnesota's net job growth over the next ten years will come from immigrants. Without embracing these cultures, we won't grow. In my job, in part, I get to help immigrants and people of color start businesses.
What was your personal goal after coming back from Australia?
I had left America thinking I wanted to be a large multinational CEO. Along the way, I fell in love with teaching. Shane Bowyer offered me a job teaching undergraduate entrepreneurship. I had taught marketing as an adjunct for Rasmussen College in the '90s and at the MBA level in Germany. My worldview was slowly shifting from wanting to run a big company to helping others, yet I didn't move right into it.
In 2007-08, I consulted for Yovia, which was the business of a friend of a friend. He was trying to figure out how to make money off social media. I was helping him write his funding letters and business plan. I sat in on a conference call he had with The New York Times—he had worked with The New York Times in terms of funneling people through their website down to buying subscriptions. At that point, I decided to fund Yovia.
Do you have a majority interest?
No. But its first year, I served as chief operating officer. It was exciting and we had New York clients, including Nickelodeon, Prevention magazine and Rodale Publishing. I was flying to New York twice a month. In October 2008, the day the stock market crashed, we had an appointment in New York with TheStreet.com. Within two months, the crash would completely change our organization. Many companies froze their marketing budgets. By then, I was becoming unhappy having to fly and the founder needed a New York office. If moving there, I would be running another large company. I still have stock in it and serve on the board. Yovia is going strong. We have almost 10,000 bloggers right now on our platform.
Could you explain?
For example, we ran the "Mommy" blogger program for Prevention, which had 200 bloggers bringing weekly content. We tested the effectiveness and viral nature of that content using a formula Yovia's founder developed. We would then allocate advertising resources to the blogging posts with the most view potential and share that wealth with advertisers. We would earn a fee. We now have almost 10,000 bloggers generating content. We test and measure the viral nature of each and leverage that with advertising and share the revenue with bloggers. It's extremely exciting because of the phenomenal growth curve.
What makes a blog well-received?
Fred Wilson is a great blogger and New York venture capitalist. He made the commitment to blog every day. There are others making that commitment to share a daily thought or idea. In doing so, they transform their own lives. Self-imposed deadlines are a big part of a successful blog. Never before in the history of man can a person reach so many for so little money. You can have an idea go viral and have a couple hundred thousand people reading instantly.
That led to your next adventure.
A friend working on pitching an e-commerce print-on-demand solution for an upcoming Ice Age movie contacted me. He asked if I would help. This was my 2009 adventure—working with 20th Century Fox. Again, I was on an airplane a lot. Even worse, I was consulting and didn't have a stake in the game.
What were you doing?
It was a cool assignment. We had a very short time to put together a total, cross platform e-commerce solution. The founder of Yovia had owned another company that provided the e-commerce platform. I hired the team that set it up.
Explain an e-commerce platform.
Back when I was with Minnesotacars.com, business owners had to hire or create their own software to start an online business like ours. Now there are companies that create off-the-shelf software for you. For the movie, we had an Ice Age 3 website, an Amazon presence, and an Ebay store. Our idea was rather than print up 20,000 movie posters at once, for example, we would work with Taylor Corporation to print up small batches at a time—it was almost like print on demand. We had movie posters and tee shirts. By running small batches, we were able to hold down inventory costs. The warehouses in Hollywood are filled with overruns of tee shirts of various movies, for example.
We knew we weren't going to make much money doing this Ice Age movie, but we were hoping to use it to win all the 20th Century Fox e-commerce business going forward. That didn't happen. Their license merchandise vice president left one day and so went our connection. I didn't like being a paid consultant because I wanted to be able to share in the company success.
That brings you to about 2010.
Remember, we hadn't been planning on returning to Mankato. One thing I learned in traveling is that the grass isn't greener anywhere else. All our kids were missing high school friends and our close friends were here. Then my wife learned of the new doctoral program at Minnesota State in school psychology. The first 20 years of our marriage had been about Mike Nolan, and now it was time for my wife to build her career. In returning to Mankato, I put the word out with my friends that I would like to run a nonprofit. I decided it would have been cruel and unusual punishment to put my family through the starting of yet another business. I had done volunteer work for Educare, United Way, and the YMCA. Then I saw the Small Business Development Center needed a director. I'm at a time in life when I am comfortable putting more time and effort into doing a good work—more than just serving on a board.
Is there one particular aspect of helping a small business owner that gets you excited?
I should have my Economic Development Finance Professional certification soon and because of it have been back in a classroom learning new things. The training is so much deeper than even the finance I learned with my MBA. Now I get to dive deep into finance with 200 small businesses.
Typically, small business owners aren't finance people. They usually have a dream, concept and/or desire.
Most know how to sell or are operations people. They understand profit and loss, but often not the leverage of equity. I tell my classes most small businesspeople I meet are driving on a dark curvy road at night looking into the rear-view mirror. They are not looking ahead. I will be first to admit that when I ran our radio stations, I never looked at my balance sheet. We never had tough times. We weren't in an inventory-heavy business. But all that's not the case for many businesses today.
I would imagine it would be very tempting—given your background as a serial entrepreneur—to jump right in as a partner with a promising client.
I would get into a lot of trouble doing that. We maintain very strict client confidentiality. I want people to come here feeling comfortable that we aren't stealing their ideas. When joining SBDC, I signed non-disclosure, non-compete documents with the SBA. All our consultants have done it.
Don't some organizations financially supporting SBDC—such as banks—have a vested interest in seeing it succeed?
Well over 60 percent of our referrals come from banks. The last two years have been especially difficult for some small businesses. One big problem we see in today's funding environment is businesses with increasing sales that want to grow are maxed out on credit. We're funded by a federal grant, and have 41 different funding partners matching that grant.
Whether pre-venture or established, I try to give every client an hour of my personal time, in part so I can determine which consultant can best help them. For consultants, we have everyone from retired bank presidents to CPAs to marketing professionals. As an organization, we are held accountable and must report the number of jobs we helped create, the amount of money we helped place into the economy, and sales increases. The Department of Employment and Economic Development surveys our clients.
When an entrepreneur walks into your office, what things tell you this person gets it—in terms of being a future successful entrepreneur?
The first chapters of many books on entrepreneurship talk about the characteristics of a successful entrepreneur, but I have a problem with that. I have known great entrepreneurs who are introverted numbers geeks and others with bigger-than-life personalities. The ones who get it realize they can't do it alone. For example, I never once ran a business by myself. I had a great team at the radio station and at Minnesotacars.com. The ones who get it understand they need help to create long-term wealth.
I don't look for character or personality traits. What I look for is does the person have an understanding of how they are going to make money. Do they understand their market niche? The competition? Too many people walk in saying they want to provide the highest quality service or product at the lowest price. I always respond, Why not provide the highest quality and charge for it?
One of my favorite companies is Apple. They established this huge company in some cases by being the most expensive. Every entrepreneur you respect usually got there by delivering the highest quality and charging a fair price.
How many SBDC offices exist in the U.S.?
SBDC covers every square foot of the U.S. Minnesota has nine regions, and each has a director connected to a place of higher education. Overall, we have found businesspeople are shy about seeking help. Our SBDC is under the MSU Division of Strategic Partnerships and we work closely with the College of Business. I can't begin to say enough about Bob Hoffmann's leadership—his vision for strategic partnerships, and how Minnesota State is trying to connect with region businesses. Dr. Davenport has full faith in that vision. That is what drove us to relocate our offices to MSU.
Some people in New Ulm and Fairmont, for example, think SBDC is a Mankato thing—perhaps more so now that your offices are at MSU.
We cover nine counties. We have office hours one day a week in Fairmont and work closely with Bob Wallace at the Fairmont Chamber. We're currently executing a pilot project in Faribault County, where we work with RCEF and Faribault County EDA. We're in Sibley County executing a community development block grant and working with entrepreneurs. We're continually doing outreach and the goal is to fund and have representation in several communities. Most of our work is done outside these office walls anyway, in places of business throughout the region.
—–
Finding Funds
CONNECT: When small business owners look at the palette of organizations like yours, they have so many choices. What makes your organization different?
NOLAN: Part of our expertise is in helping small businesses find funding. Our consultants are trained—I have nine working with us. We have the expertise to create SBA-backed loan packages. Our main funding grant comes through the federal Small Business Administration.
Small community banks in our area are small businesses too, and often don't have the staffs they had 20 years ago. The rules for SBA loans are very complex. Banks send us clients to help get their clients' financial planning and projections together. About 70 percent of our clients are already in business and many are at the top of their growth curve, which is a good time to re-tool. I also am teaching a course in Profit Mastery, which helps companies learn a new set of financial skills to help them forecast and make decisions.
Getting to know you:Mike Nolan
Born: October 15, 1964.
Family: Wife, Jules; children Jack, Charlie and Anna Kate.
Education: Austin High School, '82; University of Wisconsin-Stevens Point, '87; Melbourne Business School, '08
Organizational Involvement: Mankato Sesquicentennial Celebration, co-chair; Educare Foundation, event chair; YMCA board member; United Way, campaign chair.
THE ESSENTIALS: South Central Minnesota Small Business Development Center
Phone: 507-389-8875
Address:
1536 Warren Street #120
Mankato, MN 56001 (MAP)