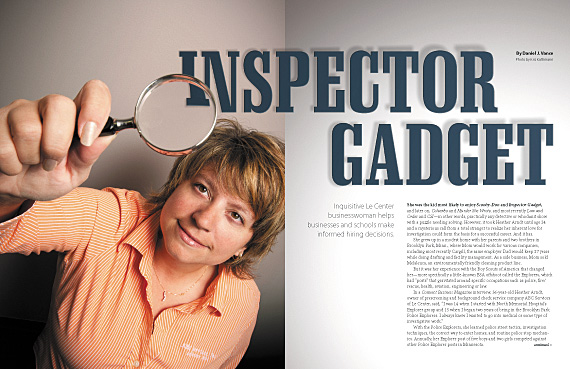 Photo by Kris Kathmann
Inspector Gadget
Inquisitive Le Center businesswoman helps businesses and schools make informed hiring decisions.
She was the kid most likely to enjoy Scooby-Doo and Inspector Gadget, and later on, Columbo and Murder She Wrote, and most recently Law and Order and CSI—in other words, practically any detective or whodunit show with a puzzle needing solving. However, it took Heather Arndt until age 24 and a mysterious call from a total stranger to realize her inherent love for investigation could form the basis for a successful career. And it has.
She grew up in a modest home with her parents and two brothers in Brooklyn Park, Minn., where Mom would work for various companies, including most recently Cargill, the same employer Dad would keep 27 years while doing drafting and facility management. As a side business, Mom sold Melaleuca, an environmentally friendly cleaning product line.
But it was her experience with the Boy Scouts of America that changed her—more specifically a little-known BSA offshoot called the Explorers, which had "posts" that gravitated around specific occupations such as police, fire/rescue, health, aviation, engineering or law.
In a Connect Business Magazine interview, 36-year-old Heather Arndt, owner of prescreening and background check service company ABC Services of Le Center, said, "I was 14 when I started with North Memorial Hospital's Explorer group and 15 when I began two years of being in the Brooklyn Park Police Explorers. I always knew I wanted to go into medical or some type of investigative work."
With the Police Explorers, she learned police street tactics, investigation techniques, the correct way to enter homes, and routine police stop mechanics. Annually, her Explorer post of five boys and two girls competed against other Police Explorer posts in Minnesota.
—–
She said, "I've always had a knack for being able to pick up on things—an instinct. I enjoy digging and trying to solve puzzles. My mind just wants to feed on information and learn and find out why or how this or that happened. I enjoy investigating."
And since 2001, she has had plenty of experience. That's the year she bought ABC Services of Le Center, Connect Business Magazine reading area's only full-service employee pre-screening and background check service. It offers a menu of services that includes address and Social Security number traces, credit and bankruptcy reports, civil and criminal searches, and verification of professional licenses, employment, and education.
—–
"It was my intention to do law enforcement as a career," said Arndt from her downtown Le Center office. "After graduating from Robbinsdale-Cooper High in 1993, I started at Hennepin Community College, went three weeks, and decided it wasn't right for me. So I went into the Army Reserves. After basic training at Fort Leonard Wood in Missouri in 1994, I did advanced training at Fort Sam Houston. I started as an operating room technician and decided I didn't want to stand there handing a doctor surgery tools all day. So I changed to combat medic."
The Army taught her much, she said. She had to grow up fast. Sometimes early morning, officers would throw metal garbage cans down the hall and bang lids to wake everyone up. Lights were flicked on and off. From that moment, she had exactly five minutes to get up, get dressed, make her bed, brush her teeth, and be outside in formation ready to go. If not, she had 20 or so pushups as punishment.
She said of the Army, "You had to learn how to move very quickly and if your bed wasn't made properly they tore your mattress off the bunk. If your wall locker was unlocked, they would open it and pull everything out to remind you to lock it. They kept you on edge. You had to be perfect. They teach you that way because in combat you can't afford to make mistakes. You had to be on top of your game at all times because out in the field one mistake could injure your life or that of another soldier."
Through it all, she also learned discipline, and developed a stronger self-esteem and self-confidence. She left the Army in 1996.
She added, "When you are 18, you think you know everything. Then you step out in the real world and get hit by a truck and suddenly you realize you really didn't know everything."
—–
After the Army, she began working as a Certified Nursing Assistant, a job similar to one she held in high school. But she hated working weekends. So she took a position as a Twin Cities receptionist. About the same time, she met the man who would become her husband and eventually moved with him to Le Center.
"I didn't even know where Le Center was before moving here," said Arndt. "In fact, I didn't even know where St. Peter was. I really didn't know any of the area past Shakopee and just knew I-35 went out of Minnesota. That had been the extent of my traveling."
In 1998, she became pregnant with their first child, Chase. At the time, she was commuting back and forth to the Cities for her receptionist job. She also was having pregnancy complications and per doctor's orders had to take the last three months off to stay home. All this convinced her of the importance of working closer to home. The answer: her mother-in-law Wanda asked her to join the family bookkeeping business, Arndt Bookkeeping Connection.
The job filled a need, but by 2000, Arndt was tired of bookkeeping—there wasn't much investigative work involved and all the numbers were beginning to look alike. She went hunting for receptionist positions because that seemed to best fit her experience. While applying for a receptionist position at a North Mankato radio station, Arndt interviewed with JO Guck Bailey, general manager of three radio stations.
"JO Bailey said I was too overqualified," she was saying, "and that I should find something else. I had an accounting background and knew payroll, taxes, and accounts receivable. She said being a receptionist wasn't what I needed, but rather I should be doing accounting. What she said was the best thing that could have happened. She still remembers me. At the time, I was upset, but looking back, it was best. After that, I had to go back to the drawing board."
Soon, she was working for Condux International in Mankato in accounts payable. It was a pleasant place to work, she said, but after eight months her mother-in-law had too much bookkeeping business to handle and was strongly tugging on her to return. The timing of her employment move from Condux International back to Le Center was uncanny, to say the least: only a few months later, Condux International's business began tailing off, and, as the last one hired, Arndt would have been the first let go.
—–
Soon after returning to Le Center and Arndt Bookkeeping Connection in 2001, she received a mysterious telephone call one morning from a woman asking her to consider buying a "different type of business, one I had probably never heard of before," said Arndt. "She had started the business a few years earlier and wanted out to pursue a nursing career. I was only 24 at the time. I told her I needed to bring my mother-in-law in to a meeting with her. I don't know why the woman approached me. I have no idea. I had never met her and had lived in town only four years. It's a mystery to this day. But I look at it as being a God-send, a blessing."
She had been looking for something different, was willing to take hold of a challenge, and the idea of owning and operating a pre-screening and background check business fit hand-to-glove her love for investigation. It was called Selly Services—a name she legally had to keep five years. With the sale, of course, she inherited customers. The first sixth months brought a number of difficult adjustments and challenges, but she hung in there by adapting to customer needs and building rapport. At first, she and her mother-in-law were doing about 25 names a day for background checks and manually writing everything down. (That number would grow to 450 until a couple years ago when the economy stumbled. The company name changed in 2006 to ABC Services. It presently does about 250 names a day.)
—–
"Today, we do screening for about 35 companies throughout the U.S., including ones in Florida, New York, South Dakota, and Minnesota," said Arndt. "Everything now is done on computer and we enter the information on secure websites. In large measure, we visit courthouses for these companies, get the information, and send it back. We physically have to visit courthouses. We have researchers all over we work with, including ones covering every Minnesota county. All the information isn't available online."
In part, the company searches for potential employee criminal acts, thefts or DUIs. The latter, especially, would be important information for a school bus company seeking new drivers, for example. You wouldn't want a person with three DUIs driving a bus filled with young children, said Arndt, or a person with a theft conviction working as a bank teller.
"We don't do these background checks to discourage people from getting jobs," she explained. "We do it to help employers make good decisions on whether a person is right for a job. It's very important we not make mistakes because what we do could change a person's life. If we make a mistake, a person could be rejected for their dream job. Because of this, we have to carry errors and omissions (E&O) insurance. We do our best to give the best information to our clients." Knock on wood, Arndt said, the company has never faced an E&O claim.
ABC Services has two primary revenue streams: the first involves performing background screening only in Minnesota for a number of national companies; the second involves the same with southern Minnesota companies doing business nationwide.
Besides businesses, one large client set includes 16 Minnesota school districts, including the one in Le Center. For instance, schools districts need to know if potential employees and teachers have Bureau of Criminal Apprehension records, appear on the state Sex Offender registry and/or are faking Social Security and address information.
"So we run a report for the school district," said Arndt. "They will look at what 'John Smith' had on him. If it's appropriate for him to work there, they'll hire him. If not, they will give him a copy of his report and a letter explaining their action."
—–
Arndt said, "Many businesses don't use services like ours. Big businesses, for the most part, understand the reasoning why it's important, but smaller companies think it's expensive when it's not. But if I were a business owner, I'd rather spend $35 for a package deal to get the right person working for me than having to spend tens of thousands of dollars in litigation fees down the road because a person turned out to be someone different."
An example of what Arndt talked about involves the late Susan Weaver, who years ago hired a service company to clean the air ducts in her home. The service company didn't do background checks. Six months after the service call, the technician returned to rape and murder Weaver, then set fire to her home to cover up evidence. Had the service company spent $35 on a background check, Arndt said, Susan Weaver likely would be alive today because the murderer had been out on parole after serving a prison sentence for a rape conviction. Weaver's sister Lucia Bone, understandably, has become a passionate advocate for pre-screening and background checks, and attends National Association of Professional Background Screeners conferences.
"Just today," began Arndt, "I found someone convicted of conspiracy to kidnapping, a serious felony. Through background checks we find a lot of assault cases and ones involving prostitution." One southern Minnesota business using ABC Services has been 110-employee Jones Metal Products in Mankato.
The company has perhaps "four or five" direct competitors in Minnesota.
—–
ABC Services background check packages range from $25 to $45, depending on information needed and the type of search. A basic Bureau of Criminal Apprehension search for Minnesota costs $17. "When buying our services, companies aren't buying just to protect customers, they are also buying peace of mind," said Arndt.
Recently, one company sent in 1,200 names one day and 2,300 total in the same week. ABC Services promises a 72-hour turnaround.Even with that one-time flood and others, business has fallen 50 percent the last few years because businesses have slowed hiring.
"We can tell when the economy is going back up because we see it here first," she said. "And we can tell when college kids come home and we can tell when they are going back to school in the fall because they are looking for jobs in a different part of the state. We can tell when the holidays are here because people are looking for temporary jobs to earn money for Christmas."
So is the economy making a recovery? "We are not in a recovery yet," said Arndt. "When I start seeing another 50 to 100 more names a day, then I would say we are on the way up. Recovery can be a very slow process."
—–
Dating Game
Said ABC Services owner Heather Arndt: "By coincidence, I met my husband at the exact same place where my parents met years earlier—at a Red Wing bar and grill. I have family in Red Wing. I was there with my cousins and Brad just happened to be there. We talked and traded telephone numbers."
Office Party
"One thing I have tried staying clear of is the corporate world," said 36-year-old Heather Arndt. "One thing nice about owning a small business is I can make my own work schedule. I can leave and go to a child's choir concert or a tennis match two hours away. I encourage our employees to make use of the flexibility. I like being my own boss.
"For employees, I have Jody, who does marketing and is a great salesperson; Keely, who works side-by-side with me; and my mother-in-law, Wanda, the bookkeeper. We work as a team. Keely goes into the courthouse to retrieve information and sends out information to our researchers. She and I are constantly shuffling records back and forth."
THE ESSENTIALS
Address: 35 East Minnesota Street, LeCenter, MN 56057
Phone: 507-357-6320