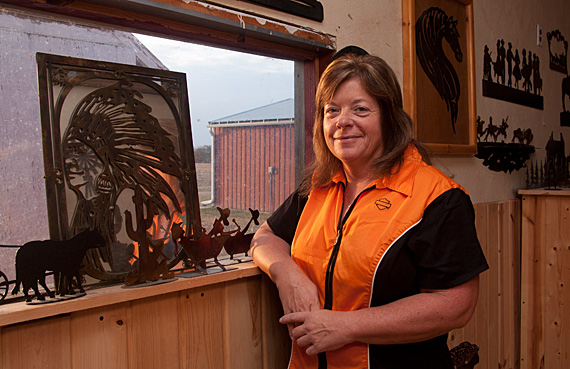 Good Thunder: Old West Country Store
Recently, Tammy Lillo began part-time taking over her father's metalworking business, Timeless Images in Metal, and opened a metal work retail store at the site, called Old West Country Store.
Her parents taught her from an early age "that if you want something in this world, you have to work for it," said 46-year-old Lillo in a telephone interview. "They instilled a good work ethic."
After graduating from Wellcome Memorial in 1983, she was a multi-tasking, trucking company dispatcher that enjoyed dealing with drivers. That four-year experience nudged her into a 10-year stint of owning and operating a truck herself. "My parents say there's nothing normal about me," laughed Lillo. "I tend to do what's unexpected of the average woman. For example, I've been addicted to riding motorcycles long as I can remember."
In the family business, Lillo does general metal repair work, but her true joy comes from creating original metal items, anything from railings for decks and permanent massive yard decorations to one-of-a-kind Christmas keepsakes.
"This year for Christmas, for example, I'm making life-sized (metal) trees, bells, and Santa's sleighs," she said. "These will be lit up and decorating the lawn. Scaled-down versions will be available in the store. We will also have plenty of (metal) wall hangings for sale this Christmas."
With each original creation, Lillo starts out with an image in her mind, gets it on computer, and uses a plasma cutter to cut the metal. She has wall hangings featuring Americana, from soothing beach scenes and Harley Davidson motorcycles to wildlife including moose and caribou.
She said, "I like having the ability to take an image in my head and have it come to life through the end product. It's amazing what you can do with metal—what you can make it look like when you're done." Metal shop hours are 9-5 daily.
Old West Country Store
Telephone: 507-278-3671
Address: 56634 177th Lane, Good Thunder
Web: arnielillo.com