Bell Tower Suites
By
Daniel Vance
• Mar 2012 • Category:
Hot Startz!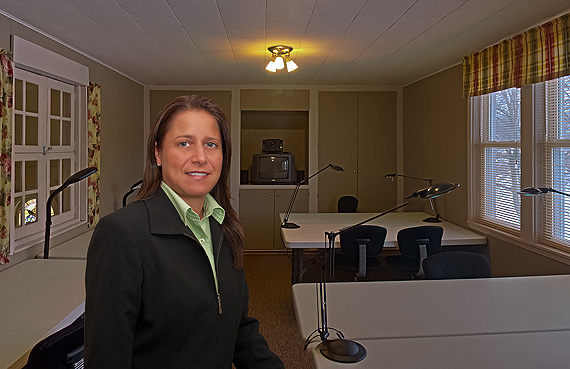 Photo: Art Sidner
St. Clair: Bell Tower Suites
Tammy Spence was raised on a Good Thunder farm that instilled a "strong work ethic," said Spence in a telephone interview. "There was no getting out of responsibility. I was the first of three kids, so I had the luxury of doing everything first. We had a large extended family with 40 grandchildren on one side. And we had strong family values."
She started work right after high school and has always been involved in some form of marketing. She worked for Condux International nine years and later joined Riverbend Business Products. Last fall, she and partner Cory Sjoblad purchased Bell Tower Suites, a former church building.
"There isn't much for meeting places in St. Clair," said Spence. "We have two suites: one has five single beds and the other has two kings and a single. We have extended-stay customers; others use it for holiday parties and special occasions; and businesses use it for getaway weekends and for out-of-town business guests wanting more of a 'home' feel than a hotel."
A national website listing Bell Tower Suites has attracted customers from all over the U.S., including Texas and New York. Of course, the former church building has been filling a need for meeting space in St. Clair too, where local families have a place to comfortably hold large family gatherings during holidays.
Said Spence, "We also do event planning. For example, I have a friend with a salon, and another is a massage therapist. We have catering and have kitchens in both suites. We can purchase groceries for people. We have Internet access and huge craft tables." Suite rates range from $99 a night Sunday through Thursday to $249 a night on weekends.
Bell Tower Suites
Address: 313 East Main Street
Telephone: 507-995-1697
Web: belltowersuites.com

Daniel Vance is a former Editor of Connect Business Magazine
All posts by Daniel Vance