East Henderson Farm
By
Daniel Vance
• May 2012 • Category:
Hot Startz!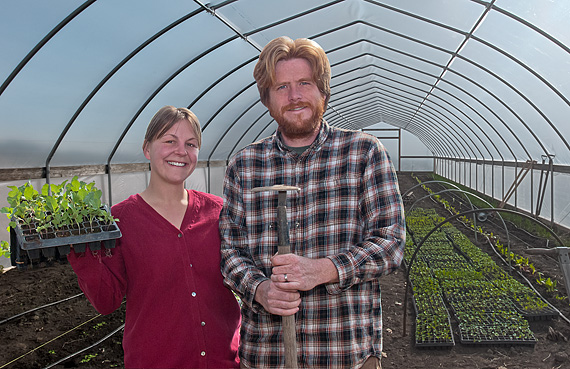 Photo: Art Sidner
Henderson: East Henderson Farm
"I grew up 800 feet from where we live now," said 33-year-old Josh Reinitz in a telephone interview from his 40-acre, certified organic farm. "I was born into an active family farm and my dad was a full-time dairy and crop farmer. He sold out in the mid-'80s when I was 6 and he never looked back. He took a job with Davisco Foods and is there to this day as a plant manager."
Fortunately for Reinitz, his dad kept 40 acres. After graduating from high school and finishing a degree in fisheries and wildlife management, Reinitz worked in a downtown Minneapolis cubicle doing environmental-related work. Over time, he lost his passion—not for the work itself, but the industry. Climbing the career ladder meant having to move to another state.
He said, "And I'm too much of a homebody. 'Place' is important to me and after being in the Cities eight years I decided the most important place was my home on the farm."
In 2002, he moved home, married, began working as a carpenter, and farmed the family's 40 acres. Not feeling fulfilled as a carpenter, he started having thoughts of ramping up the family farm into a viable business. He and his wife took beginning farmer training courses in 2008 and they started selling eggs, produce, and chickens for meat. In 2011, East Henderson Farm's land became 100 percent certified organic.
Today, individual members for $550 can purchase a share of the farm's produce during the growing season, which equates to about a bushel of produce weekly. About half the farm's 90 members live in the Cities. The other half receives weekly allotments from the farm or St. Peter Food Co-op. This year's memberships have already been sold, but customers yearning for organic produce can buy lesser quantities.
Reinitz said, "Getting into organic and sustainable farming has shown me that farming can and should be done in a way that suits and benefits the natural world. I am actually using my college degree." He added he especially enjoys the "community" aspect of his business, such as having events, building relationships, and getting local people involved."
East Henderson Farm
Address: 30083 290 Street
Telephone: 612-756-3971
Web: easthendersonfarm.com

Daniel Vance is a former Editor of Connect Business Magazine
All posts by Daniel Vance