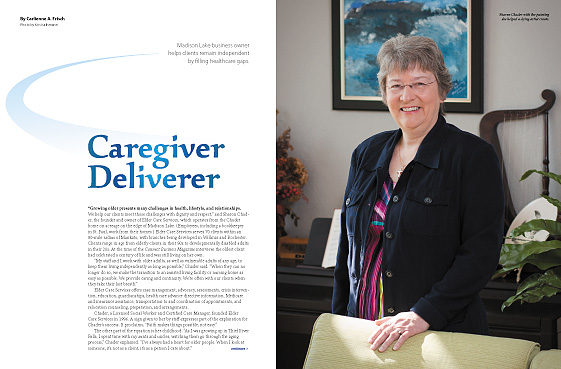 Photo: Kris Kathmann
Caregiver Deliverer
Madison Lake business owner helps clients remain independent by filling healthcare gaps.
"Growing older presents many challenges in health, lifestyle, and relationships. We help our clients meet those challenges with dignity and respect," said Sharon Chader, the founder and owner of Elder Care Services, which operates from the Chader home on acreage on the edge of Madison Lake. (Employees, including a bookkeeper in St. Paul, work from their homes.) Elder Care Services serves 70 clients within an 80-mile radius of Mankato, with branches being developed in Willmar and Rochester. Clients range in age from elderly clients in their 90s to developmentally disabled adults in their 20s. At the time of the Connect Business Magazine interview, the oldest client had celebrated a century of life and was still living on her own.
"My staff and I work with older adults, as well as vulnerable adults of any age, to keep them living independently as long as possible," Chader said. "When they can no longer do so, we make the transition to an assisted living facility or nursing home as easy as possible. We provide caring and continuity. We're often with our clients when they take their last breath."
Elder Care Services offers case management, advocacy, assessments, crisis intervention, education, guardianships, health care advance directive information, Medicare and counseling, preparation, and arrangements.
Chader, a Licensed Social Worker and Certified Care Manager, founded Elder Care Services in 1996. A sign given to her by staff expresses part of the explanation for Chader's success. It proclaims, "Faith makes things possible, not easy."
The other part of the equation is her childhood. "As I was growing up in Thief River Falls, I spent time with my aunts and uncles, watching them go through the aging process," Chader explained. "I've always had a heart for older people. When I look at someone, it's not as a client, it's as a person I care about."
—–
After graduating from high school, Chader enrolled briefly in a secretarial course before marrying Duane Chader, whom she met at church. They moved to Minot, N. Dak., with the U.S. Air Force, and later to England, where the first of their three children was born. When returning to the United States, they settled in the Mankato area. Chader worked for two years in a nursing home as a physical therapy aide before leaving her job to be home with her children.
At age 33, Chader enrolled at Minnesota State University to pursue a degree in social work and sociology, with a minor in gerontology. She graduated Summa Cum Laude in 1990. She later was honored as 2009 MSU Social Work Department alumna of the year.
After graduating, Chader became a hospice social worker, visiting terminally ill patients and their loved ones to provide emotional support. She did psychosocial assessments, made sure patients' care plans met Medicare standards, and located resources for patients and their families. While participating in interdisciplinary team meetings, she learned about the dying process, and, she said, "I learned from my patients about making each moment of life count." She also became a certified nursing assistant through classes at South Central College in North Mankato.
During six years as Social Services Coordinator at Old Main Village in Mankato, Chader saw a need for a local person on whom older adults could rely when no relative lived nearby. She explained, "In today's society, adult children often live far away, so there is no family to assist the older adult when a crisis or change occurs. There also are families in which the adult child cannot take time off from work to handle day-to-day needs and routine medical appointments for a parent. That's why I founded Elder Care Services in 1996. It was on a limited budget, and every time there was another unexpected expense, I'd ask Duane if I should give up on the idea. His response was always 'you can't give up now.' Most of our costs came gradually, and I did much of the work myself at first. My daughter Ruth and I designed the logo, which includes a cross. Friends who are accountants helped us set up Elder Care Services and bought shares in the company. They have since sold their shares back to us."
—–
Chader chose to make Elder Care Services an S corporation rather than a non-profit because she didn't want to have her vision of a ministry-oriented service possibly eroded by a board of directors. Elder Care Services holds a Minnesota Department of Health license in home management and is bonded and insured. Chader is a member of the National Association of Professional Geriatric Care Managers.
"The first person I hired was a bookkeeper because I knew I wanted to be with people and not doing the bookkeeping," Chader said. She found her first clients through friends and acquaintances. Further referrals came from clients and their family members, and other professionals.
Each client is assigned a case manager who is either a Registered Nurse or a Licensed Social Worker. The case manager will accompany the client to medical appointments as requested by the client, and can provide a variety of other services, which can include serving as a client's health care power of attorney.
"Each employee has a passion for working with older adults or with people with disabilities," Chader said. "Our goal is to promote independence and home care. We research all options and implement appropriate services in accordance with our client's needs and wishes. Our assistance offers peace of mind to our clients and their families by providing a friendly, caring professional who knows the client and provides caring continuity through many life changes. Even those people with family nearby often want a professional to provide advice and recommendations."
Although privacy regulations prevent employees from even disclosing whether someone is a client, within the company itself the case managers regularly share client information with one another. Thus, when a client phones the 24-7 call service, the case manager on duty is able to address any client's concerns.
When Chader began Elder Care Services, she had to put the family car into the company name and take out commercial insurance. Since it was the Chaders' only vehicle at the time, that meant reporting all the personal miles and reimbursing Elder Care Services at the standard IRS rate. The company now has eight commercially insured cars. A client might choose to use medical van transportation from AMV, a Mankato company, or to use a non-profit volunteer driving service. In either situation, an Elder Care Services case manager can accompany the client to the appointment.
—–
Chader's face glows with enthusiasm when she talks about her staff. "Our wonderful staff is what makes us," she said. "Everyone asks 'Where do you find them?' I truly believe God has sent each one of them to us. They come with a passion and a heart for ministry."
The staff offers not only passion and heart, but also a wealth of experience. There's Lois, the bookkeeper, financial administrator and assistant director, who has been with Chader more than 10 years. Betti, an LSW, came on board nine years ago after working in adult protection services for many years in two counties. Patty, a public health nurse for nearly three decades, came with an extra credential when she was hired six years ago. Chader explained, "Patty was my public health nurse when I was pregnant with our son 28 years ago, so I knew she was good." Three other case managers, MaryAnn, Renita and Audrey, also bring years of experience. Thirteen case manager assistants (Chader describes them as "good people that I have hand picked") help with respite care, handle laundry and housekeeping chores, prepare meals, run errands, provide companionship, and assist clients with correspondence. One case manager assistant accompanies a client to evening theatre performances. Chader said, "We've even been hired to accompany a set of grandparents to an out-of-town wedding and to take them home when they got tired."
Then there are the two case managers who moved out of the Mankato area for family reasons but did not want to submit their resignations. Sarah, an LSW, is developing the Rochester branch of Elder Care Services. Kristin, who holds a Master of Social Work degree, started the Willmar branch earlier this year.
The future of Elder Care Services didn't look as rosy seven years ago. The company had hit an economic slump and Chader began asking herself "Why am I doing this?" When approached by an individual who wanted to buy out Elder Care Services and hire her to manage it, she was seriously tempted to accept.
"Then I found out I would have to take the cross off of the logo and no longer write 'God bless you' on the invoices," she said. "It was a crossroads. I realized I needed to recommit Elder Care Services, and myself, to God. I realized my passion, commitment and calling was to keep Elder Care Services intact and with our original mission. But I so appreciated the man's offer, which he made because he sensed I was struggling. I have the utmost respect for him, and we're still friends."
—–
Chader has a host of memories and stories about clients. Some, such as the woman who has subscribed to Elder Care Services' emergency contact service for 16 years, are well and healthy. Because her children live out of state, the client has twice used the service to be accompanied to a medical appointment, and she subscribes to the 24-7 crisis hotline.
Other clients rely on Elder Care Services to help them through major life changes, such as one who had lived in her own apartment for 30 years and was considering a move to an assisted living facility. Chader recalled, "She thought she knew which facility she wanted to move to, so I arranged for a tour. As I drove her there, she said she didn't really want to move. I suggested taking a look so she at least could see what was available. I laughed and said she might like it and want to move in a week. To my surprise, she wanted to move immediately, but had to wait a month for an opening. She told me what she wanted to take from her apartment. On moving day, she spent an enjoyable, relaxing day with her sister. By 4 p.m., Elder Care Services had everything the client wanted moved to her new home and put away. I worked the whole day and was exhausted, but it was worth it. She loves her new home."
Chader has special memories of a client who had been with Elder Care Services for about seven years. Chader was able to use her own artistic abilities to help the client express herself during the last week of her life.
"The client had been an artist," Chader said. "A week before her death, she wanted to paint 'one more picture.' I went to a craft store and bought the supplies. She tried to hold the brush, but couldn't do so. She directed me what colors to use and what to paint, and we did a seascape in one afternoon. The painting was propped in her room that last week of her life. I had the privilege of holding her hand when she died. A nephew later asked me if I wanted the painting. We don't usually accept gifts, but this gift wasn't from the client herself." The seascape hangs in Chader's home.
Chader, herself, has been on the receiving end of Elder Care Services. "When I had a broken (now healed) back three years ago, I needed transportation to and from medical appointments," she said. "I paid the company the standard rate, and a case manager accompanied me to the appointment. I was on pain killers, so the case manager took notes for me."
With Elder Care Services well into its second decade, Chader feels secure about its future, but not for the usual business reasons.
"My philosophy is that Elder Care Services belongs to God," she said. "Those times in my business when I've wondered, 'Will it succeed?' I have come back to the realization that if it belongs to God, He is big enough to take care of it—and I am not. I just need to keep my trust in Him and acknowledge His ownership."
—–
Community Effort
Chader facilitates a faith-based caregiver support group for people providing care to a loved one with dementia and a support group for people experiencing memory loss. She serves on the MSU Chesley Center in Aging Board, the MSU Social and Behavioral Sciences Advisory Board, and Minnesota River Area Agency on Aging Board. She's involved with the Alzheimer's Association Memory Walk Committee and Mankato Area Senior Provider Network Group. She also volunteers at church in the Awana program for 3rd- through 6th-grade girls.
Just The Facts
Siblings: The younger of two in birth family; brother is 12 years older.
Favorite school subjects: "Spanish, because it came easily to me and I love the Spanish culture; music, because I enjoyed singing in the choir; and American history, because I had a good teacher."
Least favorite subject: "Art—I got a 'D' in school. I have to be able to think outside the box, and I just couldn't follow all of the rules my art teacher gave me. When I tried art on my own, I painted nature scenes on plates, a scene from England, and the Split Rock Lighthouse from a photo. Don't ever think you can't do something unless you've tried."
Charting Chader
Family: Husband Duane, two daughters, one son, and eight grandchildren, ages 2-17.
Hobbies: "Gardening—In the summer I take 12-15 ice cream pails of flowers to health care facilities or organizations. I discuss 'Life Lessons from the Garden' while showing how to make flower arrangements. Then residents make their own. My garden produces close to 300 bouquets each summer. I enjoy giving flowers to people who need an extra boost."
Accomplishment of which most proud: "The difference we've made in people's lives by helping them through Elder Care Services."
Most valued possession: "Our possessions are so temporary; we have to hold onto them lightly. People are more important than possessions."
Most valued intangible: "My faith, my family, and my friends."
Three terms describing you: "I hope others say I am compassionate, trustworthy, and a true Christian."
Your role model: "My grandmother, Myrtle Sackett, born in 1900, who put herself through business college, bought and operated a restaurant as a single parent, sold the restaurant, and then bought a grocery store she operated until she was 75 years old. Grandma is my hero, my mentor, and my role model. My middle name is Myrtle."
THE ESSENTIALS
Elder Care Services
Founded: 1996
Web: eldercareservicesmn.com
Phone: 507-243-3603