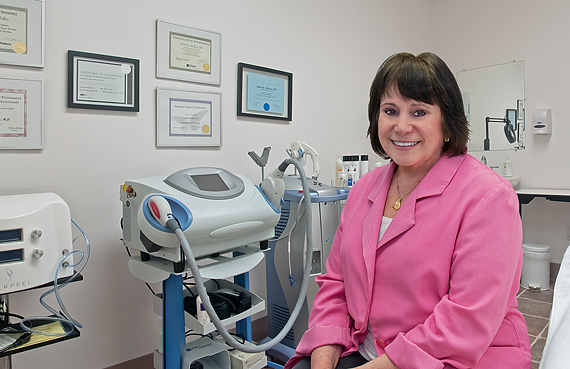 Photo: Art Sidner
Le Sueur: Riverside Aesthetics
Dr. Robin Ballina opened Riverside Aesthetics at 500 N. Main last July as a side business as she transitions into semi-retirement while also working as a part-time psychiatrist. With it, she helps people with permanent hair reduction, spider veins, rosacea, dilated capillaries, age spots, melasma, hyper pigmentation, sun damage, skin tightening, collagen rebuilding, and chemical peels.
"I'm kind of high energy," said Ballina in a telephone interview. She grew up in New Orleans and graduated from nursing school before entering LSU Medical Center, from which she graduated in 1983. She worked her way through medical school as a psychiatric nurse. She had her residency at University of Connecticut Health Center before moving to Utah in 1988, where she worked in private practice and hospitals. In 1995, she yearned for law school, and eventually graduated from Vermont Law School, where she studied environmental law.
After law school, she said, "It became painfully clear I couldn't afford the salary hit to become an associate in a law firm. I had a $125,000 law school loan." She put her education to good use by entering forensic psychiatry and receiving a fellowship at Tulane University. She returned to Utah as a psychiatrist in 2000, and while there learned about aesthetic technology, which she enjoyed. On the side, she took a 1,200-hour paramedical master aesthetician program and earned her Master Aesthetician License in Utah. In 2006, she took on a forensic psychiatry position at St. Peter Regional Treatment Center. It's a profession she now works at part-time while operating Riverside Aesthetics.
She said: "I like working for myself and taking as much time as I need with clients."
Riverside Aesthetics
Address: 500 N. Main #104
Telephone: 507-665-2025