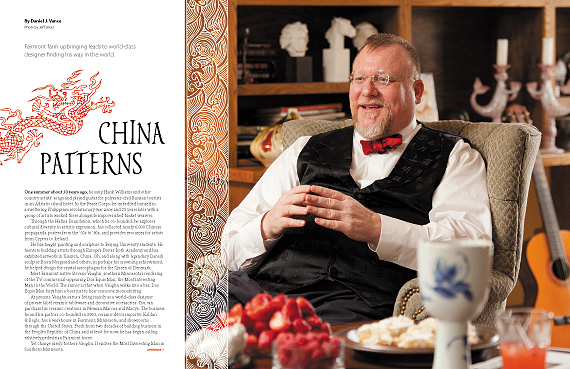 Photo: Jeff Silker
China Patterns
Fairmont farm upbringing leads to world-class designer finding his way in the world.
One summer about 30 years ago, he sang Hank Williams and other country artists' songs and played guitar for polyester-clad Russian tourists in an Adriatic island hotel. In the Peace Corps, he imbedded himself in a sweltering Philippines revolutionary war zone and 25 years later with a group of artists worked there alongside impoverished basket weavers.
Through the Hafnia Foundation, which he co-founded, he explores cultural diversity in artistic expression, has collected nearly 6,000 Chinese propaganda posters from the '50s to '80s, and provides resources for artists from Cyprus to Iceland.
He has taught painting and sculpture to Beijing University students. He mentors budding artists through Europe's Dieter Roth Academy and has exhibited artwork in Xiamen, China. Oh, and along with legendary Danish sculptor Bjorn Norgaard and others, in perhaps his crowning achievement, he helped design the crystal sarcophagus for the Queen of Denmark.
Meet Fairmont native Stevens Vaughn, southern Minnesota's rendering of the TV commercial-appearing Dos Equis Man, the Most Interesting Man in the World. The rumor is that when Vaughn walks into a bar, Dos Equis Man buys him a beer just to hear someone more exciting.
At present, Vaughn earns a living mainly as a world-class designer of private label ceramic tableware and decorative accessories. You can purchase his ceramic creations in Neiman Marcus and Macy's. The business he and his partner co-founded in 2003, ceramic décor importer Kaldun & Bogle, has a warehouse in Fairmont, Minnesota, and showrooms through the United States. Fresh from two decades of building business in the People's Republic of China and at least for now, he has begun calling relatively pedestrian Fairmont home.
Yet change rarely bothers Vaughn. It excites the Most Interesting Man in Southern Minnesota.
—–
To you, what is at the core of doing business?
How you make people feel is the essence of business. It is so simple. Maya Angelou said people forget what you say and do, but they will never forget how you made them feel. And if you make your customer feel good, they will come back. And if you don't, they likely won't.
While in China, I studied the Greek foundations of our (Western) civilization. From it, I learned three things: there is dialog, debate, and tragedy. Dialog requires trust, which is what we have here (in this interview). Debate requires respect. And tragedy requires nothing. (Laughter.) Last year, I flew around the United States interviewing people in many industries to get the general vibe of business and where it's headed. I realized Americans have lost the ability to dialog. "Lean" is the new mean. People don't talk to each other with trust anymore.
Could you define dialog and debate, especially?
When I first got into this business, I went into Sears, for example, and said to their buyers, "This is what you should be doing." Instead, I should have been saying, "What do you think?" or "Tell me about your business." Because I was so young when I started in this industry in the '80s, people—Stanley Marcus of Neiman Marcus, for example—would sit down with me as a mentor and just talk with me. There was a great deal of trust in that dialog.
Trust in terms of?
We could say anything. Nothing was on the record. We talked about personal things. We created this dialog and as a consequence came up with great merchandising programs. If you just provide a forum for people (customers or buyers) to talk, they can come up with their own solutions. You don't have to be master of the universe. I discovered being playful is good for business and I remain playful. For instance, our company has grand, baronial dinners for clients. I for fun also have sent pictures of stewed rat (to customers).
I take it stewed rat is something good in China?
(Laughter.) I wouldn't say it's good, but it's novel. (Laughter.) It's worth eating once. From developing a personal and playful relationship with very powerful people, I began to realize in every corporation a structure exists. You go into a boardroom—and I entered the boardroom very early in life—all these MBAs and key people with a business strategy are debating their ideas using their ways and their points. There has to be a certain amount of (mutual) respect for that process to work.
But after the boardroom debate ends, [the way I do it is invite] a select group of people into a dialog, which I call the "sandbox." That's when people after the debate get together for dinner, maybe have tequila, whatever, and start talking about the real issues of the business. There is no longer debate. It's in a trusting environment, where people can talk. I refer to that as a sandbox. I have made proposals at Georgia Tech, and I hope Valparaiso, to begin building actual sandboxes.
Literal sandboxes?
Literal sandboxes, to teach people how to dialog. Dialog requires construction and deconstruction in an environment. But the idea is that from dialog comes constructive innovation. Companies that play are the winners today, such as Google. To attract the top talent, you have to provide a playful environment.
When you get in that sandbox with the billionaire, for instance, they don't want to talk about money. They want to talk about milking a cow, about art—anything but money. People make that mistake more than anything. They presume the people who can help them most are interested in discussing only finances. Make yourself interesting. Be playful. And you will attract the people who can help you.
Google and Apple have created an environment where ideas prevail over strategy. The king of those companies is the idea. They come up with innovative ideas in dialog and debate the merits of the ideas. Many companies today have been so shell-shocked by the economic crisis they don't have the trust level or confidence to talk about their ideas. If going to meetings in many of these companies, you will hear people say, "Oh, we tried that and it didn't work."
Meaning they equate an idea with a financial expense?
A financial or emotional expense. When people have become hurt (or burned) after trying a particular idea, they often lose trust to embrace new ones. They would much rather look at things from a rational standpoint. But prior to the debate of rationalization comes the idea. You have to go first into an environment of safety to come up with and develop ideas.
For example: the idea we had for the sarcophagus of the Queen of Denmark. A sarcophagus is similar to a tombstone and the Queen's ashes will one day be interred in it. You prepare a sarcophagus long before the royal dies. I was doing an exhibition with the great sculptor from Denmark, Bjorn Norgaard. At the time, I also was making perfume bottles for a large retailer. He had this idea of making this crystal sarcophagus for the Queen and asked if I would work with him. Of course, I said, we could do anything. Out of that idea was born the crystal sarcophagus, which we (as advisors along with Norgaard) spent eight years figuring out how to make. All the companies he tried to get to make the sarcophagus had reasons why they couldn't do it. But after embracing the idea it could be made, we started studying how people made telescopes out of glass. We discovered in the Czech Republic people making giant lighthouse prisms. The idea went from Europe, to China, to Corning, and back to Europe. If we'd had a strategy rather than an idea, the project never would have happened. An idea doesn't require capital. If an idea is good, the capital will be a consequence of the idea. As for the sarcophagus, we never thought we could not make it.
I think of developing business ideas as a Levolor blind. Most people out there are trying to peek through the blinds and aren't looking for the string. There is a string to everything. If you look for the string, and pull it, everything opens up like a picture.
Tell me about your upbringing?
I grew up on a Fairmont farm. I used to milk a cow before school—out of choice because the cow had lost her calf. I also wanted the experience of watching all the cats line up around the cow and shooting them with milk. There was a certain delight that came from doing the oddball thing.
I didn't like going to school. I couldn't comprehend some classes. The way my mind works there are certain things I just don't get. When I do get them and the light goes on, I really get them. But when I don't get them, I just don't have any comprehension. I have a type of autism and don't have any ability for rote learning. For example, I don't have an ability to learn spelling. My learning is very experiential, and things must be integrated and connected to each other for them to make sense.
In school, I didn't comprehend geometry. I still don't know what geometry is. In the '70s, I was being beaten and slapped around by my teachers because I was so frustrating for them. During that whole time in my life I was so unhappy and just kind of left it by going to college.
The teachers, I'm assuming, thought you were resisting?
They probably thought I was arrogant. I have no criticism of them because they were a product of their environment. You can spend a lot of time being angry about your childhood, but at a certain point, it is what it is. What I drew most from my childhood were the friends of my parents—they were an extraordinary group and so worldly.
Worldly in what sense?
In the sense they read a great deal and were socially aware. Their influence combined with National Geographic was great. (Laughter.) This is what was extraordinary about growing up in southern Minnesota.We didn't really have any barriers to feeling the world was anything but ours. In small towns you don't see the walls other people see—at least I didn't see them. I was raised to do whatever I wanted in life, along with all our friends' kids.
I had an idea I could have an extraordinary life. But I didn't plan it. I also grew up in a culture of abundance. You talk about major influences in your life—my grandmother was one for me. Whatever food she had, she would lay out this gigantic spread. She showed wonderful hospitality. They were poor, but yet whatever they had was yours.
What did you do after high school?
I went to South Dakota State, where my brother went, and I flunked out. They then sent me to Worthington Community College. After flunking out there at 19, I began calling the Peace Corps every week. I wanted to join the Peace Corps so bad, and ended up being the youngest person in it.
What was so compelling about the Peace Corps?
Oh, adventure, and the idea of going into the world and living in a Philippines jungle. What a fabulous adventure. I played guitar, and had studied opera singing, and ended up singing at the Marcos parties in Manila and Embassy parties. It's very important to me to feel things. I feel the market and feel life. I wanted to be in the war in the Philippines, so I went to the war zone where there was shooting and bombing. In 1979 in Manila, the Philippines was rich. Sugar prices were high. They were releasing a thousand doves at weddings. I worked with them about creating an art movement. It was perfect for me at that point: a wonderful culture and people.
What came next?
When I came back from the Peace Corps in 1982, we started a retail store in downtown Fairmont called Das Lebenheim. After coming home from the Peace Corps, I was basically unemployable. We started a store with a cheese counter down the center and fine china down the edges, and for any person buying a hundred dollars worth of cheese I visited their home to give a lecture on cheese. It was so fun.
I started going to Minnesota State and was flunking out again. I figured something was really wrong with me, so I had doctors test me and they discovered I had a visual-spatial gift. I was able to sort and integrate things visually and spatially. All of a sudden, I went from having flunked out of college three times to being a genius. They said there was a place in any school in the world for people with this gift. So I drove to Macalester College to test what they said. I went to the admissions department and said I wanted in. They said I had to fill out an application. I said I wasn't good at applications. They asked why I wanted in. I said it was because their buildings had red brick, white trim, and looked nice. They let me in.
My brain does not have markers for years. So I began studying primordial spirituality, and seeking answers on such things as: What was it like for people to first discover fire? What was the transformational aspect in our collective consciousness of discovering fire?
Sounds a bit Jungian.
It is somewhat. Somehow there was this transformation and all mankind discovered fire quickly. And then there came a second transformation with agriculture. I got very involved in learning how the collective consciousness of humanity evolved to take something always around them and transcend that by making it part of their lives. I was also interested in what the third transcendence would be. If it happened twice, it would happen again.
That summer, I had a job as a country western singer in Yugoslavia. I loved Hank Williams, played guitar and sang, and lived on an island in the Adriatic Sea in a Russian hotel. That fall, I returned to Macalester. A friend of ours had a company selling silk flowers and plastic Japanese trays. I drove a van for him, and about my fifth day on the job, they left me to pack up samples and drive to the next place. About five buyers came in at once. I said I wasn't a salesman. They wanted to know the price for 35,000 (units). I couldn't reach my company, so I called the factory and then Japan. They bought the product and said I had to be in New York the next day to present them. This was my first week on the job.
I later sold a half million dollars worth of product to them. I didn't know then the average order was $150. Because of (my learning disability) I don't have a sense of scale. To me, $100 is the same as $100 billion.
From doing this job, I discovered I had a great gift of being able to go into very large retailers and just talk to them. I was only 24, and Stanley Marcus was just wonderful. I went into Gumps, JC Penney, Bloomingdale's. My job was to go around and talk to these people, and ask what we as a company could make for them. At this level of business, you have to be very playful. They have to want to enter the sandbox with you, where they can talk to you about their needs, frustrations, and what they aren't getting. At that point, it's up to you to say you can make or find that product for them.
About 1985, I met a Taiwanese gentleman at a show and we formed a glass company. I went to Taiwan and began designing glass product lines. I knew what U.S. buyers wanted. I remember designing dog and cat dishes from these factories in France. Nieman bought them. I would fly around the world and make things for people. It was so easy. It didn't take capital. I just took basic, fundamentally sound ideas that I could defend in terms of being able to make money.
Was it then you worked for Fitz and Floyd?
It was a giant ceramics company and I became vice president of a division at age 29. Its products were of Japanese-American design and made in Japan. They wanted someone to go to Japan to learn how to make the product because no one in the new management team knew how. I was told to use the really old, old Japanese sculptors. Our whole thing when I was there was drinking, sculpting, and listening. They taught me the most fundamental aspect of sculpture—that without great flaws, beauty didn't exist. Most sculptors make the mistake of trying to make their work perfect. I spent nine years studying with them.
In the boardroom, I would walk in and say (because of my learning disability) I couldn't read the reports. Of course, I had done incredible due diligence beforehand. I knew everything going on in my division. I would ask: "Could you just tell me which division is making money and which isn't?" I would tell the people that hadn't made money to keep quiet and let the people who had to talk first. I was so evil. They would say there was more to business than making money, and I would say they were wrong. In business, I am focused on making money. It's a game, and if you don't make money, no matter how you play the game, you haven't scored. You aren't there for yourself. You are there to help investors and help the company. As a company director, you have a personal responsibility to every person in the company. It is so non-personal, ego-driven. Again, your happiness is a consequence of how well you do your job to make those people happy. You have a fiduciary responsibility.
This is one problem I have with American businesses. I feel many great ones have lost their fiduciary responsibility to the people they serve. It's so essential everyone along the entire supply chain survive, including customers and suppliers. If you keep that in mind, you will make money. If not, you will not be in business long. I am mindful of this, especially as a designer. I design for a high-end English company, Spode. I was with them just last week. As a designer, I do not design for my taste. It's not a personal expression. I design for the market.
With Fitz and Floyd, I started in Japan, and from there took the company to Korea, Indonesia, and Sri Lanka. I lived in Sri Lanka for years and commuted to Japan, Korea, and China. When (our) manufacturing stopped in Japan, it splintered into all these other countries, and eventually they all came home to China.
How many languages can you speak?
I would say, Johnny Walker, and…(Laughter.). I so do not believe in learning the language of people I'm with because it gets in the way of seeing what's going on. If you're trying to speak Chinese to Chinese people, for example, you're missing all the nuances of what's happening. Words are a small part of language. I have a very good interpreter.
In 1995, you started Kaldun & Bogle (K&B).
I wanted to do something in the States and, mostly importantly, in Fairmont, and create a premium product line utilizing what we had been doing for others. Kaldun is my grandmother's maiden name. Bogle is my partner's mother's maiden name. Kaldun & Bogle is reflective of what I thought the market needed, which was a reasonably priced ceramics décor line to serve small, independent retailer accounts and to offer what they couldn't get from other sources.
Most importantly, Kaldun & Bogle gives us our own sandbox in which to test new ideas and products with independent retailers before selecting product for large retailers like Macy's, Gumps or Bloomingdales. Successful small retailers are by definition people who are playful, fun, and engaged with their customers. They speak our language of caring about their customers and products.
What have been highlights of your dialog process?
When I flew around the U.S. last year to get a grip on the market, I asked retailers about their ideas for the future. They said, "To survive." That's very much the feeling of most independent retailers. The market used to be more about buyers buying products with a theme. Now they have such little confidence in themselves, they are buying programs.
Tell more about your company.
The product is made in China. The factories I work with receive a lot of low-end orders from other companies and use our product as a means to train their workers in ways to increase their quality. I actually go into the factories and teach workers how to paint. I also lecture about the relationship between design, playfulness, and creating one's own life as part of the product development process at Beijing University and smaller technical schools. It's a lot of fun.
What are the benefits and drawbacks to farming out production rather than having your own?
We've had our own factory. There is a different kind of mentality to owning a factory and being a designer. As a designer, you're a cheerleader and constantly teaching them to improve. You don't have to get bogged down in looking at everything from the standpoint of whether it's possible or practical. As a designer, you are encouraging them to take the next step and use a particular technique.
I can help them because I have studied every aspect of it. I will go into a factory and look at what they're making and try to figure out what new things we can make, and how to take existing product and upgrade it rather than impose a design. If they are making this widget, for instance, I will say we can make that in a different way and have high value. Designers often impose designs on factories. I prefer to come alongside the factory and create a product with them.
When did you move to China?
In 1992—and the ten years following it I call China's Golden Years. For those ten years, labor was very cheap and the Chinese wanted to learn everything we could teach. I loved those years. For me, and as China matures, I now find I am needed more in teaching in the universities and mentoring people on a different scale. I used to mentor factories. Now I think of myself as mentoring the sons and daughters of factory owners.
As an American in China, what were some challenges you had in adjusting?
Probably none. (Laughter.) I'd like to say there were some great cultural differences, but where I'm at is where I'm at home. I made wonderful friends there. Home for me is where my friends are. So it doesn't matter if I'm in Fairmont or China, I'm at home. My friends in China are extraordinary people. We formed an art group there with artists from all over the world and this group now does exhibitions worldwide. I'm a professor at Dieter Roth Academy in Europe. With this group of artists, I spent November on a Philippines island preparing an exhibition with impoverished basket weavers. Our group tackles issues from a social viewpoint.
I have friends everywhere. I got this from growing up in southern Minnesota. My mother and her friends are still friends after 55 years and their children are still friends. This gave me the foundation for being able to go around the world and to China.
What are some challenges you see China facing?
The greatest challenge China has is to keep learning. That's what built China: people voraciously learning new things. It's hard for people to keep learning as they age. They need to remain curious. That's the word: curious.
Would you add the word "playful"?
My new lecture at Dieter Roth Academy is about being playful in business and probably what I will lecture on more in China. What I can teach China now is to go the next dimension in business and remain playful as it was 15 years ago. They need to keep that playfulness going. Often when making a lot of money people think they no longer need to be playful. They begin taking themselves too seriously.
Do you have other businesses?
I have. I would like to buy a ranch in South America. I'm at the age where I will return to the farm. People ask me what's after China. I say, "The beach." But the truth is it's time to return to the farm. Showing up is half the game in China and the other half is knowing when to return home. I'm at the point of coming home and where home will be is in the process of being defined. I helped create a restaurant in China, and am half-owner of a company called Hafnia, which creates fine art. I primarily make money designing and selling to retailers.
Where can a person find your designs and art?
I'm a designer of private label in Macy's. The product isn't under my company name, but under Spode of England. I'm widely distributed, but under different brand names. What has worked for me in business is I have been the keeper of the idea. I love formulating ideas. If I deviate too much from that role, we don't make money.
Where do you see your life heading?
More into helping big and small businesses understand exactly what we have been talking about today. I also see myself mentoring businesses in the integration of art and business. For example, the industrial revolution divided our work and personal lives. I want to help companies and people get back to being whole again, so they would grow like rings on a tree rather than as pieces of a pie. This is my gift. I am still the farmer from southern Minnesota. I'm still very whole. Personally, I will be here in Fairmont at least a year because of family.
What's the best thing that ever happened to you?
Growing up in Fairmont in an environment of good friendships—without a doubt, because through friendships you learn to trust.
—–
Hafnia Academy
"Hafnia" is the Roman word for Copenhagen, Denmark. The Hafnia Foundation, which Stevens Vaughn co-founded in 2000, collects and preserves art from around the world for the purpose of exploring cultural diversity. The collection consists of sculptures, paintings, and about 6,000 Chinese propaganda posters from the '50s to '80s. The Foundation has sponsored Chinese and European artists, projects, and exhibitions in China, Europe, and Fairmont.
Dieter Roth Academy
Stevens Vaughn has been active with Dieter Roth Academy. Roth (d. 1998) was known for his unorthodox art using food as a medium and for his books on art. According to its website, the Academy exists in part to act "as a forum for Dieter's ideas, whether directly as a teaching academy or as an academy for friends, scholars, and interested parties to discuss and develop ideas that Dieter Roth has left us in his writings, work, and above all in his living example in daily life."
Getting to know you: Stevens Vaughn
Born: June 5, 1958.
Education: Fairmont High School, 1976; Attended South Dakota State, Worthington Community College, Minnesota State University, and Macalester College.
Lecturer: various Chinese educational institutions, including Beijing University.
Member: Dieter Roth Academy.
THE ESSENTIALS
Kaldun & Bogle
Address:
507 Downtown Plaza
Fairmont, MN 56031
Phone: 877-472-9990
Web: kaldunandbogle.com