Sommer Outdoors
By
Daniel Vance
• Sep 2012 • Category:
Hot Startz!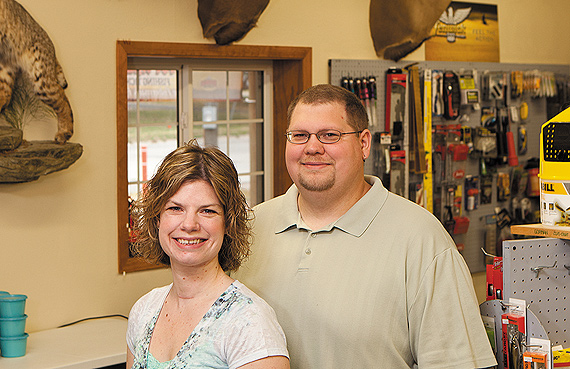 Photo: Jeff Silker
Fairmont: Sommer Outdoors
Justin and Mary Sommer began Sommer Outdoors in Fairmont this March. Their business likely wouldn't exist today without Justin's love for art, a job offer for Mary, and their desire to return home.
"We were both born in Fairmont," said 31-year-old Justin Sommer in a Connect Business Magazine interview. "But I moved to St. Peter in fourth grade." At St. Peter High, Justin used to draw and doodle and "was very artistic, perhaps too much in class," he said. He started his work career washing dishes, and at St. Peter Hardee's over the next couple years became a supervisor. In time, he was named assistant deli/kitchen manager of Mankato Hilltop Hy-Vee.
In 2000, Justin and Mary married, and two years later she graduated from college and accepted an occupational therapist job in Fairmont. Now Justin had to decide what he wanted for a career. Since taxidermy combined his love for art and the outdoors, he attended taxidermy school and would begin Wild Wings Studio part-time at home.
In 2009, he took a job managing Hall Lake Cabins Bait and Tackle. In March 2012 and with the help of Fairmont EDA, he purchased and renamed the business Sommer Outdoors and combined it with Wild Wings Studio. "The new business has taxidermy, and we sell a lot of fishing goods such as poles, lures, nets, bobbers, and live bait," he said. "We sell ice and firewood. Most of my taxidermy work is done at home at night, (and the seasonality) will offset the slower fall and winter fishing season."
Sommer has earned fish and bird "master" status with the Minnesota Taxidermy Guild and Iowa Taxidermy Association. He said, "I like working with people and doing what I love to do. It doesn't feel like work when you do what you like."
Sommer Outdoors
Location: 1547 Albion Avenue
Phone: 507-235-5225
Hours: Open 7-7 every day

Daniel Vance is a former Editor of Connect Business Magazine
All posts by Daniel Vance