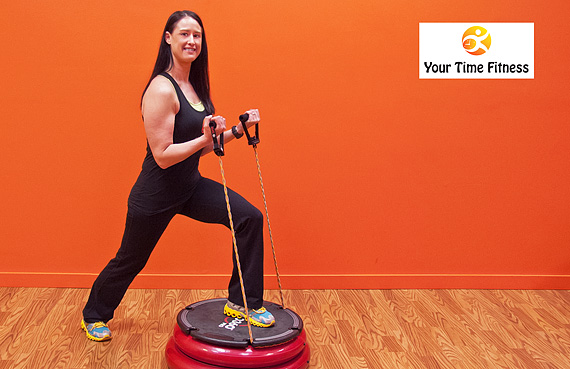 Photo: Art Sidner
Le Sueur: Your Time Fitness
While growing up in Frost and attending Blue Earth Area schools, Kris Krause had far more energy than most children. Her mother tried channeling her endless enthusiasm—first into dance classes and then gymnastics.
"I was the kid cartwheeling around the backyard and the one upside down rather than standing on my feet," said 34-year-old Krause in a telephone interview. She learned gymnastics at Perpetual Motion Gym in Fairmont and in high school joined the Blue Earth Area High gymnastics team. She participated in all-around, which included floor, bars, beams, and vault. When she was in tenth grade, her high school team made the state tournament.
After graduating from Blue Earth Area in 1997, she attended Rasmussen College and later became a Twin Cities travel agent. She said, "I had gone down the unhealthy path of too much food and beer in college. I had gone from doing gymnastics two hours a day to sitting in school all day. I gained about 50 pounds in five or six years. In my job, I wasn't physically active."
About ten years ago, she began asking herself: How did I get to this point? How did I let myself go? "So I started eating healthier, walking, taking care of myself, and I signed up for my first 5K," she said. "That's when things started changing. I was smitten by the fitness bug and enjoyed motivating the people around me. I decided I wanted to teach classes."
Over a three-year period, she built up a part-time business teaching classes and training clients. This January, she opened Your Time Fitness. She offers one-on-one personal training for $45 an hour and small group training (maximum 10) for $40 monthly per person. With the latter, clients receive the services of a personal trainer and enjoy a discount. Her sessions involve coaching, motivating, and teaching. Appointment only.
She said, "What I like best is helping people with their fitness journey."
Your Time Fitness
Address: 214 Valley Green Square, Le Sueur, MN
Telephone: 507-412-9669
Web: yourtimefitnessmn.com