Calendar Specialists of Minn. and Sportsman's Specialties
By
Daniel Vance
• Jul 2013 • Category:
Feature Story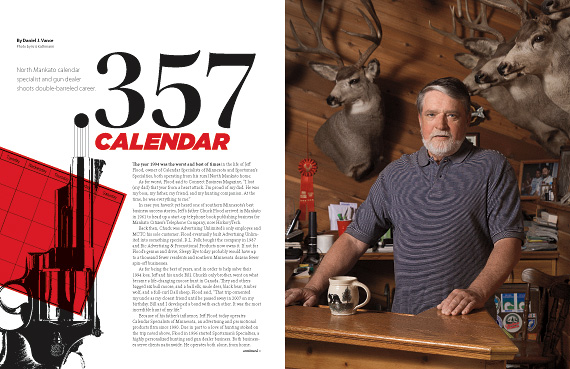 Photo: Kris Kathmann
.357 Calendar
North Mankato calendar specialist and gun dealer shoots double-barreled career.
The year 1994 was the worst and best of times in the life of Jeff Flood, owner of C, both operating from his rural North Mankato home.
As for worst, Flood said to Connect Business Magazine, "I lost (my dad) that year from a heart attack. I'm proud of my dad. He was my boss, my father, my friend, and my hunting companion. At the time, he was everything to me."
In case you haven't yet heard one of southern Minnesota's best business success stories, Jeff's father Chuck Flood arrived in Mankato in 1961 to head up a start-up telephone book publishing business for Mankato Citizen's Telephone Company, now HickoryTech.
Back then, Chuck was Advertising Unlimited's only employee and MCTC his sole customer. Flood eventually built Advertising Unlimited into something special. R.L. Polk bought the company in 1987 and Bic Advertising & Promotional Products now owns it. If not for Flood's genius and drive, Sleepy Eye today probably would have up to a thousand fewer residents and southern Minnesota dozens fewer spin-off businesses.
As for being the best of years, and in order to help salve their 1994 loss, Jeff and his uncle Bill, Chuck's only brother, went on what became a life-changing moose hunt in Canada. They and others bagged six bull moose, and a bull elk, mule deer, black bear, timber wolf, and a full-curl Dall sheep. Flood said, "That trip cemented my uncle as my closest friend until he passed away in 2007 on my birthday. Bill and I developed a bond with each other. It was the most incredible hunt of my life."
Because of his father's influence, Jeff Flood today operates Calendar Specialists of Minnesota, an advertising and promotional products firm since 1990. Due in part to a love of hunting stoked on the trip noted above, Flood in 1996 started Sportsman's Specialties, a highly personalized hunting and gun dealer business. Both businesses serve clients nationwide. He operates both alone, from home.
—-
"We moved here in 1961 due to my father's business," said 60-year-old Flood from his living room adorned with deer, moose and bear trophies arranged around a 16-foot wide stone fireplace. "My father had an office on Second Street in the Masonic Temple building next to Mankato Citizen's Telephone. That office was the foundation for Advertising Unlimited."
Chuck Flood was an entrepreneur par excellence, who "hung out" at the Elks Club downtown and did much of his business there through a social network. By 1967, the company had 13 employees and was publishing telephone books for 60 customers. Flood's appetite for growth had resulted in the purchase of several printing companies, including two from Sleepy Eye, Hass Press and Wallace Stationers, calendar and funeral home printers, respectively.
In 1970, MCTC sold AUI's phone book publishing arm to focus on calendar printing. The trimmed down company grew rapidly and in 1973 closely held AUI went public to facilitate even more growth.
While Jeff's dad was off working, mother Jean covered his back at home. The Floods had seven children in seven years, five girls and two boys, and mom wove everyone together tightly. While dad and mom worked—and they worked very hard—Jeff caught the bug, too. All before age 18, he worked at Mankato Envelope Company and Southview Hills Country Club. He was a cook at several restaurants and worked at Advertising Unlimited part-time. But his favorite job was driving a tow truck from ages 16-19 for Art Kost and later, Brad and Holly Reeves of Kost Service (now All-American Towing), where Flood learned valuable "people" experiencing having to handle angry car owners who had their vehicles towed during snow emergencies, for example.
—–
After graduating from Mankato West in 1970, Jeff began a two-year Advertising Unlimited training stint in which he attended Minnesota State to learn sales and marketing, and spent three months in each company production department to learn printing inside and out. "They did that so I could talk intelligently, put a calendar together in my mind and on paper, and quote it correctly," said Flood. "I spent time on the road with the vice president of national sales and marketing with the intent of someday having the accounts as mine. What I did the next 15 or so years following was call on corporate accounts throughout the nation to put together custom calendar or calendar co-op programs."
His father retired from AUI in 1984 to Scottsdale, Arizona. Three years later, a bidding war between three companies drove Advertising Unlimited stock from $7 a share to $59, when R.L. Polk became the sole owner and Jeff Flood's boss. By 1990, when Flood left his job as vice president of national sales and marketing, the company had grown from being one employee in 1961 and no income to nearly 700 employees with $65 million in revenue. Today, owned by Bic Advertising & Promotional Products (BIC APP), the company is the nation's largest calendar manufacturer.
—–
Before leaving the business his father founded, Flood honed a business plan to start his own company. He said, "I was trying to figure out what would happen if I left. It was scary. I wouldn't be getting a salary, didn't have insurance, my retirement was up to me, and I would have to be everything from janitor to CEO. I had to buy office equipment, a computer, fax machine, and get an 800 number. I decided then not to have employees. I wanted to work by myself."
In a way, Flood never really left the company his father founded. He started off as a distributor for his old company and was allowed to take with him many of his old accounts. In return, he sent 100 percent of his calendar orders to his former employer. Flood called his company Calendar Specialists of Minnesota. Although he began selling only calendars for promotional or advertising purposes, customers started requesting other promotional/advertising items, and so he expanded into selling customized coffee mugs, pens, jackets, caps, golf products, and a "million other" items.
He said, "My calendar advertising business now is nationwide. Through calendar co-op programs, for example, I call on many large corporations that have dealers or distributors. I distribute brochures to these dealers to join in on the corporate calendar program. Many times corporate co-op money is available for the dealers or distributors in order to lower their cost. I have one program where calendars are 100 percent reimbursable from the corporation, and 50 percent reimbursable for the advertising specialties that I also sell, such as golf items, jackets, pens, and caps. I have probably shipped to every state in the union over the years."
He drop ships to his customers in cartons on orders typically ranging in size from 300 to 2,000 items. Due to confidentiality concerns, he wouldn't reveal his client base except for one account, Ducks Unlimited, which has been his since 1991. He supplies calendars under the Ducks Unlimited logo and license name throughout the U.S. and Canada, and over the last 20 years their agreement has resulted in Ducks Unlimited earning more than $250,000 in royalty payments.
—–
And then came fateful 1994. Flood's father passed away that year. To heal the hurt, Flood and his uncle, Bill, went on a hunting trip in Alberta in which Bill replaced father Chuck as Jeff's best friend. Above Jeff's fireplace today, under a moose rack, a visitor can read a plaque dedicating the memorable hunt to his father.
But it wasn't the first time. He and his father had hunted and fished a great deal together. Jeff grew up learning to shoot guns, bow and arrow, and hunt and fish with his father. Their hunting included many trips to South Dakota to hunt with Uncle Bill for pheasant and deer. Jeff went on from there hunting across Canada for moose, caribou, black bear, ducks and geese, and many U.S. states for elk, mule deer, whitetail deer and antelope. Jeff finds the challenge of archery hunting big game one of the most rewarding.
In 1996, Flood saw a business opportunity that had the potential to complement and enhance his promotional and advertising specialties business. He said, "I had been around hunting my whole life, had shot handguns, muzzle loaders, rifle, and pistol. I wanted to create a company through which I could share my knowledge with customers. If you walk into Gander Mountain, Scheels or Cabela's, you can purchase an item. But if you want to sit down and say, 'Look, Jeff, I've never been elk hunting before. What do I need to hunt elk? How do I call elk? Where should I apply to go elk hunting?' I can help you with that advice. I help customers buy the correct gear, the right caliber rifle and scope, and maybe will even go to the range and site in the gun so it's ready for their hunt."
As a gun dealer through Sportsman's Specialties, Flood's sales have been booming. He said President Obama's gun control proposals have "put the whole U.S. on alert." As a result, he said, handguns, AR platform rifles, and ammunition are being purchased faster than firearms companies can manufacture.
He said, "I'm only finding maybe 10 percent (from my suppliers) of what my customers are asking for. Manufacturers can't keep up and are only doing allocated orders. President Obama has become the best salesperson the gun industry has had. My Internet sales have been on fire. Any ammunition I can get, any guns—I don't have to wait long before they sell."
The Internet has provided a flood of business for Flood. Through it, he sells guns and ammunition through other firearms dealers to end users in virtually every state of the union.
—–
It wasn't easy for Flood to become a gun dealer. Initially, in 1996, he had to undergo tough ATF inspections, regulations, and scrutiny. He runs all local customer purchases directly through an FBI computer that looks for red flags such as felonies, repeated DUI charges, gross misdemeanors, and tax issues, for example. Over the years, he said, only a half dozen customers have failed the background check.
Handguns are his best-selling items, with the brand names Colt, Kimber, Glock, Ruger, and Sig Arms leading the list. Popular calibers include .38 Special, .9mm, .357, .40, .45 ACP, and .44 Magnum, which runs the range, he said, for personal protection, conceal and carry, and hunting.
He said, "People can come here to discuss their needs. They see what I have, and if they have never owned one can get coached on what to buy. Customers often ask basic questions such as how to load and safely handle their weapon."
Flood never charges for advice—he's just glad to help. About 90 percent of the time a customer receiving advice ends up buying a gun.
—–
Flood has turned 60 and doesn't plan on retiring. He runs his businesses by himself except for occasional light help from his wife since 1974, Jayne.
He said, "I have freedom doing this—I can hunt and fish, and choose my hours. And with the Internet I can do business about anywhere, which is what I do when I'm away on hunting or fishing trips. My customers have no idea I could be talking to them from a walleye boat. Also, I don't have someone breathing down my back and telling me what to do and when or how to do it. I've made plenty of mistakes, but overall, it's been an extremely positive venture for me."
—–
Duck Hunting
Flood and his father used to frequent a hunting shack on Swan Lake near Nicollet. In 1963, they were duck hunting near there on opening day in exceptionally windy conditions. They heard some yelling from the rushes, and saw decoys and coolers floating on the water. A boat had capsized, and three men were standing in water-filled chest waders up to their necks desperately trying to spit out water after each wave. They were literally drowning in their tracks.
Flood said, "My dad and I were able to take them one at a time to the shore. We saved their lives. It made quite an impression on a 10-year-old boy."
Iraqi Scope
Said Flood to Connect Business Magazine, "I had a couple call me from Sherburn saying their son was in Iraq and was very disappointed with the scope on his gun. They wanted to know if I could get a particular scope for his AR rifle. I said it was very expensive, but they didn't care how much the scope cost. They just wanted me to ship it directly to Iraq. It was an $1,800 scope and I shipped it off without thinking anything further of it. It was just as another order.
"Six months later, I got a knock on the door. It was the soldier and his father. They had driven here all the way from Sherburn just to thank me for the scope. He had made it back in one piece and wanted to personally thank me. That was very rewarding."
Cross Fire
At times, Flood manages to combine Calendar Specialists of Minnesota and Sportsman's Specialties—his businesses of 23 and 17 years, respectively—into a unique revenue stream.
As an example, about eight years ago, he came across a raffle calendar used to raise funds for conservation organizations and realized he could tweak the idea into an opportunity that utilized both his businesses.
He said, "For instance, I (through Calendar Specialists of Minnesota) do a calendar program for a Duck's Unlimited chapter in Harrisburg, South Dakota. Their supporters purchase a calendar for $30. In the back of the calendar there is a listing of guns. The chapter has a drawing every week for a free gun, so 52 guns are given away over the course of a year. The chapter sells 1,500 calendars and pays us for the calendars and the guns. I (through Sportsman's Specialties) service the guns to the winner, and the Ducks Unlimited chapter takes their profit."
With similar promotions, Flood has worked with a number of groups besides Ducks Unlimited, including conservation groups in Sherburn, Mankato, Nicollet, and Blue Earth.
He said, "I don't want to get too many (of these programs going at once) because then I have to service them all. One year, I had four programs and gave away 280 guns. It creates additional business because sometimes winners want to trade their gun for another or maybe their rifle needs outfitting and they need a scope. The winners either come here or I can ship their gun to a dealer near them."
THE ESSENTIALS: Sportsman's Specialties
Founded: 1996
Address: North Mankato, Minnesota
Phone: 507-947-3956
Web: sportsmansspecialties.net

Daniel Vance is a former Editor of Connect Business Magazine
All posts by Daniel Vance