Origami Owl Custom Jewelry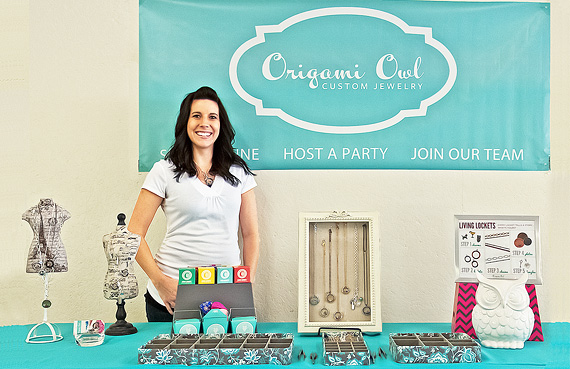 Photo: Art Sidner
Waseca: Origami Owl Custom Jewelry
"Business has always been a passion of mine," said 28-year-old Kristi Corchran. "For one, Kiesler's Campground (of Waseca) is our family business. I started working behind the counter as a sales associate when I was 12, answering telephones and taking reservations. That instilled in me the passion and work ethic for truly going above and beyond in satisfying customers."
In high school, Corchran became active in Business Professionals of America (BPA), an organization that helps groom teens for business careers. She placed fourth and sixth in two national competitions in her event, and was the organization's statewide vice president as a high school senior. Her specialty was "application interview," in which a CEO interviewed BPA students to rank them for potential hiring desirability versus other competitors.
Corchran continued on working at the campground full-time, but always wanted a business of her own. She said, "So I started looking into direct sales companies. Origami Owl Custom Jewelry and Bella's (the 14-year-old founder's) story inspired me. She started her company in 2010 by going out to her friends and family and creating jewelry. She started it as an in-home business."
The company's appeal further broadened for Corchran after she married last October and became pregnant. Origami Owl has given her the opportunity to own a small business with flexible hours.
Origami Owl sells 'living lockets,' which are custom necklaces with charms that symbolize special events in a person's life. Said Corchran, "The lockets are popular with people of all ages and style preferences. I have sold necklaces to a parent as a gift to her 4-year-old child and to grandparents. We encourage (buyers) to create their life story with jewelry."
Customers become introduced to living lockets through low-pressure "jewelry bar" events at people's homes, and at the events literally create their own lockets. Lockets come in gold, silver, rose gold, black or chocolate, ranging in price from $20-$40, plus $5 for each charm. She said, "I do at least one jewelry bar now a week. Before Christmas last year, I did 30 in 41 days."
Origami Owl Custom Jewelry
Telephone: 507-521-1972
Web: minnesotakristi.origamiowl.com