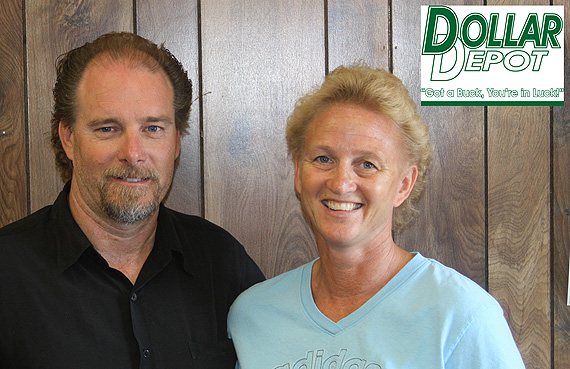 Photo: WINTHROP NEWS
Gaylord: Dollar Depot
You could say DeAnn Woods and husband Lynn are serial entrepreneurs. Their latest small business effort, Dollar Depot, which opened on July 31 at 123 Fourth St., serves the communities of Gaylord, Arlington, Henderson, Gibbon, Fairfax, Winthrop, New Auburn, and Lafayette.
"We own a number of businesses in Gaylord and Winthrop," said 48-year-old DeAnn in a Connect Business Magazine telephone interview. "We started Sibley Interiors 20 years ago, Logos and More (a silk screening business) about ten years ago, and Anytime Fitness, which we started nine years ago. We've always had family-owned businesses. And now with Dollar Depot, we are trying to bring big-town (dollar) merchandise to a smaller town. We want to do whatever we can to help out the community."
Lynn grew up in North Mankato, and DeAnn in Lafayette. His mother was a buyer for Brett's Department Store. The couple met in Hutchinson while working at Hutchinson Technology where DeAnn was a trainer and Lynn a training coordinator. Over time, Lynn quit his position to partner with his father-in-law in a carpet installing business, which began their entrepreneurial activity.
Said DeAnn, "We have cleaning, kitchen, and pet supplies, toys, healthcare items, office supplies, and much more. Everything in the store is one dollar. We even have name brands."
Because of owning so many businesses, the Woodses rely heavily on a trio of experienced women who worked at the former Hanson Drug in Winthrop, including manager Sue Rickheim. Said Woods, "We have confidence (the three) will do well for us." Over the last four years, the Woodses have chaired the Winthrop Farm City Funfest and been active in other area activities and organizations.
She said, "My husband and I are very motivated. We like starting new businesses and putting the right people in place to help us out."
Dollar Depot
Hours: M-F 9-8, Sat. 9-5, Sun. 10-3
Telephone: 507-299-6082
Address: 123 4th Street