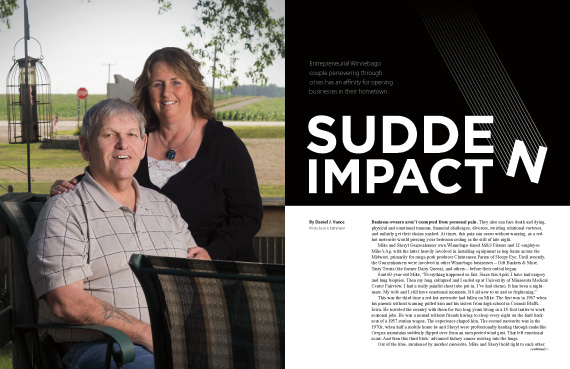 Photo: Kris Kathmann
Sudden Impact
Entrepreneurial Winnebago couple persevering through crises has an affinity for opening businesses in their hometown.
Business owners aren't exempted from personal pain. They also can face death and dying, physical and emotional traumas, financial challenges, divorces, swirling relational vortexes, and unfairly get their chains yanked. At times, this pain can occur without warning, as a red-hot meteorite would piercing your bedroom ceiling in the still of late night.
Mike and Sheryl Gunzenhauser own Winnebago-based M&S Fitness and 12-employee Mike's Ag, with the latter heavily involved in installing equipment in hog barns across the Midwest, primarily for mega-pork producer Christensen Farms of Sleepy Eye. Until recently, the Gunzenhausers were involved in other Winnebago businesses—Gift Baskets & More, Tasty Treatz (the former Dairy Queen), and others—before their ordeal began.
Said 60-year-old Mike, "Everything happened so fast. Since this April, I have had surgery and lung biopsies. Then my lung collapsed and I ended up at University of Minnesota Medical Center Fairview. I had a really painful chest tube put in. I've had chemo. It has been a nightmare. My wife and I still have emotional moments. It's all new to us and so frightening."
This was the third time a red-hot meteorite had fallen on Mike. The first was in 1967 when his parents without warning pulled him and his sisters from high school in Council Bluffs, Iowa. He traveled the country with them for two long years living in a 15-foot trailer to work seasonal jobs. He was a nomad without friends having to sleep every night on the hard backseat of a 1957 station wagon. The experience shaped him. The second meteorite was in the 1970s, when half a mobile home he and Sheryl were professionally hauling through snakelike Oregon mountains suddenly flipped over from an unexpected wind gust. That left emotional scars. And then this third blow: advanced kidney cancer moving into the lungs.
Out of the blue, awakened by another meteorite, Mike and Sheryl hold tight to each other.
—–
Mike Gunzenhauser has a soft and friendly aura about him, like that of an aging man who has experienced a plethora of difficulties and somehow been tenderized while persevering through those difficulties when others would have hardened.
His family history has warts. Mike's father labored across the river from Council Bluffs in Omaha at the American Smelting manufacturing plant for 15 years until "his back just broke down," said Mike Gunzenhauser in a Connect Business Magazine interview. "The company offered him an office job or he could retire. He didn't like the office job, and also his work doing auto body repairs after that, so my parents pulled us kids out of school and my dad decided to travel around the country looking for work."
His parents never said why. It just happened.
After working long days, Mike would sleep cold nights in their 1957 Chevy wagon while mom and dad shared the trailer with his sisters. It wasn't the hard work that upset him: he had delivered daily newspapers in Council Bluffs and worked for a local A&W restaurant emptying trash, washing windows, and cleaning a parking lot for $5 a week. What upset him most was having lost his school friends and, because of his parents' obsessive moving, being unable to make new ones.
As the world in 1967-69 seemed to be passing him in high gear, he was stuck in neutral. He had only an eighth grade education. His father found construction jobs in Florida, Texas, and Oklahoma, the latter where dad drove truck for cotton mills hauling "reject" cotton to mattress manufacturers.
After two years on the road, the Gunzenhausers returned home to Council Bluffs. Said Mike, "My dad temporarily found another job there. Then I found one too and decided I was going to stay, be my own man, and do what I wanted. After a while, my family took off again without me, this time to Washington, where they worked in cherry orchards picking cherries."
At age 18, Mike was starting to thrive being around people again by working at full-service gas stations. He said, "After a few years, I bought a truck to pull wide loads and did that for five years in Oregon, Washington, Nevada, California, Utah, Arizona, and Idaho. I was used to traveling because I had done it with my parents."
—–
In 1974, he met future wife Sheryl while visiting relatives in Wyoming. They were opposites in many respects, including the fact she had been raised in a loving family that had more highly valued children. After they married, Sheryl went on the road with him as an independent trucker hauling mobile homes for clients in Western states.
Mike said, "One time, my wife and I were going through Bend, Oregon, hauling half of a double-wide mobile home. Our partner was up ahead with the other half. Oregon had a law stating if the wind was above 25 mph you couldn't haul a mobile home. We called the state police that day and they said the roads were okay for travel. However, going through the mountains, we began facing wind gusts. As we came around one turn, the wind catching the side of the mobile home tipped us over. My truck broke loose from the mobile home and we slid along backwards into oncoming traffic. Luckily there weren't any cars coming. I was thrown across the cab and Sheryl ended up with a black eye. That was a harrowing experience. The truck was totaled. I got a newer and bigger truck, but ended up cutting my loads in half because I was so frightened being on the road."
No longer enthralled with trucking, Mike and Sheryl relocated to Pequot Lakes, Minnesota, where her mom lived, and then to Winnebago to be near her brother and sister-in-law. While Sheryl stayed home with their two children, Mike found work at the local Cargill plant, and soon became friends with Bob Toland and Bob Perryman, who encouraged him to consider a law enforcement career.
In order to become a police officer, Mike, who had an eighth grade education, first had to pass his GED (general educational development) test. After passing, he continued working at Cargill while serving part-time as a Winnebago police officer.
—–
Mike left law enforcement for Ag Distributing in Amboy in the early 1990s, where he would become a crew foreman and work several years installing gating, concrete slats, and feed systems in new hog barns, primarily for Christensen Farms of Sleepy Eye, which later would become the world's largest privately owned pork producer. At times, Christensen Farms went through a company called Hog Slat to purchase the equipment Mike installed.
It was a Hog Slat foreman one day in 1996 who encouraged Mike to leave Ag Distributing and start his own business.
"I was leery starting (Mike's Ag) because I had never taken on anything so big," Mike said. "I had only a single-car garage and had to buy my own tools. I bought an old 1971 Chevy Suburban and carried my tools in it. One guy left Ag Distributing to join me and I hired another. I did a lot of business at first for Hog Slat itself, and not so much for Christensen Farms."
The first few years of Mike's Ag were financially tight. By then, Sheryl had quit working for Telex, a Blue Earth plant to be her husband's bookkeeper. Her new, part-time job working as an office manager for Winnebago Manufacturing helped pay bills during the winter, when hog barn construction slowed to a crawl. By 2002, Mike's relationship with Christensen Farms improved and that segment of his business roared back.
Basically, from then until April 2013, Mike and his crew almost constantly were on the road installing equipment for Christensen Farms, primarily in Illinois, Minnesota, and Iowa. The company Mike's Ag was placing nearly all its eggs into the Christensen Farms basket, had ceased advertising, was turning away some non-Christensen Farms business, and had stopped constructing Northland pole barns on the side. Mike's Ag was highly vulnerable should anything negatively affect his crucial relationship with Christensen Farms.
"Then I found out this April I had kidney cancer," said Mike. "I had been tired, worn out, and had pain in my side, but had attributed it to getting older. I'd considered going to a doctor, but my business took me out of town so much it wasn't easy (making an appointment)."
Mike's more-than-capable son Chris took over company reins. Fortunately, Christensen Farms executives, after hearing of the advanced cancer, "treated us like gold," Mike said. "I can't say enough about them. I don't think I could find anyone as wonderful to work with than Christensen Farms. They've helped us through other rough times throughout the years, too."
—–
Sheryl Gunzenhauser has a round face, expressive eyes, and a voice that cracks with emotion when talking about her husband and his accomplishments, especially considering his less-than-stellar family upbringing in Council Bluffs.
She said to Connect Business Magazine, "Everything (starting this April) happened so fast. The doctors at University of Minnesota Medical Center Fairview said the cancer was stage four and had metastasized to his lungs. It hit us both when we saw the sign outside that said, 'University of Minnesota Cancer Care.' I felt like I was stabbed in the stomach. You don't believe it until you see it."
Dealing with his cancer was difficult enough for just Mike's Ag, but the Gunzenhausers had other businesses to worry about, too. They had been entrepreneurs off and since 1990 after opening The Kozy Kitchen restaurant in Winnebago, which Sheryl ran for two years as waitress, cook, and bookkeeper. Then after working Telex in Blue Earth for five years, she left to become bookkeeper for Mike's Ag in 1997.
Ironically, in 2000, after Mike's father passed away from cancer, Sheryl became heavily involved with a number of nonprofit organizations that sought to brighten the days of children with cancer, such as Chemo Angels, Hugs and Hope, and Make a Child Smile. Said Sheryl, "I started doing 'care' packages for these children with cancer and my friends wanted to do them, too. I was having all these supplies coming to our home and thought of opening a store to (facilitate) that and also to have some fun."
Gift Baskets & More began in 2005 and closed late 2011 after the Gunzenhausers made the decision to cut back on work hours to spend more time with their grandchildren—even before they learned of Mike's cancer.
—–
There were other businesses. Sheryl started M&S (for Mike and Sheryl) Fitness in 2009 in Winnebago, which has 24/7 access and every fitness need for customers, from weight machines, treadmills, and stationary bikes to free weights. They purchased the equipment from a former Duluth fitness center. Sheryl said, "We charge $37.41 per month, and customers can receive a 10 percent discount paying by the year. We try being flexible for customers. For example, one couple both joined and paid for a year, and both lost their jobs within weeks of joining. They didn't think they could afford it, and we refunded their money. It's a small town, and you have to be flexible. Stuff happens."
As for their restaurant business purchased in 2011, Tasty Treatz, the former Winnebago Dairy Queen, the Gunzenhausers decided in late 2012 to put it up for sale; not because of business reasons—it was doing fairly well—but due, again, to their desire to spend more time with grandchildren. After closing this last winter, they were going to continue operations again this last April, but decided against it after learning of Mike's cancer. They just didn't have the time. They spend two weeks of every month in Minneapolis at the cancer center. The reason the Gunzenhausers purchased the Dairy Queen was to sate Mike's desire to keep the restaurant open to benefit the community.
Her eyes moistening, Sheryl said, "Mike is proud of what he has accomplished, including his work with Christensen Farms and their relationship. We aren't rich by any definition, but Mike rose from a background of not having anything at all. We start businesses here because Mike adores Winnebago and always wants the town to succeed. He loves seeing a new business come in."
—–
The prognosis for Mike doesn't look great. In July, the First Presbyterian Church in Winnebago hosted a fundraising event to help cover his growing medical bills. Yet even in the midst of struggle, Mike still has plenty of hope in the future. He rests well knowing his businesses are in competent hands, with son Chris, Sheryl and daughter in-laws filling in. Also, he has deeply etched memories of having survived and grown as a person after two previous red-hot meteorite strikes. Don't bet against him getting through a third.
—–
Police Fun
CONNECT: Tell me a story of having worked as a Winnebago police officer.
GUNZENHAUSER: Years ago, we had had some vandalism at the cemetery. We presumed it was younger kids who were pushing over the headstones. So we got into the habit of running two squad cars through there on Friday and Saturday nights. Dale Wiederhoft and I were doubled up in one police car and Bob Toland, the chief of police, was in another. When you're out in the cemetery that late, it can get kind of spooky. One night about 1:30 a.m. when I was with Dale, he dropped me off and I hid behind a headstone. I knew Bob Toland would be driving out soon to make his rounds. As he drove by, I jumped out and in front of his squad car and yelled, "Boo!" If he had a gun in hand, I would have been shot. (Laughter.)"
 THE ESSENTIALS:
Mike's Ag
Founded: 1997
Address: 17 7th Avenue NW
Winnebago, Minnesota
Phone: 507-893-3753