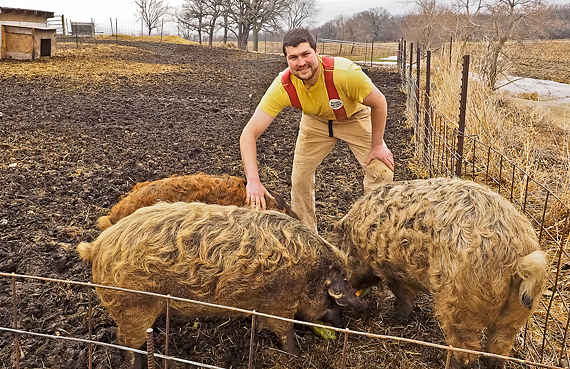 Photo: Art Sidner
Lake Crystal: Old World Meats
Mark Peterson of rural Lake Crystal opened Old World Meats within the last year. The start of this boutique pork and beef business had as much to do with Peterson's varied life experiences as his personal tastes in meat.
After finishing Lake Crystal High in 1999, Peterson earned bachelor's and master's degrees from Minnesota State Mankato in natural resource management and experiential education, respectively. He worked in the state park system at Minneopa and Flandrau State Parks about four years before deciding that line of work wasn't for him.
"Then I spent a year overseas," 33-year-old Peterson was saying over the telephone, "working for a Swiss company and doing academic tours in Sub-Saharan Africa, covering every country from Malawi to South Africa. Every single day I was put in unforeseen, unusual situations where I had to think on my feet."
Upon arriving home, for six years, he helped outfit and guide Boundary Water trips.
By then, he was eating only locally produced meat from producers using a sustainable agriculture model. Within the last year, he started his boutique pork and beef business in order to produce something unique. His beef and pork are pastured. He wanted more flavor.
Today, he raises Angus and Scottish Highlands beef, and Tamworth, Large Black, and Old Spot pork, but his specialty has been Mangalitsa pork, which he markets to such fine-dining restaurants as Lucia's (Minneapolis) and Heartland Restaurant (St. Paul).
Said Peterson, "The Mangalitsa is often called the 'Kobe beef' of pork. Its meat is dark red and highly marbled, and the fat has a rich buttery flavor. I call it 'dessert meat' because you just can't eat a whole plate."
Old World Meats direct markets its pork and beef to households and restaurants, with pricing from $2.50-$6.50 per pound hanging weight depending on feed, breed, and customer processing preferences. Hilltop Meat Market (beef) and Vernon Center Market (pork) process the meat.
Old World Meats
Telephone: (507) 995-2436