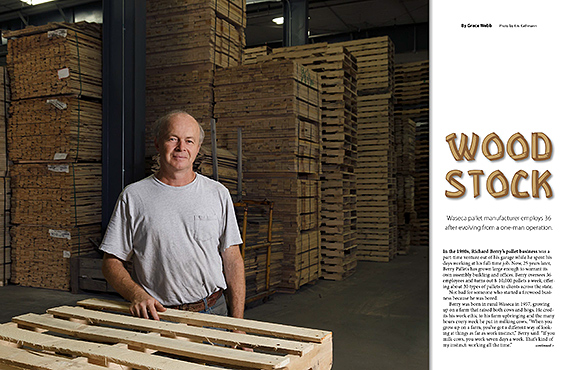 Wood Stock
Waseca pallet manufacturer employs 36 after evolving from a one-man operation.
In the 1980s, Richard Berry's pallet business was a part-time venture out of his garage while he spent his days working at his full-time job. Now, 25 years later, Berry Pallets has grown large enough to warrant its own assembly building and offices. Berry oversees 36 employees and turns out 8-10,000 pallets a week, offering about 30 types of pallets to clients across the state.
Not bad for someone who started a firewood business because he was bored.
Berry was born in rural Waseca in 1957, growing up on a farm that raised both cows and hogs. He credits his work ethic to his farm upbringing and the many hours every week he put in milking cows. "When you grow up on a farm, you've got a different way of looking at things as far as work instinct," Berry said. "If you milk cows, you work seven days a week. That's kind of my instinct: working all the time."
—–
Berry said he'd always stack his firewood above the ground, so he started using wooden pallets for the stacks of wood. He said companies were eager to give him the pallets when they were through. "Everybody said, 'Take them all. We don't want them,'" he said. "There were so many pallets to be had."
Berry started taking the old pallets and repairing them, selling them back to companies to use. At first, he removed the broken boards by hand—a long process that included drilling holes in the deck boards and using a hammer to pound the nails. As he sold more pallets, he was able to reinvest his profits into buying some equipment to make the process easier, including air compressors and power nailing tools. In the next few months, his pallet business had become popular enough that he needed more workspace, so he moved his operations to his parents' farm. He rented the land and built six buildings on the property, along with purchasing a skid loader and a gooseneck truck.
It was around this time he decided to drop the firewood business and focus on his pallets. While he started off just recycling old pallets (which is when workers tear the old pallet apart and use the material to create a new pallet) and repairing used ones, he eventually branched into creating new pallets too, once he bought his automated nailers. He orders the wood from sawmills in Canada, Minnesota or Michigan.
Berry said recycled and repaired pallets are becoming more popular because they're cheaper without losing quality (all recycled pallets are built to the same standards as new pallets). In fact, he would almost say recycled pallets are of better quality, because nails hold better in recycled wood, so there's less likely to be a problem with a nail pulling loose in one of the recycled pallets compared to a pallet made out of new wood.
Berry's business also creates "combo" pallets, which are made from a combination of new and recycled components. One reason for this is because it can be difficult to find enough recycled lumber to create a completely recycled pallet. Some customers prefer "combo" pallets because of how strong and durable they are, in addition to being cheaper than a new pallet.
However, Berry said the newly built pallets are still the most popular, since some businesses, such as those in the food industry, have stricter requirements regarding what kind of pallets can be used. Even the leftover scraps are put to use, helping to heat the buildings during Minnesota winters. When it comes to recycled pallets, Berry has some competition up in the Twin Cities, but in southern Minnesota, there aren't many other companies that offer them.
He said he has pretty steady customers, including one business in Owatonna that has stuck with him for 23 years.
"We try to do a good job," he said. "If you do a good job and have a good price, they're going to stay with you. That's been my experience."
—–
By 1995, he had such a strong customer base he was able to quit his job at Cargill to put all his energy into the pallet business. "I made this my full time hobby…well, I guess it's more than a hobby," he said.
Eventually, the business grew so much that Berry decided it was time to move to a new site. He chose to stay in Waseca, buying property at the edge of town and starting construction in 2012. It took about nine months to construct the new buildings, which include an office building, storage area and assembly area, and Berry was able to move his company into the new space last July.
"We built this from the ground up," he said. "We went from my garage to this."
While the location has changed, Berry's business practices have stayed the time. Even as the company expanded and brought on more employees, Berry has kept himself involved in pretty much every aspect of the business. He manages the overall state of things but also works on the maintenance and production side to make sure the company is being as efficient as possible.
"I do everything," he said. "That way, I can visualize or see how things flow. Your employees may tell you, 'This [way of doing things] is stupid,' so I'll do the same thing they're doing to see if they're correct. Is there a better way to do it? I'll jump in and run all the stuff just to make sure everything's working properly."
Berry said the most challenging part of running his own business is working with his employees, since everybody has a different perspective on how to run operations. "Dealing with customers is easy. Running the place is easy. But everybody's got a different way of thinking," he said. "Then you've got to try to understand their way of thinking and doing things, and you've got to try to meld the two together."
On the other hand, the best part of running his pallet business is simply creating the finished product. "What I like is taking a piece of wood and making something out of it," he said. "That's neat to me, when you take a 2-by-4 and turn it into a pallet. It still intrigues me."
There are only a few duties Berry doesn't take on—he uses a temp agency to hire employees, and he also doesn't deal with the marketing side of things, hiring a salesman instead. The salesman will call area businesses to talk about pallets, but the business doesn't do much advertising otherwise. He said when he first got going, his business grew through word of mouth, but now it's more difficult to advertise since there are so many platforms.
"Business people would talk and then you'd get a phone call," he said. "It was easy to sell back then. Today it's a bit tougher."
—–
Berry said he works from about 7 a.m.-6 p.m. during the week but comes in on weekends too. "I come in to relax more or less on the weekend," he said. "I work, but it's relaxing for me. People may just sit and put their feet up. That's not me. I'd rather do something. That's my way of unwinding."
He isn't the only one in his family who puts in long hours at the company. Wife Kathy works as an office manager, as does Curtis' wife, Karissa. "It's kind of a family business," Berry said.
In addition, both Curtis, 24, and Kyle, 29, have helped with the business, but Kyle left to become a chef. Curtis is a foreman right now and plans to take over when Berry retires. Because of this, Berry has been slowly turning over certain responsibilities to his son.
Berry also attends trade shows to learn more about the pallet business and the available tools. He confessed the shows are one of the perks of being a business owner, since he enjoys traveling. Every year, he goes to Florida for one show, and every other year he visits Richmond, Virginia.
"That's my vacation," he said.
He also belongs to the National Wooden Pallet Container Association (NWPCA), which hosts conferences that feature tours of pallet plants in different cities. Last year, he visited plants in Chicago, and this year he's going to Detroit. He said the conferences are important because they give him the opportunity to check out tools before he buys them. He will even visit other companies sometimes to tour their assembly rooms and watch what tools they use.
"I use the term, 'Kick the tires,' like you're buying a car," he said.
—–
As for future plans, Berry doesn't have everything perfectly mapped out, but he knows one thing: he's going to stick with pallets from here on out. He doesn't know if he's going to expand to more locations, but he said he isn't crossing off the possibility. "It's always in the future plans, but right now I've got to chew on what I've got first," he said.
Another thing he isn't sure about is when he's going to retire, but he does know it isn't going to be any time soon. "One never knows," he said. "If I'm healthy, I plan on continuing. I'm one that doesn't like to sit still. I've got to have something to do. The family razzes me about it. They say, 'You'll never retire.' Someday, I'll slow down, but it ain't in the near future."
—–
Pallet Pause
Even with all the work, though, Berry still finds time for a few hobbies. He's part of the Liberty Seated Collector's Club, a group of coin enthusiasts who collect special "Liberty Seated" coins. These coins were issued from 1836 through 1878 and all feature depictions of Liberty in a sitting position. Berry has found quite a few of these coins and said he enjoys seeing how different each coin looks because of the tarnishing, or "toning" as collectors call it.
"With coins, it's like a piece of art," he said. "Every coin is different—there's really not a coin with the same toning. It really makes that coin really beautiful."
Berry also enjoys fishing, though not in Minnesota. He prefers deep-sea fishing off the coast of Florida. Last time he went with a group of friends, they sailed south of Miami to fish for tarpons, blue-green fish that can grow up to eight feet long and weigh up to 280 pounds. The group was so excited, no one remembered to bring water, food or suntan lotion for the 10-hour trip. Even though Berry never did catch a fish, he said the whole experience was a blast.
"I never caught one, but I'm glad I didn't," he said. "It's hard to catch. It's a very vigorous fish that's hard to pull up." But while Berry didn't catch a fish, he did manage to snag a seven-foot shark later that afternoon. He said he wrestled with it for 20 minutes before it snapped his line and swam free. "That was so fun," he said.
The Essentials: Berry Pallets
Address: 1502 4th Street SW, Waseca, Minnesota
Phone: 507-835-5056
Web: berrypallets.com