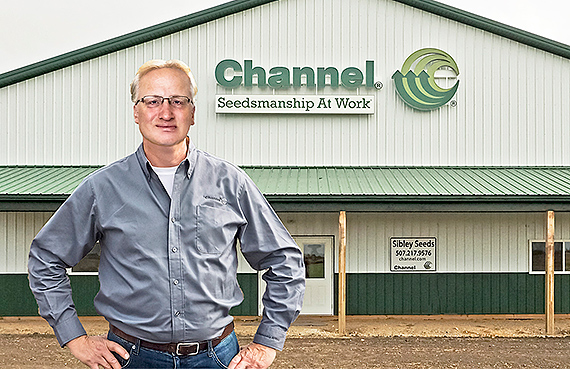 Photo: Art Sidner
Gaylord: Sibley Seeds
Though now a farmer and having recently opened a 6,000 sq. ft. Sibley Seeds warehouse in Gaylord, Ron Geiger wasn't raised on a farm. His father was a businessman and high school teacher who later headed the accounting department at now-South Central College, and his mother worked for a Mankato bank. Geiger graduated from Immanuel Lutheran High in 1976, and went on to learn accounting at South Central College, in part from his father.
"My dad taught me the accounting side of business, and the sales and marketing end of the (seed) business I picked up later in life, but he was influential there, too," said 56-year-old Geiger. "My dad was also a placement director at SCC and placed students in jobs. He had a salesmanship about him. Today, I enjoy that aspect of my job, of visiting and talking with people."
After SCC, he left Mankato in 1980 for a six-month stint in California with Sears Roebuck as an internal auditor, but in his heart realized he loved to farm, which his grandparents and uncle had done. So he returned to Minnesota to help his uncle farm, and in 1986 started his own farm. Simultaneously, in 1981, he had taken an internal auditing position with a New Ulm investment firm and would work his way up over the years to become broker/dealer branch manager.
Four years ago, he was at Farmfest. A friend of his who worked for Channel Seeds suggested he become involved with his company, which he did. He left the investment firm. In September 2014, he consolidated all his Sleepy Eye seed operations—he had product at his farm and on other area farms—into a 6,000 sq. ft. Gaylord warehouse/office.
At Sibley Seeds, he services most of Sibley County and parts of neighboring counties, selling primarily corn and soybean products for a Monsanto company (Channel Seed). His salesmen: Ryan Kahle, Al Hoffmann, Lucas Burgstahler and Mark Osborne. The City of Gaylord helped in procuring his building.
Sibley Seeds
Address: 6 Eighth Street
Telephone: 507-217-9576