Essential Elements Reflexology and Natural Healing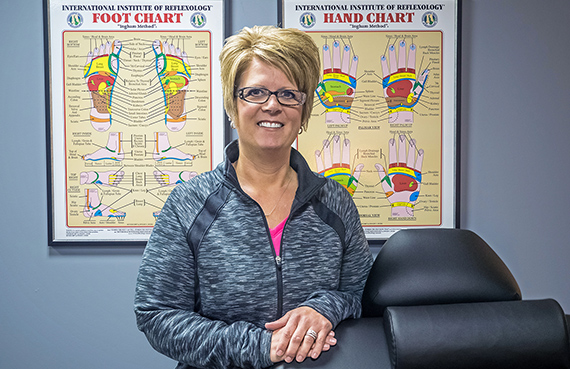 Photo: Art Sidner
FAIRMONT: 
Essential Elements Reflexology and Natural Healing
For Nikki Bremer, her job is all about helping people. The new business owner was born in Fairmont but graduated from Spirit Lake High School in Iowa in 1989 before attending North Iowa Area Community College in Mason City. However, in 1990, she married her high school sweetheart, Calvin, and the two of them settled in Minnesota. "I was happy to be back," she said. "I always thought it was kind of cool to end up back in the same area where my parents grew up."
They had their son, Weston, in 1991, and their daughter, Paige, in 1993. Bremer juggled her time between raising her family, farming with her husband and working in the customer service industry. She worked for Farm Bureau Financial Services and then at Sweet Financial Services before taking a job at the Mayo Clinic in Fairmont.
Still, she felt like something was missing. "I loved the people I worked with, and I loved helping them, but I just knew it wasn't what I needed to be doing," she explained.
Encouraged by several friends and family members, Bremer started researching how to start her own business, and one idea stood out to her the most: reflexology, an alternative medicine that utilizes pressure on the feet and hands to relieve pain and rectify physical conditions. She had a first-hand knowledge of this type of practice thanks to her experience with alternative healing methods. Growing up, she had struggled with arthritis, eventually abandoning the litany of pills she was prescribed to try essential oils instead. When those helped ease her pain, she looked at other alternative healing methods and discovered reflexology. "I just fell in love with it," she said. "I got into [the business] because I knew I could use it to help people."
Bremer has taken several classes and is working towards her certification, which is offered through the International Institute of Reflexology. She opened her studio in November and said she has been "pleasantly surprised" with the amount of business she's received so far. Her customers come from all backgrounds and age groups, from babies to the elderly. A typical session lasts about an hour and 15 minutes. "I have people thank me all the time, saying it's made all the difference," she said.
Essential Elements Reflexology and Natural Healing, LLC
Address: 1130 Spruce Street
Telephone: 507-236-6382
Web: www.4reflex.com