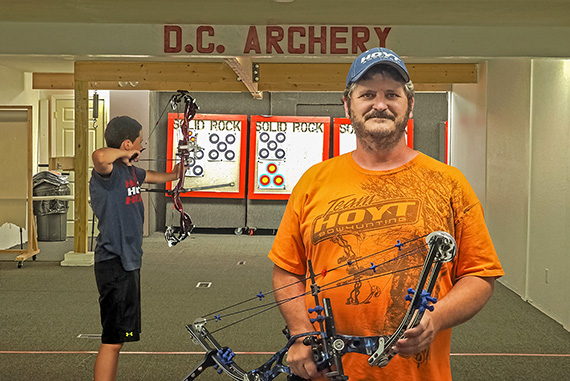 Photo: Art Sidner
Winnebago: 
DC Archery
For Dave Franklin, starting an archery shop wasn't about making big bucks. It was about creating a place where his kids could practice their sport. "The kids needed a place to shoot," he said.
Franklin has two kids, Morgan, 17, and Connor, 13. Both of them compete on a national level, with Morgan taking home the top prize at last year's national competition in Las Vegas.
Franklin grew up shooting, too. He was born in Winnebago and learned archery from his brother-in-law as a kid. He attended Winnebago's schools until the high school shut down and he had to transfer to Truman High School for his senior year. After high school, he studied accounting at Rasmussen College. Once he graduated in 1990, he came back to the area and began working for Grandberg Drainage, where he stayed eight years, before taking his current job as a sanitation supervisor at Seneca Foods.
Franklin bought a building and opened his archery shop in the middle of December. He works with several vendors to supply archery equipment, and he also hosts league events where people can come shoot at either his indoor or outdoor range. The indoor range has eight 30-yard lanes and is open on Mondays, Wednesdays and Fridays. There is also a video system available for self-coaching. Archers can rent the system, which includes four cameras from different angles. The video is played back on a computer at the site, so archers can more easily pinpoint areas they want to improve. "It's a good tool to see what they're doing, wrong or right," Franklin said.
The outdoor range has four targets that can be shot at from distances from 10 to 100 yards away, and it's open Mondays and Wednesdays. To join a league, a shooter pays $10 a week and brings his or her own equipment. Every shoot is handicapped, so archers of any level can participate and do well.
Franklin said most archers come from outside of Winnebago, with about a dozen league shooters showing up for indoor events. "All you can do is come and try it," he said. "I think you'll like it."
DC Archery
Address: 27 South Main Street
Telephone: 507-600-9227
Facebook Page: DC Archery