Nicole Griensewic Mickelson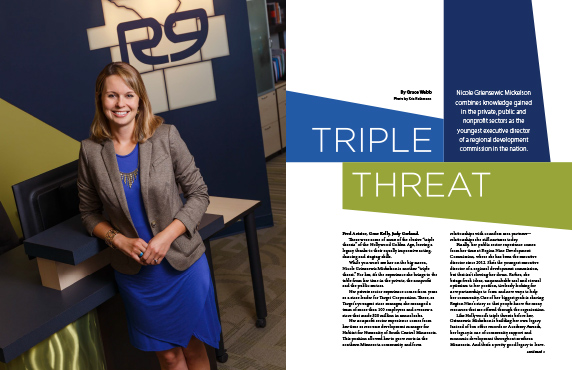 Triple Threat
Nicole Griensewic Mickelson combines knowledge gained in the private, public and nonprofit sectors as the youngest executive director of a regional development commission in the nation.
Fred Astaire, Gene Kelly, Judy Garland.
These were some of some of the elusive "triple threats" of the Hollywood Golden Age, leaving a legacy thanks to their equally impressive acting, dancing and singing skills.
While you won't see her on the big screen, Nicole Griensewic Mickelson is another "triple threat." For her, it's the experience she brings to the table from her time in the private, the nonprofit and the public sectors.
Her private sector experience comes from years as a store leader for Target Corporation. There, as Target's youngest store manager, she managed a team of more than 100 employees and oversaw a store that made $20 million in annual sales.
Her nonprofit sector experience comes from her time as resource development manager for Habitat for Humanity of South Central Minnesota. This position allowed her to grow roots in the southern Minnesota community and form relationships with countless area partners—relationships she still nurtures today.
Finally, her public sector experience comes from her time at Region Nine Development Commission, where she has been the executive director since 2012. She's the youngest executive director of a regional development commission, but that isn't slowing her down. Rather, she brings fresh ideas, unquenchable zeal and eternal optimism to her position, tirelessly looking for new partnerships to form and new ways to help her community. One of her biggest goals is sharing Region Nine's story so that people know the many resources that are offered through the organization.
Like Hollywood's triple threats before her, Griensewic Mickelson is building her own legacy. Instead of box office records or Academy Awards, her legacy is one of community support and economic development throughout southern Minnesota. And that's a pretty good legacy to leave.
—–
Tell me a little about yourself.
I was born and raised in Mankato. I was very much a city girl but I do feel like I had a lot of experiences in the country; my uncle had a farm, which is where I learned to love horses, and my mom grew up on a farm. I feel like I can relate to the rural areas in some regards, rather than just being a straight city kid from Mankato.
Your parents were both teachers. How did that affect you growing up?
My dad taught in the Maple River school district, and my mom taught in the Mankato school district. They had full time jobs, and at times also part time jobs, and they were both active in their unions and various committees. At home, I'd be doing homework at the table, and they would be up checking papers and doing their paperwork and proofreading. The kitchen table was always full of a variety of our work.
Since my parents were teachers, I was always "Mr. G's daughter" or "Ms. Griensewic's daughter." They knew everybody in town, it seemed, which helped me learn how everybody in the greater community is connected.
Did they have high standards for you, then?
Oh, absolutely… It was expected that I would do well, and I'd behave well. They did not want me to be the child that was misbehaving. I was expected to work really, really hard and get good grades. And so I did.
My parents were my biggest role models. They have a very good work ethic, and they always had numerous jobs. I saw them always working, and I thought, "I want to get a job too, and do something that's interesting."
So what was your first job?
My first job was at Don's Hobby, a hobby store that was located where Blue Bricks is now. I started there when I was 15. It was a really cool experience because I got to learn the retail side of things and sell really fun products for creative people. I worked there all through high school.
At the same time, I got another job at 1 Potato 2, which was at the food court in the River Hills Mall. I made time to play flute in my high school band, participate in the National Honor Society, work as a yearbook editor and actively participate with the Student Council.
You attended the University of Wisconsin-Eau Claire to study history and German. Why history?
I've always been interested in history. Growing up, a lot of our family vacations were wherever the National Educators' Association (NEA) conference was. My family would go to all these different cities, and we would hit a lot of museums. It's always really fascinated me to understand where we live, who was there first, what did that look like and how has that kind of shaped where we are now. No matter what you look at, or what topic or industry you work in, there's a history to it.
I understand you studied abroad in Germany. Tell me about that.
It was during the spring of my sophomore year. We studied in what had been East Germany, so that was really interesting. In the U.S., we know a lot about Bavaria, but to be in the eastern side, there's a whole different story. We have our own perceptions about how it must have been challenging when the country was divided, and, while there were a lot of obviously difficult situations, it was interesting to hear my host family's perspective on what they did like about it and why.
My best friends from college are the ones who studied abroad with me. We traveled on weekends together, to cities like Dresden, Amsterdam and Berlin. We went to Greece for our spring break. In Europe, taking a train to Prague is like us driving to Wisconsin.
Was that your first trip abroad?
That was probably my third time, actually. Even when I was younger, I knew I wanted to travel. And my mom knew that was important to me. She took a part time job to help send me over to Europe the first time when I was a sophomore in high school. We went for two weeks in the summer, as part of a school group, and we visited 10 different countries with a night or two in each. Then, during my junior year, my German class visited Germany and Austria.
How did all this traveling change your perspective on life?
I think traveling makes you really realize that you are a global citizen. You think a lot differently, whether it's politics or society or acceptance of different cultures. If you just live in one place your whole life, I think your perspective can be so different. It's important to be challenged and think, "Well, why is it like this? Why do we do it this way?" It makes you think about things a little differently.
All of those experiences have still definitely shaped me and challenged my thinking, even now. I have been to 15 countries now, and they're all completely different and you love them all for different reasons.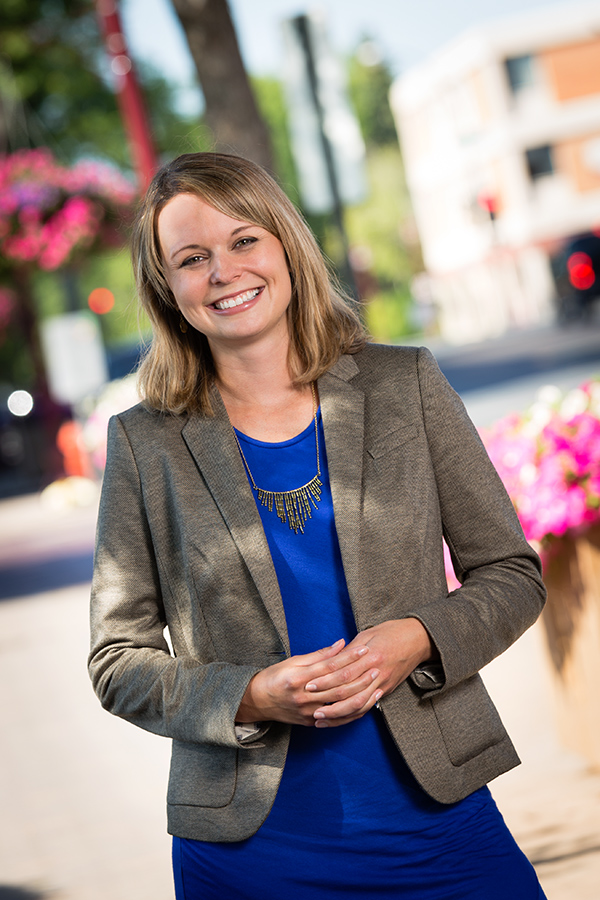 Did you work in college?
Oh yeah, I worked a ton in college. I was one of those friends who was always working, who'd say, "I'll meet up with you guys when I'm done." I was a server almost all through college, and then a bartender.
After my freshman year of college, I moved out to Colorado and worked on a dude ranch called The Home Ranch as a server. When I went back to Eau Claire, I worked at another resort, but my primary job was at Fanny Hill, which was a Victorian inn and dinner theater. I started as a server, then I got trained in as a bartender, and then I ended up taking manager on duty calls. I kind of worked my way up and did a little bit of everything, whatever I could to get hours and more shifts.
Then I got another job as a bartender at a downtown bar, Clancy's. So I would work shifts at Fanny Hill, and then I'd go bartend the closing shift at Clancy's.
With all those jobs, how did you have time for anything else?
(Laughs) I was involved in several different activities on campus, like the History Honors Society, social events and fundraisers. My history professors had a way of signing me up for things without my knowledge, like when a professor went in and changed my schedule so I could be a mentor for incoming freshmen history students. And I also was a teaching assistant for another history class.
But I enjoyed it; I liked to help out other students.
History seems very important to you. Are you still involved in it somehow?
Last year, I did the last leg of the Reconciliation Ride for the Dakota 38+2 (a reference to the 38 Dakota executed on Dec. 26 and two others executed shortly after) on Dec. 26. I helped do some planning for the ride, and I met the other riders out at Land of Memories, where the mass hangings occurred in 1862. Being from Mankato, I feel like the story isn't told and understood enough. We cannot comprehend the magnitude and how it shaped the whole state and, really, the whole nation.
You graduated from the university in 2005. What came next?
One of the managers at my restaurant encouraged me to apply for Target Corporation, and they ended up recruiting me right out of college and sending me to their Rochester store. I stayed there for about four and a half years working at both the Rochester and Austin stores, as well as helping open another Target on the south side of Rochester.
You eventually started managing a store that made $20 million in annual sales. What was it like going from managing a team of restaurant employees to supervising more than 100 Target employees?
It was a huge difference. There was a lot of structure that I wasn't used to, with pay grades and levels and things like that. But there was also this camaraderie. We were all in it together. At the end of the day, in my eyes, retail and being a server aren't all that different, because you are trying to make people happy, give them what they're looking for, have the transaction go well and have them come back.
It works well for my personality, because I'm very social and an extrovert for sure. I really enjoyed the opportunity to engage with so many different types of people and be surrounded by so many unique personalities. I get a lot of energy and excitement from that. On your best days, people would be there cheering you on, patting you on the back, and then on the worst days, people were right there going, "I know that was tough. Should we go get a beer?"
You were Target's youngest store leader. What was that like?
What was really cool about Target was how being a young female for them was the norm. It wasn't a label or something you had to talk about. They were very supportive and understood that women are fabulous leaders. They did a really nice job of working with many of us. I was able to get promoted relatively quickly because I was willing to work hard.
To lead a big group, it was a lot of responsibility and a lot of stress, but I could tell myself, "Some group of people made the decision that you were the right person to do this." On the tough days, it was nice to realize someone had faith in me.
Tell me how you go about being an effective leader with such a large team.
I think it is important to know the strengths of your team and have that trust relationship with your managers. You need to know how often you need to follow up with one team or one individual, and what type of communication works for them. I think a lot of the time, people just don't know how to communicate and when.
Also, if you have good plans in place, then life won't be so chaotic. But it takes a lot of work and being very thoughtful to slow down to make those plans.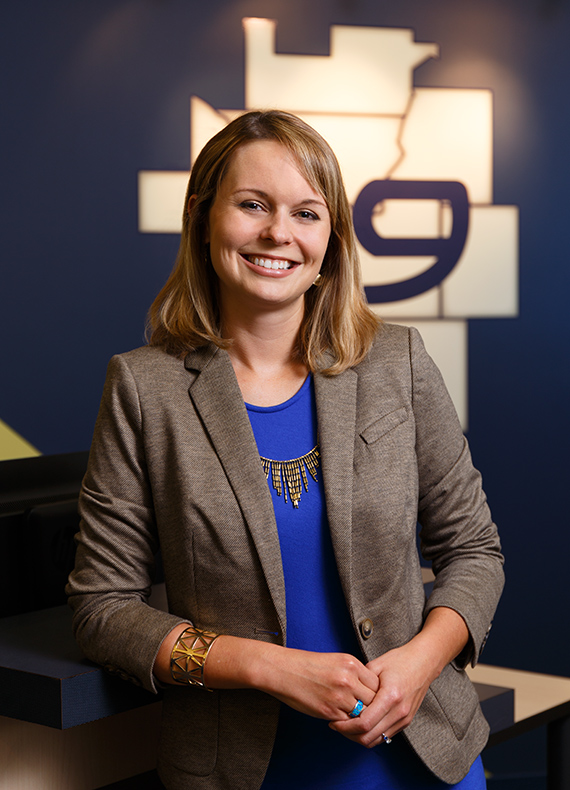 It sounds like you enjoyed working at Target. What made you decide to leave?
Really, it was a lot of different situations kind of happening at once. In retail, if you're going to continue to get promoted, you typically have to keep moving. There comes a point where you don't want to keep moving your life. My husband Alex and I took a step back and evaluated the situation, and figured out that Mankato was the place we needed to be—back home and near our families. Once we moved here in 2010, everything kind of calmed down and fell into place.
What did you do once you moved back to Mankato?
I worked for Habitat for Humanity of South Central Minnesota as their resource development manager. It was a newly created position, so it was an interesting opportunity to go to out and meet businesses and explain the mission and how to support it. It was completely different from Target; I went from leading a humongous team to being in a really small office with only four other women.
You've worked in the nonprofit sector, the public sector and now the government sector. Tell me about the differences you've discovered among the three.
I think I'll surprise a lot of people by saying I don't think it's as different as what people would expect. There are a lot of differences with how you're governed, and how you operate and communicate, but it all comes down to making an impact, having a good product and having returning customers. At the same time, you have to watch your budget, communicate effectively, lead efficiently and trust your people. I think people get labeled that they're going to be in business and that they're in the private sector for good. Instead, I'd encourage people to switch their career paths and jump around a bit to different sectors, because you're going to learn something and bring a different skill set to the table no matter where you go.
All three sectors have a lot to learn from each other. And I've definitely learned from each of them. At the end of the day, if you're passionate about what you're doing, and you respect and value the people you're working with, you're going to have a good product and make good goals to impact others.
What are some of the other differences among sectors?
When decisions are made in the private sector, change can happen quickly. From my experience, this process moved at times too fast for some individuals to be comfortable with. The implications of these decisions primarily are communicated after the decision has been implemented. Conversely, when decisions are made in the public sector, the decision will go through a public process and be reviewed before being implemented. Once the decision has been implemented, the stakeholders and citizens have been educated and prepared for the change. This process does not happen quickly and can move too slowly for individuals to be comfortable with. Regardless of which sector, change can be difficult. Yet, it is necessary.
Whether employed by the private, nonprofit or public sector, people are working hard and contributing to their communities. In the end, it does not matter how fast change takes effect; what matters is the affect the change has.
Those who work in the public sector are encouraged to reach across organizational boundaries. We want a variety of stakeholder input into our public process. While some private and nonprofit entities may reach across organizational boundaries for input, it is not a necessary requirement. In the public sector, it is imperative to act as the connector as part of our due diligence and commitment to the communities we serve.
The private sector is the innovative driver in our economy, while the non-profits can be a creative driver in our local communities without being beholden to shareholders. The public sector has the ability to act as a connector and bring together the innovation and creativity to ensure strong future growth for our regional economies.
I've often heard experts talking about how nonprofits and the government sector could learn from the private sector. What do you think?
The two sectors have a lot to learn from each other. At Region Nine, I have to make sure I'm doing a good job to make my bosses happy. It's the same in the corporate world and the nonprofit world. You want to add money to your reserves or your bottom line. In the for-profit world, you think, "How can we make the most money?" Here, we're trying to think, "How can we have the best impact?" We're not pie in the sky, just talking about things. We're really doing things here, and that's what I really like. No matter what county in our region, we can point to something and say, "We helped them do this." And that's what's really cool.
In government, the way that it's structured allows us to get public, private and nonprofit input. We are working with leaders from area nonprofits, workforce centers, state and federal agencies, and local businesses. We work with all of these different groups to get their opinions to hear, "This is what needs to be done to have our economy grow." We are looking at things really comprehensively. I think the private sector could learn from that, and encourage people to think outside of their little silos. I think that engagement and involvement of knowing what's going on outside of your organization and your business field is important.
What are some of the challenges that come with the public sector?
One of the hardest things for me when I started at Region Nine was that I had to wait for certain timelines. I wanted things to go faster in this world. And I think we have sped things up with our internal processes. But then again, in a democratic society, it's going to have to go slower because you want to get public input. You want people to review, and have time to read it, and have time to reflect and to give their opinion, and then get it back and make changes and edits. It is a wonderful part of the democratic public process.
What led you to Region Nine?
I was in a leadership institute (the Elizabeth Kearney Women's Leadership Institute) at the time, and my peers in the program really pushed me to apply. So I did what any smart person would do: I went home quick and studied every single link possible on the website to understand regional government, looked at all the minutes from former meetings, agendas, everything. It just seemed like a really cool opportunity to be able to make an impact on the greater region where I grew up.
You could say it was a bit like my Goldilocks situation: after being in the corporate world, which was so big, and then a nonprofit, which was much smaller, Region Nine seemed like a perfect fit for me. In the past I was fortunate enough to work with great people in many different settings and on many wonderful programs. Region Nine seemed like a great opportunity to lead a staff that was doing interesting and unique work. No one else is doing this in the area.
I heard you're the youngest executive director of a regional development commission in the U.S.
Our national organization is pretty darn certain that that's true.
Was that intimidating?
Honestly, right from the beginning, no. Going back to my retail management experience, I was used to being promoted as long as I met their standards, regardless of my age or gender. It didn't seem odd to me until people kept saying that to me and asking that question, "Isn't it weird to be so young?" After people kept asking, I felt like, "Well, shoot, should I feel weird?"
I feel, and of course I have a bias, that it is kind of cool that I have a different perspective and that I came from outside the organization. Region Nine was doing really great things well before I got here, and they are going to be doing really great things long after I have left. I think it is always good to have a new leader with fresh ideas. I wasn't coming from a different development organization going, "Well, the way we do it there…" There's nothing worse than hearing that. You need to focus on, "Where are we today, where will we be tomorrow, and how do we stay relevant and relatable?"
You're also a young woman in a field run predominantly by men. Has that been a challenge?
Being a woman in this field shouldn't be something that we should have to stop and talk about. In Minnesota, we seem to have it right in that half of our executive directors are female. I have some really great peers, and they're doing fabulous things, so I'm stealing ideas from them left and right. But nationwide, it definitely is a very male-dominated field. I've heard our organization will see a third of its executive directors retire within the next few years, so now we will have this new wave of directors. Like every other industry, we're going to see things shift and look a little different, so the question is, "How do we adapt and accept new leaders?" You want to make it easier for the next person coming in.
You attended the Elizabeth Kearney Women's Leadership Institute in 2011. What did you take away from that?
It was fabulous. The institute is really about helping encourage other women to support each other. We are raised where we are quick to be critical of each other instead of raising each other up. Helping back other women with their leadership, whether they are working at home, have a job or are a professional or executive, is so important. This type of women's leadership institute is not done all over the state or in other states. Our region is lucky to have this structured opportunity to learn from other women and hear what their struggles are so we can better empower these regional leaders.
Another thing I really appreciated was that it gave me a little more of a permission slip to be an authentic leader. When I got this job, the title was executive director of a regional governmental agency. That sounds so stuffy. It was kind of that panic attack of, "Oh my gosh, do people expect me to dress like a female politician? Do I have to wear a pantsuit every day?" Well, no one's telling me to do that. What do I want to do?
Describe to me in layman's terms what you do as executive director.
The quick answer is that I oversee all operations and administration. I'm in charge of hiring, performance management, bringing on new programs, the overall budget, the governance of working with the board and the full commission. As the chief executive, I am held accountable to our commission and am the face of the organization.
When I started three years ago, really great work was getting done, but no one seemed to know about it. One of my very first goals was getting rid of the "head tilt." When I go out and I say that I work for the Region Nine Development Commission, I don't want people to go, "Huh? What's that?" and tilt their heads in confusion. I think we have done such a nice job of doing that. There is still work to do, of course, to get to where I envision us getting to but for the size of our organization, I think we're doing a really nice job.
It's my job to tell the story of what staff is working on; it's my job to go out and drum up more business and figure out whom to work with based on their community's needs. I'm the eyes and ears of what's going on in the region for the organization. It's great, because I have interests a mile wide and an inch deep, so I get to play in all these different sandboxes. I get to go and do advocacy work for the region at the state and federal level. I'll do the Day at the Capitol through Greater MN Partnership or other partner organizations. Once a year I go out to Washington D.C. to meet with the offices of U.S. senators and our members of congress about what is going on in south central Minnesota and how they can better assist in meeting the region's needs. I also attend meetings of the Association of Minnesota Counties, the League of Minnesota Cities and the Minnesota Association of Townships.
What issues are facing southern Minnesota right now?
There are many wonderful things happening across our region, but there are also many challenges. We are so diverse as a region that the challenges are vast. Four big challenges we see consistently region-wide are: aging population, transportation investment, developing a workforce with the skills that employers need, and workforce housing. In five years, I hope we are not still talking about the need for welders and personal care attendants. The challenge is: how do you tell the story of what the region needs for jobs, where the jobs are and how they can offer some really great wages and benefits? If we're not helping our partner agencies in workforce development tell that story and talking about it constantly, how would anyone even know those job vacancies exist? For example, our partners have told us that our region is going to continue to be successful if we can recruit, train and retain truck drivers, nurses, welders and other skilled workers to fill some of the top in-demand occupations in south central Minnesota. It's part of our job to help them tell that story.
Not every student should be pushed into a 4-year college. However, looking into the numbers, we know that most jobs are going to require some type of post-secondary degree or specialized training. It's our job as a region to do a little bit of matchmaking—not pushing, but laying it out there. How do we work with the school counselors, workforce centers and business leaders to tell that story?
For the past few years, there have been reports that businesses are leaving Minnesota. Have you seen that in communities where Region Nine works?
While it ebbs and flows and differs across the landscape of our region, would you believe that the region has actually added 58 employers since the end of the most recent recession?  That represents a 1 percent increase, but it is a step in the right direction. We are not losing employers.
Every community is so different. There are trends for rural Minnesota where the population is graying and there's also a  perceived "brain drain," where kids are going off to college and not coming back to some of our most rural communities. The story that people want to be quick to tell is, "Small towns are dying." That's not always the case. The work has to be done to tell the story in a more meaningful and direct way, like sharing what jobs they have available and what benefits they're offering, both direct benefits through the job but also the benefits of living in a smaller community. There are many advantages to living in a small city: larger spaces, a hometown feel, and in some cases more property at lower prices, as well as access to high wage employment—specifically in manufacturing—without the long commute. And regardless of where you live, there are always opportunities for smart, hard-working entrepreneurs. It's about telling that story and doing that marketing work instead of just throwing your hands up in defeat and going, "We've lost our hardware store. Now the town's just going to collapse."
What are some programs Region Nine offers to businesses?
We have a program called Community Analyst Online. If a business owner wants to decide where to locate, we can work with them by putting in all these different data sets, like where their customers live and what income bracket they're in, and whittle it down to tell them, "Based on all this information, you should locate here." For example, one business came to us, and I assumed they should have been located up by the bigger box stores, but by pulling all the information, we realized they should locate downtown. So that's where they went, and they're doing really well.
Then there is our gap financing. We have revolving loan funds to help businesses when traditional lending options cannot cover the full requested amount. We have some really cool stories about businesses that started or expanded from our loans. For instance, Angie's Kettle Corn actually started through one of our revolving loan funds.
A lot of it goes back to the technical assistance, and pulling a lot of different data, and being that matchmaker. We can help connect them with different partners, like Southern Minnesota Initiative Foundation (SMIF), the Department of Employment and Economic Development (DEED) and the Small Business Development Center (SBDC). One example is how we worked with a group of community leaders in Trimont who wanted to raise funds to build a town center where they could buy the diesel fuel they needed for their farm equipment. In the past, they had to drive 20 miles in any direction from town in order to buy that. They came together and got the idea of founding this town center, which would include a grocery store, gas station and a hardware store. Our 501c3 arm, Region Nine Area Inc., was their fiscal sponsor as they collected more than $800,000 in donations over the past few years. They are now breaking ground and plan to open by the end of October.
What are some of the challenges your commission is facing right now?
I don't think there's any challenge that is too big to work through. I feel supported because I have great commissioners, and I know that my staff members feel supported and are passionate about their work in the region. I'm not saying it is easy, but I believe in being optimistic and positive. We have had a lot of curveballs thrown our way and we're still going strong.
There are always uncertainties. Regarding the political climate…you never know when things could turn. Right now, we have great state and federal partners. We work closely with both congressmen's offices, and Senator Franken and Senator Klobauchar's staff. Everyone is really supportive of the work that we are doing. It is my belief that they always will be, as long as we tell the story. I think the only time that we would ever lose people's support is as soon as we slow down and do not explain who we are helping and why. If communities ever feel like we are not an approachable, reliable and relevant organization that can help them, then I think community leaders' attitudes and opinions could shift. But that would be shame on us, for not telling our own story. Lucky for me, we have a great story and I love telling it!
—–
The Highway 169 Project
Region Nine has its own Transportation Advisory Committee and acts as a liaison between the region and the MN Department of Transportation. This relationship helped Griensewic Mickelson and her staff secure a federal grant of $9.8 million to complete a project along Highway 169. Griensewic Mickelson said that this grant is likely the largest grant ever received by a state transportation department from the federal Economic Development Administration.
According to Griensewic Mickelson, the federal EDA was offering "disaster dollars" for areas facing economic development disasters. RNDC was able to demonstrate how southern Minnesota faces a true economic development disaster whenever Highway 169 floods, since most products are still moved by truck. Because of this, RNDC and MnDOT were able to help secure the $9.8 million grant.
"Most federal EDA grants are probably $1-1.3 million, so we know very well that they could have picked nine other projects and skipped ours," she said. "But they understood that this truly is so, so important to not just our region but also southern Minnesota and northern Iowa."
The project, which will start in 2016, runs from Mankato to St. Peter and includes three main elements: nine miles of the four-lane highway will be resurfaced from north of Highway 14 to St. Peter's south side; a center barrier will be added for the whole section to prevent head-on collisions; and four low-lying sections of the highway (Hiniker Creek, Old River Bluff Road, 7-mile Creek and Minnesota State Hospital at St. Peter) will be raised several feet so that the highway can stay open despite rising water levels during floods. The project is estimated to cost about $25-30 million overall and will take about six months to complete, resulting in detours throughout next year's construction season. So far, MnDOT is planning on rerouting traffic west on Highway 99 to County Road 13 to Highway 14.
"I think everyone was so excited, and they were patting us on the back when the funding was announced," Griensewic Mickelson said. "I just hope they remember how important it is going to be and the impact it will have for the region when the road is all ripped up."
While she acknowledges that the construction will impact commuters and businesses along the corridor, Griensewic Mickelson said that MnDOT has been doing a good job about preparing for the project and sharing the information with the public.
"I can't speak highly enough about them," she said. "I have full faith in them running this."
From here on out, Region Nine will not be involved in the project, and is leaving it in MnDOT's hands.
Region Nine
The Region Nine Development Commission was organized in 1972 and is governed by 37 regional leaders. These elected officials represent nine counties, 72 cities, 147 townships, school districts, the Minnesota Valley Council of Governments, and the special interest groups Health & Human Services and Minority Populations. The nine counties included within the region are Blue Earth, Brown, Faribault, Le Sueur, Martin, Nicollet, Sibley, Waseca and Watonwan.
As Griensewic Mickelson explains, Region Nine is an entity that works with everything from counties to townships to groups within cities. It is neither a state nor a federal entity but rather a regional one. Often, the work is done by contract, such as a current project focusing on creating a comprehensive plan for the city of Henderson. For smaller projects, such as when a city calls looking for census information, Region Nine can assist at no charge. Some of the work is connecting communities with other organizations that can help them, such as DEED. Besides working with area businesses, Region Nine also assists with community development (such as grant writing for housing development), GIS mapping and data management, county hazard mitigation, Homeland Security and Emergency Management planning services, and hosting social media breakfasts to teach people how to more effectively use social media.
"Region Nine is a catch-all for whatever issues, questions and projects people have," Griensewic Mickelson said. "We're the partner for progress."
Nicole Basics
Education: Mankato West (2001), double major in History and German from the University of Wisconsin-Eau Claire (2005)
Family: Husband Alex, coonhound Finnegan, cats Banjo and Gypsy, and horse Sienna
Hobbies: Horseback riding, attending music concerts, traveling, kayaking and canoeing
Favorite school subject: Social Studies
Least favorite school subject: Math. "I like really creative, out-of-the-box type thinking, but math is pretty black and white."
Favorite country visited: "The quick answer is Greece, because the people were so hospitable and welcoming."
Countries on the bucket list: Cuba and Croatia
If she wasn't doing this: "I would quit this job tomorrow if Saturday Night Live called me up and wanted me to do sketch comedy. I think it would be so much fun to rub elbows with famous people, make people laugh all day, and hear some really great bands."
Fun fact: Griensewic Mickelson has visited 46 states. She still needs Alaska, Texas, New Mexico and Oklahoma. She's working on it.
THE ESSENTIALS: Regional Nine Development Commission
Phone: 507-387-5643
Address: 10 Civic Center Plaza, Suite 3, Mankato, Minnesota
Website: www.rndc.org