Jace, Kyle and Franz Marti of Schell's
By
Grace Webb
• Nov 2015 • Category:
Cover Story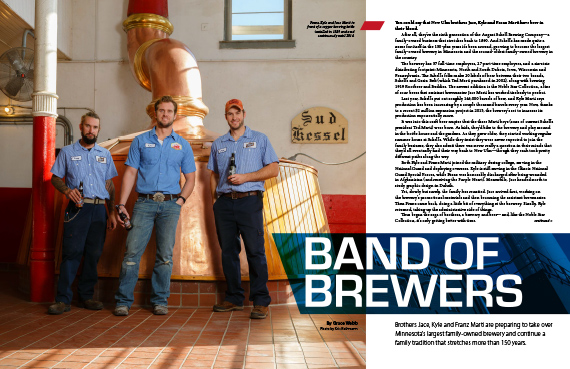 Band of Brewers
Brothers Jace, Kyle and Franz Marti are preparing to take over Minnesota's largest family-owned brewery and continue a family tradition that stretches more than 150 years.
You could say that New Ulm brothers Jace, Kyle and Franz Marti have beer in their blood.
After all, they're the sixth generation of the August Schell Brewing Company—a family-owned business that stretches back to 1860. And Schell's has made quite a name for itself in the 150-plus years it's been around, growing to become the largest family-owned brewery in Minnesota and the second-oldest family-owned brewery in the country.
The brewery has 57 full-time employees, 27 part-time employees, and a six-state distributing footprint: Minnesota, North and South Dakota, Iowa, Wisconsin and Pennsylvania. The Schell's folks make 20 labels of beer between their two brands, Schell's and Grain Belt (which Ted Marti purchased in 2002), along with brewing 1919 Rootbeer and Buddy's Sodas for Arneson Distributing. The newest addition is the Noble Star Collection, a line of sour beers that assistant brewmaster Jace Marti has worked tirelessly to perfect.
Last year, Schell's put out roughly 146,000 barrels of beer, and Kyle Marti says production has been increasing by a couple thousand barrels every year. Now, thanks to a recent $2 million expansion project in 2013, the brewery is set to exponentially increase its production.
It was into this craft beer empire that the three Marti boys (sons of current Schell's president Ted Marti) were born. As kids they'd bike to the brewery and play around in the bottle house and the gardens. As they grew older, they started working regular summer hours at Schell's. While they insist they were never expected to join the family business, they also admit there was never really a question in their minds that they'd all eventually find their way back to New Ulm—though they each took pretty different paths along the way.
Both Kyle and Franz Marti joined the military during college, serving in the National Guard and deploying overseas. Kyle is still serving in the Illinois National Guard Special Forces, while Franz was honorably discharged after being wounded in Afghanistan (and receiving the Purple Heart). Meanwhile, Jace headed north to study graphic design in Duluth.
Yet, slowly but surely, the family has reunited. Jace arrived first, working on the brewery's promotional materials and then becoming the assistant brewmaster. Then Franz came back, doing a little bit of everything at the brewery. Finally, Kyle returned, taking up the administrative side of things.
Thus began the saga of brothers, a brewery and beer—and, like the Noble Star Collection, it's only getting better with time.
—–
When did you start working at Schell's?
Kyle (laughs): Legally, I don't know if we can answer that… I started doing miscellaneous stuff when I was 12 or 13.  It was basically just chores: cleaning, picking up the trash, painting, washing umbrellas. I actually got fired from that, for giving my mom attitude. I was rehired the next day though. There was never any pressure to help; we just wanted to.
Jace: Dad would always find random jobs for us to do: cleaning dark corners and dirty jobs that he wouldn't give anybody else. When we got older, we started washing kegs and working in the bottle house.
Franz: There was always something to clean.
Did you have any other jobs growing up, outside of Schell's?
Franz: When I was a kid, my mom said, "You can't work here until you work somewhere else." She didn't want us becoming full-time employees here without seeing our other options. So I got a job at the New Ulm Golf and Country Club. When I went off to college, I worked at Sgt. Preston's (a now-closed eatery in Minneapolis).
Kyle: My mom told me the same thing. Once I left for school, I joined the Army, and I guess that was my "other job."
Jace: Looking back, I probably should have [tried another job]. But I was really eager to start working here. Right or wrong, that's what happened. I worked for the City of New Ulm when I was in high school as part of their mowing crew, and I worked while I was attending university in Duluth. I thought about sticking around there, but I had a good job coming back here, and I was kind of anxious to get going. But I'd definitely tell my kids to do the same thing: Go work somewhere else first.
Did you always want to work at Schell's?
Kyle: My parents actually made it a point to say that we didn't have to come back. They said that over and over again—and they still say it to this day. Still, for me it was always in the plan. I was always going to come back and work here in one fashion or another.
Franz: When I got out of the hospital in 2012 and got retired, I spent the whole two days in retirement and then came back to work the next Monday.
Why did you want to work here?
Franz: We're kind of a big family here. The majority of these guys who work here, we've watched as we've grown up over the years, and they've watched us grow up over the years. For instance, we messed around with our plant manager when he was a regular line worker. We look at our employees as the extension of our own family. This doesn't happen without them. It's not a one-man operation by any means.
Kyle: There's very low turnover at the brewery. You've got a lot of guys who've been here 15 years or more… Some have been here more than 25 years. So you get to know people. You become family. Why wouldn't you want to work at a place like that?
Many other businesses are struggling to retain employees, but you've got workers who stay for decades. What's your secret?
Kyle: You try to treat your employees the best you can, and that's usually why they stick around.
Franz: Someone once told me that it's not a bad job if you don't have more than two bad days in a row. That's the way I explain the brewing industry. You have your bad days, but you never have multiple consecutive bad days.
Jace: Making beer is definitely a benefit of working at the brewery; it's a lot of people's dream job. So that makes things a little easier. We've had people who have worked here forever, but it seems like lately, we've also had people come here and move on. Is it a little bit of that next generation mentality? Probably.
Take me through your career paths, before you ended up back here.
Kyle: I graduated high school in 2003 and then went to Gustavus Adolphus for a year before joining the Army. I had gotten pretty burned out at school—besides studying to be a physical education teacher, I played on the hockey and baseball teams and also participated in ROTC. I had always wanted to go into the Army, so I decided that was a good time to do it.
I joined the Army that summer, then came back to Gustavus for a while before getting deployed to Iraq. After finishing up my time overseas, I attended classes at MSU-Mankato for a bit before joining the Illinois National Guard in 2011. They have a Special Forces group down there. My grandpa was in it, and it seemed right for me to join too. That's been a long road, but it's been good. Eventually I came back and finished up school, and I've been kind of coming and going between the Army and Schell's ever since. In November of 2016, I'm going to be calling it quits. That'll be 13 or 14 years of service, and that's enough for me.
What about you, Franz? What led you to the military?
Franz: After I graduated high school in 2006, I went to culinary school and studied there for two years. Then I ended up joining the National Guard. At that point Kyle was serving in Iraq, and I thought, "That isn't fair, that I'm sitting back here and he's getting worked on." Next thing you know, I was in his old unit. I did that for about a year before transferring to active duty. I got stationed out in Fort Drum in New York before being deployed three months later to Afghanistan in 2009. I finished with the military in 2012 and came back here.
Did you ever consider joining the military, Jace?
Jace: It's something that I've always had the utmost respect for, but it just wasn't for me. I was definitely nervous when both Kyle and Franz enlisted because that was just when the [Iraq] war had started. You're scared for your brothers. And when Franz got hurt… That was nerve-wracking. There wasn't really much communication; you could only write letters. I know [serving in the military] is something I didn't do, and probably couldn't do, not what they did. I'm extremely proud of them. With their military backgrounds, I think that's a whole different level of training and expertise, and they definitely brought that over here to the brewery.
What did you decide to do instead?
Jace: I went up to the University of Minnesota-Duluth to study graphic design and graduated in 2006. While I was there, I worked for the Recreational Sports Outdoors Programs, designing their ads and posters. When I came back to Schell's, I worked on redesigning our logos and working on other promotional content from 2006-2010.
But now you're the assistant brewmaster.
Jace: I've always been interested in brewing. I started home-brewing right out of college, and I wanted to eventually transition into that side of things at the brewery. My favorite part is the creative aspect. It was like my background in design. You're still being creative; it's just in a different medium. You're using raw ingredients instead of a pen and paper.
I understand you studied brewing in Germany for nine months in 2011.
Jace: I was kind of set on going to the Siebel Institute in Chicago, where my dad learned how to brew, but then I learned about a school in Berlin that offered an English-speaking course and taught how to do lagers. To learn how to make lagers in the country that perfected them… that was my main factor for going there. I thought it'd be the perfect fit for me.
The schooling was pretty intense. They tried to cram as much as they could into a short period of time. We traveled a little bit with school, visiting other breweries. We had Easter week off, so some of my classmates and I toured Belgium and dipped into northern France for a day to visit some breweries there. After school, I did an internship just north of Baumberg and then spent a month at a classmate's brewery in Austria.
What were some of the differences you noticed between brewing in the U.S. compared to brewing overseas?
Jace: There were different processes. They have the German Beer Purity Law over there, so they're a little bit bound by only being able to use four ingredients: yeast, water, hops and barley. Certain things we can do here, like water adjustments or even collecting CO2 and reusing it, they can't do over there. But they just work within those limits. We learned about natural carbonation over there, and we implemented that right away. We tried to take a lot of things from there and put in as many things that were practical here as possible.
What's it like working with your whole family here?
Franz: It can be a challenge working with family, but at the end of the day, they're still your family. So we treat each other with respect and move on.
Kyle: Sometimes when it's a family business, decisions that maybe shouldn't be as hard as they are become a family affair. I think everyone's pretty passionate about what goes on around here, so when hard decisions need to be made, they're maybe a little harder than they normally would be. But I think everyone's got their own niche at the brewery, and it works out nicely.
Jace: We see each other every day, so I think our relationship is a little different from a family standpoint just because it's hard to switch off sometimes, business-wise. Even when we get together on holidays, we end up talking about the brewery. But at the same time, you can go talk to your brother or parents anytime you want, and have different conversations that you wouldn't normally have with your boss or coworkers. It's definitely a good thing that we're all working together. I think that's pretty special. It's a family pride thing.
What lessons did you learn working alongside your parents?
Kyle: I'd say work ethic. You're never off the clock, for good, bad or indifferent. My parents work pretty hard—really hard. And they don't complain about it. That's the life it is, and you just do it.
Franz: If something needs to get done, it's going to get done.
Are you planning on taking over when your father, Ted Marti, retires?
Kyle: We'll see what he says. I think Ted's got a few years in him yet at the helm. But I'd definitely be open to it. I think that's the way all of us feel we want it to go…
Franz: We want to keep it in the family.
Jace: We definitely want to keep it in the family.
Kyle: But not for a few years. I don't think anybody's ready for that. Ted's been at the helm since 1985, and he's got 30 years under his belt. It's not something you want to give up just like that.
Franz: The man is full of wisdom. He knows more than probably all three of us combined. You just learn as much as you can.
What makes a "good" beer good?
Kyle: I think it's all personal preference. It's like a food. What makes your favorite food? For some people, it's the hop profile of it. Some people like really hoppy beers. For others, it's the balance, so that the malt balances out the hop bitterness. For me, it's a balanced beer, one that's not overly hopped up. It's a beer that you can sit there and have more than one… or two… or seven.
Jace: It's all in the little things. We try to focus mostly on traditional-style beers, like how they were originally brewed, then adapting those materials and methods to fit within our system. It's going out trying beers you like and you don't like, and finding examples you can draw inspiration from. And then you try to come up with something new.
Craft beers are seeing a boom in popularity right now. Do you think the industry will ever become over-saturated?
Jace: If you compare breweries to wineries, there are three times as many wineries as breweries in the country, but no one's talking about saturation point of wineries. It depends on the type of brewery that's opening up. If your only goal is to sell beer in your own tavern, and that's it, you can have basically an unlimited number of breweries in business. Then it's just a bar, and no one says there are too many bars.
Kyle: If we haven't almost reached a saturation point already, I think we're very close to it. What you see coming now with the term "craft," it's hard to even say what that means anymore. The term craft used to mean a specific thing, but now I think it's been used so much, it's kind of lost what it means. And people get confused by it. At the end of the day, I don't think people should get hung up on what an actual term means. I think they should drink what they like. If you don't like something, don't drink it. If you like it, who cares what anybody else thinks? If it's not defined as whatever the cool kids with skateboards are calling it, it doesn't matter. [The increase in popularity] has been good for everybody. The more popularity craft beer has, the more people get introduced to it. And with that comes more people trying your own brand, so that's been good.
So you don't think over-saturation will affect your brewery?
Jace: Where the saturation point comes into play is in retail shelf space. Bars have added more and more tap lines. You have a lot of space there to play with. But liquor stores, there's only a finite number of shelves indoors. And that's where things get ugly, competing for that small amount of space. You have these national brands that typically dominated your shelf space, and you have all these locals opening up. The tendency, for good reason, is to support local and drink local, so now they start chipping away at the national brands, and the national brands don't want to lose that. From a consumer's standpoint, it's great. You have a lot of turnover and cheaper beer. But on the other side of the table, it's difficult. The big guys can really control a lot of things, good and bad.
Kyle: If you go to any liquor store now, and stand in the beer aisle, you're just overwhelmed by this smorgasbord of beers of different shapes, sizes, colors, everything. It's confusing for consumers, and I think that when people get confused, they just stick with what they know. It's so overwhelming and there's so much out there that people just kind of get tired and go back to their "usual." But I think [the market] will thin out here eventually.
Jace: Right now, there's a lot of turnover in the brewery industry, especially with craft beer being bought out and merging. It's a little scary. It's like history repeating itself. Right after World War II, they call it the consolidation period, where you still had all these small independent regional family-owned breweries, and all of a sudden they started getting bought out and merging, and big guys swallowed up little breweries. We just had this whole craft beer movement because we were down to so few breweries, and now the whole industry blew up and, all of a sudden, breweries are getting bought out and sold again. You have this first generation of craft brewers stepping out, selling their business, getting out of the industry. A lot sell to private equity firms that kind of have that "turn and burn" mentality of, "All right, we spent a lot of money and we have to get it back in a couple years." I think you'll see a lot more aggressive pricing and maybe some more dirty tactics like "pay to play." It'll be interesting these next couple of years.
You said it doesn't matter what label a drink has, but Schell's fought to correct an article by the Brewers Association in 2012 that stripped the brewery of its "craft" title.
Kyle: Meeting that "craft" definition is important because, contrary to what I say, it's important to a lot of people. And when we got that taken away, it was a black eye for a little while. I think we're still kind of dealing with the repercussions and aftermath of it, even now. I think people read one article and take that as law—that's all the truth they need. But that's in the past. It is what it is.
Jace: We kind of got booted from the club. That was a tough time. We took offense to it because they singled us out on basically a "do not buy" list. When you have national publications putting out this list of 42 breweries that are not "craft," it definitely shines a negative light in your direction, which was unfair. We're a little family-owned brewery. It's not like we're this evil empire that's trying to take over the world. But as for now, whether we're known as a craft brewery or not, we feel that we are, and that's all that matters.
Kyle: It is important to have that title. At the end of the day, we are making craft beer. Whether the article says we are or not, we're using all malt for our shelf lines, and we're traditional; we've been using some of the same recipes since 1860. The corn filler that we use in some of our beer is not because we want to be cheap; it's because that's the traditional recipe that they first used when they came up with their beer.
What makes a "craft" beer craft?
Kyle: The biggest thing is that it's traditional. You can't be using too much adjunct fillers in place of malt. We meet all those criteria. Just last year, after the back and forth of that article, the powers that be on the Brewers Association board changed the definition of what makes a craft beer, to bring guys like us, Straub and Yuengling into the craft beer category, because we are. Brewers like that have been around forever, and are what paved the way for all these new guys coming in. So it's only fair.
Jace: There's so much change where the word craft beer doesn't really mean anything anymore. Make a beer, and if people like it, great. If they don't, it's up to you to change it.
In 2002, you bought Grain Belt, another traditional Minnesotan beer company. What prompted that decision?
Franz: Grain Belt has always been a Minnesota brand. I think Ted Marti saw that and saw the value in that, and didn't want it to go off to some other bigger brewery that would have produced it out of state and lost the localness of it. It worked out. That was a hell of an investment.
Kyle: With the stroke of a pen, we became essentially the largest brewery in Minnesota overnight. We've been scrambling to keep up ever since. We've been dropping new tanks every summer to catch up. We're dropping in two more tanks this fall. I think right now our capacity at the brewery is 200,000 barrels a year before we drop in these new tanks. We're not producing that by any means.
Franz: It gets to be a shuffling game. We're a lager brewery primarily. They take a little longer to make, as opposed to an ale. So the turnaround is a bit longer. The beer sits in a tank about 6-8 weeks, compared to 3-4 weeks for an ale.
Kyle: So you run into capacity issues at times, like when we've got our Oktoberfest in the tanks. That has to age for an extended period of time. You have only so much capacity when that beer sticks around for 2-3 weeks longer than a normal brew. It ties up everything.
You can serve on tap at your brewery, but it doesn't seem to be a big part of your business model.
Kyle: We're not like most breweries—we're not open every day. In the summer, we have the beer garden open, and we serve pints and have live music. We have the taproom that people go to after the tours, but we don't serve pints on the premise right now. Our stance has always been that all the local establishments in town and the surrounding area have been what kept us alive this whole time, so we don't want to take business from them. We'd rather have people come here, tour the brewery, and have a pint at the end of it, and then we'd like them to go downtown and see New Ulm and share that business with everybody. It doesn't do us any good to hoard all the business, when we've got friends and family out there who have businesses and who have been supporting us forever. That philosophy is getting harder and harder, since more and more people just expect that we're open. So we're kind of bucking the system at this point.
Have you thought about creating a wider distribution footprint?
Jace: We've made it a choice that we're going to keep the territory we're in. We're not looking to expand. More and more breweries are going to keep opening up. People are going to gravitate towards what's local. It seems like you've had these national brands that have rolled waves across the country and have made these huge breweries, because it was just territory, territory, territory. But they've also kind of kick-started local breweries. Why would you want to drink a beer that comes from one of the coasts and traveled halfway across the country when you can have a beer that's just as good, or even better, that was made right down the street or in your same state?
Do you have a lot of competition?
Kyle: Competition's always a struggle. When you're the biggest brewery, you're the biggest target. We've got a lot of competition coming from both sides. You've got all the new guys, the startups, that are screaming for attention. People want to try what's new, and these guys are all new. And then there's the heat you're getting from the bigger guys, like Sierra Nevada and Samuel Adams. They're on the opposite side, where they're putting out good products as well, but also have the money and advertising to back them up. Everybody's in competition. Just because you're a big guy doesn't mean that you're invincible.
Some brewers are concerned that this year's poor barley crop will affect their ability to produce beer. Are you worried, too?
Kyle: Not as much, because we contract all our barley out. We'll contract our barley for a couple years at a time. Then again, at the end of the day, if you contract your barley, and there's no barley… well, everyone's having a hard time. Without a big yield on the crop, prices will go up. For folks who don't contract it, it's going to be tough. They've got to fill those contracts first before they open it up to everybody else. To top it off, a lot of farmers are getting out of that production. With corn prices the way they are, there's more money in corn. The actual sizes of the fields are getting smaller and smaller, and it's getting harder and harder to find enough materials.
You're pretty involved in the New Ulm community—and beyond. Tell me about that.
Kyle: It all extends back to: We wouldn't be here if it wasn't for the community. So you try to do your part to be a good partner. There's a long, long list of things that we try to do. There's something every weekend. We're involved in New Ulm's Riverblast, the Brown County Fair, Bavarian Blast, Oktoberfest, Bachfest, Santa in the Summer… Throughout our whole footprint, we try to do what we can.
Franz: This is where we're from. My dad's always been adamant about helping where he could, and that value has continued through the family. Even starting with August Schell, they always seemed to help people who lived in their community. It's not a very nice community if everyone just sticks to themselves.
Jace: We wouldn't be here without New Ulm. The community supports us, and we try to do the same. I think that's just good business. It's especially important in small towns, to get people to stick around instead of heading out for the bright lights. The more we can do to help each other out, I think, it's better for everybody. If you can make that relationship into something bigger and better, it makes sense. Whether it's working with Oktoberfest or working with restaurants or working with the city on events… it's good for everybody. From a beer standpoint, it's the reason we don't have our own taproom. It's out of respect for the bars that carry our products. They're good to us, so we try to be good to them.
—–
Getting to know you: Jace Marti
Position in family: Oldest son
Position in the company: Assistant Brewmaster
Family: Fiancée Kate
Hobbies: Traveling, visiting breweries, working on his house
Favorite Schell's beverage: Hefeweizen and any of the brewery's sour beers
Favorite non-Schell's beverage: Augustiner-Brau Lagerbier Hell from Munich
How his brothers describe him: Forward thinking, stubborn, hard working, artistic
Getting to know you: Kyle Marti
Position in family: Middle son
Position in the company: Administrative side of things
Family: Wife Danielle, dog Ginger
Hobbies: Playing hockey, guitar, work
Favorite Schell's beverage: Schmaltz's Alt and Oktoberfest
Favorite non-Schell's beverage: A dirty martini
How his brothers describe him: Knowledgeable, helpful, level-headed, personable, "can talk to anybody."
Getting to know you: Franz Marti
Position in family: Youngest son
Position in the company: "Swiss Army knife"
Family: Dog Annie
Hobbies: Motorcycling, camping, hiking, biking
Favorite Schell's beverage: Goosetown and Deer Brand
Favorite non-Schell's beverage: Yuengling or Summit Extra Pale Ale
How his brothers describe him: Extremely hard working, "the guy who knows how to do it all."
—–
The Noble Star Collection
Schell's came out with its latest line of specialty beers, the Noble Star collection, in 2013. Based on the Berliner Weisse style, Jace Marti came up with this group of sour beers after studying techniques in Berlin, one of the first cities to perfect sour beer hundreds of years ago.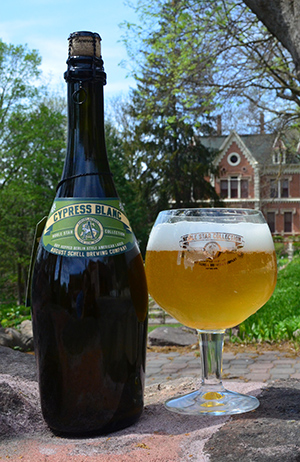 As Jace explains it, "A long time ago, before modern sanitation practices, all beers were more or less sour. You didn't really know what bacteria was or how to clean things well. You drank beer as fresh as possible because it'd eventually go sour and spoil. But there were a few places that kind of embraced that and let the beer go sour. If you give it enough time, like wine, it kind of rounds out and gets this really wonderful, acidic taste that has a different character. Berlin was one of those cities that embraced sour beer. I was fascinated with the style because of our German heritage, and I wanted to learn as much about it as possible when I was in Berlin."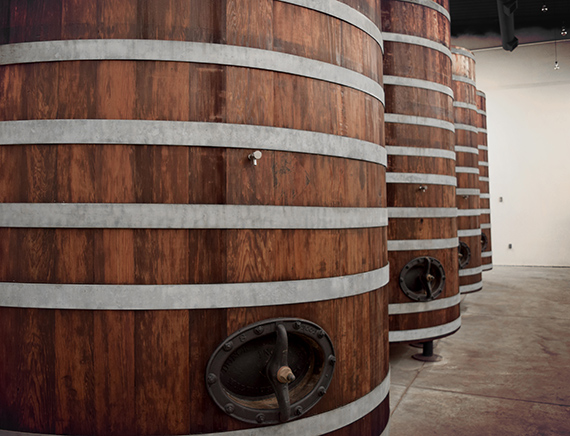 Jace utilized the brewery's Depression-era wax-lined cypress tanks, which hadn't been in use since 1991 and which took him a year to recondition by ice-blasting out the wax and repeatedly soaking the surface until the wood swelled to seal up any gaps.
"I wanted to implement those tanks and use a part of our history that we weren't using anymore for something completely different and new for the brewery," Jace said. "From there, it was a long, slow process. Sour beers… that's definitely a skill I'm still learning. There aren't a lot of people who are doing it. It's kind of a little bit out of your hands. You let the beer tell you when it's ready."
The beer line includes Starkeller Peach, Cypress Blanc, Dawn of Aurora, Black Forest Cherry, North Country Brunette, Framboise du Nord and Star of the North.
—–
Expanding Their Capacity
In 2013, Schell's began working on a $2 million expansion project estimated to double the brewery's capacity. The project included the construction of a 1,800 square foot building between its bottle house and cellar area and created a new lab and a new mill. Some time later, Schell's also purchased 11 acres of land near its original site and built a 12,000 square foot facility, the Star Keller Brewery, to expand production of the Noble Star series.
Kyle Marti said they're still using the current facilities for the Noble Star line but the hope is to soon move production to the new mill to help prevent cross contamination from the yeast.
"We just put in 840 barrel tanks over there," he said. "That'll increase capacity by about 3,000 barrels a year or so. We still have a little bit of legroom at the brewery, but eventually we'll outgrow the single-lane road. When we're running full-tilt, we have a pallet of 42 cases coming off every three and a half minutes. To keep up with that, they have to load the trailer, bring it to the warehouse, unload the trailer, bring back the trailer and do it all over. Right now, we have a truck coming and going every 30 minutes. If we increase capacity any more, the road won't be able to hold up. The traffic will be too much to handle."
Kyle added that the plan is to offer tours and tastings at the new site, as well as a taproom.
"We're still in the construction phase right now, so nothing has been set in stone," he said. "We were hoping to get it started this summer, but like most construction projects, they take a little longer than they're supposed to. So we're not really sure when it'll be done."
—–
August Schell Brewing Company
Phone: 507-354-5528
Address: 1860 Schell's Road, New Ulm, Minnesota
Website: schellsbrewery.com
Facebook: August Schell Brewing Company

Grace Webb is
a former Editor of Connect Business Magazine
All posts by Grace Webb