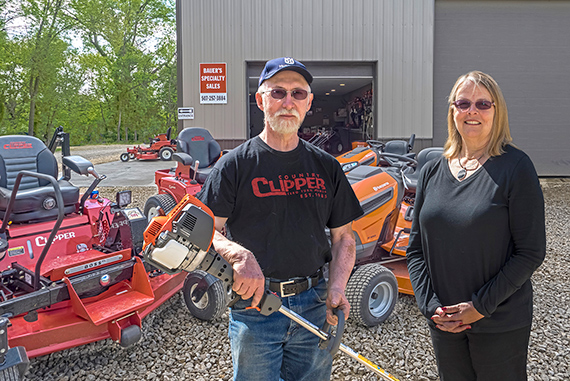 Photo: Art Sidner
EAGLE LAKE: Bauer's Specialty Sales
Following in his father's footsteps, Jim Bauer and his wife Mary, have opened a lawn and garden small engine sales and service operation.
Jim Bauer says, "Dad was a Toro dealer in town for about 30 years. When he passed away, I started taking care of the regular customers he had. I enjoyed it and decided when I retired I would do what he did, have a little shop out of my home."
And he's done just that, he retired from ADM in March and now has a full-service shop at his home. He carries Country Clipper and Husqvarna equipment. Choosing those two lines was very intentional.
Bauer explains, "Country Clipper is commercial grade equipment which is both maintenance and user friendly offering one-handed operation. It is manufactured in Iowa and distributed here locally at Kaye Corporation. So with any piece of Country Clipper equipment you buy here, your money is actually providing an income for people right here in our area. As for Husqvarna, it provides a full line of lawn and garden equipment all made in the U.S.A., one of the few remaining."
Regardless of brand, Bauer can make the repairs and get any parts needed. He provides a different buying experience than his big box counterparts as well.
"It's a low-pressure situation. The best thing is people are able to get their hands on the product. They can even  drive it around in the yard, ask questions and have someone explain it to them that not only sells the product but also services the product so I have an understanding on how it should function," Bauer says.
Since retiring, he really hasn't slowed down. Which Mary says is just the way he likes it. "He's not the kind of guy that can just sit around in a rocking chair and just be retired. He needs to be busy, that's when he's happiest!"
BAUER'S SPECIALTY SALES
Address: 20403 607th Avenue
Telephone: (507) 257-3884
Website: bauerspecialtysales.com