Old Town Escape
By
Lisa Cownie
• Jul 2016 • Category:
Hot Startz!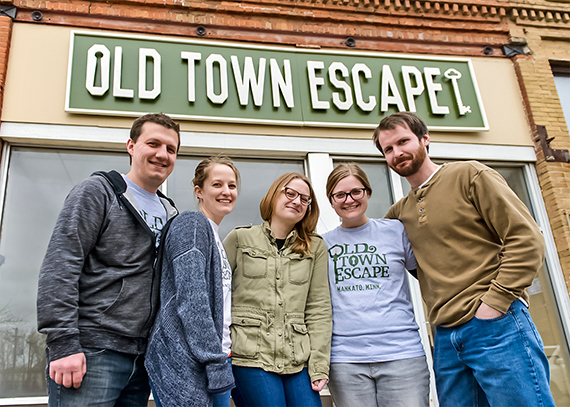 Photo: Daniel Dinsmore
MANKATO: Old Town Escape
A family gathering at a cabin up north led to the creation of one of Mankato's newest tourist attractions, Old Town Escape.
Three sisters, and two of their husbands, were visiting the Park Rapids area and visited an escape room located nearby.
Michelle May recalls, "It was a really thrilling experience that we couldn't stop talking about! We kept saying that we should make one, and all of us were sort of half-joking, but at some point we had to call each other's bluff!"
Opening in February, the five family members already have plans to open a second room by late summer in their current building on North Riverfront Drive in Mankato.
The cast of characters that own and operate the place are Chris Larson, Colleen Depuydt, Kathleen May, Michelle May, and Russell Depuydt. They have two employees.
Escape rooms are a form of immersive live-action entertainment in which you play a mental game in a physical space. You must use your observational and critical-thinking skills to explore the elements of the room and use them to solve the puzzles that will allow you to escape.
The group admits the biggest challenge so far has been explaining the concept.
The scene is an early 1970s Mankato Post Office. The postmaster has mysteriously vanished, leaving a series of cryptic puzzles behind. During your investigation, your team becomes locked in the back room. Solve the mystery to unlock the door in 60 minutes so the mail can be delivered on time.
"Our biggest surprise has been the variety of people who have come and had a blast. We weren't sure of the demographics when we started. We thought it might be young professionals or college students, but we've had people of all ages and from all walks of life. Every group does well in different parts of the game and you never know who's going to click with which puzzles. But most everyone comes out with a smile on their face and that's really gratifying," says May.
To book online, go to oldtownescape.com. Appointments are necessary. No walk-ins.
Old Town Escape
Address: 403 N. Riverfront Drive
Website: oldtownescape.com
Facebook: Old Town Escape

Lisa Cownie is Editor of Connect Business Magazine
All posts by Lisa Cownie