Creative Spaces – Mankato's Envision Lab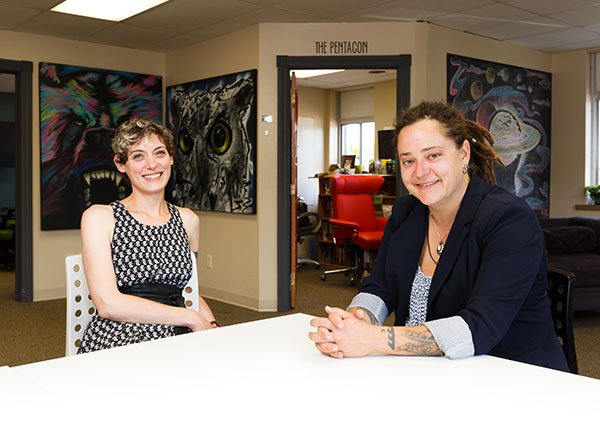 Sara Nett and Katie Boone at Envision Lab in Mankato. (Photo: Kris Kathmann)

Creative Spaces
Envision Lab spurs creative economy development
It's been eroding for years now. A "normal" work day is certainly not what it used to be. The decline of the "9-to-5" job that has historically defined our country's workforce, is evident. Some working well before 9am and well beyond 5pm. Others, though, taking more control of their time, working when they want, and on projects that they deem valuable. Some experts say the freelance movement is the industrial revolution of our time.
The Freelancers Union recently conducted a comprehensive survey of the U.S. independent workforce. The survey found there are 53 million people doing freelance work in the United States. That accounts for 34% of the national workforce. And 77% of those say the best days are ahead for freelancing. In fact, predictions are that freelancers will make up 40% of the workforce by 2020.
Now, the traditional business community is trying to make this new way of working sustainable for all. Recognizing the shift in the workforce and trying to figure out how it fits into their world.  As with so many other things it seems, the Greater Mankato area is on the leading edge of understanding this movement. Proof of that is Envision Lab.
Located in downtown Mankato, it is the only one of its kind in the southern Minnesota region Connect covers. Envision Lab offers what is commonly referred to as a "coworking" space. But it is so much more than a building that offers innovative work spaces and private meeting rooms. Envision Lab is all about the people. It strives to facilitate collaboration, build connections, and leverage resources to foster business development in the region.
The coworking movement espouses five core values: community, openness, collaboration, sustainability, and accessibility.
The Envision Lab strives to give business development  support to those who lack  confidence and experience. The owners term it as creative economy development because they reach out to businesses that don't traditionally go to the Small Business Development Center because they don't know it exists, or don't connect with Greater Mankato Growth and other chambers because they're scared of the suits and ties.
But to truly understand what Envision Lab is, you have to get to know the person behind it: its founder Katie Boone.
While working in the nonprofit sector Katie was introduced to the Art of Hosting, a way of facilitating conversations that matter and that lead to wise action. She sees it as a way to collaborate and move things forward.
She fell in love with the notion and decided it was time to jump ship from nonprofits into freelance consulting work based on that concept. She loved the freedom and flexibility of working from home, but it did pose a few problems.
"The challenge was I needed to get out of my sweat pants, and brush my teeth more frequently," Boone laughs. "Whenever I was on Skype calls with clients, the doorbell would ring, or my mail would come and my dogs would go crazy. Often I was trying to do laundry and dishes and juggle all that. Plus, I just missed the rhythm of having people to work with."
Two and half years into her consulting practice she was accepted into a Harvard Executive Education program called Leadership Organizing Action, Leading Change.
Boone reflects, "It was through the Art of Hosting community that I learned more about coworking spaces other colleagues in Brazil, Amsterdam and Nova Scotia had opened up. The Harvard program lead me to understanding the need to have a neutral space for people to meet and come together to address community challenges and opportunities. I knew that was what I wanted to do and I knew Mankato was ready for a space like that."
She let the idea brew in her head for about three years. "And then one night at 3 am I woke up and my brain would not stop. It just kept going. I felt this internal nudge to just go down to the garage. There's a 16-foot-long white board down there, and I just started mapping out what I thought a coworking space could look like in our region. And at 3 in the morning, I go to my garage and I create a map and by the time the birds were up, I could see how Envision Lab was starting to come into fruition. And I was like 'huh, well why isn't anyone doing this?' And when you ask yourself that, that usually means you are the person who is going to have to take the risk."
So with the help and guidance of friends and mentors, she did take the risk. And in March 2015 Envision Lab opened its doors.
"I would say our first week we had 64 people that came through and that was with no advertising, strictly word of mouth and social media. There was a lot of learning that week, educating the 64 people on what the space was. So we saw all these people testing it out and then they went away and it was like crickets chirping!"
So it was back to the drawing board in a way, and through lots of experimentation and constant change, today the Lab is thriving.
"We were able to show people that the Lab is a place for them to experiment and try out their ideas without huge overhead costs. And from June until October we saw a ton of new things happening with these businesses. Connections being made, ideas coming together, more business support coming in, from June through September we helped 15 businesses get started in 12 weeks. That got the attention of the Small Business Development Center. Now we partner with them on Start Up Labs, sessions that give people tools to get the spinning ideas out of their head and developed in a way that makes sense."
That's when Boone also found a new partner to help her with the growing lab, her longtime friend Sara Nett. Nett was freelancing herself as a mixed media artist in North Dakota.
"I had been working as a freelance artist for 18 years when I joined up with Katie. I was working as a community organizer in my hometown after completing the same Harvard program Katie attended."
Nett first came to Mankato for what was supposed to be a short visit to help Boone with some workshops. She ended up staying longer than expected.
Nett says, "I had watched the process and evolution of it and when I visited, I thought, 'Oh I'm supposed to be here' and my husband must have sensed that because when I returned to North Dakota he immediately said, 'we need to move to Mankato' he even already had a list of houses to look at!"
After years of working on her own, Nett had found a way she could work with others.
"This is work that takes all the skills I have developed from my freelance work and married them into one thing that I can do with one organization. And I'm thrilled that now I can really build the type of change that is so necessary if we are to build sustainable economies for everybody."
That's why the business community is starting to pay attention. Envision Lab, and other coworking spaces like it across the country, are helping to bridge the gap between entrepreneurs and big business.
Nett says, "Our goal is to help spur creative economy development by getting all the voices to the table. Because right now one group works on one piece, and another on a different piece, but nobody ever sees what each other is doing. We want to build a network so everyone is on the same page."
Boone says, if successful, it could be a win-win for all involved. "We serve as transformational agents creating a system that will help make everything more equitable and accessible for everybody. So my goal is to create a win-win: small business can be created and big business can benefit because now there is job growth and economic vitality in our community. We've got more diverse businesses getting ready to get started here, than I think I've ever seen anywhere."
Both Boone and Nett believe the coworking movement can help facilitate growth of young business, which will in turn help businesses that are more mature.
Boone says, "One of the things that frustrates me the most is when I talk to people and they say, 'well one out of 3 small businesses are going to fail within the first three years' and I think, well isn't that a self-fulfilling prophecy? If we don't have proper infrastructure and support for those start ups,  how else are they supposed to succeed? We want to provide people that can help them navigate, and support them. "
To that end, Envision Lab just launched Small Growth Ventures, a collaboration with the GMG Foundation, that will help Boone and Nett with what they call, venture philanthropy.
Boone explains, "Our community has people that want to invest in venture, so this is their chance. So  our community now has a way to support these start-up efforts, without huge risk. The start ups will  get prescreened through our partnership with the Small Business Development Center, so they are legit. They have a plan, their financials are in order, they know what their next steps are, it's the capital that is needed. So small micro investments from people who can use those at tax write offs and help things go a lot faster and we're excited about it."
Nett believes this type of growth is arriving in Southern Minnesota at just the right time.
She says, "This is not the traditional, standard, more industrial growth, rather it's the artists, the underground economy finally coming into the light. It's been there the whole time, but now we can actually make it visible.
"This is really all about jobs, that's our ultimate goal. If we can create an economy that is thriving through small, diverse businesses, then we are creating jobs. Those 15 start ups in 12 weeks we mentioned, that was 12.24 full time equivalents. No, it's not the 435 that the Walmart Distribution Center brought in, but the community continues to chip away at it. This approach is a slower but stable process. Because of it,  you're not totally relying on those big employers. If they shut down or have lay offs, it devastates a community. I've seen  that  happen too many times."
For more on the Envision Lab, go to envisionlab.co.