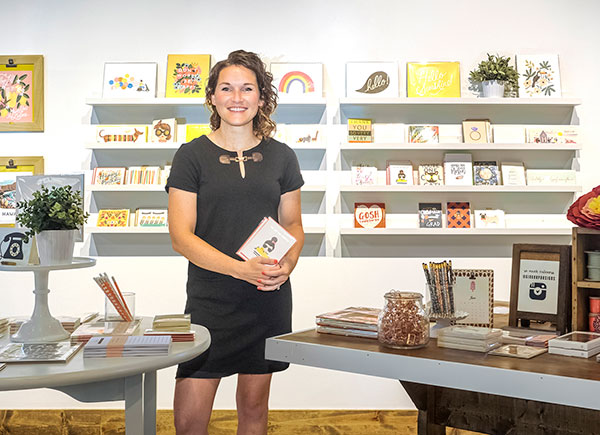 Photo: Art Sidner
Janesville: Ginger P. Designs
When Janesville resident Gina Peterson started planning her wedding just more than six years ago, she kept running into a problem.
Peterson says, "I just couldn't find what I was looking for with my wedding invitations. Everything seemed very traditional or not in line with my style. I wanted them to be more modern and custom to reflect our style as a couple, so I designed my own and I couldn't believe how many people commented on the invitations."   
Peterson, a marketing designer for Ridley Inc. in Mankato at the time, decided to start a little Etsy shop selling her own designs of invitations. And Ginger P. Designs was born.
She says, "I really only started the online Etsy shop because I thought it would be fun to have some extra shopping money and help me stay busy."
She certainly stayed busy. The Etsy shop took off and in 2013 she was able to go full-time and work from home.
"I actually really enjoyed working out of the home, but I was meeting more and more with brides at neutral sites and was having extra help come over and that can be tough when you are operating out of your home. It was time to take the next step and take the business to a brick and mortar location!"
She recently purchased a lot on Main Street in Janesville.
Peterson says, "We built an open space that allows for me to meet with customers and brides, has a work area, lots of storage for stock inventory, and now a retail space!"
Ginger P. Designs offers custom stationery and paper goods including wedding invitations, save the dates, programs, place cards, grad invites, shower invitations, birth announcements, and holiday cards.
In addition to her custom work, she has a small product line of greeting cards, wrapping paper, notepads, and recipe cards. A newer offering is a service called "Ginger Mail" where subscribers get a variety of seasonal stationery products delivered right to their mailbox every 6 weeks.
Ginger P. Designs
Address: 208 South Main Street
Website: gingerpdesigns.com
Instagram: @gingerpdesigns