The Orthopaedic and Fracture Clinic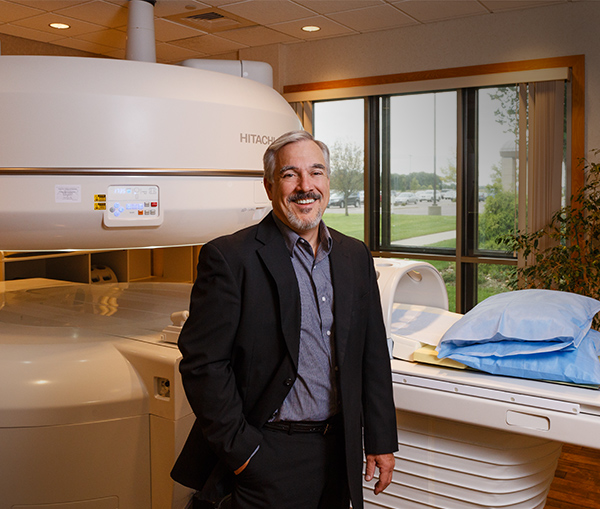 Healer Leader
Andy Meyers transitioned his career from law enforcement to medical. After being promoted from within, he now keeps The Orthopeadic and Fracture Clinic healthy and growing in his role as CEO.
Today, he leads a team of surgeons, physician assistants, nurses and therapists at The Orthopaedic and Fracture Clinic, but Andy Meyers spent a good chunk of his early career in the jail. Don't be alarmed, that is usually where law enforcement officers start out, paying their dues, working their way up to patrol, which is what Meyers did as a Deputy Sheriff/Paramedic with the Linn County, Iowa Sheriff's Department.
"At the time, it was a good job," Meyers says, "The department had a paramedic-level rescue service. You see, outside of the city of Cedar Rapids, folks depended on volunteer firefighters for that sort of thing. But not all of the volunteer services were advanced cardiac life support trained. So we on the sheriff's department carried all the advanced medical care and extrication equipment. That was my primary role my last two years there. I found I liked the medical side better than the law enforcement side. So I worked patrol from 7 p.m. to 3 a.m., then went to school in an orthopaedic physician's assistant program from 7 a.m. to 4 p.m. I did that for two years and got my Orthopaedic Physician's Assistant. My first job out of the chute was The Orthopaedic and Fracture Clinic."
That was in 1990. Once he got to Southern Minnesota, he didn't leave. It was good to put down roots after a childhood filled with move after move.
Meyers says, "I was born in Hays, Kansas but only lived there as an infant. My dad was an insurance adjuster, so he set up offices for an independent insurance adjusting company. He would go to a city, build up staff and business there, then we would move again. We went from Hays, to Davenport, Iowa, to Sioux City, Iowa, to Wassau, Wisconsin, then back to Cedar Rapids, Iowa. That's where I got married, and knew it was time to settle somewhere. Just then the OFC opportunity came along. At that time OFC had offices in Faribault, Mankato, Northfield and Owatonna. Initially, I was located in Mankato. Then OFC needed a PA in the Owatonna location. I relocated to Faribault and commuted to Owatonna. It closed in 1995, however, my family was settled in Faribault. My kids were in the school system and my wife worked at the high school there. So we decided to stay in Faribault and I would help staff in the Faribault and Northfield locations. It wasn't until 2006 we moved back to Mankato."
And just like with the sheriff's department, Meyers worked his way up in the organization. Starting as a Physician's Assistant 26 years ago, he is now CEO. Just as he has grown, so has OFC.
Today the clinic sees more than 30,000 patients a year. Its Mankato campus has grown into an integrated and newly-designed environment that includes Mankato Surgery Center, Mankato Regional Imaging at OFC, the Physical Therapy/Sports Medicine Center, and the Back Care Center. It also has clinics in Faribault, Hutchinson and Northfield.
The field of orthopaedics is one that changes quickly, especially with the advent of new diagnostic techniques, updated surgical advancements, and numerous non-surgical treatments. Meyers makes sure his team has access to the latest in research and technology. OFC surgeons are board certified, treating patients in adult reconstructive surgery and joint replacement, arthroscopic surgery, foot and ankle surgery, hand and wrist surgery, treatment of fractures and trauma, sports medicine, spinal injury and pediatric orthopaedics.
Patient care is something that Meyers thrives on. But at times, he feels handcuffed as the bureaucracy in the health care field grows and the politics of providing patient care can be cumbersome.
He addresses those concerns, how OFC is handling increased competition in the market, and why he feels OFC continues to stand strong after 59 years in service.
---
You've done a little bit of everything for OFC in the 26 years you've been with them. You were named CEO in August 2012.
Yes, I worked my way up the ladder here. It works well in that I have personally worked with most of the docs so I know what they do. I know what it is like to be on call. I have scrubbed with these guys in surgery, and helped in the office for 18 years. I can walk the walk and talk the talk. So it's a nice blend.
I went back to school to get my Masters in Business Administration, and later attained the American College of Medical Practice Executives (ACMPE) certification.
OFC has four main offices in the region, and I understand OFC doctors also go to outreach clinics in the more rural areas of Southern Minnesota.
Part of our business model, and it has been from the beginning, is that our physicians do one day of outreach a week. We take orthopaedic care to those communities that otherwise wouldn't have it so that they can be cared for locally. It's a win-win because then we also get better compliance from the patients because they don't have to drive all the way to Mankato for, say, physical therapy. Or they don't have to drive here for surgery. So people are better at carrying through with their care plan. If a patient lives in Redwood Falls, they don't want to have to drive all way to Mankato, especially in the winter, for physical therapy or surgery or aftercare, so they may end up not doing it. To help with that, we go there. One person going there can see numerous people a day. It keeps the care local and it keeps the local hospitals viable so they can continue to give care in their communities. You know a lot of small hospitals have gone belly up in the last ten years because they didn't have enough volume to support it. So we try to keep that care as local as we can and work with local physicians. It works and it's been that way for as long as I've been here.
How many employees?
We have around 150, that number includes 16 physicians, 10 physical therapists and 13 physician assistants. Then we also have the nurses, medical assistants, and all the people on the business side; the insurance people, surgery schedulers, transcription, those types of things. We do have a great staff, we are very proud of them. We've done nothing but orthopaedic care for 59 years so that tells you something! They are so well versed in the needs of the orthopaedic patient, we couldn't do it without them. We try to take good care of them as our staff is our biggest asset.
There seems to be confusion over how The Orthopaedic and Fracture clinic fits into the health care scene here. Some think you are a part of Mankato Clinic, some think Mayo.
Yes, we hear about that confusion all the time. But, simply put, we are an independent surgical specialty practice. Anyone can come here. Everyone has a choice. So, if you are a patient that needs orthopaedic care, you can choose to come here, to go to the cities, or to go to Rochester or wherever. Regardless of who your primary care doctor is, you can go anywhere you want for orthopaedic care. You can self refer or have your physician refer you.
The problem comes with big health systems who try to control all aspects of your care and if they have a specialty service, like orthopaedics, then they will refer in house. It's just part of the game. Ultimately it is up to the patient to be bold enough to say 'I have a history with OFC so I'd like to go there,' or 'I've heard that people who have gone there have had good results'. Many just don't understand that they can say where they want to go. The contract is between the patient and the insurance company. So if you have Blue Cross Blue Shield for example, that's where the relationship lies. YOU have the choice on where you want to go for specialty care.
Is being independent getting more challenging?
Patients get referred by their physician and that can work to our advantage or disadvantage. With Mayo, or any 'system' provider, for example, they are going to refer in-house, not to a competing orthopaedic practice. Likewise, the Mankato Clinic and others who don't offer that specialty, may refer patients here. So, it can help us or it can hurt us. But the key point is that the patient has the choice no matter who their doctor would refer them to. Sometimes that is not made evident to them, but they do have a choice.
The landscape is changing, as for many of the 59 years OFC had the orthopaedic specialty market here all to itself.
Yes, we had the market to ourselves, in fact we contracted to provide orthopaedic care for Mayo in this region for years. But that agreement ended in 2014 when they started recruiting their own orthopods.
Well, there goes all the referrals from Mayo.
They are going to refer where they are going to refer and there is nothing we can do about that. That is out of our control. So we had to ask ourselves, what can we do? What is in our control? Well, we can provide the best possible care and more access for patients. We found that a surprising number of patients will defer care because of work schedules. Often the regular office hours meant people couldn't get to the doctor during the week because they didn't want to be penalized for taking time off work! I understand employers need their employees at work during certain times, but we can't all be healthy 100% of the time. Plus, if people take care of an ailment sooner, the length of recovery and return to work is quite often shortened. Additionally, if you put off care for months the condition may become chronic. So we now offer OFC Express to make it easier for patients to see a doctor. We have extended our hours now from 4 p.m. to 8 p.m.
That started on July 18, 2016. How is it going so far?
It is going really well. And we anticipate bigger volumes as the word gets out about it. But we've been seeing an average of 11, 12, 13 people a night. It shows us there is a need for it. We've had nights as big as 19 in a four-hour period, then some nights only 6. But patients are happy with the hours, it gives them access outside of business hours so they don't have to take off work.
Besides accessibility, what else is OFC doing to counter the increased competition in the market.
In all of health care there is a switch going on right now. Currently all providers use a fee for service format. The problem with fee for service is that we are paid for each visit and not on the quality of service or the outcome. So right now the big switch for us…and everyone else…is pay for performance. So it's going to be based on access, quality and outcomes. As we make that switch we are gathering data and following outcomes closely. We have been documenting our outcomes for quite some time. One positive already is that we are in the top 5 in Minnesota for total joint replacement outcomes.
Let's talk more about that non-medical side of your business. Insurance, health care reform, those types of issues are taking up more and more of your time.
When they started the Affordable Care Act (ACA or Obamacare) they knew it would take 14 years of taxes to pay for 10 years of benefits. So they started collecting four years before it even started, but still it's become unsustainable. The Blues (Blue Cross/Blue Shield) have gotten out of the individual market, Preferred One has gotten out, Aetna is pulling out in many markets because it lost 400 plus million dollars. It's just an unsustainable program. Some insurance providers are trying to make a go of it by getting bigger, and I don't know if that is the answer.
For example?
Aetna wants to merge with Humana. The Department of Justice is saying they need to assess this. They fear Aetna is getting too big and if it fails it affects too many people. But the DOJ also has to be cautious because Aetna is threatening to pull out of the ACA altogether. And if Aetna gets out of Obamacare completely that wouldn't be good for the program. The government needs to look at other alternatives, like opening up the borders to sell health insurance across state lines.
That would possibly be a game changer for many of Minnesota's large employers.
If I am 3M, or someone with employees in multiple states, and I have to go through each state to buy health insurance, well, I can't drive a good price because my pool has now shrunk to only my Minnesota employees. So instead of basing it on the 30,000 total employees l have, I have to limit it to the 5,000 I have in Minnesota. So those kinds of things will help drive prices down as well. We have a long way to go and we have some barriers.
Medicare reforms also big news for your industry. In 2015, the Medicare Access and CHIP Reauthorization Act (MACRA) passed. What changes has that meant for OFC?
This goes back to the pay for performance plan I mentioned. Under MACRA, clinics like us have two options for payment from Medicare; the Merit-Based Incentive Payment System (MIPS) and Advanced Alternative Payment Models (APMs).
Very few, I think around 11%, are going to be able to go in under the APM.
So the rest of us fall under MIPS. Well, under MIPS, there are 94 data points we have to collect. So now we may have to hire people just to collect data and make sure we are meeting desired goals. It's tough because as a health care organization you try to stay lean, and be efficient, but they keep throwing things at you and they are constantly changing the guidelines. So in early November we'll hear what kind of data they want from us for 2017. That will leave November and December to get staff trained for whatever it is they decide the guidelines will be.
So under MIPS, after the year is over, they'll look at all the participating providers, rank their performance, and draw a line and say these people that are below the line will lose money and these above the line will get money. And we won't know what the threshold is until after the year is over.
Is APM the better route?
Yes, and the thought is that they want everyone on APM. But under APM they want you to "bundle" services and offer those bundled services for one fee. But in our business bundling can be very difficult. It's not like a car repair place where I can bundle a tire rotation with an oil change. All of our patients have individual needs. We can't offer the same things to everyone that walks in the door. So for APM they want us to take on more risk to get greater reward. Problem is, a lot of things don't fit in that slot. So how it is going to shake out I don't know. To be successful, it will take a tremendous amount of data tracking. Additionally, we can get docked payment for things that are out of our control.
What is an example of what you could get docked for, that is out of your control?
In the past a big push has been the Patient Portal. They have mandated that we have to have 5% of patients contacting us via the patient portal. Well, we can tell patients about it, but we can't make them use it.
If you are diabetic and your doctor says 'don't eat candy'. But you leave our offices and have a candy bar, well the provider has no control over what you eat. It's the same with the portal. You visited us, you had a good outcome, and you have no questions, you are most likely not going to use portal.
It's different for places like Mankato Clinic. You go there many times for different things, so you may need your immunization records, or wonder what antibiotic you were on last time, or maybe check on your child's sports and school physicals.
For us, you fell and broke your arm, your arm gets better, so why would you contact us again. So it favors family practice. Specialty clinics are outside of their thought process. So it's hard for us to drive the numbers they want when we are judged on the behavior of someone else.
I get the intent of bettering patient communication; I don't get us possibly getting docked from Medicare reimbursement because it's based on patient behavior. So all we can do is make our best effort. It's just part of the hoops.
You've found some success in forging partnerships with others in the region.
Yes, and that is partly in response to the Mayo situation. We have taken call at the hospital in Mankato and covered orthopaedics 24-7, 365 days a year for nearly 59 years. Then, they brought in their own orthopaedists, which is fine, except they didn't take call. We were covering call so they could just work days, Monday through Friday, come in during regular hours, do their thing, and go home at the end of the day. We didn't see the fairness in that, so we decided to stop taking call at the hospital. That aggravated them. So by not taking call, it changed our status and privileges at the hospital. So we can only do so many cases a year, and we can't go over that number. It was clear to us we needed to establish a relationship with another hospital to do inpatient surgery. So we looked at River's Edge in St. Peter. It is actually a Medicare-certified five-star hospital. We've worked very hard to bring up their numbers. They were doing a small volume of simple orthopaedic cases like carpal tunnels, knee scopes, etc. Now at that hospital we are doing total joints and other cases at a pace of 65 to 75 a month. So they've worked hard to partner with us. They had to increase staff and provide additional training. Like us, they have an excellent retention rate and as I mentioned, the quality of care is five star. So it has been a great partnership. And because of River's Edge size, we have better input in the system. With the size and layers at Mayo, it was very difficult to get input through or to try to change something. It was nearly impossible.
That's a benefit OFC has, you're locally-owned and don't really have too many layers.
We have a very flat corporate structure. Really, there is myself and an administrative team of five people. We do have department heads who are all working department heads. They don't just manage but they actually do the work as well. Employees have access to all levels of administration. And that's it. No multiple layers. Very few committees. And that means lower overhead.
With health care costs as they are, that lower overhead plays a significant role.
Yes, let's go back to the pay for performance model I was talking about. Part of what will be looked at are costs. We have to be able to deliver a quality service at a reasonable cost and have quality outcomes. And the bigger the organization, the harder that will be. The bigger you are, the more leaders and committees you have, the more people and facilities you have to support. Well, that cost has to be passed on somewhere. We don't have that liability here. We are working within our own system. For example, we have the surgery center right here. We can do total joints in our surgery center, and then they recuperate in a skilled nursing facility. That is a drastically reduced cost than a hospital stay would be. It's less for the insurance company to pay for and those are the things that are going to make a big difference in the future.
The Surgery Center is located right here on the Mankato campus and I understand you share it with Mankato Clinic.
Yes, it's a cooperative effort. So it does a couple of things; it lets us gear all the staff and equipment around OFC's and Mankato Clinic's patients which helps us control costs, and patients don't have to worry about exposure to sick people. Going into a hospital, there are a lot of sick people in there and that means you risk contracting it. But here we have a facility where the patients are predominantly healthy and they just need orthopaedic or other specialty care, they don't have pneumonia or other infectious illness. There are already several models set up like that in the Twin Cities and across the nation so I think you'll see more and more of this type of facility.
At The Surgery Center that's all we do. We are efficient at it, and it helps us keep costs down.
I think in some ways you are a well kept secret out here, because you can offer everything the cities can offer. You even have two MRI's on site.
Yes, there was a time that getting an MRI meant making a trip. But we have state-of-the-art MRIs right here.
One is a Hitachi 1.2 T (Tesla) which is an open-sided MRI. And we have a Siemens 3.oT with a 70 centimeter short bore. That is the strongest magnet you can have. We use it a lot for brains, neuro, vascular, breast, and musculoskeletal MRIs. The higher the Tesla the finer the detail. So for example, it can be used with a patient diagnosed with MS. The disease causes areas of demyelination in the brain. So we are able to track those to see where they are, how big, how many. We use the Siemens 3.0T magnet a lot for those hard to see areas.The Hitachi open sided is good for claustrophobic patients, the obese patient and children because the parents can be in there and comfort the child during the procedure.
What is the ownership structure of OFC?
It is owned by the physicians, they are all partners or becoming partners.Their ownership helps drive the quality of care, improves their job satisfaction, and results in very low turnover.
So when a doctor chooses to practice at OFC, the retention rate is pretty high?
Our retention is very good. We have physicians who have been here 33 years! Other than retirement or moving, in my 26 years, maybe three or four have left.
More invested because they are a part owner.
Yes, but now there is a shift going on. There are two options, employee physician vs owner physician. So coming out of training the doctors will go into one of two camps.
They may choose to go to work for somebody big like Allina or Mayo or Cleveland Clinic. In that case, they'll have a salary and will get paid a certain amount and work only 8 to 5 or whatever the contract stipulates.
But then there are those who want more control of their own destiny. Those that want to go to a practice where they can be a partner and have a say in the direction and administration of that business. It used to be that 80 percent of those coming out of school wanted to be owners and partners and 20 percent became employees. But now I would say 60 percent want to be an employee and 40 percent an owner.
What's behind that shift do you think?
It's partially driven by the consumption of specialty practices by big systems. There are just not as many independent practices out there. Younger physicians tend to want a more traditional work day and family time, and just time off in general. Some don't want the responsibility of managing a business so they want to go somewhere that all of that is taken care of. That way they can just come in, do their thing and leave. I don't know if it's a Gen X thing or what, but the younger ones coming in are just not as entrepreneurial. But those that do want to take ownership tend to be more motivated to be involved and to make sure patient care is what it is supposed to be. But there has been a swing in the other direction over the past few years.
When people think of orthopaedics, they often just think of broken bones, things of that nature. But orthopaedics truly encompasses so many things.
Yes, to become an orthopaedic surgeon, you go to college and medical school. Following medical school, you go into an orthopaedic residency program for five years. After that you can specialize for another year. There are six sub-specialties: adult reconstruction/joint replacement, spine, foot and ankle, upper extremities (UE) and hand, fractures/trauma, and sports medicine. We have subspecialists in several of these areas and we can treat specific problems within those areas. For example, if you have Dupuytren's, carpal tunnel syndrome, tendon laceration, CMC arthritis you would want a hand/UE person. Or maybe you need a specialist in sports medicine. We have two surgeons trained to handle your needs. Spine and adult reconstruction are also available. As we have for years, we can handle trauma and fractures of all ages.
And we are right here in Mankato and in communities all across Southern Minnesota.
---
Skills Outside The Office
"Two of my hobbies are fishing and woodworking. I've enjoyed fishing since I was a boy. For woodworking, I love taking rough wood and converting it to something useful, hopefully aesthetically pleasing, with the quality to last lifetimes. Pieces that can be passed on from generation to generation."
Community Partnerships
OFC shows its commitment to the community in numerous ways. In 2015 it entered into its most comprehensive community endeavor to date, a multi-year partnership with Minnesota State University Mankato that includes private funding for athletic scholarships and in-kind support services, such as orthopaedic evaluation and physician coverage for various sports programs. Meyers says the MSU partnership is a natural fit for OFC and proof that OFC and its doctors are passionate about giving back and serving the region.
Lifelong Learner
A look at Andy Meyers education and it is apparent, he just doesn't want to stop learning:
Mercy/St. Luke's Paramedic Program, 1984–1986
Iowa State Law Enforcement Academy, 1986
Kirkwood Community College, OPA-C, AS 1988–1990
University of Northwestern – St. Paul, BS 2002–2004
Capella University, MBA, 2004–2006
The American College of Medical Practice Executives, Certified Medical Practice Exec., 2013–2014
Rural Outreach
Since it began in 1957, OFC has been committed to serving the outlying rural areas. OFC has outreach clinics in the following locations:
Dassel Medical Clinic
Family Health Medical Clinic – Farmington
Family Health Medical Clinic – Lakeville
Minnesota Valley Memorial Hospital – Le Sueur
Redwood Area Hospital
River's Edge Hospital and Clinic – St. Peter
United Hospital District – Blue Earth
UHD Fairmont Clinic
Meeker County Memorial Hospital
Windom Area Hospital
THE ESSENTIALS
Orthopaedic & Fracture Clinic
Phone: (507) 386-6600
Address: 1431 Premier Drive, Mankato, Minnesota
Web: ofc-clinic.com